So, I've kind of been on hiatus this summer while the kids were home from school.  With vacations, camps, craziness around the house, etc., posting to two blogs just proved to be too difficult.  That doesn't mean, though, that I haven't been cooking and snapping away and coming up with some incredible dinner inspiration.
Now that the girls are back in school and Matthew is starting preschool, I should actually have some time to get posting on a more regular basis.  I got some great shots of vacation and food over the summer and I had opportunities for some really incredible trips.  I hope to share all of that with you in the coming weeks as well and posting some new recipes for you all to try.
For tonight, I wanted to share my yummy dinner inspiration from this evening.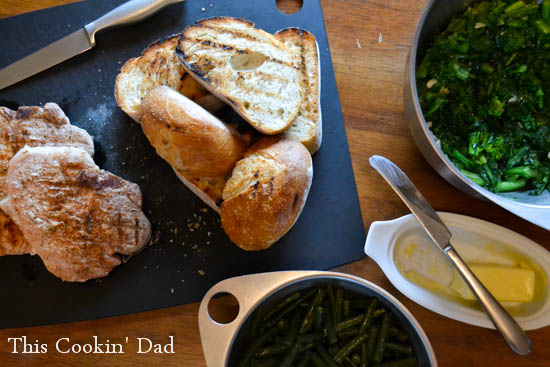 This is how it all came together.  Looking through the freezer this week, I found some great looking pork steaks.  We planned to have those for a nice Sunday dinner.  When we ran out to the store this afternoon to pick up a few things for our Labor Day meal, we realized that we also didn't have anything to go along with tonight's dinner.  Great planning, right?  As I looked through the produce section at The Fresh Market.  I saw some incredible looking broccoli rabe.  I just had to have it!  Heat up some olive oil and butter and toss the stuff in with a little garlic, salt, and pepper and I'm all set!  I knew that the kids (and Beth) might not be totally on board, so I grabbed some fresh green beans while I was at it.
I've been working on watching calories so that I can drop a few (30) pounds.  My cheat for this week is some great crusty bread!  The problem?  The bread was a little picked over, so the great crusty stuff was already gone.  No problems!  I cut it into thick slices and grilled it up while the steaks were going.  It gets a nice crusty char on the outside and stays nice and chewy on the inside.  A cast iron pan for the broccoli rabe and a pot of water for the green beans and all of it was done up on the grill.  No extra heat in the house!
From start to finish, the whole meal took about 30 minutes to put together and was totally delicious!  The bitterness from the broccoli rabe plays so well against the fattiness from the pork.  The green beans had a slight sweetness that was a welcome break.  The crusty bread slathered with butter….well…do I really have to say anything else?  Yum!
How do you come up with your dinner plans?  Are they instant dinner inspirations or planned well in advance?  Leave me a comment and let me know.