Today, I'm giving thanks for cookies.  Chocolate chip cookies to be specific.  It has been a pretty busy day around and I just hadn't taken time to be thankful for anything.  As I scrounged around for a little snack, I happened upon a box of cookies that I bought for the kids yesterday.  One or two is a perfect way to satisfy that sweet tooth.
It also dawned on me that, for all that I have been thankful for so far this month, I haven't mentioned food at all.  This is a food photography blog, after all!
So, I snapped a quick picture.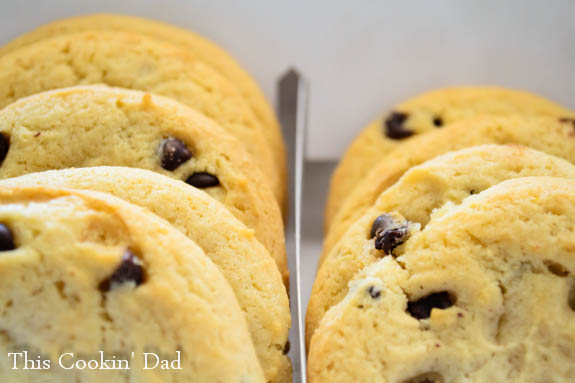 The cookie is a pretty simple concept, isn't it?  Flour, butter, sugar, and eggs.  Add some flavoring and a few other things.  Mix it all up and spoon onto a sheet pan.  Bake for 10 minutes, let cool, and eat.  You can grab one on the go or sit with a tall glass of milk and savor it.  Baking them can lead to great moments with your kids and kids of all ages love a good cookie.  Really, what's not to be thankful for?
Why are you giving thanks for cookies?  Does a great cookie evoke memories or just taste really good?  Leave me a comment and share your story.  Make sure you follow along and see what else I'm giving thanks for.