Thanks to Four Roses Bourbon for making this post possible.  All recipes, thoughts, and opinions are my own.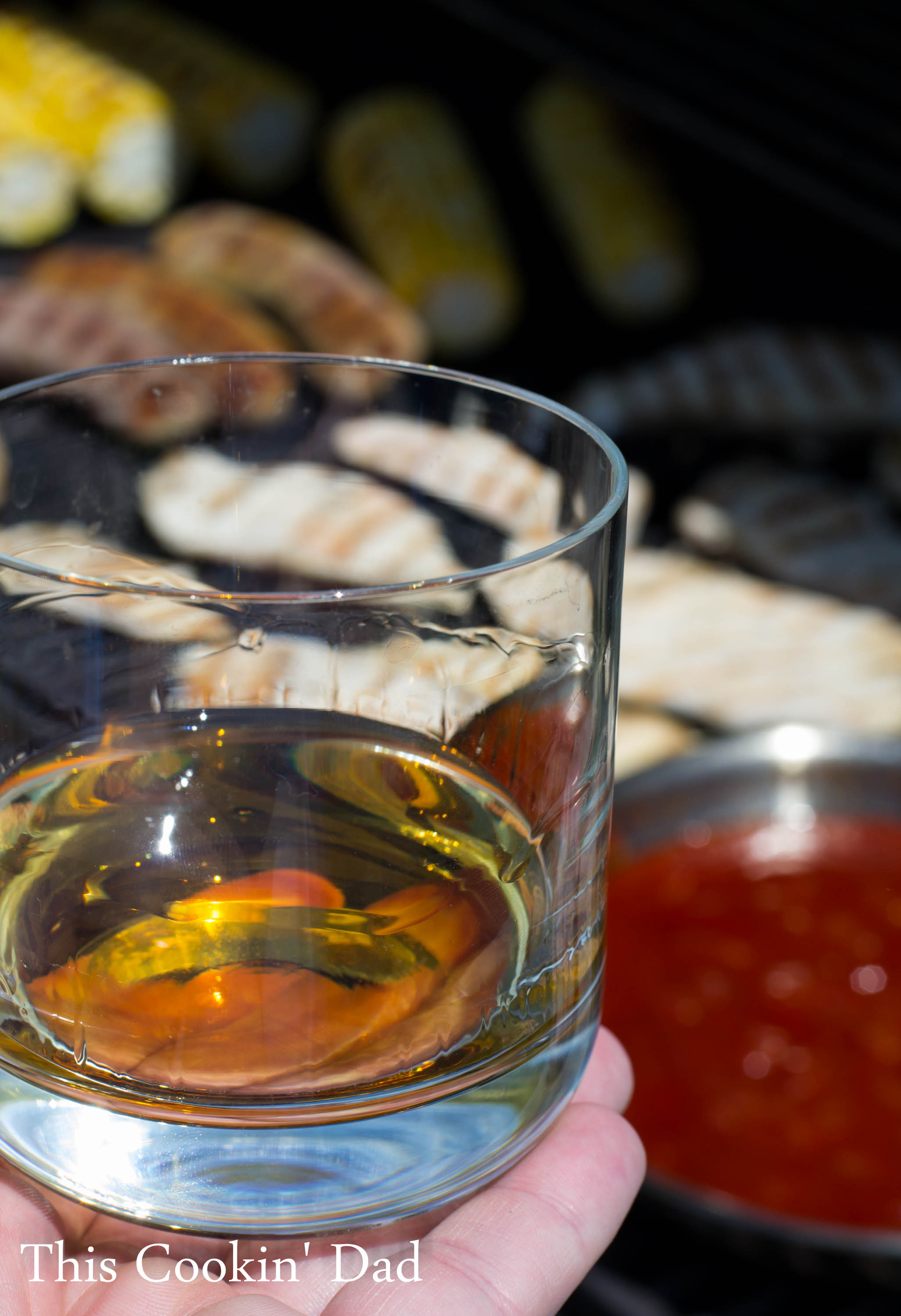 There's something about grilling that just makes you feel like a dad, isn't there?  Take meat, apply fire, singe knuckles…it just conjures up memories of childhood and watching dad man the grill.  "Someday, you'll do this for your kids," he'd say.
I remember that we'd just grab whatever meat was in the case, but we'd spend forever poring over the different sauces.  He'd tell me that "the sauce is boss."  Sure, he had a couple of favorites, but he was never afraid to try a little something new.
Now it's my turn to man the grill with my little guy (and my girls) watching.  My philosophy is a little different than my father's.  I spend much more time choosing the right meats and seasoning them well and I use far less sauce.  That said, when you use less sauce, the sauce that you do use has to be excellent.  That's why, whenever I can, I try to make my own.
Recently, I was challenged to create a BBQ sauce featuring Four Roses Bourbon.  Four Roses is a bourbon distillery located in Lawrenceburg, KY.  The company has a long history and has only recently recontinued sales of their Kentucky Straight Bourbon Whiskey in the US.  I was fortunate enough to receive some samples of their Single Barrel Bourbon and I was just blown away.  It is a full-bodied bourbon with and long, smooth finish.  It was the hint of maple syrup, though, that really clued me in as to how I was going to put together this BBQ sauce.
Making your own sauce isn't that difficult.  I usually start with some sauteed onions.  They bring a mellow sweetness and are a great base from which to build flavors.  Sometimes, I'll even cook them on the grill to add a little touch of smokiness.  Next I'll add my seasonings, salt, pepper, paprika, cayenne, a little garlic…this is really where I get to set my sauce apart.  It's at this stage that I added my bourbon and cooked it down until most of the alcohol had cooked out (if you are feeling fancy, add a little flame here).
Next I add ketchup and a little sweetener.  You could use honey, molasses, or brown sugar, but I used maple syrup this time to bring out those notes from the Four Roses Single Barrel Bourbon.  Did you know that the bourbon also helps to bring out the alcohol-soluble flavor compounds from the ketchup?  Flavor, flavor, flavor.  So much better than the bottled stuff my dad used to get!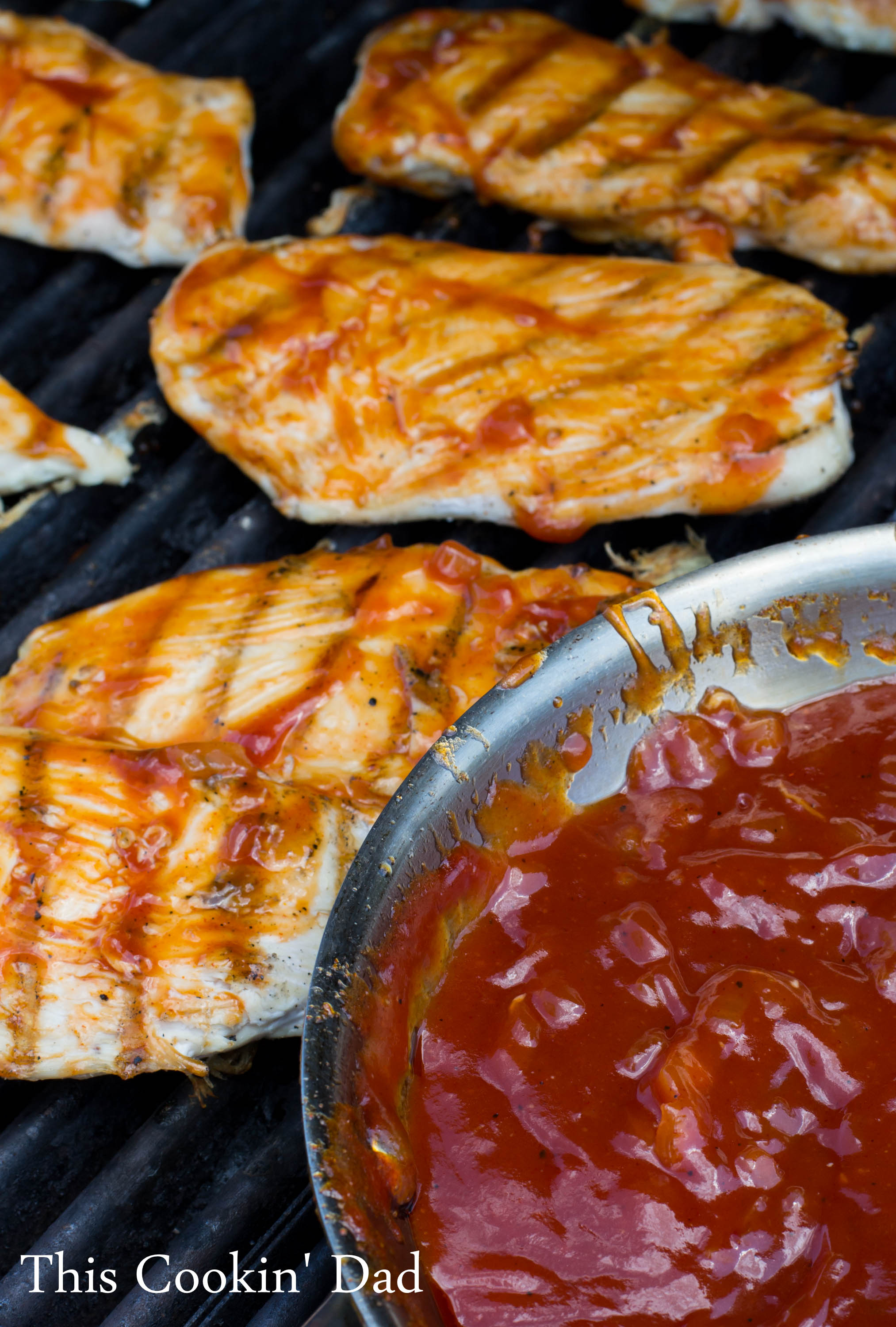 At this point, you could pour everything into a blender.  For me, I like the bites of onion and I hate having extra dishes to clean!  Chunky style it is!  I brush a thin smear of the sauce all over some grilled chicken breasts coating both sides not once, but twice, allowing the sugars to caramelize on the chicken.  The result wasn't a sloppy, messy BBQ chicken breast, but a perfectly moist breast, just coated in sauce.  The sauce was sweet, but had that lovely hint of bourbon without the kick.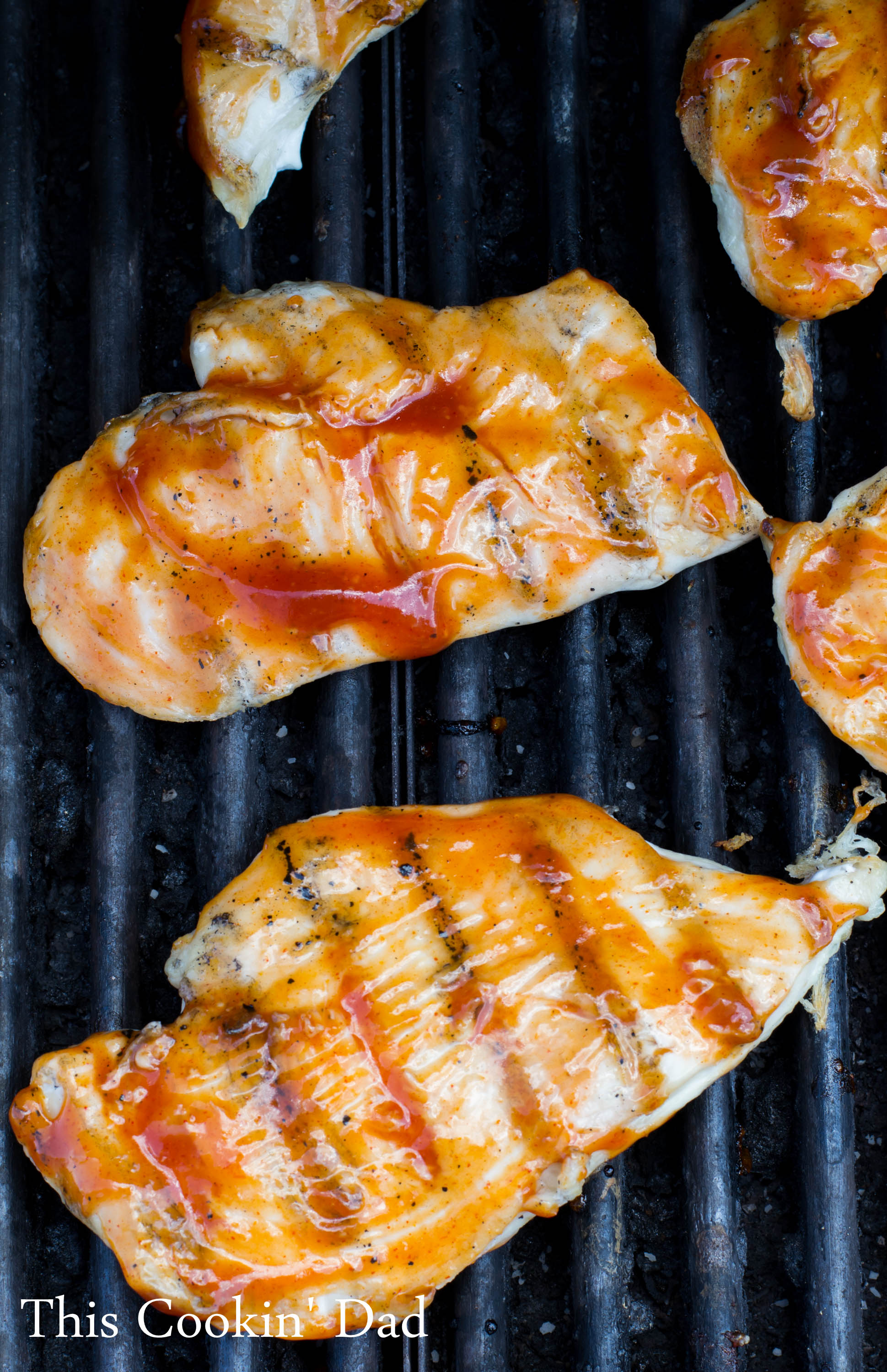 Now, to teach my kids how to do this for their kids down the road!
Do you have special memories of your dad manning the grill?  How do you share that time with your little ones?  Leave a comment and share your story.

Maple Bourbon BBQ Sauce
This is a sweet sauce with a hint of bourbon flavor without the kick or bite of a glass of bourbon. Maple syrup adds a deep sweetness and enhances the flavor notes of the bourbon.
Recipe type:
Condiment/Sauce
Ingredients
1 tsp olive oil
½ sweet onion, diced
salt and pepper
1 tsp garlic powder
1 tsp paprika
½ tsp cayenne pepper
¼ cup Four Roses Single Barrel Kentucky Straight Bourbon Whiskey
¼ cup maple syrup
1 cup tomato ketchup
Instructions
Heat a medium skillet over medium-high heat.
Add oil and onion. Allow to cook, stirring frequently, just until onion begins to brown, 5-7 minutes. Add salt and pepper to taste, garlic powder, paprika, and cayenne. Cook another 2-3 minutes.
Add bourbon and allow to cook down, about 3 minutes. Add syrup and ketchup. Combine well, lower heat, and allow to cook another 5 minutes, stirring occasionally.
If desired, pour in blender and blend until smooth. If using right away, keep warm. If saving for another time, refrigerate right away. Will keep 3 days.