I've long been a fan of chowder. I particularly love New England clam chowder. There's just something about that combination of  seafood, cream, and potato that is really comforting for me.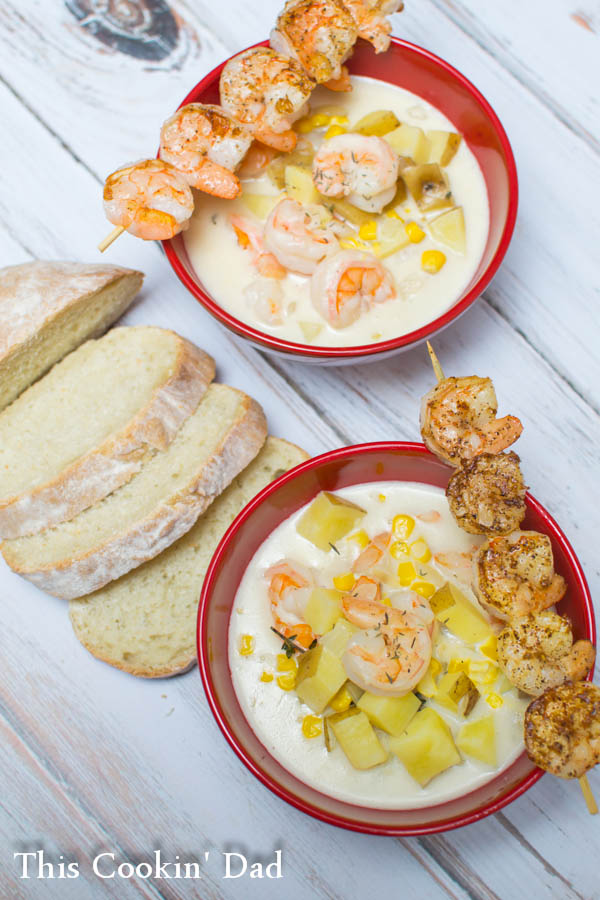 As much as I'd love to make clam chowder on a regular basis, I have one little problem: Beth is allergic to clams! We both found that out one fateful night while we were dating! It's a good thing I had a bottle of Benadryl handy! Since then, we don't really mess with a lot of shellfish around our house. One thing she is not allergic to, however, is shrimp. Shrimp is a natural in any seafood stew and I've found that it works great in my chowder.
I've also found that, like with so many of my favorite foods, food greatness often comes out of poverty and the necessity of not wasting anything. I discovered a couple of years ago how easy it is to make stock from just about anything. One of my favorites is to make corn stock. When corn is plentiful (and cheap) in the summer, we freeze the kernels, sure, but we also freeze the cobs! For a simple corn stock, I take about 6 corn cobs, 8 cups of water, and some salt and whole black pepper. Keep it on a low boil for about an hour and you've got an amazing taste of summer!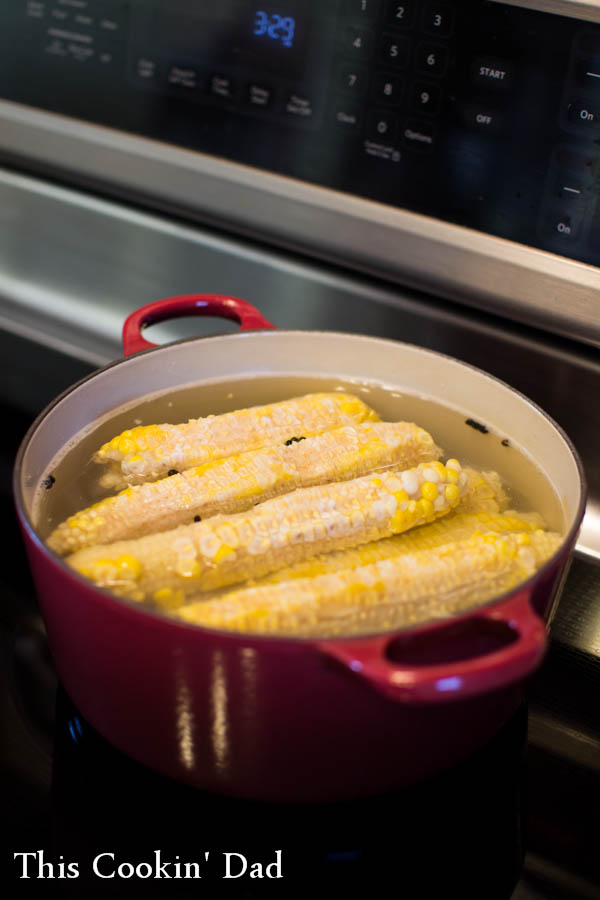 I then use that stock as a base for my Shrimp & Corn Chowder. I cook up some onion and garlic, add a little flour and my corn stock, and then some potatoes and cream. At the last minute, I add some corn and my shrimp, season with a little salt and pepper, and serve with crusty bread and a skewer of grilled shrimp. It's a great wintertime soup that reminds you that summer isn't but so far away. Enjoy!
Throughout January, I'm focusing on soups and stews. What is your favorite soup or stew and why? Leave a comment and share your story!

Shrimp & Corn Chowder
Recipe type:
Soups and Stews
Ingredients
2 tbsp butter
3 tbsp olive oil, divided
1 medium onion, diced
2 cloves garlic, minced
6 sprigs thyme
¼ cup all-purpose flour
8 cups corn or vegetable stock
2 cups heavy cream
2 large yukon gold potatoes, diced
16 oz fresh or frozen corn
2 lbs shrimp, peeled and deveined
salt and freshly ground pepper
Instructions
In a large soup pot over medium heat, heat butter and 2 tbsp olive oil. Add onion, garlic, and thyme. Cook, stirring occasionally, until onion just begins to brown, 8-10 minutes. Add flour and stir to coat, cooking another 2 minutes.
Add stock and bring to a boil. Add cream and potatoes. Bring to a boil and reduce heat to medium. Simmer for about 10 minutes or until potatoes are easily pierced with a fork.
Add corn and about 1½ lbs of shrimp and cook until shrimp is pink and cooked through, about 10 minutes. Season with salt and pepper to taste.
Meanwhile, skewer remaining shrimp and season with salt and pepper. Heat remaining oil in a large skillet over medium-high heat and saute shrimp until golden brown.
Serve soup with a skewer of shrimp and a slice of crusty bread. Enjoy!