All month long, we're talking about grains. Today, we are going to take a look at barley.
Barley is a cereal grain. It's one of those grains that I think we hear about a lot more than we actually use. In fact, I think more people drink barley than actually eat it! It is also used as animal feed, but has a long history of feeding humans as well. Barley was one of the first staple crops, feeding civilizations across Europe and Asia for centuries before wheat became more popular.
We've learned over time that grains, while not inherently bad for you, are definitely better used in moderation. Instead, we should be leaning towards more veggies in our diets. A big part of my focus is how to simply incorporate grains in a healthy, responsible way. This soup is my effort to make a convenient, veggie-heavy meal that is lightly kissed with a little grain to make it a bit more substantial.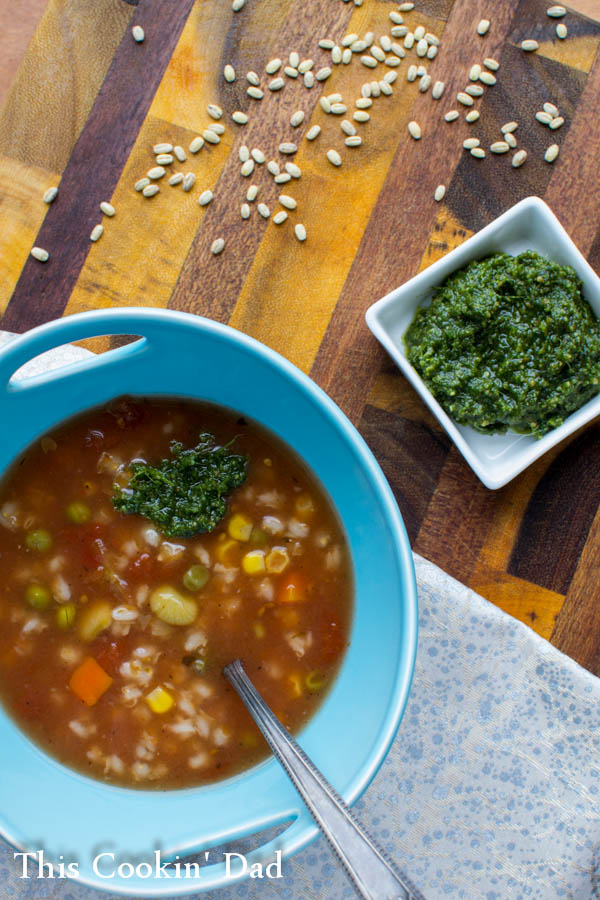 The beauty of this recipe is that it takes virtually no time. A can of tomatoes, a quart of vegetable stock, and some frozen veggies are all you need to get started. Pour it into the slow cooker first thing in the morning and you are 90% of the way there. Toss in a little barley when you walk in the door from work (or have your kids do it when they get home) and it'll be done just in time for dinner.
One of the keys to making this dish great is the Carrot Top Pesto. I buy a lot of my carrots with the tops still on because I know that I am getting a fresh product that way. Still, I find it difficult to find something to do with the carrot tops. Well, I decided that I would try to make a pesto with them to go with my soup. The tops, a handful of roasted salted pumpkin seeds, a dash of parmigiano-regiano, and some olive oil were all blended together for a lovely condiment. It turned out fabulous and was even great as a topping for some crusty bread on the side!
What I love most about this soup is that I can make it on Sunday with no effort and have a healthy lunch available for me and my wife throughout the week. It's hard to top that.
How do you simply incorporate grains into your food? How do you feel about grains? What are your favorites? Do you shy away from them? We'll be discussing grains through March on This Cookin' Dad. Make sure that you leave a comment and share your story.

Slow Cooker Vegetable Barley Soup with Carrot Top Pesto
Ingredients
Soup:
1-28 oz can whole, peeled tomatoes, hand crushed
4 cups vegetable stock
4 cups water
1-16 oz. package frozen mixed vegetables
½ cup pearl barley
salt and pepper to taste
Pesto:
2 cups fresh carrot tops
½ cup roasted, salted pumpkin seeds
½ cup grated parmigiano-regiano
⅔ cup olive oil
salt and pepper to taste
Instructions
For the soup: Add the first 4 ingredients to a slow cooker. Set on low for 8 hours.
About an hour before serving, add the barley.
Just before serving, season with salt and pepper.
For the pesto: Combine carrot tops, pumpkin seeds, and cheese into a small food processor. Grind together.
While continuing to process, slowly add the olive oil.
After all has been incorporated, season with salt and pepper to taste.
To serve: Top the soup with the pesto.
Enjoy!