Continuing with our grains theme for the month of March, today we are going to take a look at lentils. I'm also going to share a very quick option for a traditional Hoppin' John recipe using lentils instead of black-eyes peas.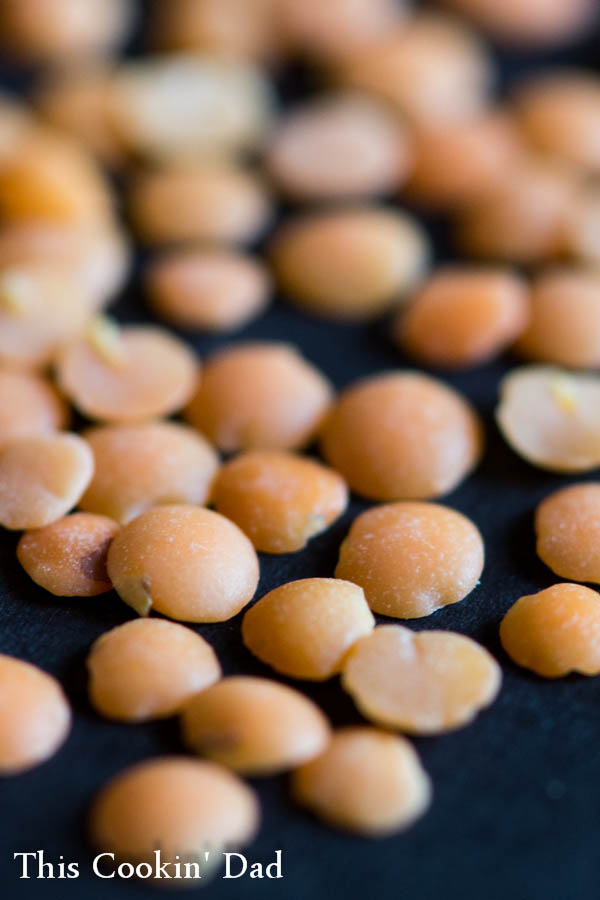 When we think of grains, we typically think of cereal grains like wheat, corn, or rice. Grains, however, cover a pretty wide culinary space. Lentils, technically, are a grain legume, or edible pulse. In many ways, they are a cross between the grains that we usually think of and beans. Lentils are an important part of the diet in many Middle Eastern countries, India, and even in parts of Europe.
I love that they have much of the nutrition of beans, but cook almost as fast as simple white rice. In fact, stewed lentils served over rice are very popular in much of the world and can be prepared in less than 45 minutes, making it an easy dinner for busy weeknights.
I have learned that the key to properly cooked lentils is to wait to salt them until after they have cooked. Salt toughens up the outer shell and they take forever to cook! Without salt, they can cook up in about 30 minutes and you can still add salt after the fact. After cooking my lentils, I love to add in a little bacon and some sauteed greens and sit back with a bowl and a nice slice of cornbread. YUM!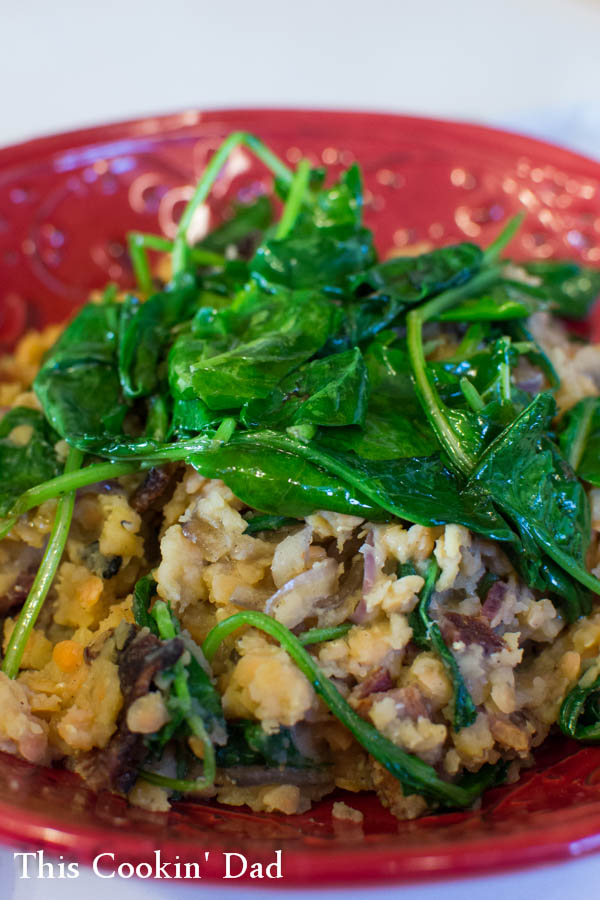 Have you ever tried lentils? How do you prepare them? How do you feel about grains, in general? What are your favorites? Do you shy away from them? We'll be discussing grains through March on This Cookin' Dad. Please leave a comment and share your story.

These Lentils are Hoppin'
I used red lentils here for the color, but any color lentils would work. Just just make sure to adjust your cooking time.
Ingredients
1 cup red lentils, rinsed and picked through for any small stones
2 cups water
salt and pepper to taste
4 slices of bacon, diced
1 tbsp olive oil
4 cups baby kale
Instructions
Add lentils and water to a medium saucepan. Bring water to a boil over medium-high heat, reduce heat to low and simmer, uncovered, 20-30 minutes or until lentils are al dente. After the lentils are cooked, season with salt and pepper.
In a large sautee pan over medium heat, cook bacon until crispy. Remove crisp bacon from pan and reserve for later use.
Add olive oil to hot bacon grease, followed by baby kale. Cook for 4-5 minutes, stirring often. Remove from heat and season with salt and pepper to taste.
To serve, top lentils with kale and crispy bacon. Enjoy!