For the past few weeks, I've been doing a lot of grilling for my theme this month. I've also been cooking a lot of pasta trying to put together the perfect recipe for my earlier this month, raising funds for and awareness of our local food pantry. In cooking so much over that time, it was only natural that the two would come together at some point. When they finally did, my Fideua with Chorizo and Shrimp was born.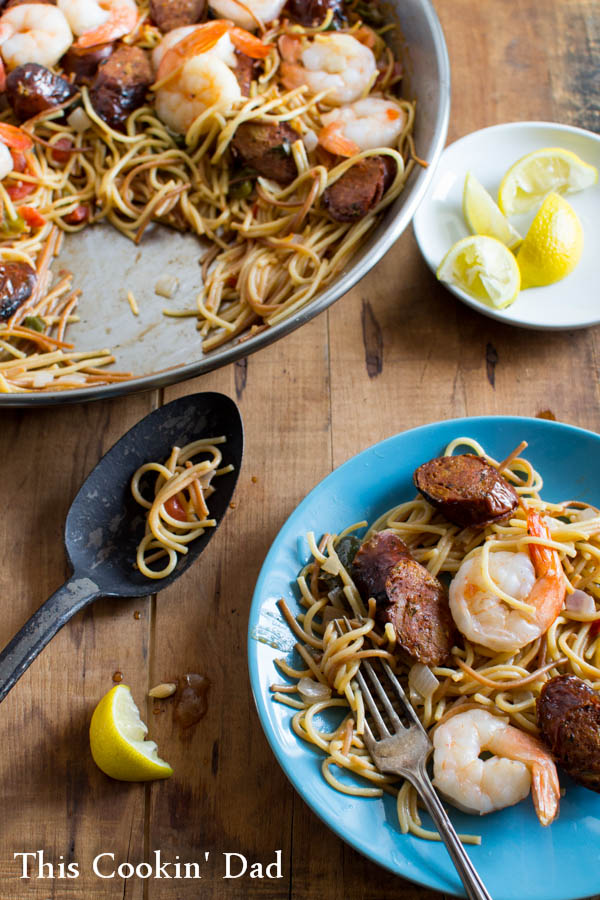 I was tasked with creating a dish using grilled meats, peppers, beer, and a few other ingredients. At least 2 dozen ideas were flitting around in my head. It can be so hard to organize your thoughts! Finally it hit me…what about doing something like paella? Except with pasta!
Surely, I thought, someone has thought of this before. I took to the web and, sure enough, not only has this been done before, it actually has a name! Fideua (pronounced "FEE day wa") is Valencian in origin and the name comes from the Valencian word for noodle. Fideua is basically a paella made with pasta instead of rice. It is typically made with firm, white-fleshed fish and crustaceans, but every grandmother is going to have a different recipe.
My version uses chorizo, shrimp, and a little roasted poblano all cooked in beer to give a Midwestern sausage and peppers approach to this incredible Spanish dish.
I start by roasting the peppers and sausage on the grill.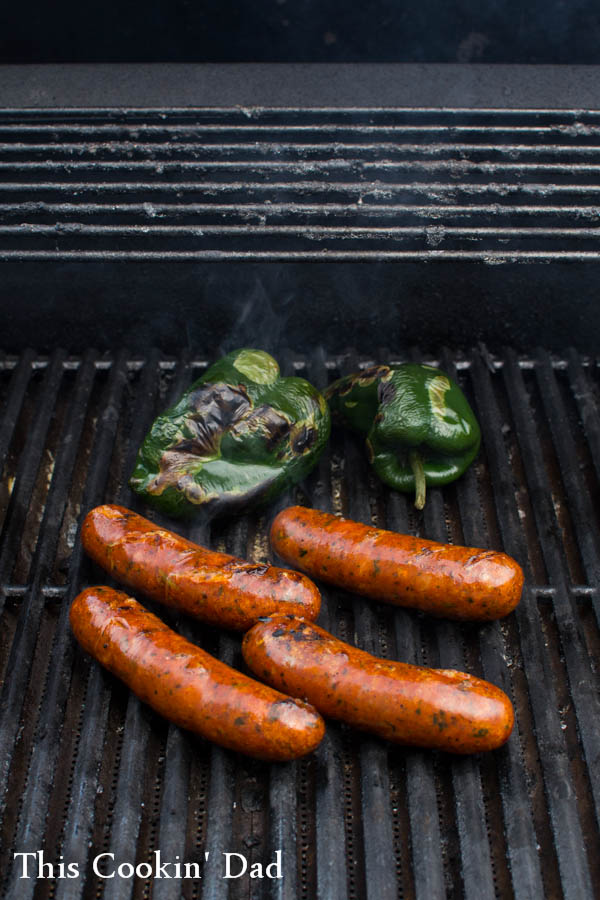 I let the peppers rest for a few minutes before removing the seeds and scraping away the charred skin.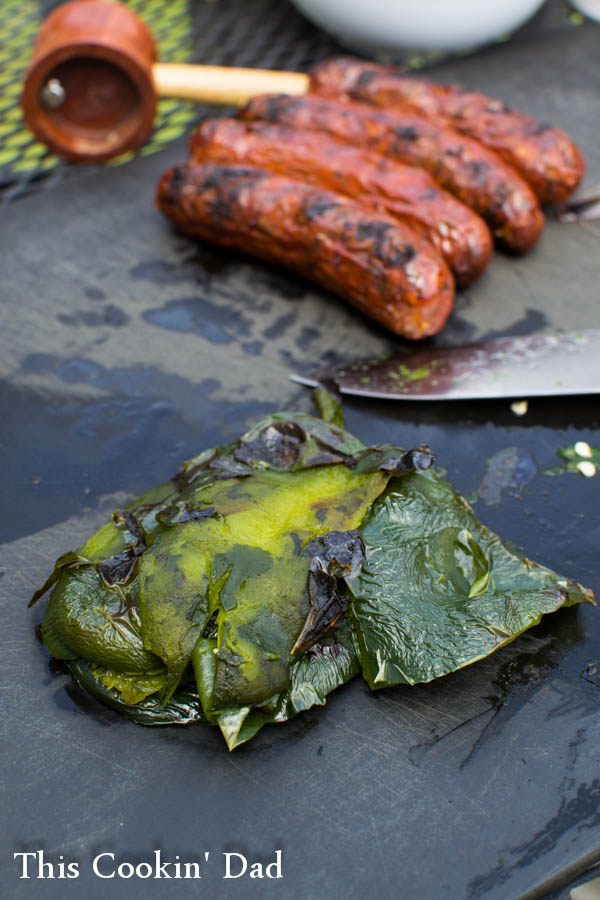 Next, I placed my paella pan on the grill, heated up some oil, and started adding broken pieces of pasta to the oil. I add some diced onion and toss the pasta, toasting for just a few minutes…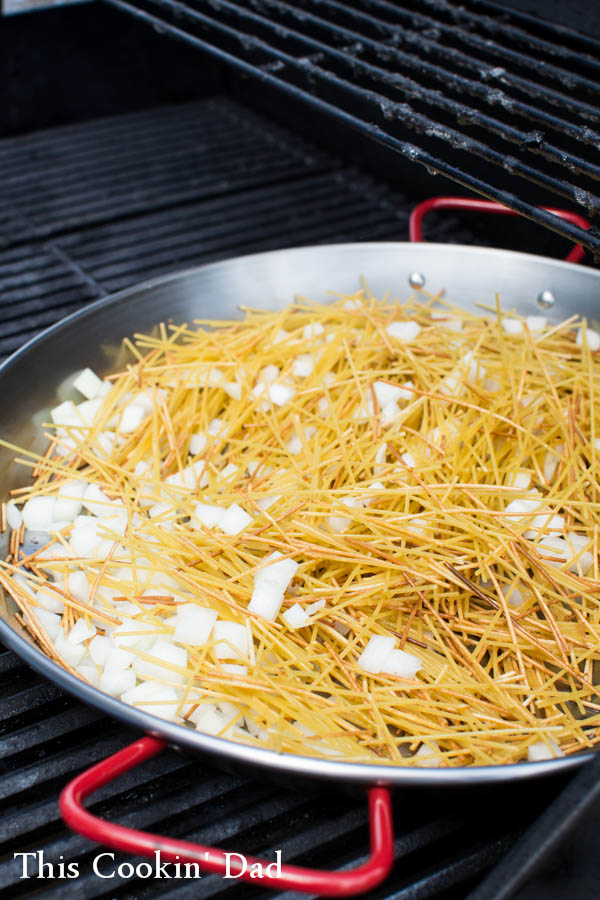 …before adding beer, water, the roasted poblano pepper, and a can of diced tomato.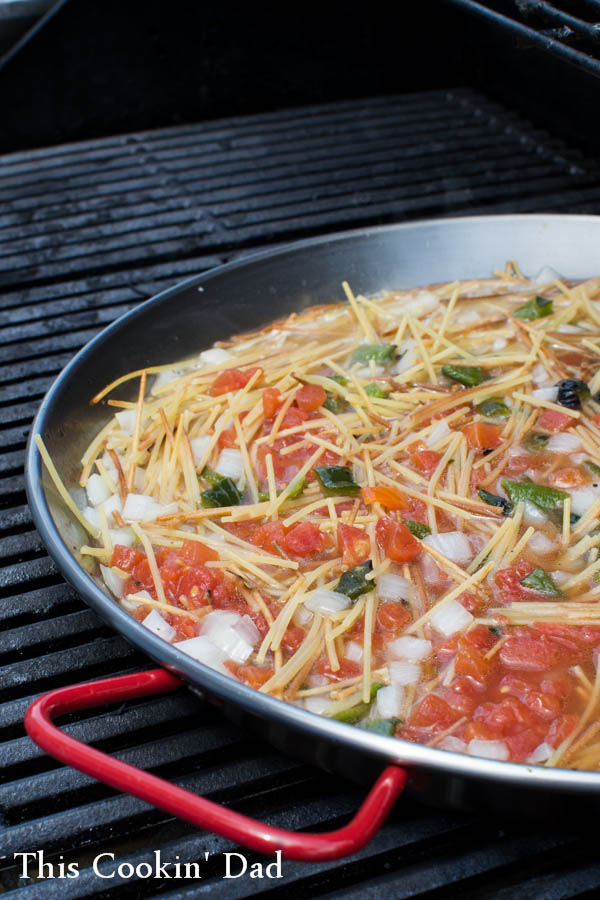 That cooks with the grill cover closed for about 10 minutes or until about 3/4 of the liquid is absorbed. Then add the shrimp and sliced chorizo to the top and cook for another 3-5 minutes, until all of the liquid is absorbed, the shrimp is cooked through, and you start to get that lovely browning on the bottom of the pan.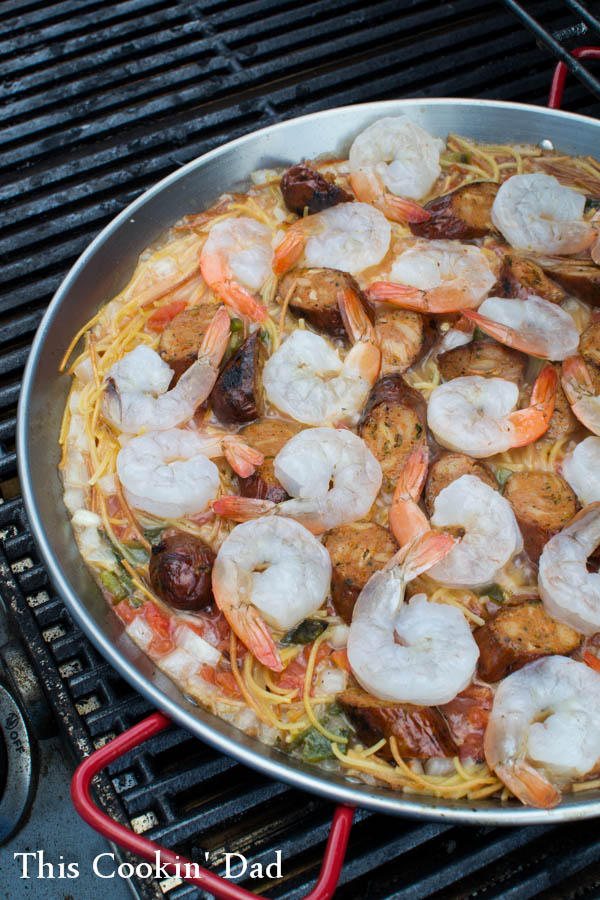 Scrape out a nice portion and serve with lemon wedges, a very traditional accompaniment to a dish like this. Enjoy!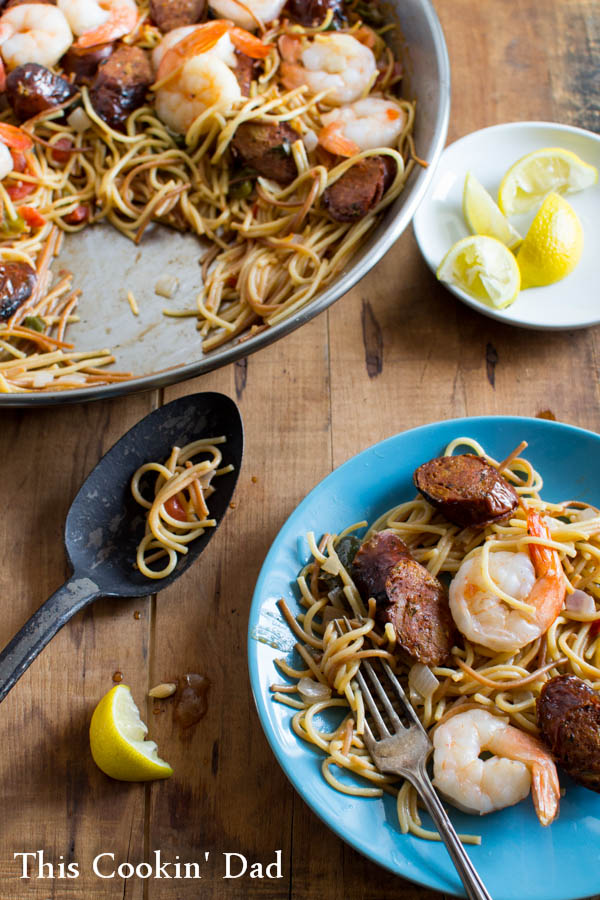 Grilling comes in so many forms! We are grilling all month long here on This Cookin' Dad. What are your favorite dishes to grill? Leave a comment and share your story!

Fideua with Chorizo and Shrimp
Fideua is a Spanish dish similar to paella, but using broken pieces of pasta instead of rice. The shrimp is tender and works perfectly with the spicy chorizo. Cooking the pasta in beer with onions and peppers evokes memories of classic sausage, pepper, and onion sandwiches dressed up for a different crowd. A quick squeeze of lemon juice adds a touch of acid and completes the dish!
Ingredients
2 poblano peppers
4 links chorizo sausage
2 tbsp olive oil
1-13.25 oz box spaghetti, broken into 2-3 inch sections
1 medium onion
½ tsp kosher salt
½ tsp freshly ground black pepper
16 oz. Jamaican style lager
2 cups water
1 -14.5 oz can diced tomatoes, undrained
1 lb peeled and deveined shrimp
2 small lemons, cut into wedges
Instructions
Heat a grill or grill pan to medium-high heat. Place poblano peppers onto the grill. Cook, turning often, until charred all around, 5-10 minutes. Place into a bowl, cover with plastic wrap and allow to rest for 5 minutes. Remove the seeds, scrape the blackened skin off of the pepper and dice the pepper. Set aside for later use.
Meanwhile, poke 3-4 holes into each chorizo link with a sharp knife. Place onto the hot grill and cook 2-3 minutes per side, about 10 minutes total. Remove from grill and cut into ½ inch slices.
Heat a 15" paella pan or large skillet to medium-high heat over a grill or stove top. Add the olive oil, heating for about 30 seconds before adding the spaghetti pieces. Toast the spaghetti for 3-5 minutes, stirring frequently. Add onion, salt, pepper, and reserved poblano. Cook another 3-5 minutes, or until onion begins to turn translucent.
Add lager, water, and tomatoes. Season with additional salt and pepper to taste. Cook, uncovered for about 10 minutes. Add sliced chorizo and shrimp. Cook for another 5 minutes or until shrimp are fully cooked. Remove from heat and allow to rest for about 2 minutes.
Serve with lemon wedges. Enjoy!