Have you started thinking about what you are doing for your better half for Valentine's Day?  This year, Valentine's Day is on a Friday.  With three little ones, that can be a tough night to get away!  On top of that, in our house, Valentine's Day is the culmination of what has come to be known as "Beth Week".  Our anniversary, her birthday, and Valentine's Day all fall within that five-day period.  Even if we were to go out for a date night, we'd be fighting with every other couple in the area for restaurant seating and would have to pay someone to watch the kids for the night.  That just starts costing way too much in time, frustration, and money for a simple dinner out.  No thanks!!
Still, I want to treat my sweetie right.  What better way than a nice dinner when she gets home?  Even better would be if the kids get involved as well!  So here we go!  The kids and I put together this nice little dinner one night and we'd love to share with all of you so that you can start getting ideas together for your own Valentine's surprise.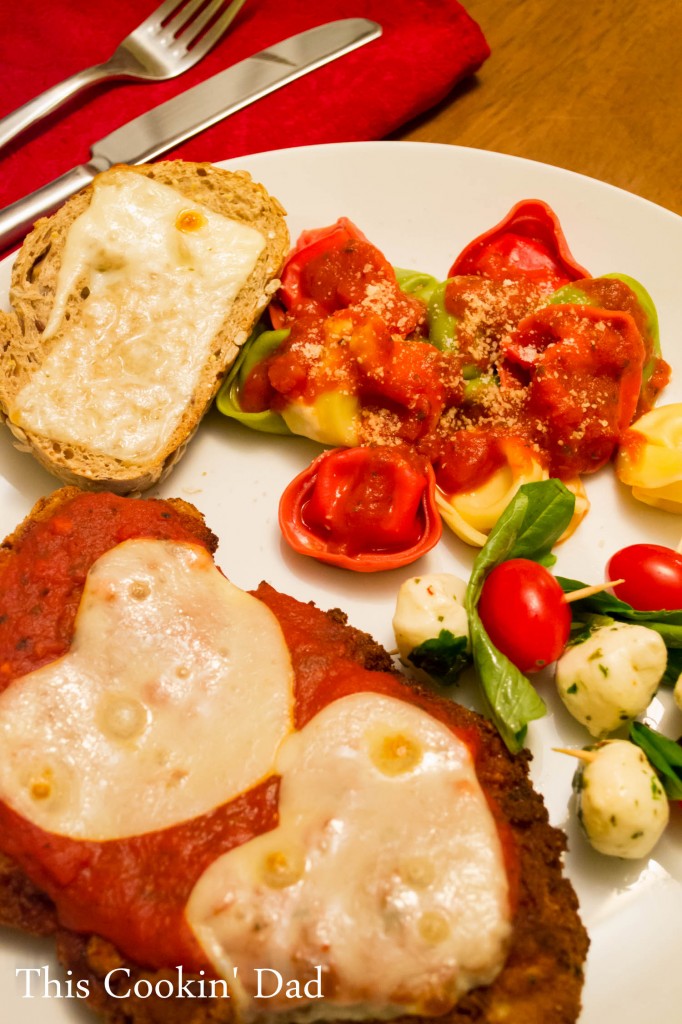 We started with some fried chicken breasts that we make ahead and freeze for quick, easy dinners.  Pound them thin, then dip them in seasoned flour, and egg wash, and seasoned breadcrumbs mixed with Parmigiano Reggiano.  Fry them up over medium-high heat until crisp and cooked through.  Let them cool and then freeze.  On the big night, heat the oven to 400 and put the frozen chicken in for about 15 minutes.  Top with your favorite jarred tomato sauce and a slice of mozzarella (we cut hearts with cookie cutters).  Heat another 5 minutes or until cheese is slightly bubbly.  It's a little classy, a little sexy, and a lot easy!!
Since you've already got the tomato sauce out, boil up some pasta to go on the side.  We used a store-bought cheese tortellini that the kids are just in love with!  Since the oven was on, Matthew helped make some cheesy bread (slices of mozzarella cheese on top of a sliced whole-grain bread…pretty tasty!)
The girls felt the need to contribute a little extra so they made our salad.  I pulled out some toothpicks, grape tomatoes, basil leaves, and bite-sized mozzarella balls.  They worked together to place one tomato, one basil leaf, and one ball of mozzarella onto each toothpick, making little Caprese salads for the family.
The entire meal was incredibly easy to put together and very easy for them to help and feel a part of.  They all got to put a little piece of themselves into the meal.  Who could ask for a better gift for a mom??
How do you celebrate Valentine's Day?  Do you head out for a special night away or stay in with the family?  Leave a comment and share your story.