That's what Jason and Carolyn Roy set out to serve when they first opened Biscuit Head in Asheville, NC in Spring of 2013.
To say they've been successful is an understatement, making Food & Wine Magazine's list of TOP 5 biscuits in America back in May and opening their second shop in the Asheville area in June, less than a year and a half after their opening.  When I was in Asheville for Food Blog Forum last week, I made it a point to stop by for breakfast at their new Biltmore location.
Driving through East Asheville to find the spot, I realized I was coming up on a hospital and the series of medical offices that always surround hospitals.  I got a little worried that the place might be tough to find, tucked away into a little corner somewhere.  Right on the main drag, though, signs are posted to direct you there and the storefront, though simple, makes it clear that you have arrived.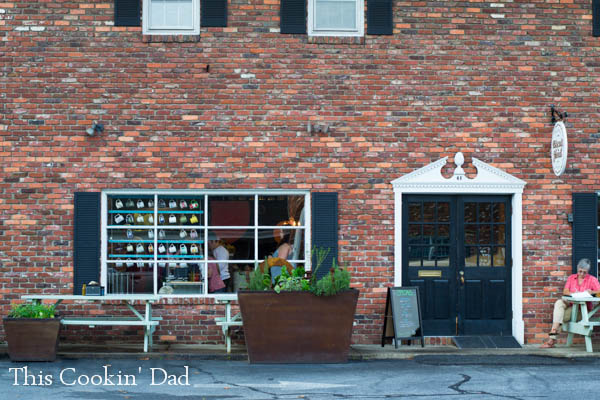 As you walk up, you may notice a huge log out front.  Look around it.  You'll find tomatoes, peppers, herbs…all used in the preparation of that day's offerings.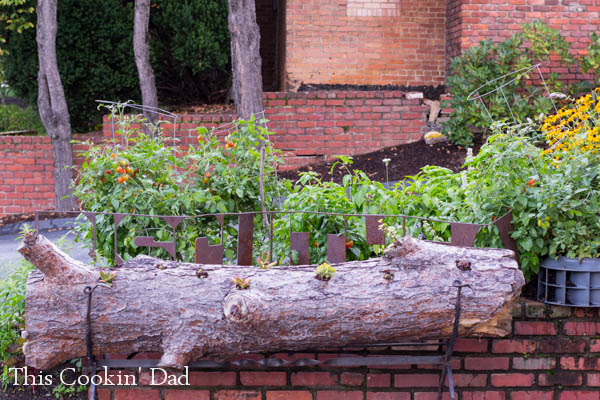 When you walk in, you might just turn back around to make sure that you haven't transported somewhere.  Far from the stark brick exterior that marks every building nearby, the interior is vibrant, fun, and just a little quirky.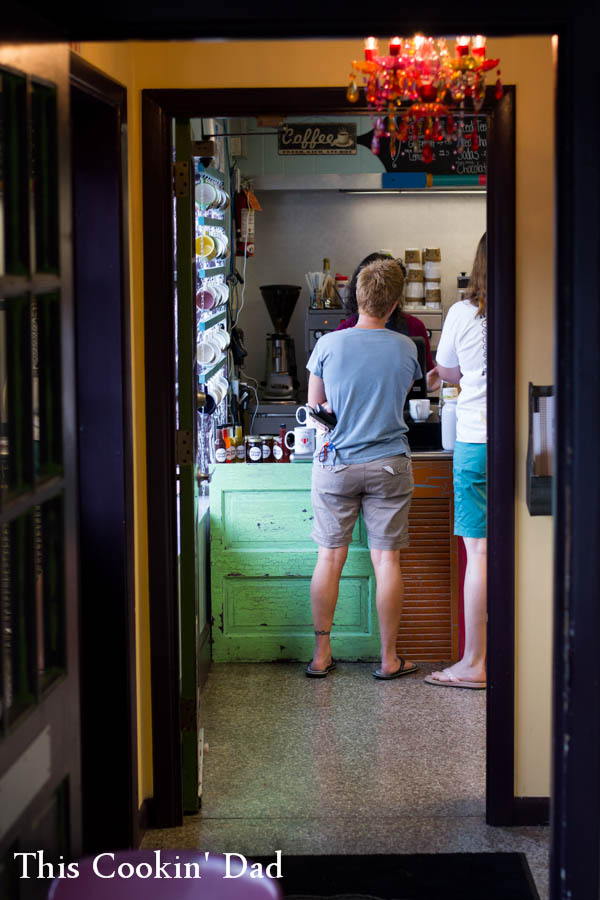 Turn left and you'll be greeted one of Biscuit Head's inviting personalities and a large hanging rack of coffee mugs.  On weekdays, coffee is free for the first hour that you are there.  Bring a friend or a newspaper and hang out for a bit!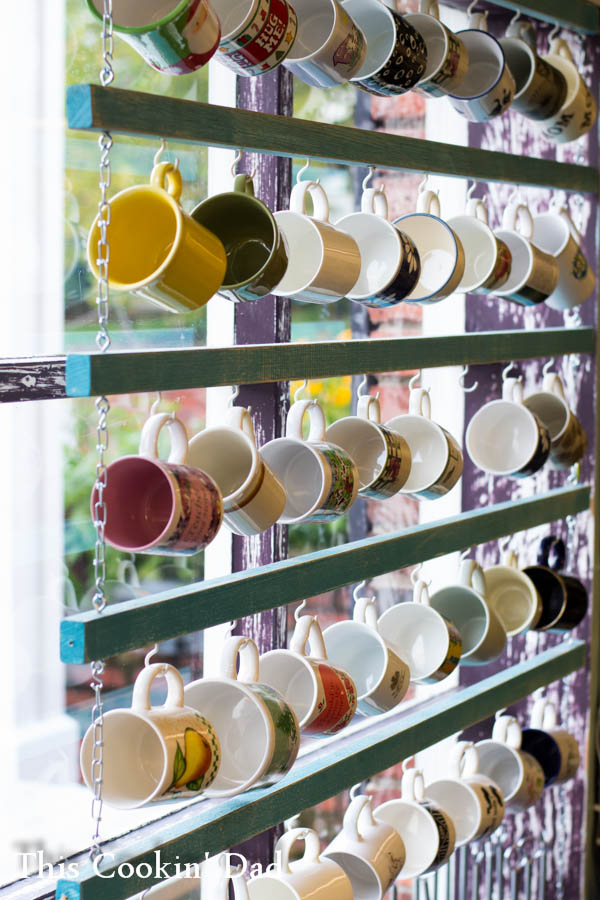 As you order, you'll overlook the open kitchen to see the cooks hard at work…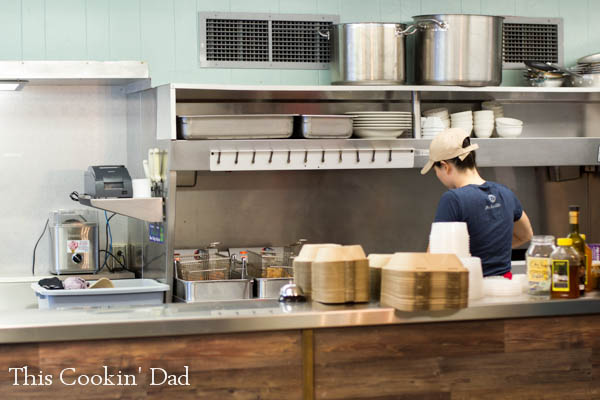 …and you might even catch a glimpse of the beautiful biscuits that you've heard so much about.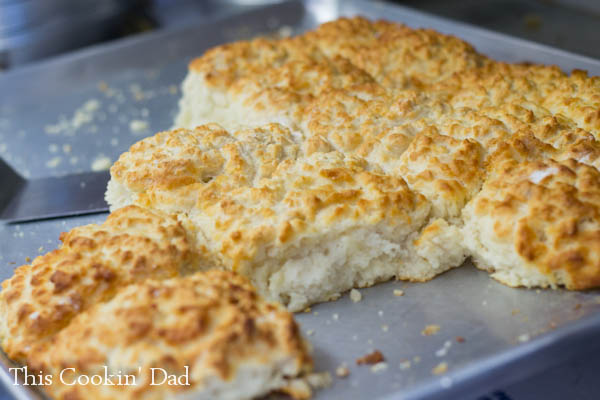 I went in for breakfast, so I stuck with my traditional breakfast fare, biscuits with gravy and an order of eggs and bacon with a biscuit.  I firmly believe that the two best ways to judge biscuits are to slather them with gravy and to use them to sop up egg yolk.  Still, this breakfast was far from my typical breakfast.
As I walked to find a table, I passed by what can only described as a biscuit topping bar.  Butters, jellies, streusel, even sriracha.  Little paper cups were stacked up to fill with your favorites so I grabbed a few that looked the most interesting, namely the tarragon marmalade, the green chiles cherry jam, and the Hawaiian Punch butter.  I know that I grabbed a few more, but these were the ones that really stuck in my head and that I would go back for again and again.
Once the food arrived, I got to work.  Everything arrived in, basically, a tin pie plate and, with the rustic tables and chairs, it all added to the homey, inviting, and all around biscuity feel of the place.  The eggs and bacon were perfectly cooked and the biscuit delicious with the egg yolk.  I slathered on the various butters and jams and was just in heaven.  I think I could come here again for just biscuits and jam.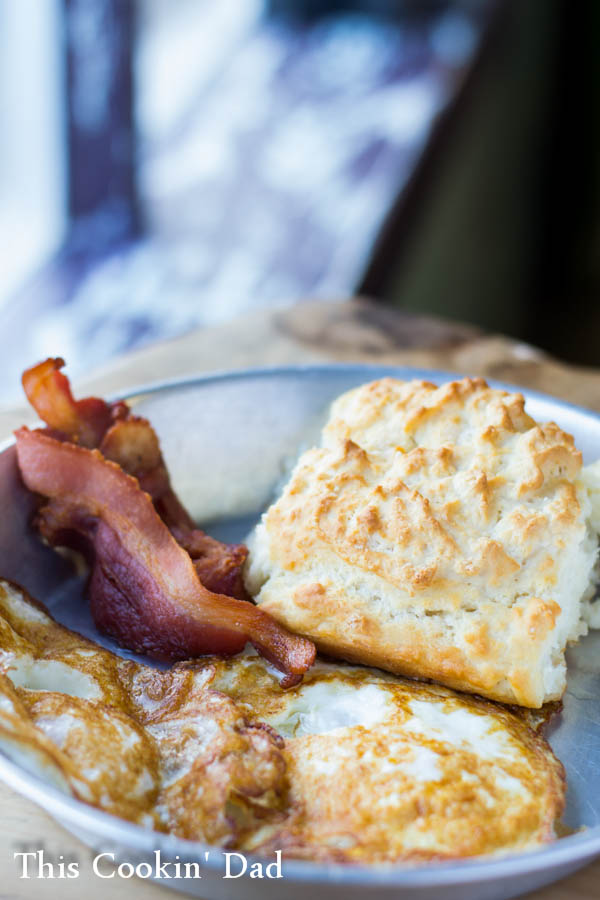 The reality, though, is that, to me, biscuits mean gravy.  I ordered a gravy flight.  I chose smaller servings of three different gravies, the Fried Chicken Gravy, the Espresso Red Eye Gravy, and the Gravy of the Day, a Creamy Tomato Bacon Gravy.  All were excellent and very different.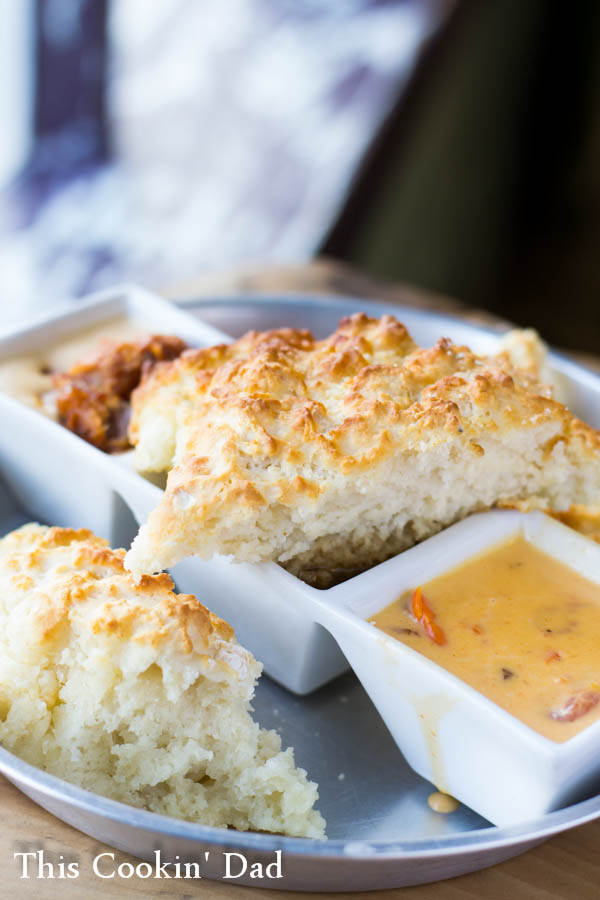 The Fried Chicken Gravy was the more traditional of the three and just had that incredible gravy taste that you want with your biscuit.  It even had pieces of fried chicken buried within the velvety gravy.  It was like a little extra treat and I had to dig through to get each one!  The Espresso Red Eye Gravy is more like an au jus, not creamy like the other gravies.  It also was very tasty.  A little bitter, a little porky, and just the right amount of salty.  The fact that the biscuit stood up to that broth is really a testament to what they are doing there.
The clear stand out, though, was that Creamy Tomato Bacon Gravy.  I can still taste it and smell it.  It was really something special and, if you go on a day when that is the Gravy of the Day, you must give it a try.  Let me repeat that.  You must try the Creamy Tomato Bacon Gravy when it is available.  This is something that I will attempt to recreate in my house.  When I get it right, I'll be sharing it here.
If you aren't in the mood for a traditional breakfast biscuit, you still have options.  You can get biscuits with pulled pork, fried catfish, brisket, fried green tomatoes, etc.  In fact, a fried chicken biscuit with a little sriracha slaw would be pretty nice right about now!
My only problem with going to a restaurant like this is that I know that I will order too much (I'm doing it for you, right?) and that I will have to leave some of that food behind.  I hate to waste, but I just can't eat that much!
Places like these are really gems in the community.  Food is locally sourced and they try to make everything either compostable or recyclable.  They offer options for all types of diners including gluten-free biscuit options and seitan sausage.  But all of that would be nothing if the food wasn't excellent.  Guess what?  It is!!
Any local places that have found recently that have just blown you away?  Leave a comment and share your story.