One thing that I love about food in the wintertime is that it's largely based on ingredients that you've preserved in some way, shape, or form from the fall and on the very few things that are available during the winter months. This is the basis of my Venison & Butternut Squash Stew.
During the fall, we buy a lot of squashes and pumpkins. We puree or simply cube them, portion them into freezer bags and stash them in the freezer. I've also got a buddy of mine who is a hunter. He always bags a couple of deer and, this year, he helped me out by offering a couple of backstrap (sort of like the venison loin).
I put this tender meat and my frozen butternut squash together with some beer and a few other simple ingredients to create a hearty Venison & Butternut Squash Stew.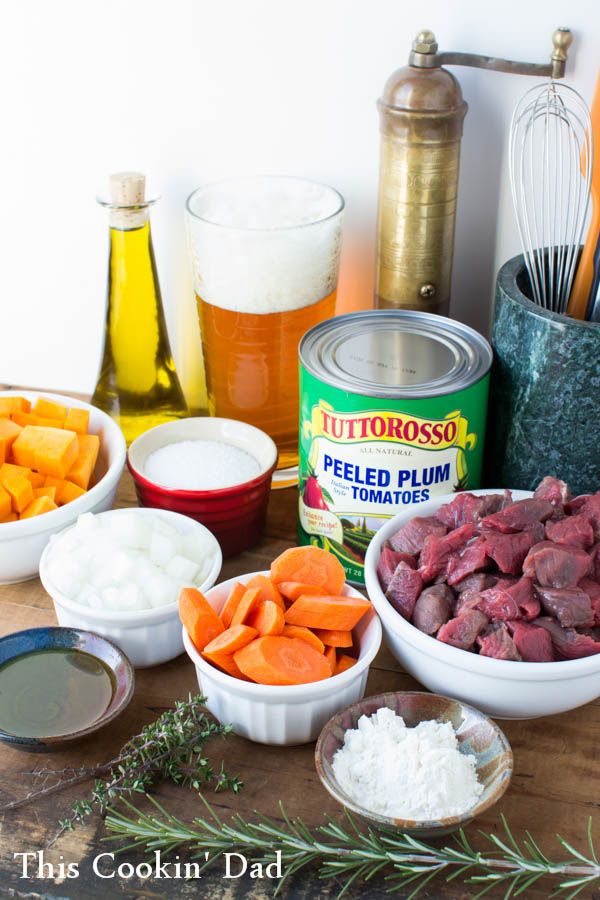 I brown up the meat…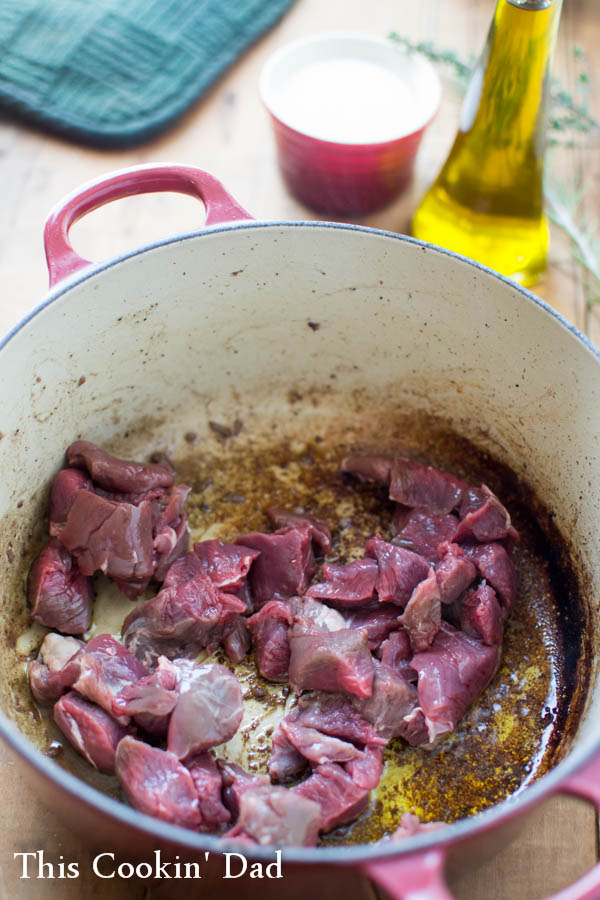 …cook the veggies with some flour…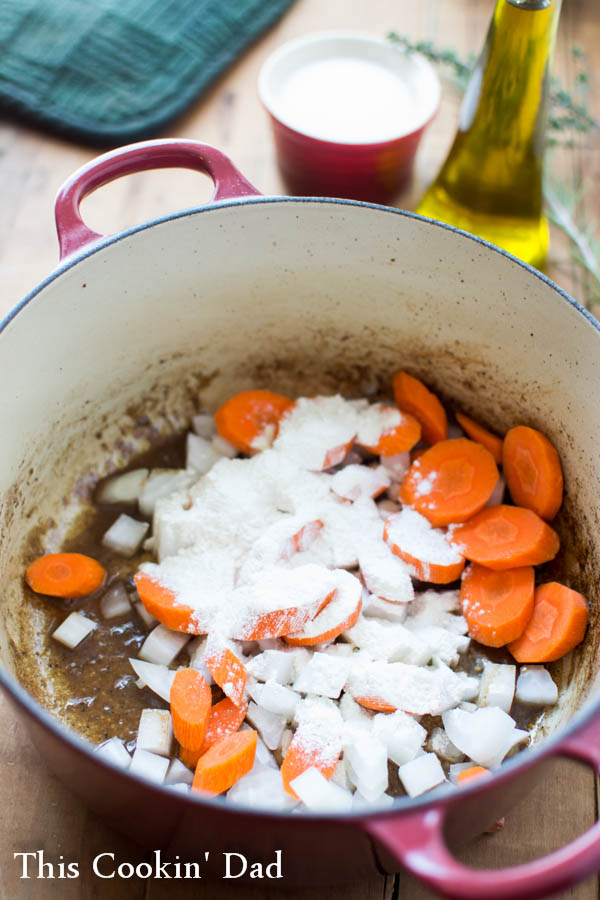 …add some beer…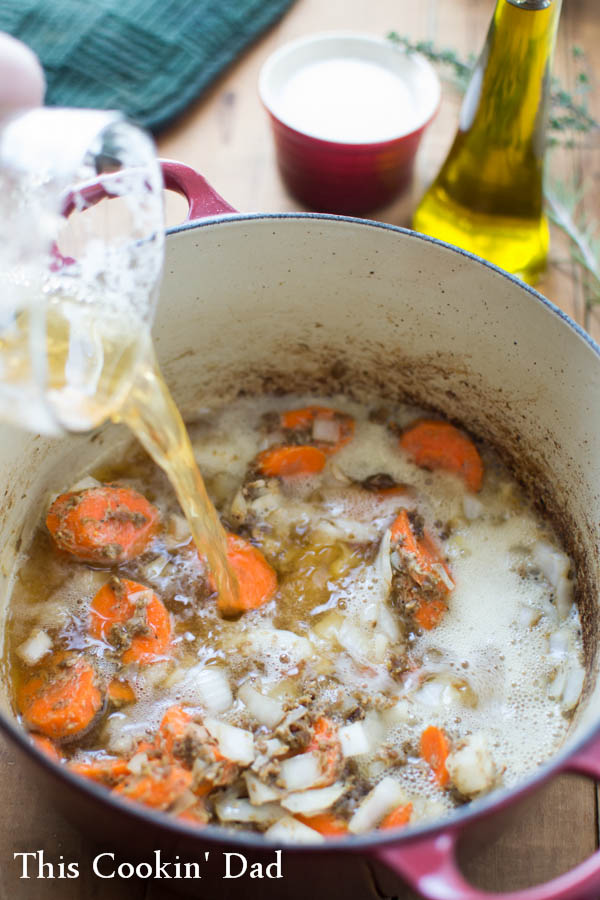 …and the rest of my ingredients.
After a couple of hours in a low oven, you come out with a tasty bowl of Venison & Butternut Squash Stew perfect for a winter evening spent with loved ones, a warm fire, a cold beer, and a hunk of crusty bread!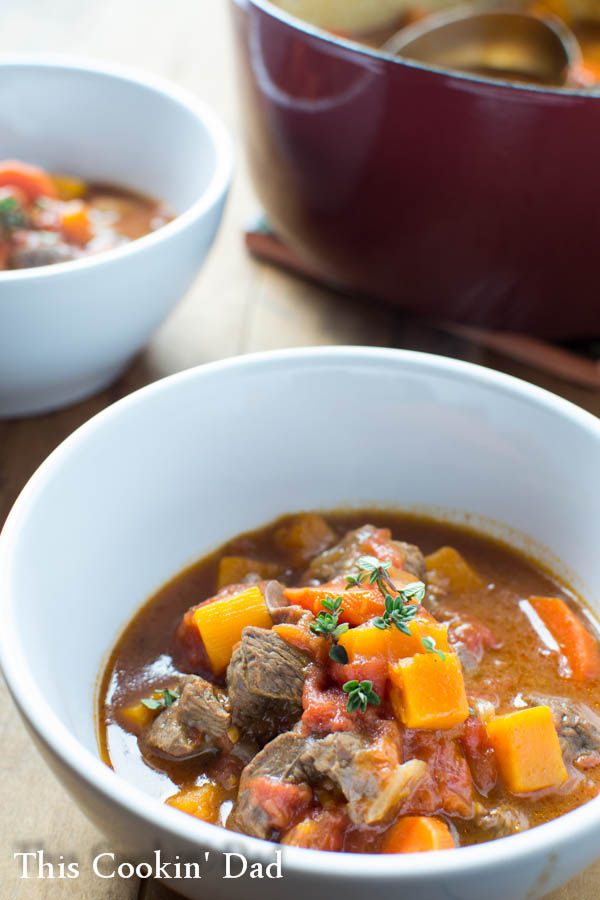 Throughout January, I'm focusing on soups and stews. What is your favorite soup or stew and why? Leave a comment and share your story!

Venison & Butternut Squash Stew
Recipe type:
Soups and Stews
Ingredients
2 tbsp oil
1.5 lbs venison, cubed
salt & pepper
1 small onion, diced
2 carrots, peeled and cut into bite-sized chunks
2 tbsp flour
8 oz. beer
1 cup low sodium beef stock
1 28 oz can peeled tomatoes, crushed by hand
2 cups butternut squash
1 sprig rosemary
2 sprigs thyme
Instructions
Preheat oven to 325 degrees.
In a large pot, over medium heat, heat 1 tbsp olive oil. Season meat with salt and pepper and add about half to the heated oil. Sear on all sides, about 2-3 minutes per side, or until lightly brown all around. Remove from the pot and set aside. Repeat with remaining oil and meat.
With all meat removed, add onion, carrot, and more oil if necessary. Season with salt and pepper. Cook 8-10 minutes or until onion is just starting to brown. Add flour and stir to incorporate. Cook 3-5 minutes.
Add beer, stock, and tomatoes, scraping the bottom of the pot to free up any bits of flour. Add squash, rosemary, thyme, and reserved meat. Bring to a boil, cover, and remove to oven.
Allow to braise in the oven for 2-3 hours or until meat and squash are completely tender.
Serve with crusty bread and cold beer. Enjoy!