We talking about breakfast all month and, while I was working on a few things for this month's posts, I happened on something too good not to make it's own post. Combining real maple syrup with just a touch of your favorite bourbon can totally change your breakfast offerings.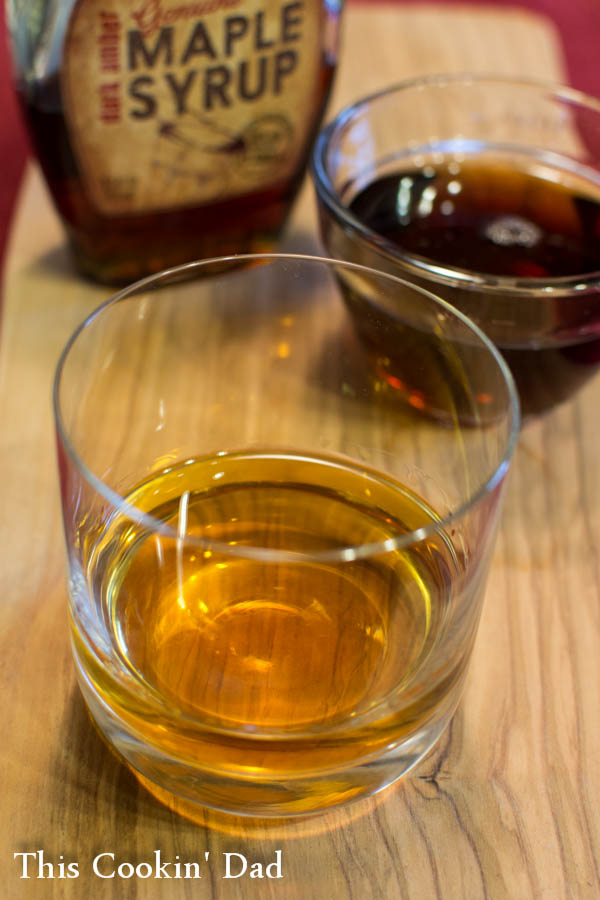 To be honest, the pairing of maple and bourbon makes a lot of sense. The sweet smokiness of the maple is perfect with the deep oak flavor of most bourbons. In fact, you can find more than a couple of bourbons that are aged in maple casks. If you search for maple and bourbon, your first few results will be cocktails. I'm certainly not complaining about that!
What I was looking for was a way to make my breakfast for dinner a little more grown up. Sure, the kids love the unadulterated sweetness, but I wanted a little something more. It's beyond easy, of course. I warm up some maple syrup (the real stuff, please) in the microwave and add a little bourbon. That's it!
The only problem that I had was pouring such a small amount of bourbon into a measuring spoon. I quickly solved that by pouring some into a glass and dipping the measuring spoon into the glass of bourbon. Since it would be so difficult to pour the bourbon back into the bottle without making a mess, I was forced to drink the remainder. These are the hard sacrifices that I make for you, my loyal readers!
Of course, the combination works beautifully on French toast and pancakes, but wait until you use it as a glaze on bacon or poured over a great big bowl of grits. I can't wait to play with it further to see all of the non-breakfast foods that I can use it on. Stay tuned for more!
Throughout April, we're talking about breakfast! What is your favorite breakfast food? Anything new that you'd like to try? Leave a comment and share your stories and suggestions!

Bourbon Maple Syrup
Ingredients
½ cup real maple syrup
1 tsp bourbon whiskey
Instructions
In a small bowl, microwave the maple syrup on high for 30 seconds.
Add bourbon to the maple syrup and stir to combine.
Serve on pancakes, grits, or whatever else needs a little touch of bourbony sweetness! Enjoy!