My grilling theme this month has been full of all sorts of goodies! I don't think my kids would forgive me, though, if I didn't include our grilled flatbreads.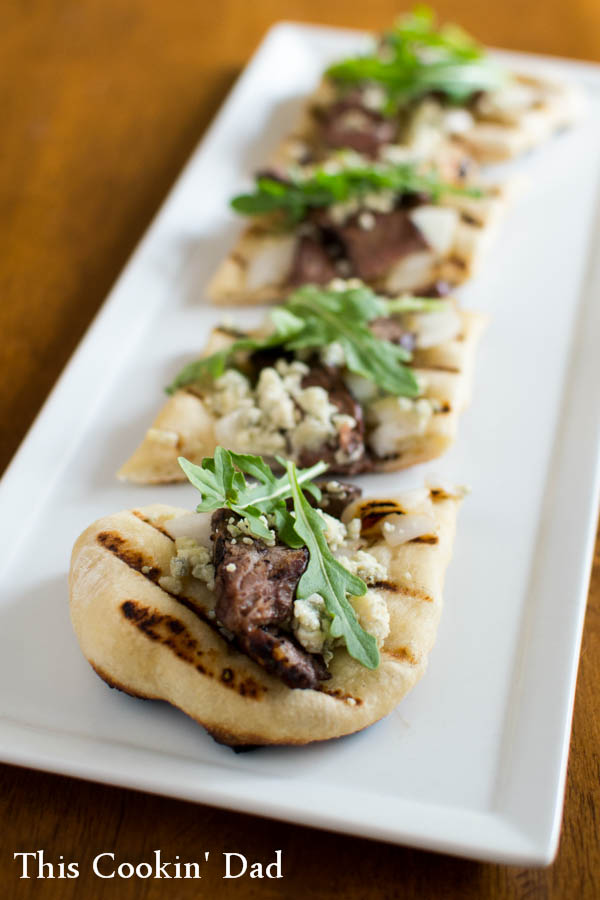 My kids are pizza fiends and, in an effort to get them to eat a little better version of pizza, I started grilling them a couple of years ago. I found out quickly, though, that trying to grill a round pizza is darned near impossible, so I started making them a little more oblong. Then I decided that I wanted more topping options, so I started to make them a little smaller. What started as a massive pizza on the grill morphed into several tasty flatbreads that give everyone great mealtime options.
So what's the difference between a flatbread and a pizza? Not much, really. In fact, pizza is a kind of flatbread! Technically, I think that flatbread is supposed to be unleavened. As most people seem to define the two, though, it really seems to come down to the toppings.
Tomato sauce, pepperoni, and cheese? Definitely a pizza! Steak with blue cheese, grilled onions, and arugula? Now we're talking flatbreads.
Besides toppings, shape can be another factor. Pizzas are usually round, while flatbreads are more rectangular. The lines blur pretty easily, though. One of my favorites involves grilled tomatoes and onions topped with cheese. It's about as close to pizza as a flatbread is going to get!
What I know most of all is that, whether pizza or flatbread, grilling has to be the best way to cook it! The smokey char and little burnt bits are just the way that this is supposed to be eaten! I am completely unapologetic in cheating with my pizza dough. I happily buy it at the grocery store, stocking up my freezer when they are on sale.
I start out by preparing my other ingredients. The key to good flatbread is to have everything ready to go because that dough cooks really fast on the grill.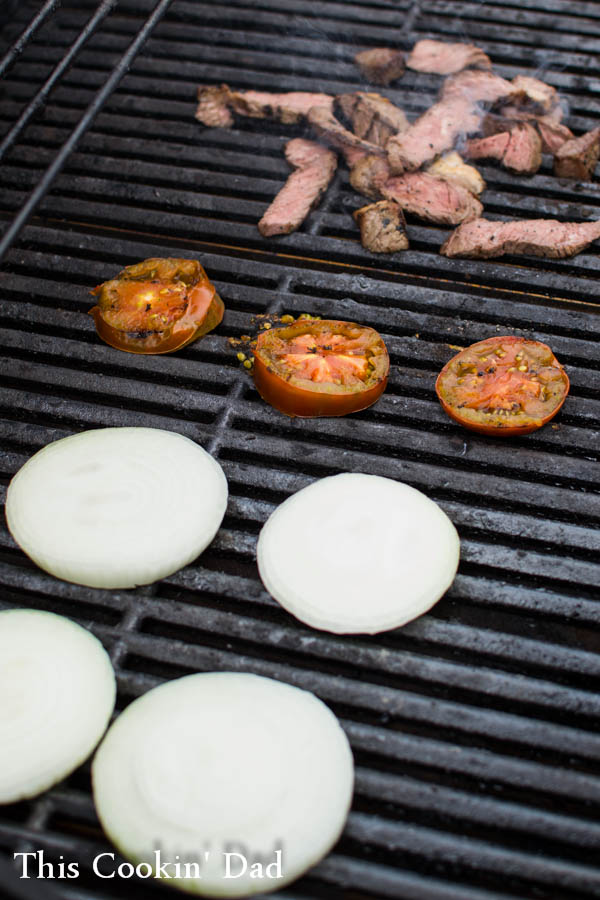 I smear a little oil on the dough before placing it on the grill, adding a little more oil, and letting it get nice and toasty before flipping and adding my toppings. You can top with just about anything! From chicken with grilled tomatoes and queso fresco….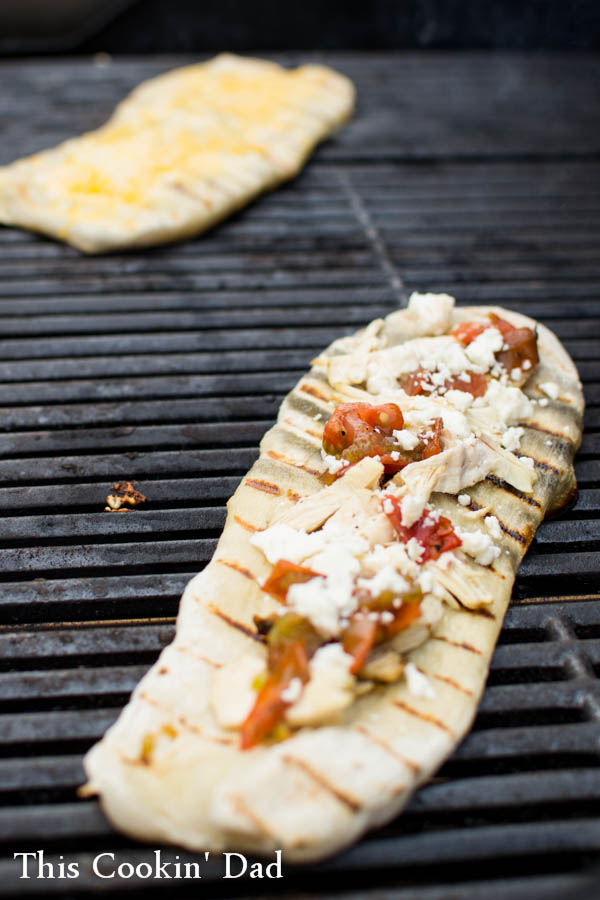 …to leftover steak with grilled onions and blue cheese!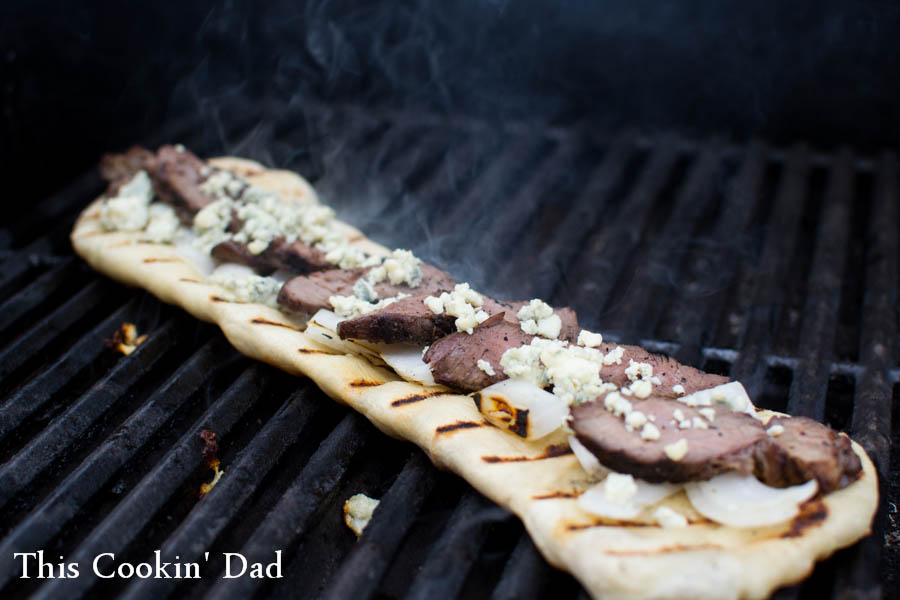 One ball of dough can make 4 flatbreads, so I make sure to have plenty of variety for the family. Everyone gets something that they want to eat.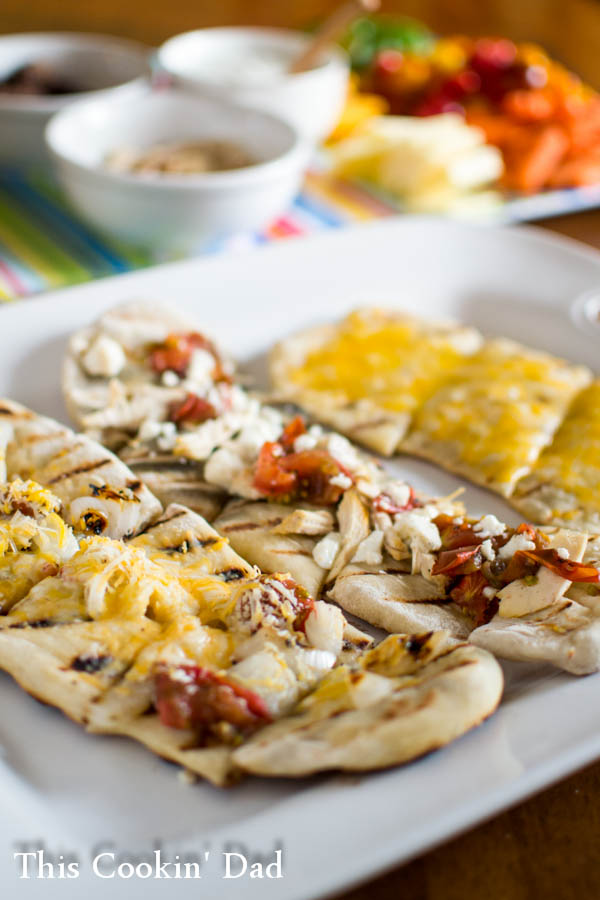 Make sure that any fresh ingredients, like arugula or any fresh herbs, go on after cooking. You want them to retain their freshness and color.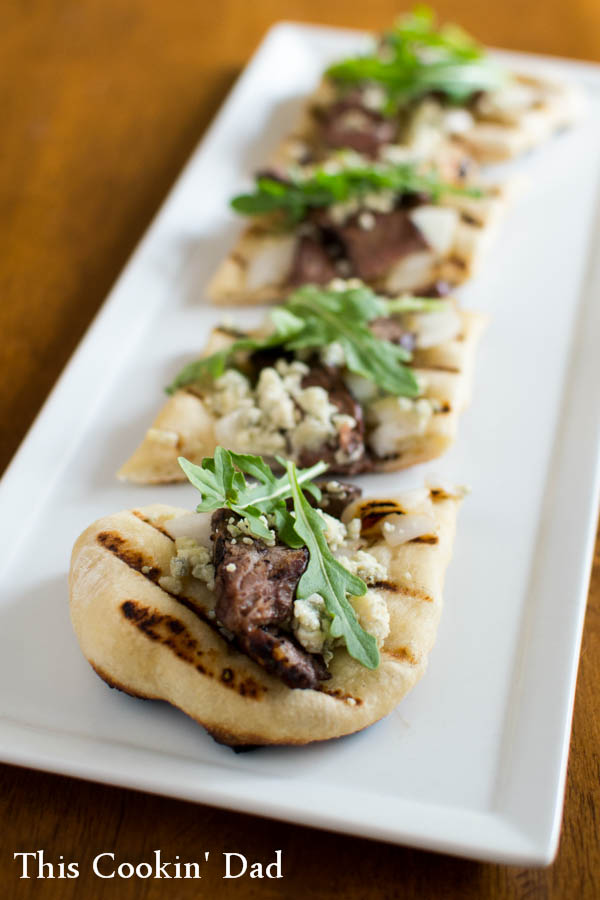 Do you cook flatbreads on the grill? What are your favorite toppings? Leave a comment and share your story!

Steakhouse Flatbread
Ingredients
1 sweet onion, sliced about ¼" thick
1 ball pizza dough
flour for rolling dough
olive oil to brush dough
2 cups steak, cooked and sliced thin
½ cup blue cheese, crumbled
1 cup baby arugula
Instructions
Heat a grill to medium heat.
Place sliced onions onto the grill. Cook until browned, 3-5 minutes per side. Slice and reserve for later use.
Meanwhile, dust a cutting board and rolling pin with flour. Divide the dough into 4 parts. Roll each part into a long, thin rectangle. Drizzle one side with olive oil. Place onto grill, drizzle other side with more oil. Cook for 2-3 minutes or until lightly charred. Flip to other side.
Quickly top the flatbread with steak, onions, and blue cheese. Close the lid and cook for 3-4 minutes, or until cheese just starts to melt and bottom crust is charred.
Slice each flatbread into 4 servings and top with arugula. Serve and enjoy!