Thanks to Dreamfields for making this post possible. I was compensated for my time creating this content. All thoughts and opinions are my own. #HealthyPastaMonth
Did you know that October is National Pasta Month? I didn't know until just a few weeks ago. To be honest, I thought every month was pasta month!! Well, to celebrate, Dreamfields has asked bloggers to create 31 different recipes, one for every day of the month. That's a lot of pasta!!
Each week, Dreamfields is focusing on a different theme and featuring a different cut of pasta (one for each day of the week!). When they approached me, I just knew that I was made for the "Pasta Around the World" theme. With my love of travel, surely I could come up with something a little different to bring another part of the world to your table.
So I decided to visit the shores of Morocco and create a chicken dish with all of the flavors that you would expect from a yummy tagine, but with the sauciness that you need to coat a nice big bowl of Dreamfields Rotini.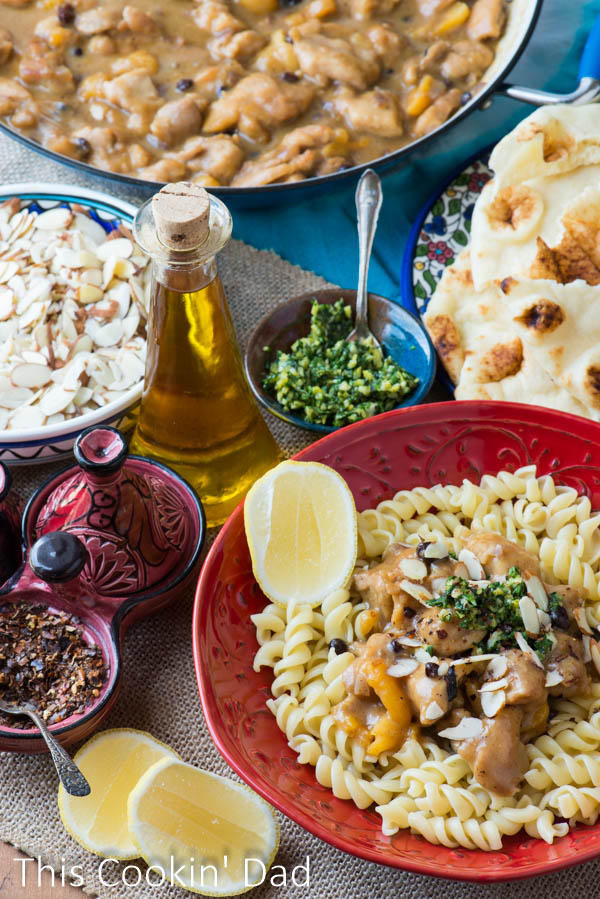 A tagine is one of those cool dishes that is actually named after it's traditional cooking vessel (think casserole or paella). The tagine pot consists of two parts: the base unit and the domed cover that returns the condensation from cooking back to the base unit. The resulting dish is basically a stew or braise with tender, fall off the bone meat.
Unfortunately, I haven't yet picked up my own tagine pot, but that doesn't mean that those flavors can't be developed in my everyday pan. Instead of a long braise with whole spices, I simply toss some ground spices, like cinnamon and ginger, into some flour to coat my diced chicken.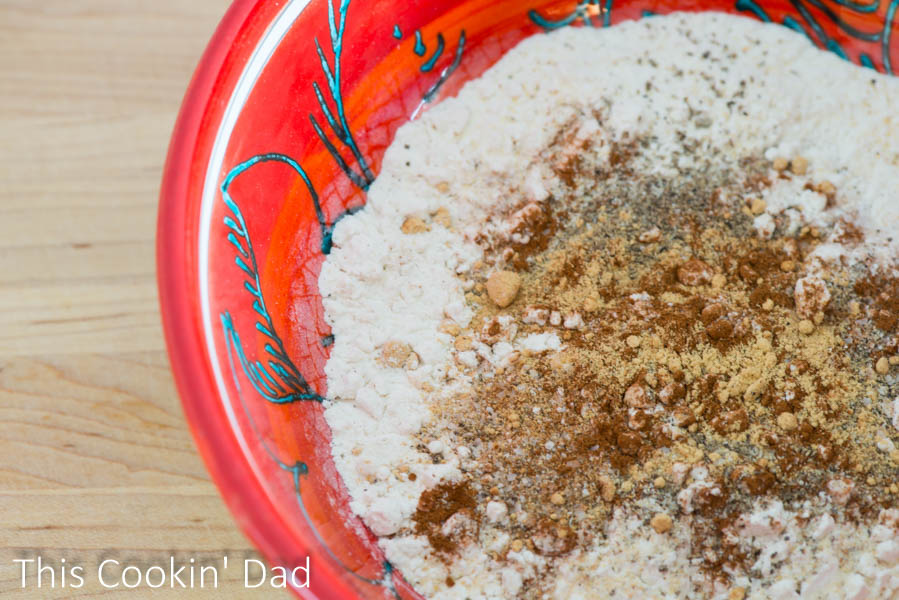 After browning that and cooking up a little garlic and red onion, I add chicken stock or broth into the pan, scrape up all the browned bits, and slide my browned chicken back into the pan. The flour on the chicken and in the pan will help thicken that up to just the right consistency. I also add in some apricots and currants to further enhance that North African feel. It'll be done in about 10 minutes.
While that's finishing up, I get my pasta started. I'm using rotini because all of the swirls capture that thick sauce. Make sure that, whatever, pasta you use though, you check the package directions for the proper cooking time.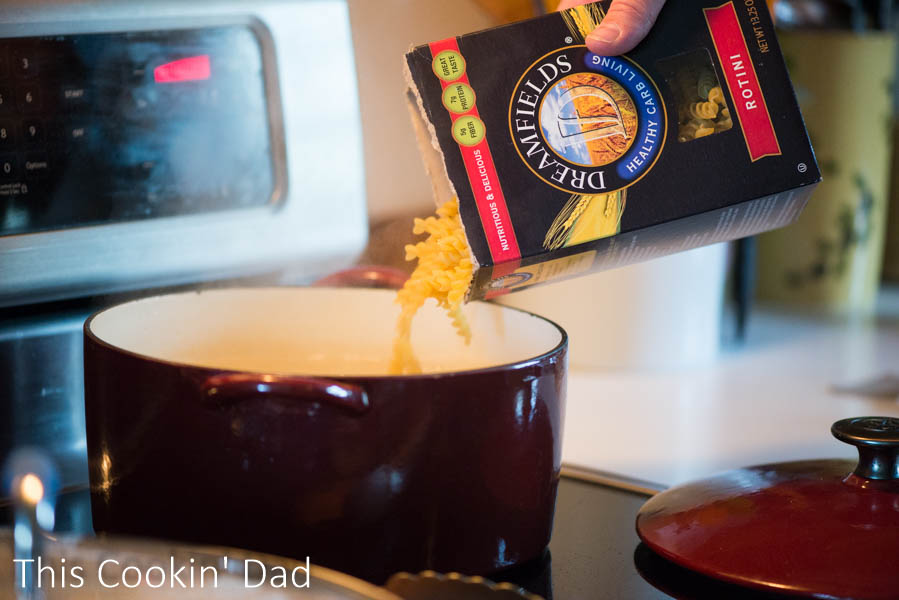 I know that Italians and professional chefs will tell you to make sure and cook the pasta in the sauce at the last minute. For this, though, I want it poured right over the top of my pasta as it is served. With 8 servings and only 5 of us, I want to make sure it's all separated up for reheating. To plate it all up, I make a bed of pasta, top with a serving of my Chicken Tagine Sauce, and garnish with sliced almonds, a touch of olive oil, a squeeze of lemon juice, and a fresh gremolata made with lemon zest, parsley, and cilantro.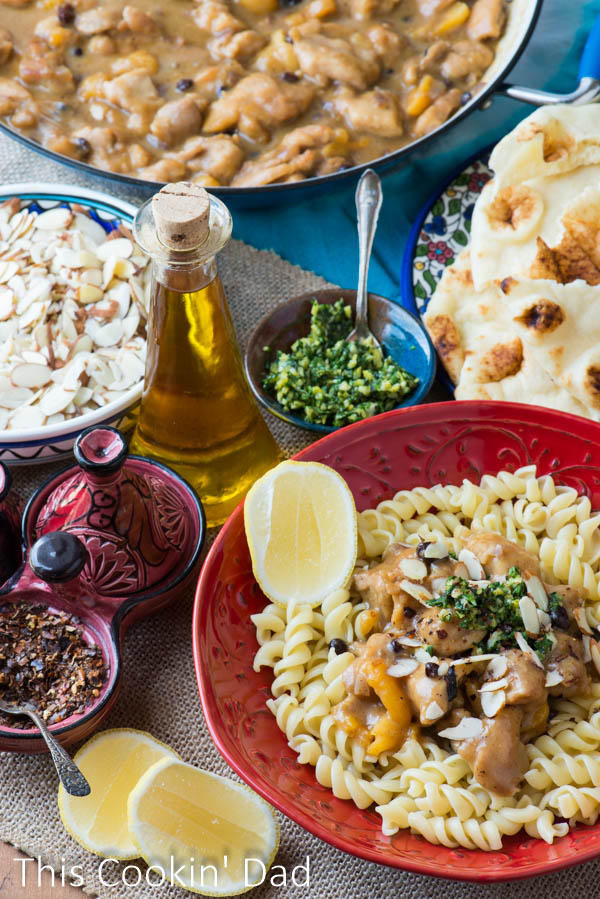 Hungry for pasta yet? You're in luck! Dreamfields is letting me host a giveaway! One of my readers has a chance to win a family pack of Dreamfields pasta (1 each of the 7 different varieties) and a $25 gift card to purchase all of your saucing needs! Why Dreamfields? Dreamfields is made right here in the good old U.S. of A. and provides 5 grams of fiber and 7 grams of protein per serving. To enter for your chance to win, just leave a comment below telling me your favorite kind of Dreamfields pasta. Please, just one entry per person! Giveaway ends at 11:59 pm on November 9, 2015.
This giveaway is closed. Congratulations to Jennifer Essad on winning the Dreamfields prize pack!
Looking for more information on Dreamfields or need any other recipe options? Head over to Dreamfields.com, or visit Dreamfields on Facebook, Twitter, Instagram, and Pinterest.

Rotini with Chicken Tagine Sauce
Ingredients
1 box Dreamfields Rotini
½ cup all-purpose flour
1 teaspoon cinnamon
½ teaspoon ground ginger
½ teaspoon pepper
¼ teaspoon onion powder
¼ teaspoon garlic powder
1 teaspoon salt, divided
¼ cup olive oil, divided
2 pounds boneless, skinless chicken thighs, cut into bite-sized pieces
½ red onion, diced
5 cloves garlic, minced, divided
3 cups low-sodium chicken stock or broth
½ cup dried apricots, diced
¼ cup currants
1 lemon, zested and juiced
¼ cup parsley
¼ cup cilantro
Sliced almonds
Olive oil
Instructions
Cook pasta according to package directions.
In medium bowl, combine flour, cinnamon, ginger, pepper, onion powder, garlic powder, and ½ teaspoon of the salt; set aside.
Heat 1 tablespoon of the oil in large skillet over medium-high heat until hot. Coat ⅓ of the chicken in the flour mixture, dusting off the excess. Add to skillet; cook 2 to 3 minutes per side, or until lightly browned. Remove to a separate dish. Repeat with remaining chicken, adding 1 tablespoon oil between batches.
Add remaining oil, onion, and 3 cloves of garlic (about 1½ teaspoons minced) to skillet. Cook 2 to 3 minutes or until onion is translucent, stirring frequently. Add flour mixture; cook 2 to 3 minutes, stirring constantly.
Pour chicken stock into skillet. Cook and stir until slightly thickened. Add reserved chicken back into the pan along with apricots and currants. Reduce heat, cover, and simmer 8 to 10 minutes, stirring frequently.
Prepare a gremolata by finely chopping lemon zest, parsley and cilantro. Add remaining salt and garlic; set aside.
To serve, divide pasta among serving plates; top each with chicken and sauce. Top with gremolata and a squeeze of lemon juice. Garnish with sliced almonds and a drizzle of olive oil, as desired.
Nutrition Information
Serving size:
⅛ of recipe
Calories:
430
Fat:
14 g
Saturated fat:
2 g
Carbohydrates:
51 g
Sodium:
420 mg
Fiber:
6 g
Protein:
27 g
Cholesterol:
100 mg