Today, I'm giving thanks for courtesy.  It can seem like such a small thing, can't it?  Simply opening a door for someone, an appropriate "please" or "thank you", addressing people as "Sir" or "Ma'am", even something as simple as taking off your hat when you sit down to eat.  So often, though, I see a lack of basic courtesies in our society.  Do people just not know these rules anymore?  Did they go out of fashion?  I surely hope not!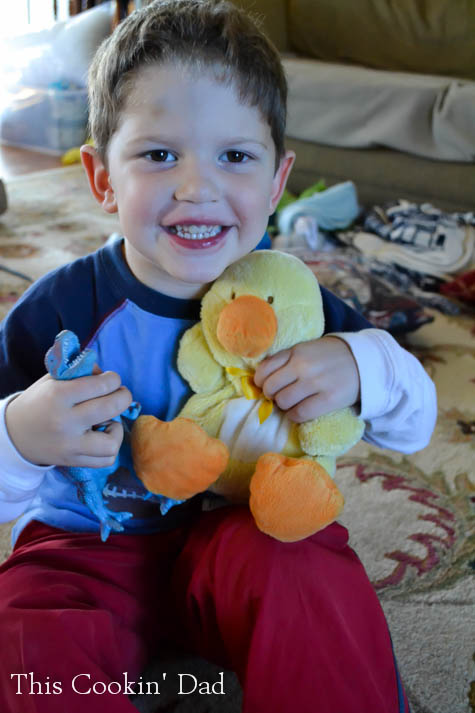 I am working diligently to instill these ideas of simple courtesies in our children.  It has to start somewhere, right?  I expect "Yes, Sir" or "Yes, Ma'am"; I expect to hear "please" and "thank you".  One of my big things, though, is teaching my little man to hold the door open for ladies (and, by proxy, teaching my girls that a gentleman will hold the door open for them).  I don't just tell him; I set the example for him.  I regularly open Beth's car door for her before getting into the driver's seat and I almost always open the door to any building.  If there are multiple doors, he is expected to help.  We wind up with something of a reputation at his preschool for doing that.  Not only am I setting an example for him, but, together, we are setting an example for the other kids (and their parents).
Well, this is my chance to brag on my little man!  Sometimes you wonder if all of the work and insistence pays off.  Apparently, it does!  Beth took the kids to the doctor's office for flu shots a couple of days ago.  When she got home, she let me know that she saw a lady holding the door to the building open for some people as they walked through.  Without any prompting, Matthew ran up and took the door.  When the lady told him to go ahead, she was pretty shocked to hear this little 4-year-old tell her, "Nope, I've got the door."  Those are the little moments that make all of the struggles of parenthood worth it!
Do you have a courtesy pet peeve?  What is it?  How do you set the example in preserving simple courtesies?  Make sure you follow along and see what else I'm giving thanks for.