Today, I'm giving thanks for elections.  We have an incredible democratic process in this country.  It has it's bumps and doesn't always work the way that we want it to, but, to quote Winston Churchill, "…it has been said that democracy is the worst form of government except for all those other forms that have been tried from time to time."
Still, I am so thankful that we live in a nation that, ultimately, puts the choice of leaders into the hands of the governed.  In so many places around the world, outward oppression is not only tolerated, but expected.  Here, we get to voice our grievances publicly, sometimes very loudly.  If we don't like our leaders, we can not only rail against them, but actually help to replace them without having to resort to military action.  What a wonderful notion!
Here in Virginia, every fall brings an election.  I love that our kids get to go with us to vote every year!  Our state and local elections fall on odd-numbered years, while the national elections fall on even-numbered years.  We are a fairly political state!  We typically have highly divisive (and highly visible) gubernatorial races that fall only year after a presidential election.  If you love politics, it is both disgusting and entertaining!
I snapped this shot today.  I love how the excess of the signs work in stark contrast to the natural simplicity of the fall foliage.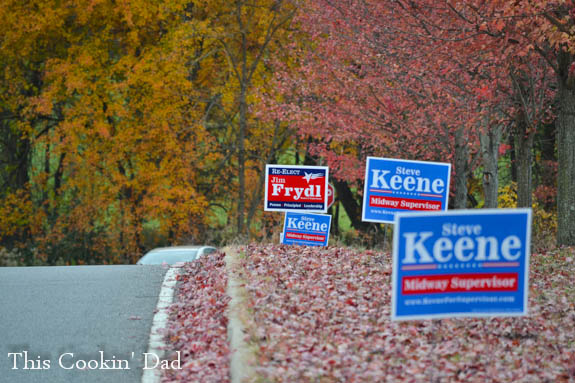 Are you giving thanks for elections today?  Did you get out and vote?  Make sure you follow along and see what else I'm giving thanks for.