It is Veteran's Day, so I'm giving thanks for veterans.  Did you know that, at any given time over the past decade or so, less than 1% of the U.S. population has served in the military?  As a vet myself, I understand the hardships that these men have undergone.  They spend so much time away from family, miss the births of children, and live in the toughest of conditions all for a paycheck that in no way compensates for the sacrifice that these soldiers, sailors, airmen, and marines make.
Civilian life after the military is interesting to say the least.  They have great programs to transition you from civilian life into military life.  For those of us in the combat arms, we are taught how to take a life without remorse.  The problem is that they never really teach you how to turn that switch off.  I can't tell you how many times I have come across a situation that I should care more about, but I just can't bring myself to be able to.  Even for those who come back "whole", the war rages on eternally.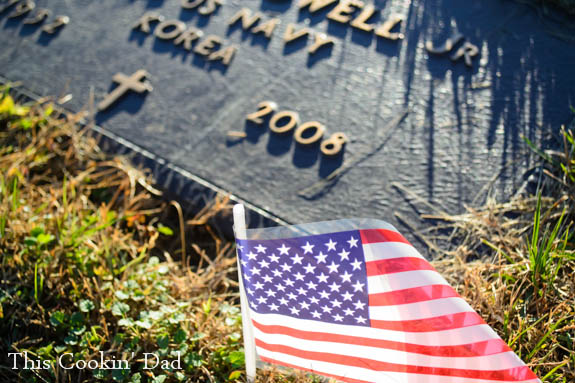 At the end of the day, when a serviceman or veteran finally finds peace, their grave site is marked with a simple plaque.  You can find these in cemeteries all over this nation.  For both Memorial Day and Veteran's Day, we make it a point to show our respects by posting flags at each of these markers in our church's cemetery.  Sometimes a little show of honor and respect is all that you need to help these guys smile a little and to rest easy, knowing that their fight was not in vain.
How are you giving thanks for veterans that you encounter?  Do you expect more from them or do you understand the ever-present struggle?  Give me a shout and let me know.  While you're at it, make sure you follow along and see what else I'm giving thanks for.