One of my favorite stews to make is a Cajun-style gumbo. Originally from Louisiana, I just melt when I have a great bowl of gumbo. As I make them more and more often, I've begun push my roux a little further and play with the seasoning a little more, but, for the most part, my Chicken, Sausage, & Shrimp Gumbo is a very traditional take on the classic gumbo style.
A good bowl of gumbo takes me back to my childhood and to my grandparent's farmhouse in southern Louisiana. It brings back fishing in their pond, spying the crawfish chimneys in the swampy areas, walking through muddy fields, and learning how to shoot a pellet gun. Most of all, it helps me to recall my roots and share them with my kids. It's for that reason, most of all, that I continue making gumbo three or four times a year.
I like to say that my gumbo is a Cajun gumbo with a Creole flair. This makes a lot of sense because my grandfather had Cajun roots while my grandmother was more Creole. You can read more about the history of these two groups and their impact on gumbo in my Gumbo 101 post over on Simply Budgeted.
Suffice it to say that my gumbo is not quite as refined as the fancy stuff that you might find in New Orleans, but I guarantee that it's every bit as tasty.
The nice thing about gumbo is that it's pretty easy to make if you have the time. The problem is that it takes some time.
Since there isn't a whole lot of stuff in a gumbo, you have to start with great ingredients.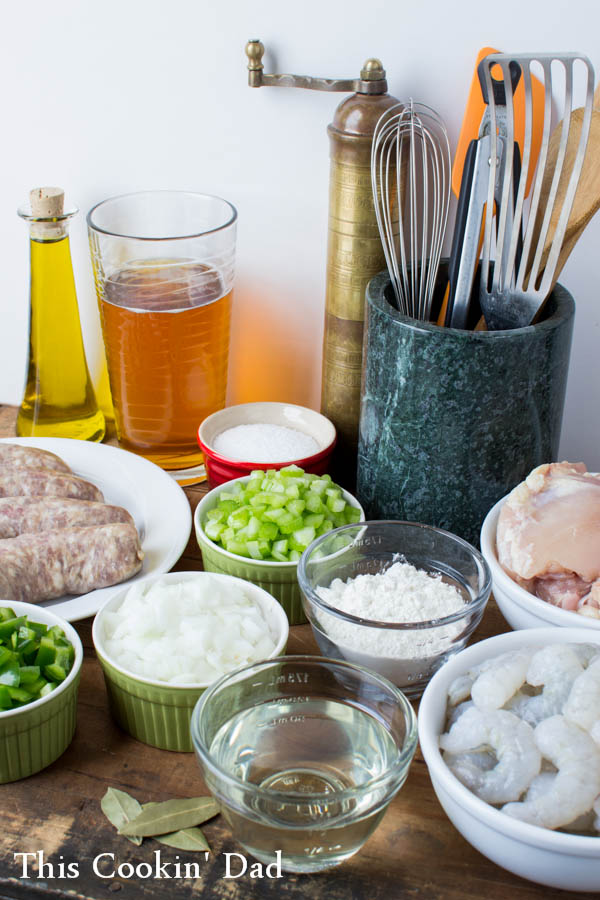 You can use any sausage that you like (smoked, andouille, Italian), just make sure that it's fresh and that you would eat it on it's own. Like a good Cajun, I tend to use what I have on hand and, as such, my gumbo is a little different every time. Here, I'm using a fresh sweet Italian sausage. I'm sauteing it whole so that I can slice it into nice disks. If you slice first and then saute, the sausage will ball up.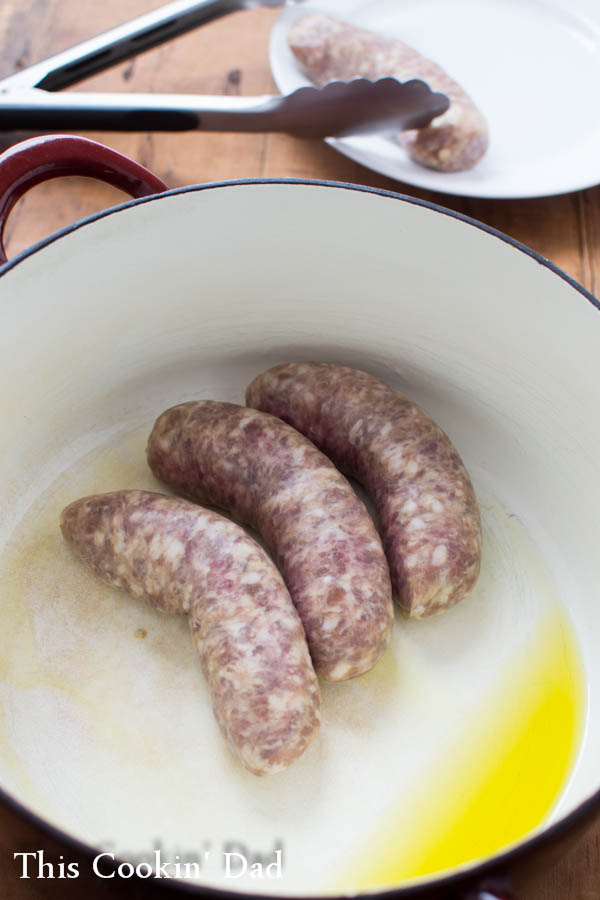 With the little bit of sausage grease still in the pan, I add more oil and my flour and cook for 15-20 minutes (or longer) to make my roux. Basically, I stand there with it stirring and drinking a beer until I get bored, then I keep stirring for another 5 minutes.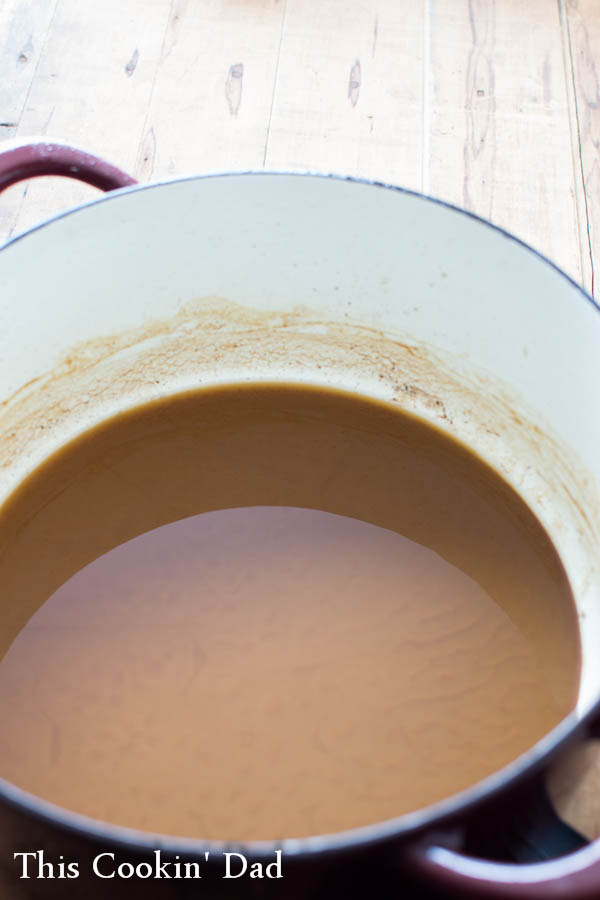 At this point, I add in the veggies, give them a good stir, and let them cook for about 10 minutes.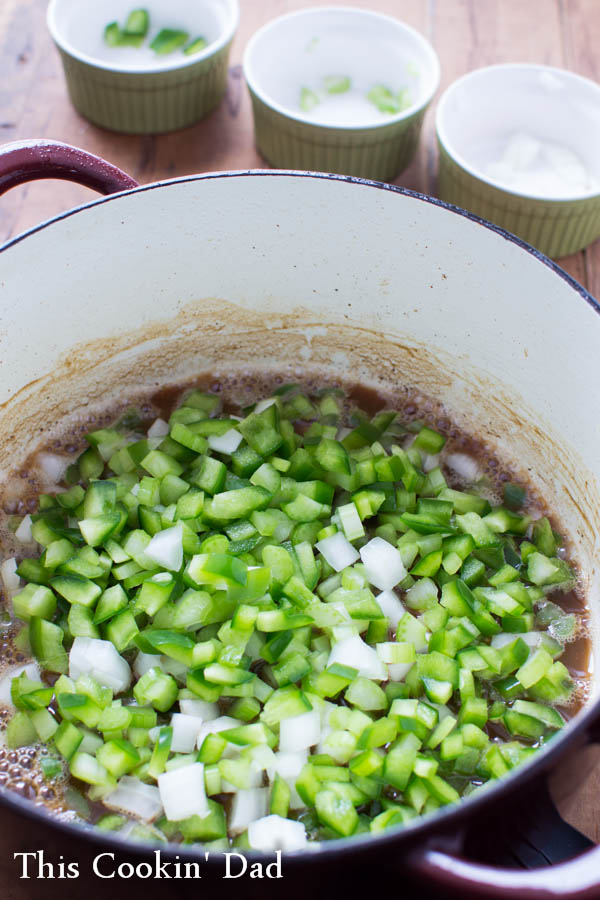 Finally, I add in all of my liquid, scraping the bits off of the bottom. I bring the liquid to a simmer and add in the chicken and sausage. Add in the shrimp right at the very end.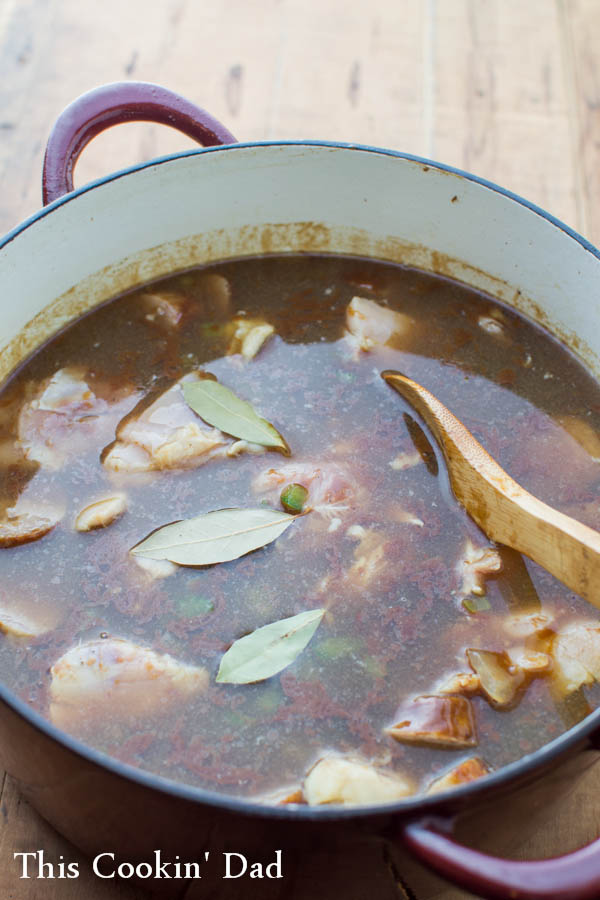 Serve it over plain, white rice with a little gumbo file and buttered crackers.
Do you have a favorite soup that just makes you feel like a little kid? Throughout January, I'm focusing on soups and stews. What is your favorite soup or stew and why? Leave a comment and share your story!

Chicken, Sausage, & Shrimp Gumbo
The best part about gumbo is that it feeds a lot of people and is much better the next day. It's a great make ahead dish for a crowd!
Recipe type:
Soups and Stews
Ingredients
½ cup plus 2 tbsp vegetable oil
4 links Italian sausage
½ cup all-purpose flour
1 cup onion, diced
½ cup celery, diced
½ cup green bell pepper, diced
salt and pepper
1 tsp cayenne pepper
1 cup beer
3 cups chicken stock
2 lbs boneless, skinless chicken thighs
3 bay leaves
1 lb shrimp, peeled and deveined
cooked white rice
gumbo file
Instructions
In a large soup pot over medium heat, heat 2 tbsp oil. Add sausage and brown on all sides, cooking through. Remove to a plate to rest and slice into bite-sized pieces.
Add remaining oil and flour to the pot, stirring to combine. Cook over medium to medium-low heat, stirring often until the mixture (roux) turns the color of dark peanut butter or even a little darker. Make sure that you continue to scrap the bottom.
Increase heat to medium-high. Add onion, celery, and bell pepper to the roux, stirring to combine. Add salt and pepper and cayenne. Cook for 5-10 minutes or until veggies soften.
Add beer and stir, scraping the bits off of the bottom of the pot. Add stock, stirring to combine. Bring to a simmer.
Add reserved sausage, chicken, and bay leaves. Cook for 1 hour, or until chicken is cooked through. Add shrimp and cook another 5-10 minutes until shrimp are cooked.
Serve over white rice and top with gumbo file. Enjoy!