My 5-year-old son is absolutely in love with pizza! He's always called it pizzi (peet-see) and it's hilarious to watch up jump up and down for the "pizzi man" when we order out. Those pizza guys surely know that they are appreciated and you should see the smiles on their faces!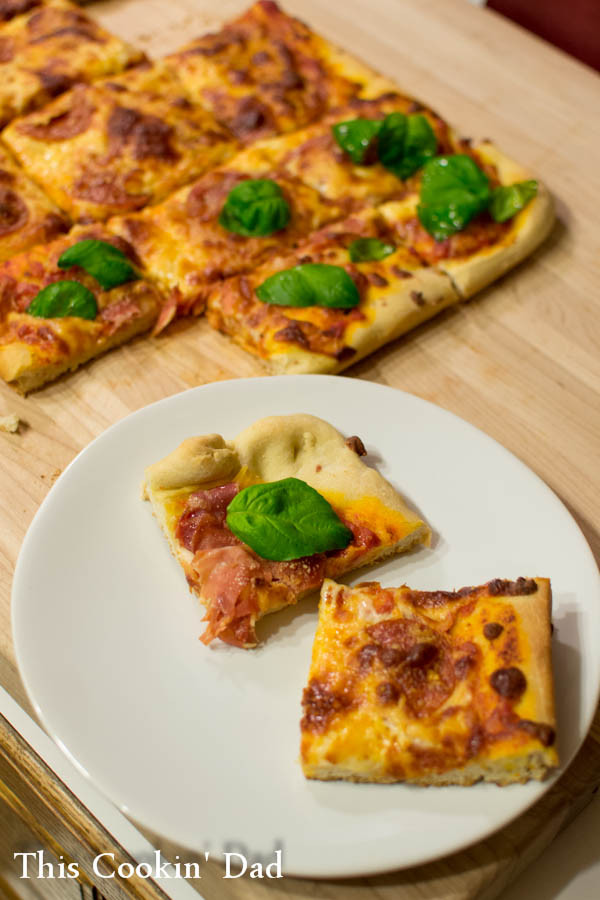 One of my big missions with my kids, however, is for them to know where food really comes from. They should understand that, while you can surely order a pizza from the local shop, there are still ingredients and a process that they use to make that. They should also know that, when we have the time, this is something that we can do at home as well as, if not better, than the local shop.
It's funny. As much as my son loves pizza, my oldest daughter was, for years, deadset against it! My biggest testimony to food from home being better is that she would only eat the pizza that we made at home. That surely makes this pizza daddy smile!
My typical shortcut is to buy pizza dough, roll it, stretch it, and then add my toppings. I think, however, that it's about time that the kids learn how we make the dough in the first place!
As always, I start with my assistant. Knowing that he's still little and impatient, I have everything set up for him before he even comes into the kitchen. I get the yeast started and measure everything into easy containers for him, so that when I do call him in, we can get right to work.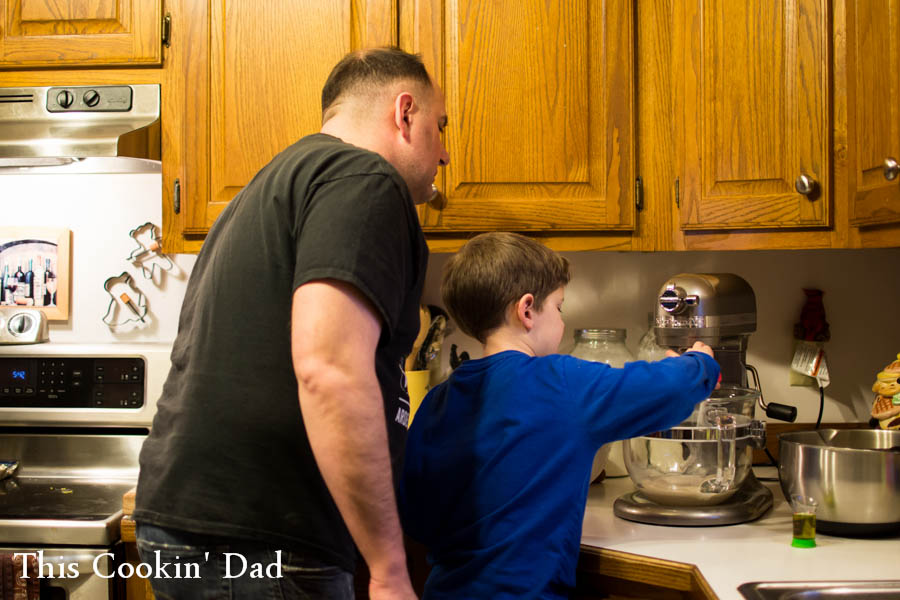 We get all of the wet ingredients going, then we start adding the flour.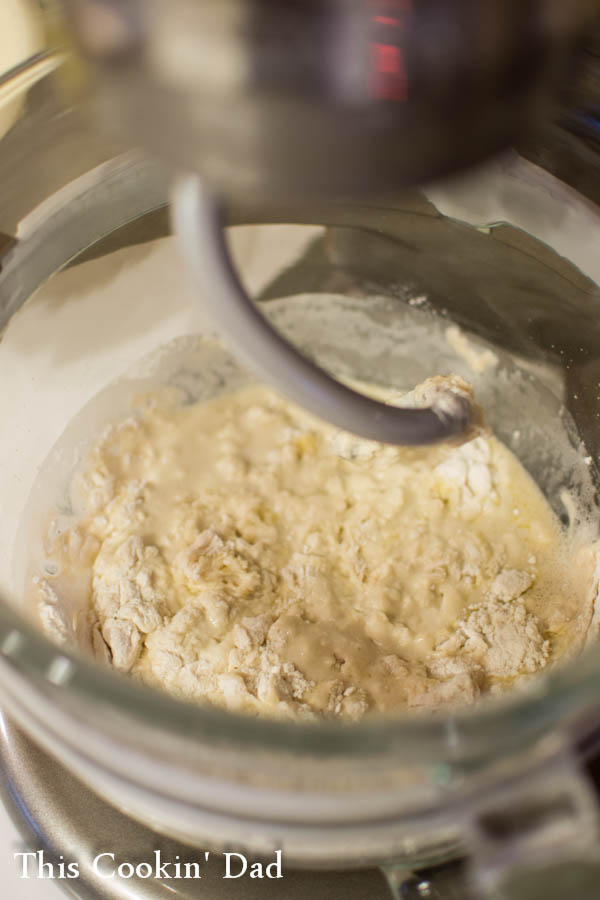 He just loves to watch that mixer go to work!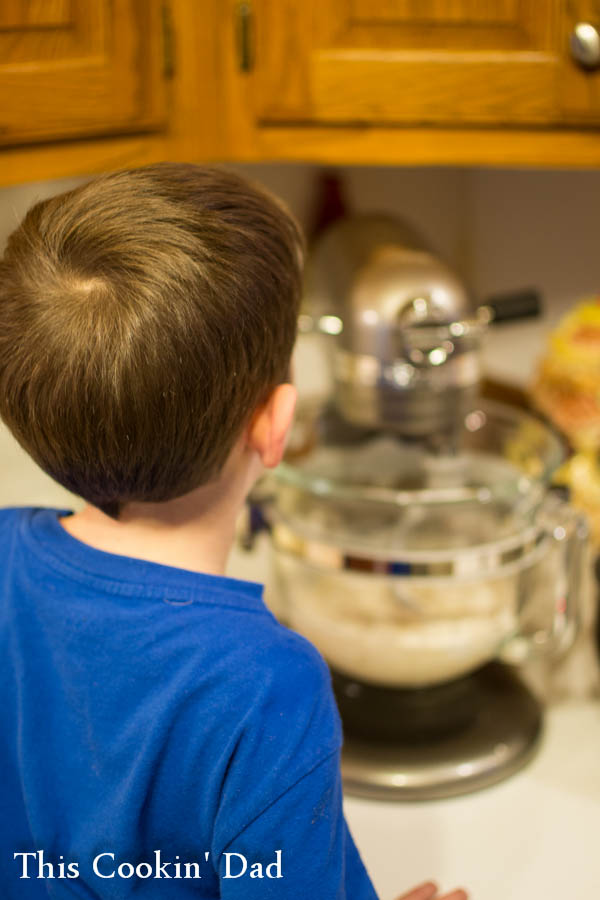 Once the flour is mostly incorporated, we get a shaggy dough.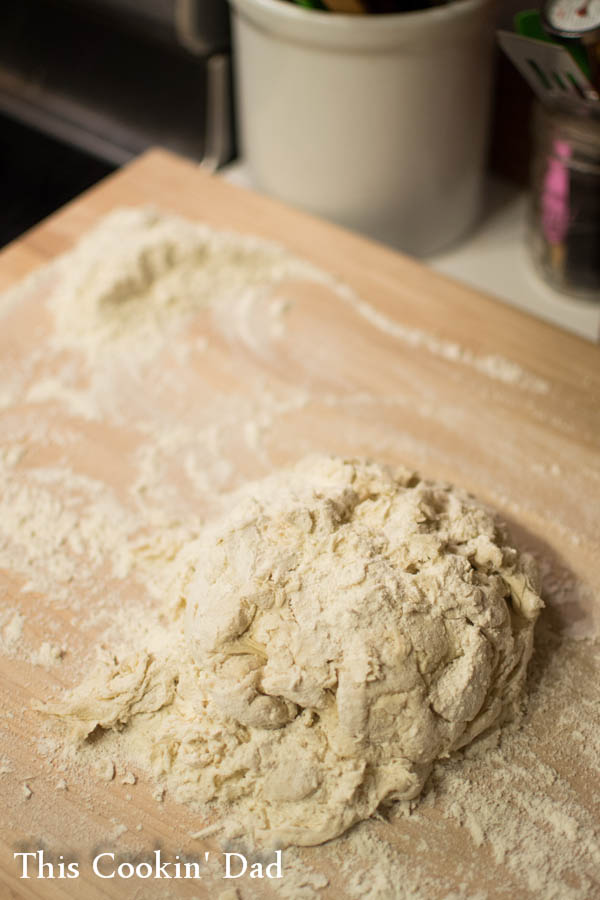 A lot of times, I'm happy to let the mixer do the kneading work, but you still need to know what the dough should feel like. The only way to accomplish that is to knead by hand sometimes. I get it started and bring it together before letting him take over for a spell.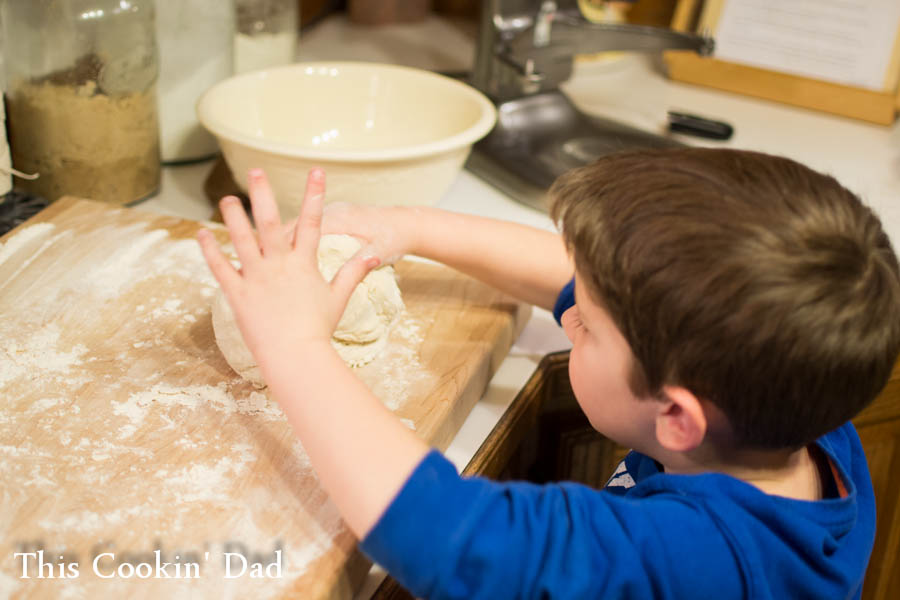 Once the dough is smooth and elastic, we pop it into an oiled bowl to rest in the fridge for 24 hours. This allows the dough to develop slowly, meaning a fuller flavor in the final product.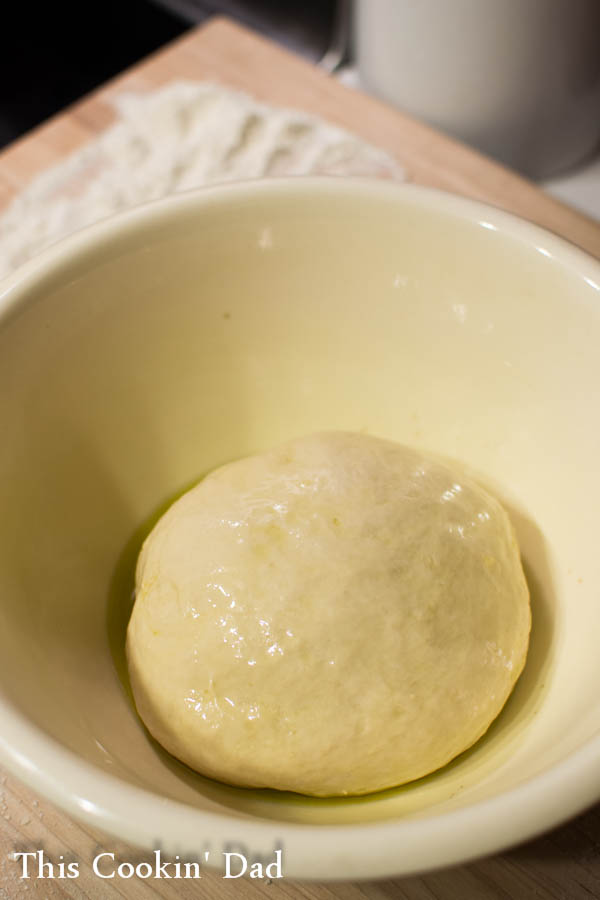 Even in the fridge, we get a nice rise out of the pizza dough.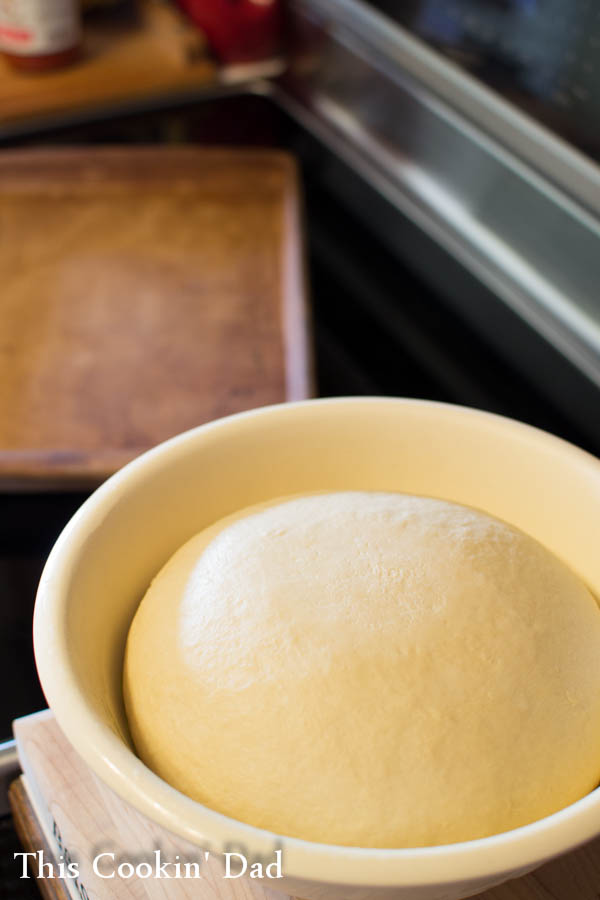 We punch it down, divide it in half, and stretch each half out onto sheet pans, being careful not to tear it. If necessary, let it rest for 5-10 minutes before stretching again.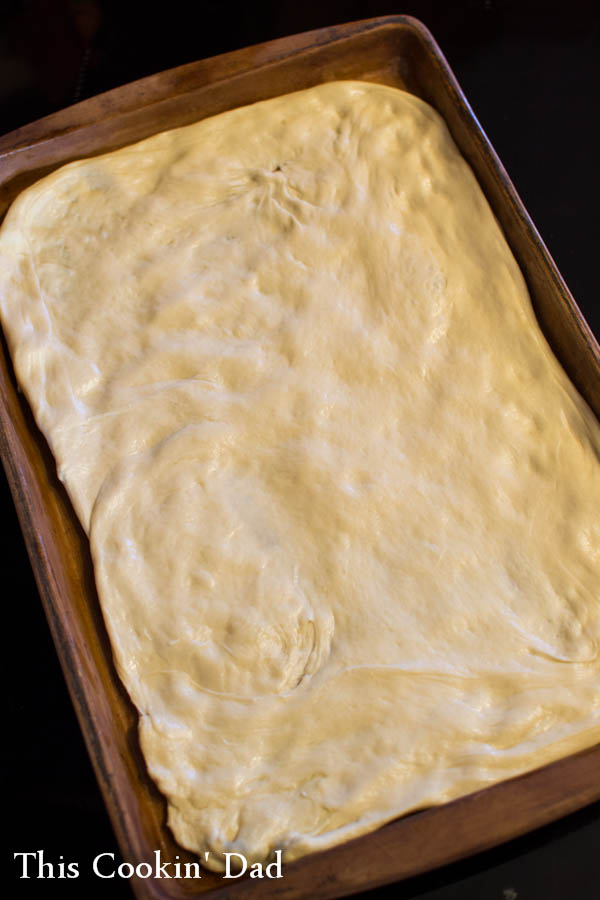 Cover with a towel and let it rest for about an hour before topping with whatever toppings you choose. The great thing about making your own pizza is that you can totally personalize the tastes for your family. Everyone can choose their own toppings and you don't have to order 3 or 4 pizzas to make everyone happy! We went with plain cheese, pepperoni, and some prosciutto (finished with a little basil) for the adults.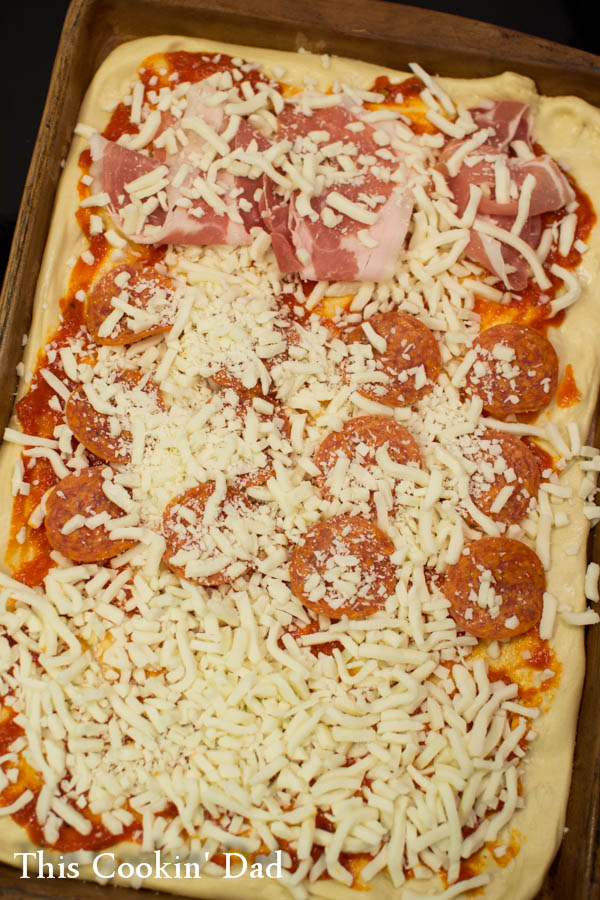 Cook in a super hot oven for about 25 minutes, cool for about 5, and all will be right with the world!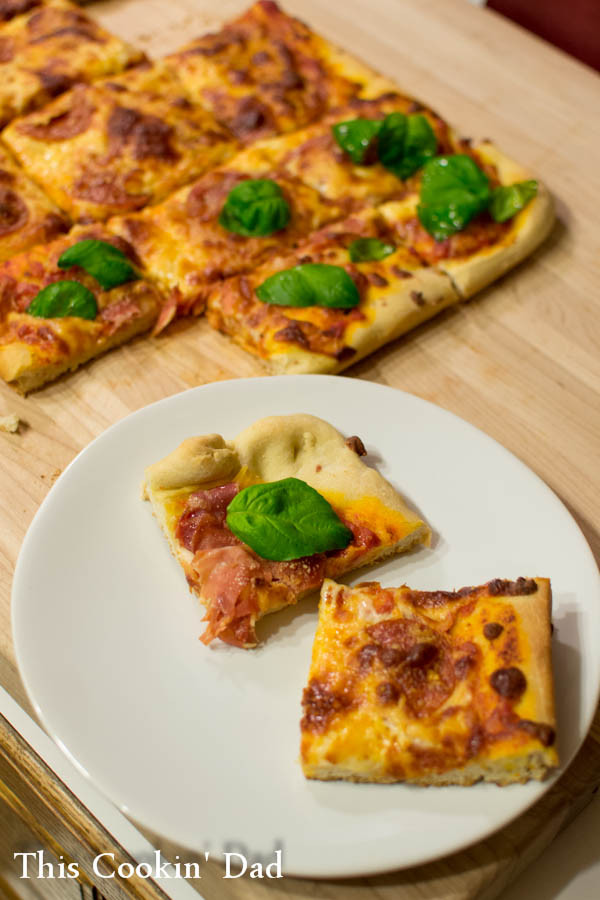 With the other half of the dough, I was able to make some cheesy breadsticks. I spread out the dough and sprinkled on some cheese. I even made some with a little Olive Salad Spread. YUM!!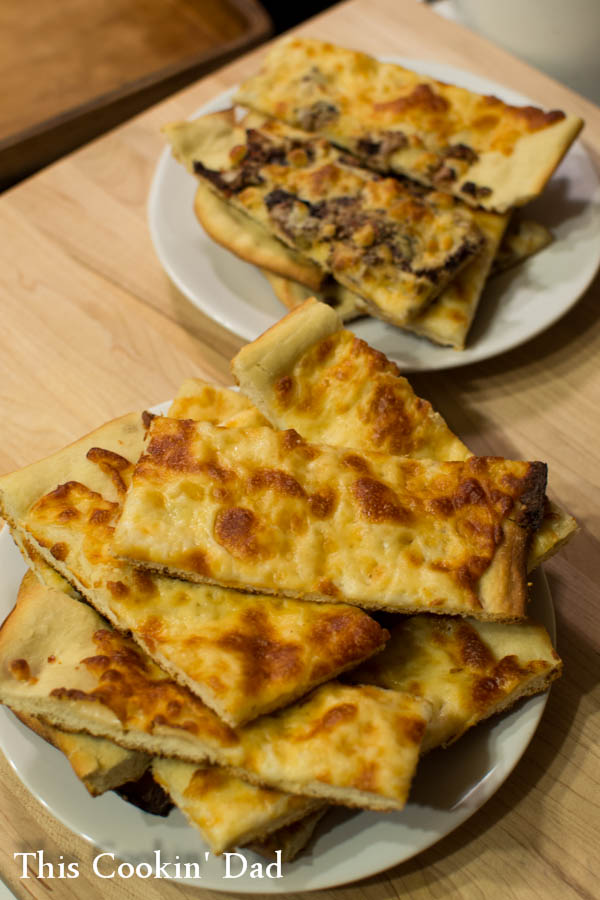 Are you all about the bread? Throughout February, I'll be focusing on how to make breads in all different forms. What is your favorite?

My Little Pizza Boy
Ingredients
1 envelope dry active yeast
1½ cups warm water (105-110 degrees F)
1 tbsp honey
2 tbsp olive oil, plus more for coating bowl and sheet pans
2 tsp kosher salt
4 cups all-purpose flour, plus more for kneading
Your favorite toppings
Instructions
Add yeast, water, and honey into the workbowl of a stand mixer. Let stand until foamy, about 10 minutes.
Add oil, salt, and 2 cups of the flour and mix to combine. Add remaining flour, one cup at a time, until fully incorporated and a shaggy dough forms.
Remove dough to a lightly floured surface and knead until smooth and elastic, 8-10 minutes. Place dough into a lightly oiled bowl, cover with plastic wrap, and set into the fridge for about 24 hours.
Prepare two sheet pans with olive oil.
Remove dough from fridge, punch down and divide in half. Stretch one half of the dough onto each of the prepared sheet pans taking care not to tear it. Cover with a dishtowel, set in a warm place, and allow to rise for 30-45 minutes.
Top with your favorite toppings, taking care not to overload the dough. A light coating of sauce, a sprinkle of cheese, and a couple of other toppings are all you need for a great pizza!!
Enjoy!