Throughout February, I'm focused on creating different breads and I can't think of a better opportunity to test your bread-making skills than to bake a sweet treat in the form of a Cinnamon King Cake.
King Cake is a treat that is part and parcel with the Mardi Gras celebration  (read more about that here). With it being so hard for me to find King Cake where I live in central Virginia, I decided a couple of years ago that I needed to start making them myself. Over the years, I've developed a light fluffy recipe that is perfect for celebrating with my friends and family.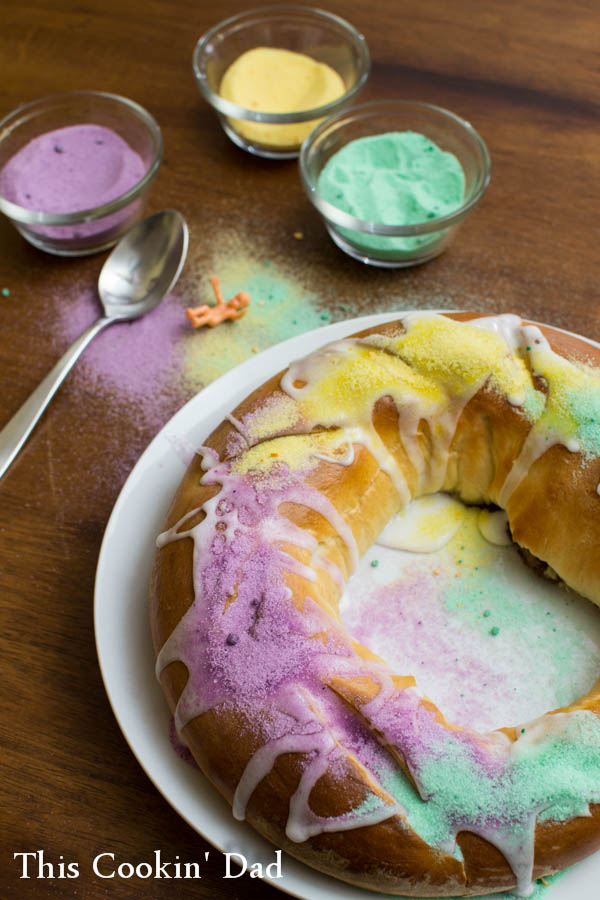 To get started, I slowly heat some buttermilk and a little butter on the stove.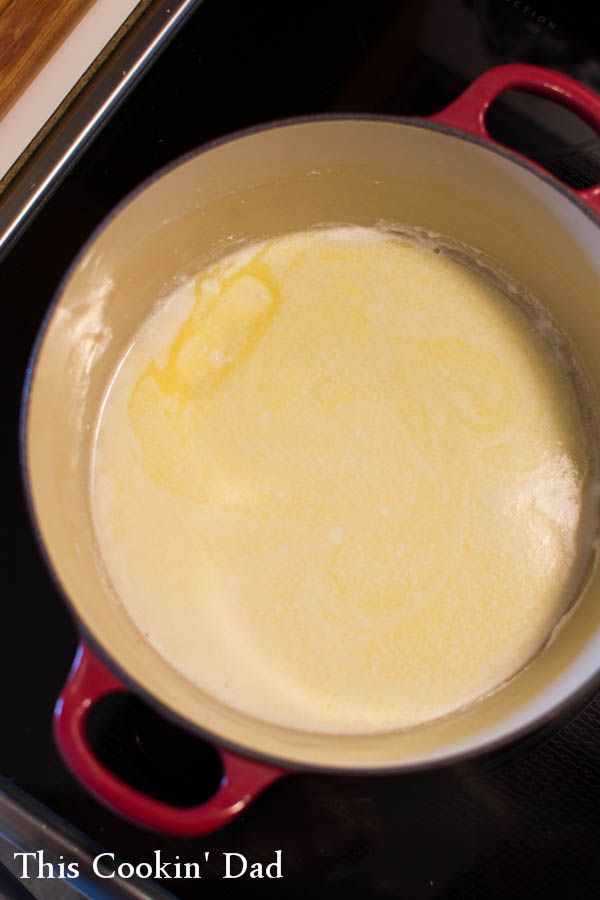 After it cools a bit, I add to a mixture of yeast, warm water, and sugar before adding egg, salt, and more sugar. Once that's combined, I begin to add flour a little at a time.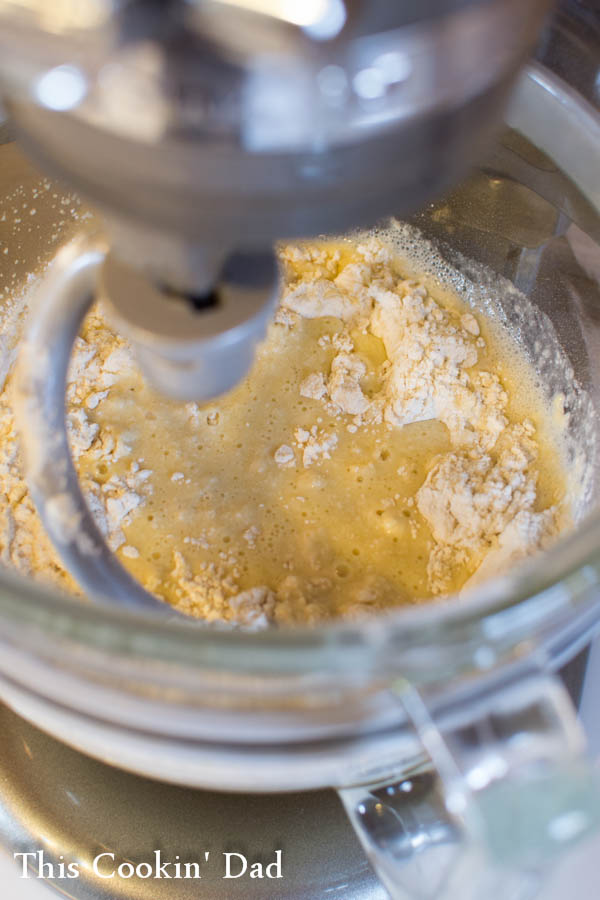 Once all of the flour is added, I let the mixer do the work. What starts as the loose mixture becomes a small ball of sticky dough.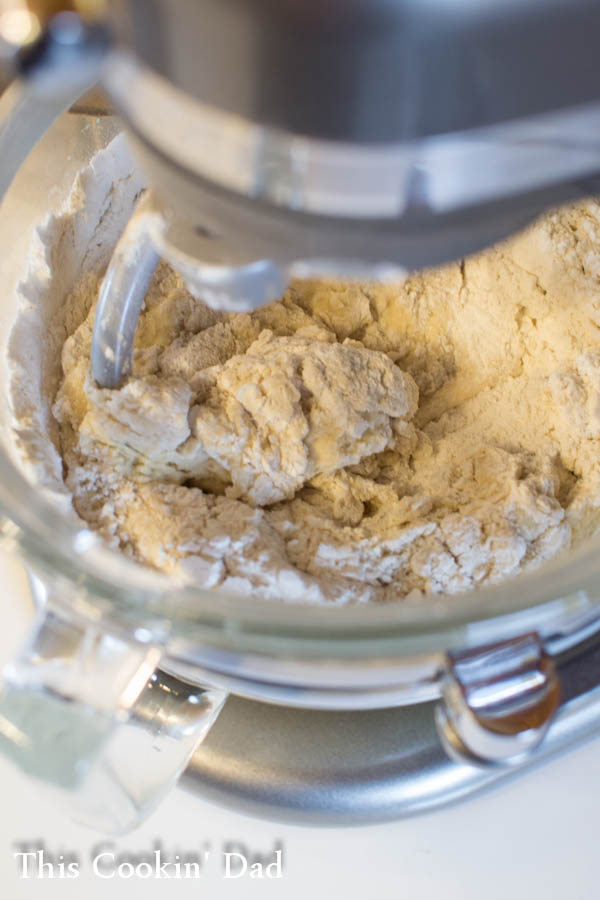 As the dough hook does it's work, the small ball soaks up the rest of the flour in the workbowl, becoming a shaggy dough…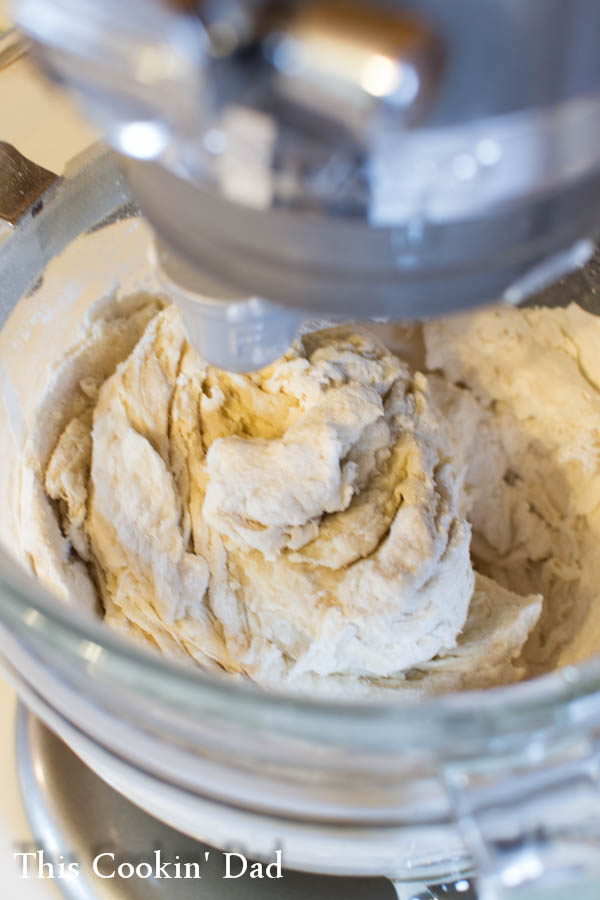 …and, eventually, a smooth ball of dough that is ready to rest and rise for a couple of hours.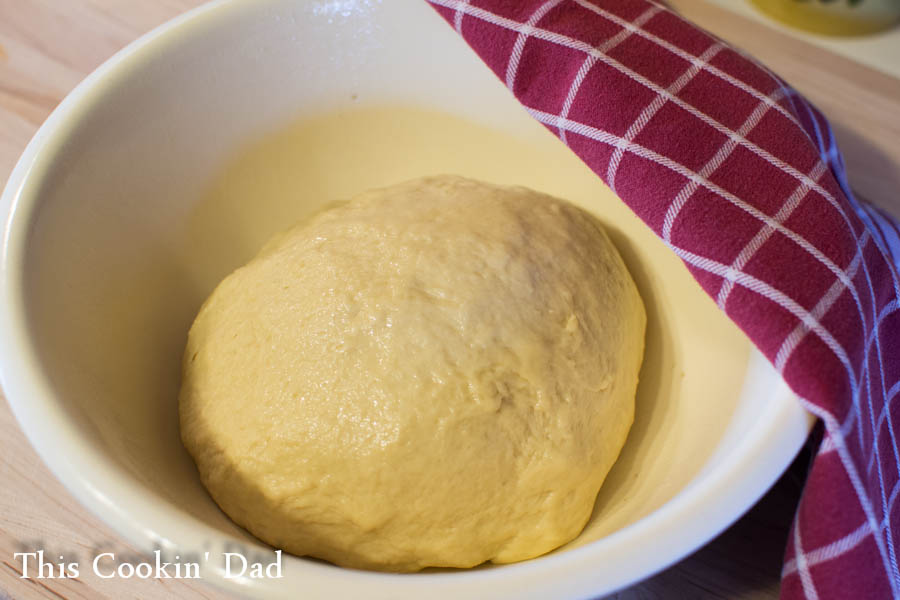 Once doubled in size…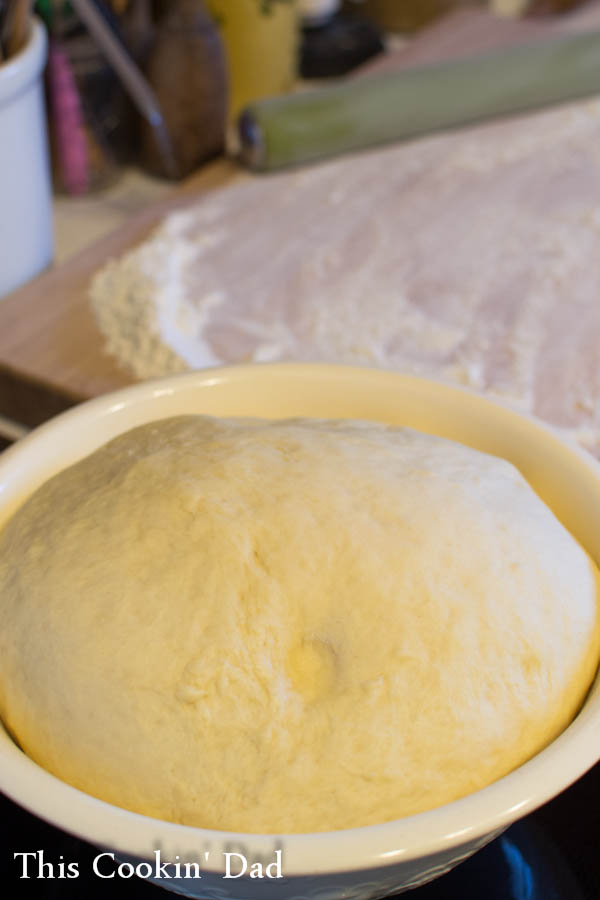 …punch the dough down and divide it in two.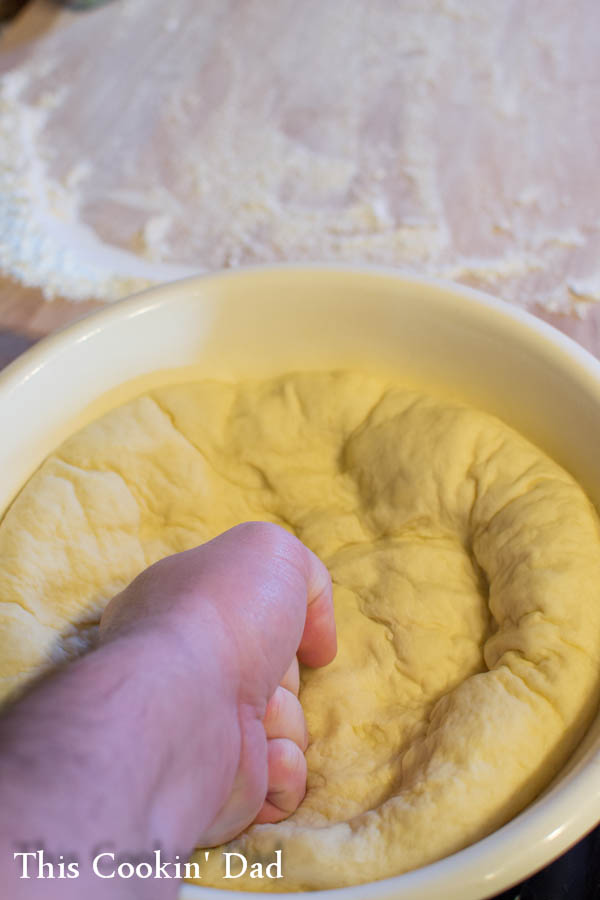 On a floured surface, roll the dough into a large rectangle…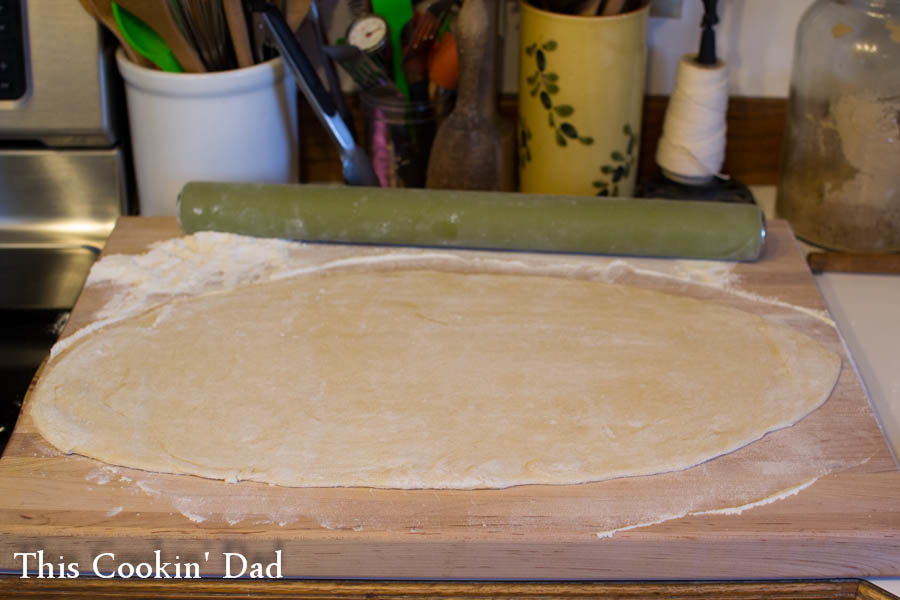 …sprinkle on the filling…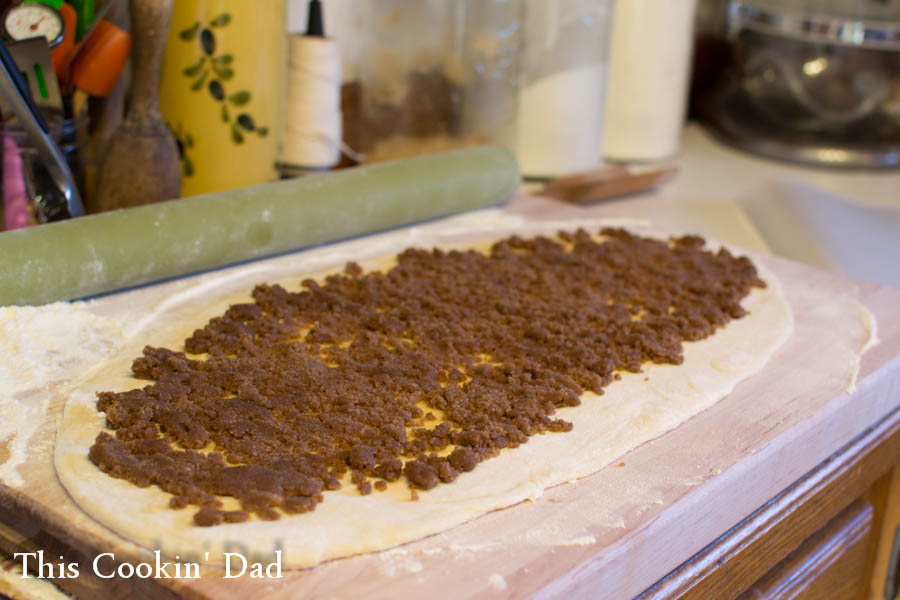 …and roll it…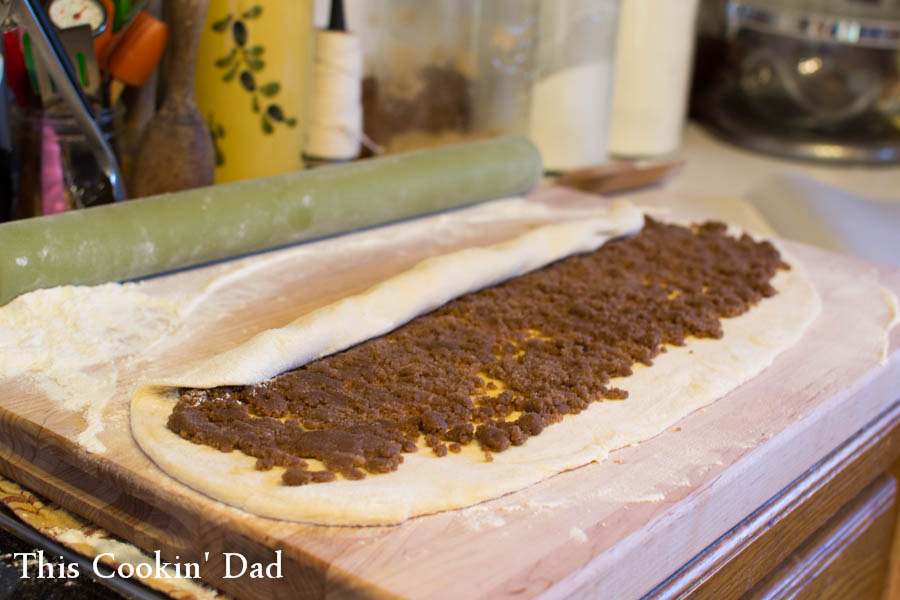 …roll it…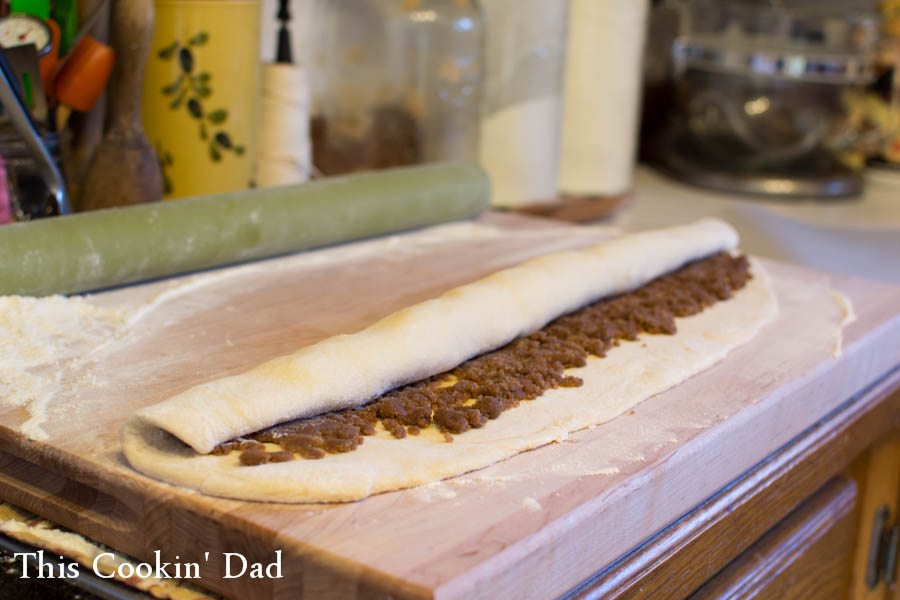 …roll it, pinching the seam with a little water to help keep it from splitting during cooking.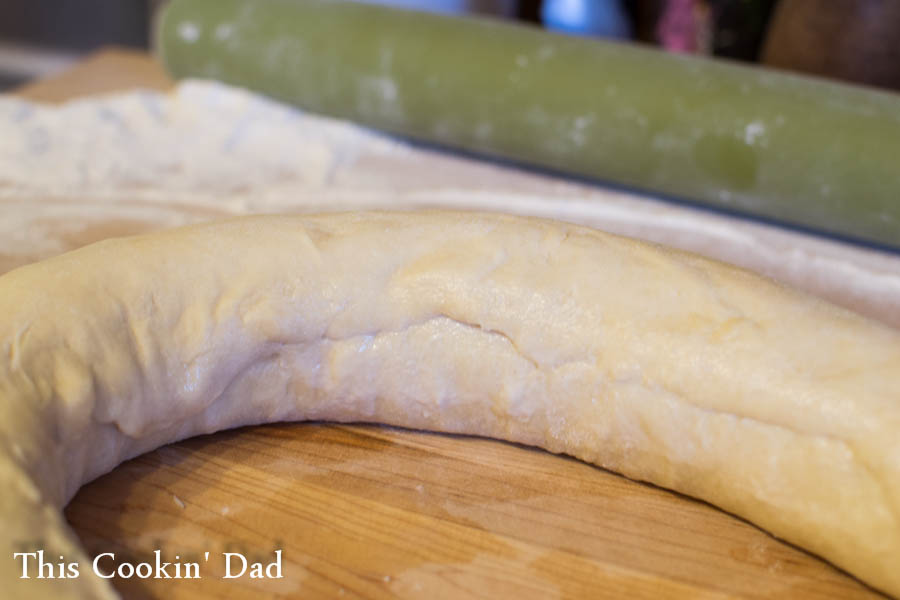 Place it on a prepared sheet tray, cover with a towel and let it rise for another hour.
After a trip to the oven and a chance to cool for a bit after baking, drizzle it with icing and sprinkle colored sugar over top of the whole darned thing. Shove that baby in through the bottom and get ready to share a perfect Mardi Gras treat with all of your friends and family.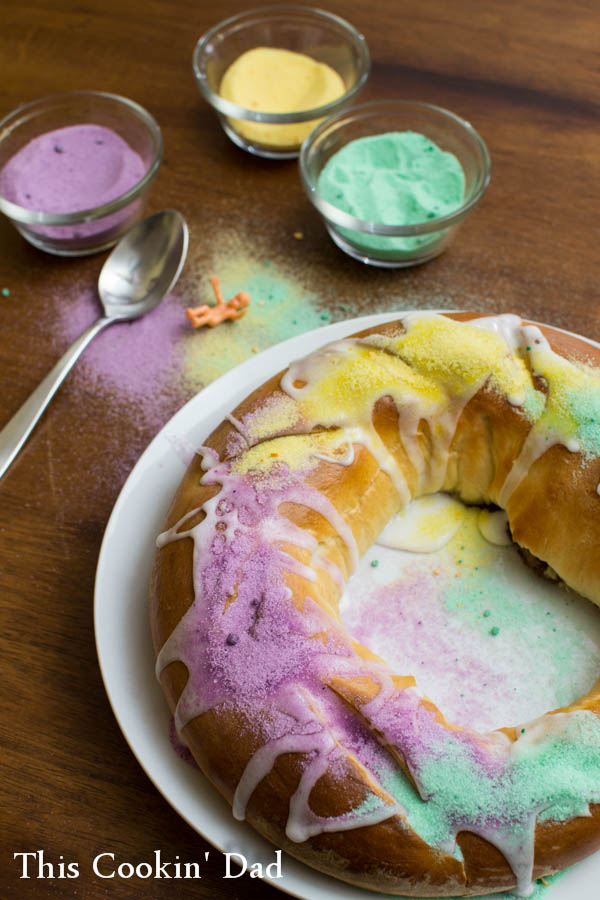 At the end of the day, my King Cake is basically a big, round cinnamon roll. Since my recipe makes a double batch of King Cake, I'll take the second half of the dough and, instead of forming it into the big round, I'll cut off the ends…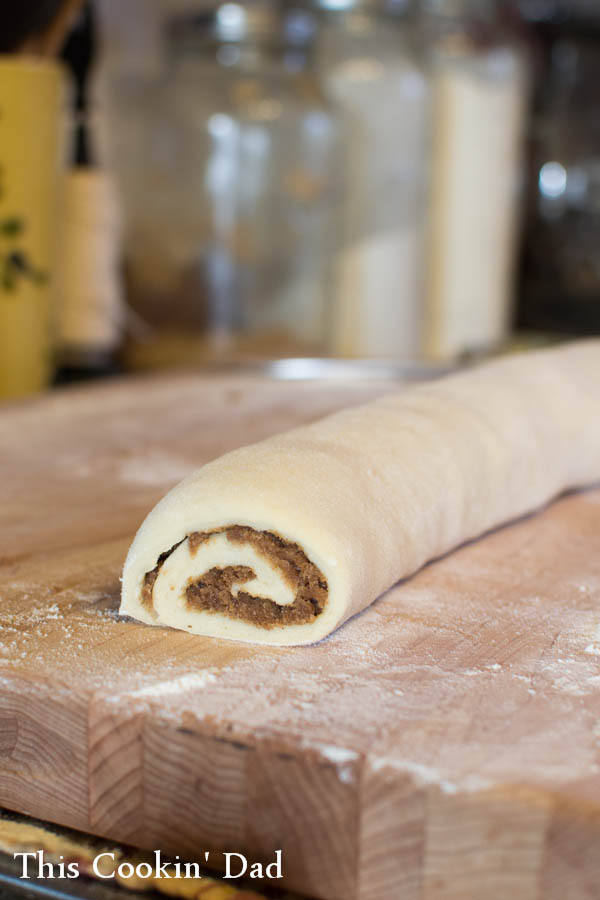 …cut eight equal portions…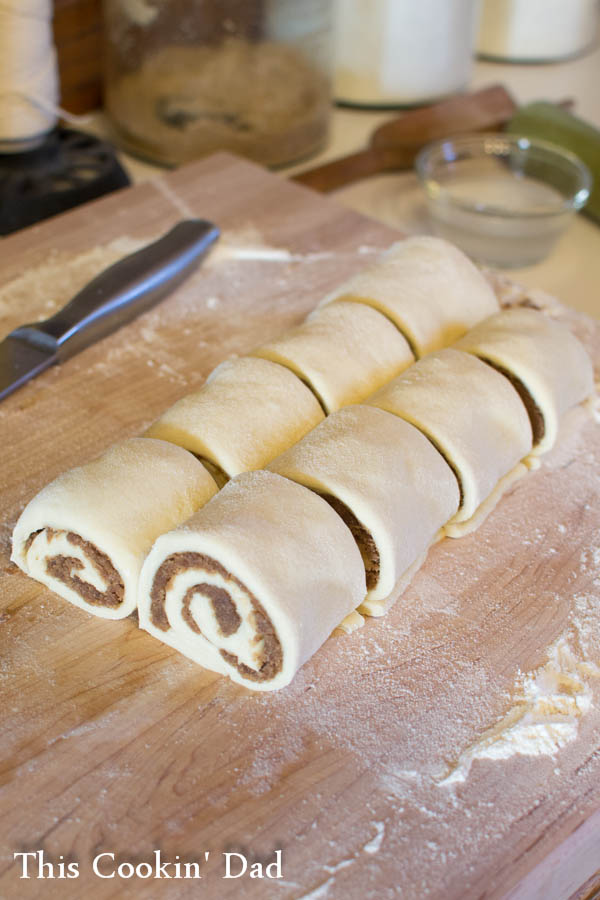 …and place into a prepared 9-inch cake pan. Bake right away or cover with a towel in the fridge overnight.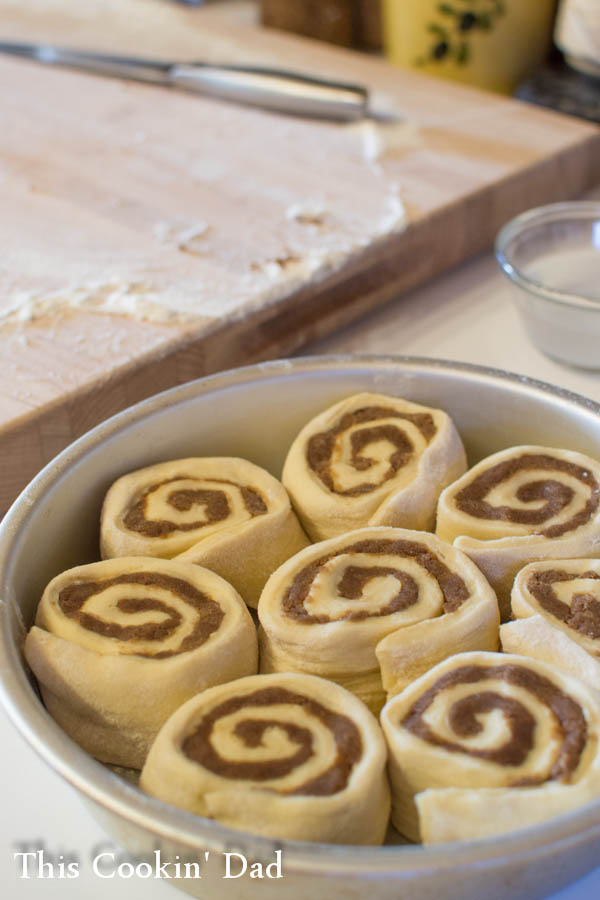 Of course, we still douse them in icing and sprinkle with our festive Mardi Gras colored sugars! Enjoy!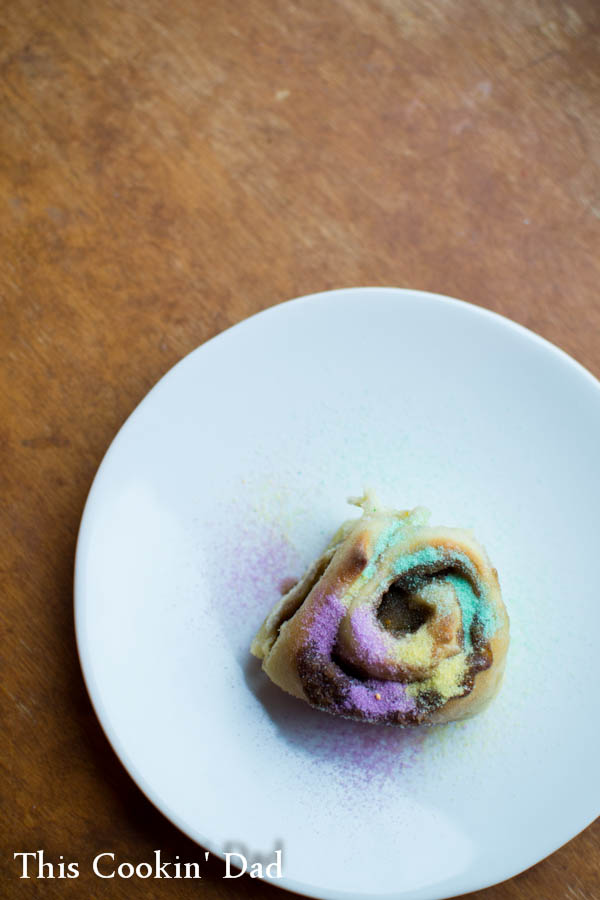 Are you all about the bread? Throughout February, I'll be focusing on how to make breads in all different forms. What is your favorite?

Cinnamon King Cake
King Cake can be made with any number of fillings. For me and my family, cinnamon is the clear favorite!
Ingredients
Dough:
1 cup buttermilk
¼ cup butter (1/2 stick)
1 Tbsp active dry yeast (2 packages)
⅔ cup warm water (105-110 F)
½ cup plus 1 tbsp white sugar
2 eggs
1½ tsp salt
5½ cups all-purpose flour
1 tsp vegetable oil
Cinnamon Filling:
2½ cups packed brown sugar
2 tbsp ground cinnamon
1 cup all-purpose flour
1 cup butter, melted
To Finish:
1 egg
1 tbsp water
2 cups powdered sugar
2 tbsp water
green, purple, and gold colored sugars
1 plastic king cake baby
Instructions
In a small pot over low heat, scald buttermilk. Remove from heat and add butter, stirring to melt. Allow to cool to room temperature.
Meanwhile, in the workbowl of a stand mixer, add the yeast, warm water, and 1 tbsp of white sugar. Stir to combine and allow to stand until foamy, about 10 minutes.
Once yeast mixture is foamy, fit the mixer with the dough hook and add the buttermilk mixture, eggs, ½ cup sugar, and salt. Turn the mixer on low to combine.
With the mixer off, add 2 cups of flour. Turn the mixer to low and allow to incorporate the flour before adding more. Turn the mixer off and add one more cup before turning back on. Continue this cycle until all of the flour is used up.
With the mixer on low, allow the dough to continue forming until smooth and elastic, about 10 minutes. Meanwhile, pour the oil into a large bowl, coating the inside of the bowl completely.
Once ready, remove the dough from the mixer, shape into a ball, and place into the prepared bowl, turning to coat the dough. Cover with a dish towel and place in a warm spot for about 2 hours or until the dough has doubled in volume.
While the dough is rising, prepare the filling by combining the brown sugar, cinnamon, flour, and butter. Mix thoroughly. Prepare two sheet pans with parchment paper.
After the dough has risen, punch it down and divide in half. On a lightly floured surface, roll the dough into a large rectangle (about 10 x 16), stretching it and letting it rest as necessary. Sprinkle half of the filling onto the rectangle leaving about ½ inch on the bottom long side. Starting with the top long side, begin rolling the dough tightly. Repeat with the remaining dough and filling.
Bring the ends of each roll together to form a large circle and move to the sheet pan. With a knife, cut large slits about ⅓ of the way through the dough at 1-2 inch intervals. Cover with a dish towel and allow to rise until doubled in size, about 1 hour.
Preheat oven to 375. Combine 1 egg with 1 tbsp water to make an egg wash. Brush the dough with the egg wash and bake for about 25 minutes or until golden brown.
Combine powdered sugar and water to create a thick glaze.
Remove the cake from the oven and allow to cool for about 10 minutes before drizzling with icing and sprinkling with colored sugars. Push the baby into the cake from underneath so that no one knows where it is. Enjoy!