When I think of weekend breakfast, two things come to mind. First, you've got eggs, sausage, bacon, etc. The natural add-on to that is a nice tall stack of pancakes and, while I love buttermilk pancakes, I've found buckwheat pancakes to have a more complex flavor that is perfect for Saturday morning or for an easy weeknight dinner.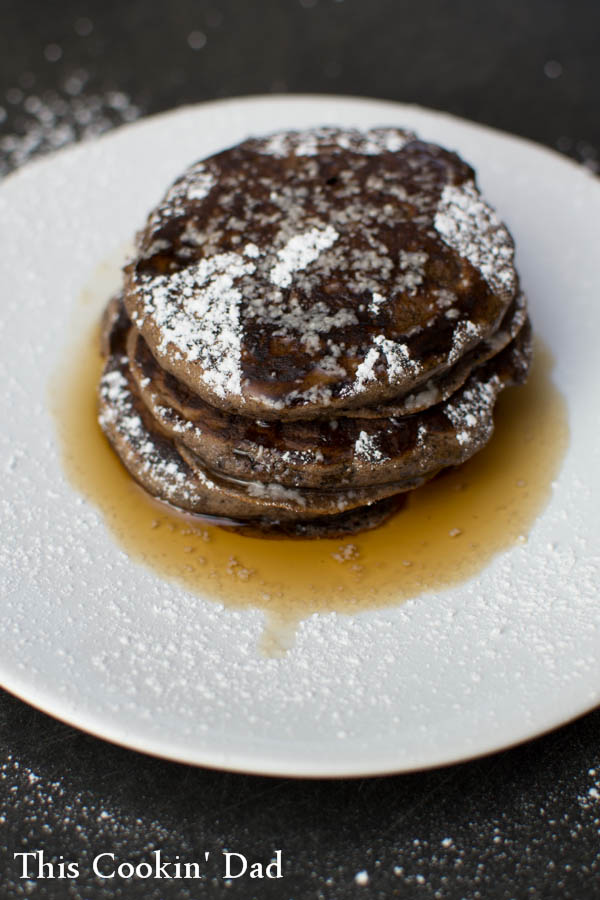 We talked about grains back in March, but never really got to buckwheat. Buckwheat isn't actually a wheat at all. It's a pseudocereal, sort of like quinoa, and was originally domesticated in Southeast Asia as far back as 6,000 BC. It's also gluten-free, making it a great option for those with celiac disease or otherwise watching their gluten intake.
Pancakes are pretty ancient as well, tracing back to Greek and Roman times. Effectively, they are a sweet batter poured onto a griddle until browned on one side, then flipped and browned on the other. Many cultures have different variations, but they all pretty much come down to this same basic method. They can be made with rice flour, whole wheat flour, coconut flour or any other flour. You can use buttermilk, whole milk, or even water to moisten the flour. Any other ingredients are really for flavor and for lift. I like a touch of cocoa for that hint of decadence.
To get started, measure out all of your dry ingredients. I learned long ago that, since so many of these ingredients are white, you should measure them separately in the bowl in the order listed on the recipe and keep them separate until you know that everything is in. That way, if you get pulled away because one of your kids is screaming about being hit by another one, you can go back and be right on track. Think of it like using a bookmark.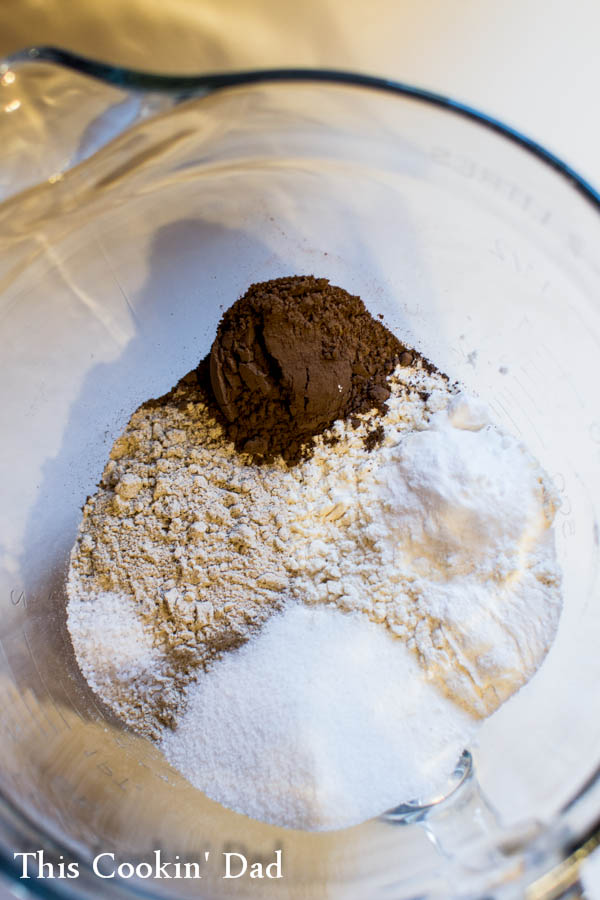 Once you get everything measured out, add your wet ingredients to the dry. This gives you a little more control over how much you have to stir to moisten your dry ingredients. Doing it the other way, you'll stir too much and get tough, not fluffy, pancakes.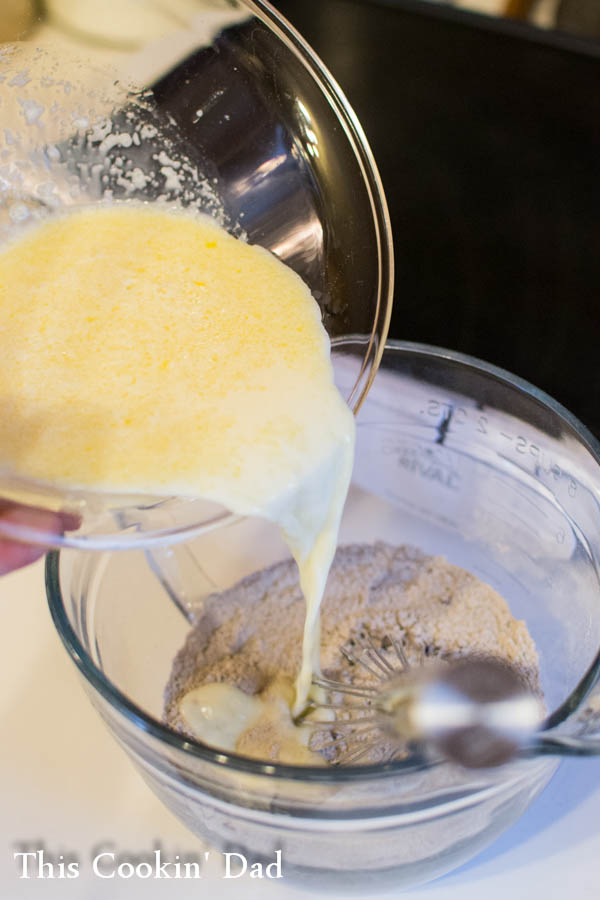 Wipe a thin layer of butter on your griddle…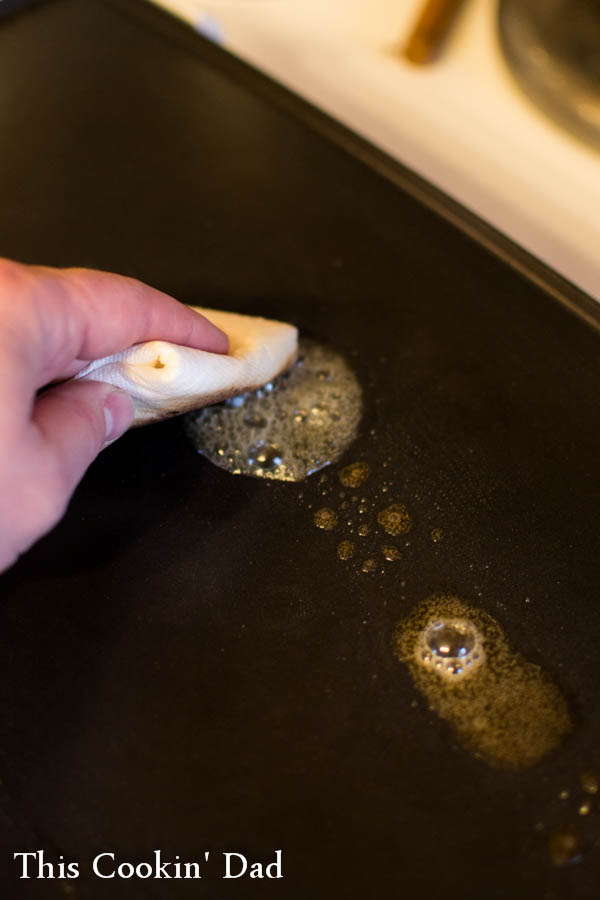 …cook up your pancakes…
…and serve with your favorite toppings. I'm partial to Maple Bourbon Syrup and a dusting of powdered sugar.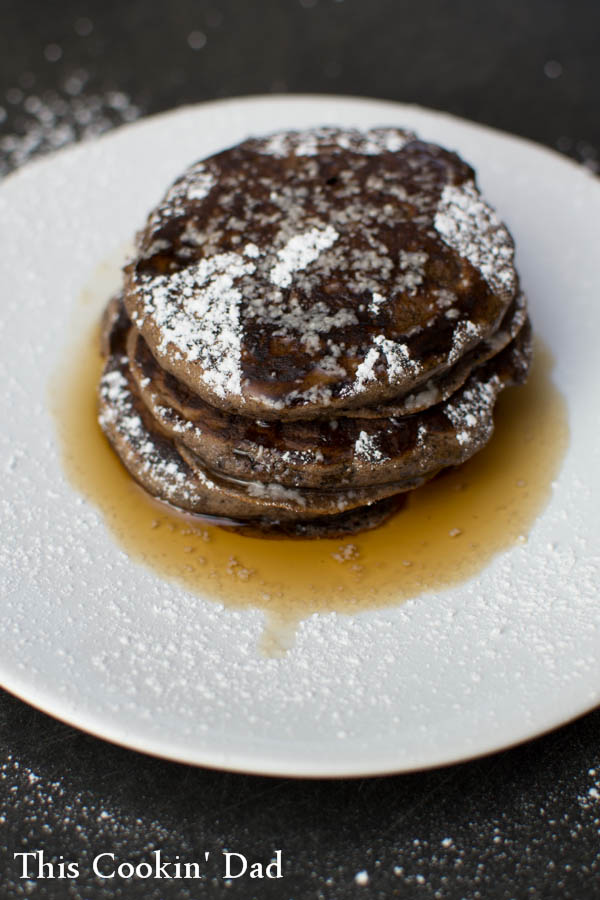 What do you like with your pancakes? Throughout April, we're talking about breakfast! What is your favorite breakfast food? Anything new that you'd like to try? Leave a comment and share your stories and suggestions!

Buckwheat Pancakes
Ingredients
½ cup buckwheat flour
½ cup all-purpose flour
2 tbsp white sugar
1 tsp baking powder
1 tsp baking soda
¼ tsp salt
1 tsp cocoa powder
1 cup 2% milk
1 egg
3 tbsp butter, melted, plus more for the griddle
½ tsp vanilla extract
Instructions
Heat a griddle or skillet over medium heat.
In a large mixing bowl, combine the dry ingredients (through cocoa powder).
In a separate mixing bowl, combine the milk, egg, 3 tbsp melted butter, and vanilla.
Pour the wet ingredients into the dry and stir just until the dry ingredients are moistened.
Brush the griddle or skillet with butter and wipe clean before adding ¼ cup scoops of batter.
Cook for 2-3 minutes or until small bubble form on the surface the the edges of the pancake start to turn dry. Flip and cook for another minute or so.
Remove the pancake to a plate covered with a dish towel to keep warm.
Serve warm with butter and syrup. Enjoy!