It's strawberry season! What that usually means for us is that we pick way too many strawberries and never quite figure out what to do with them. Since I've been talking about salads all month, I thought it made sense to use some of these strawberries in a Spinach and Strawberry Salad.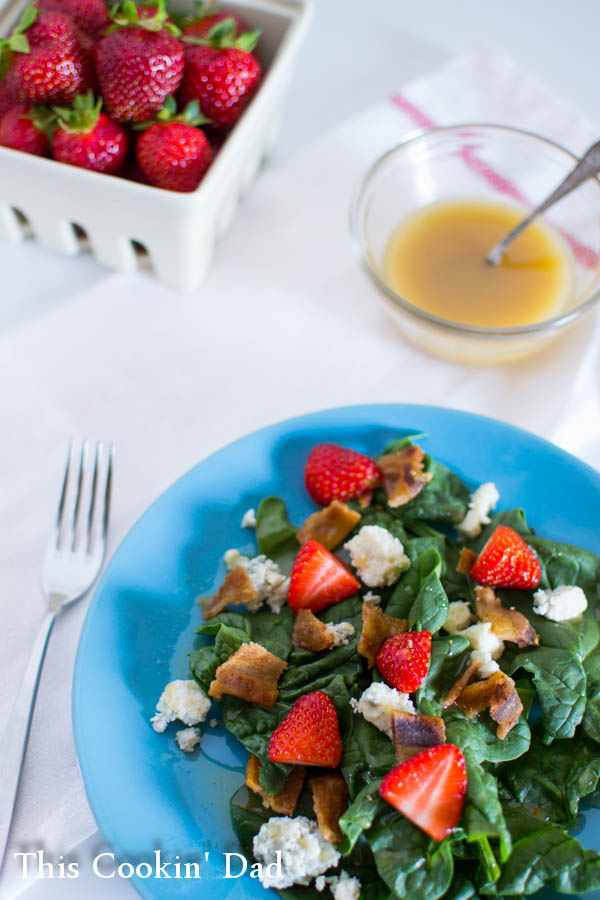 Strawberries, when perfectly ripe, are incredibly sweet with a slightly bitter aftertaste. This is perfect with the bitter and grassy spinach. I add some salty bacon for a little counterpoint and some funky blue cheese to round out the flavors. A little dressing with peach balsamic vinegar and a little bacon grease finishes the whole thing perfectly.
Don't let some of the components of this salad scare you. I made this salad for me and my wife for lunch one day and, even though she doesn't care for spinach or blue cheese, she really enjoyed the salad. Sometimes the combinations of flavors far surpass the flavors of the individual ingredients.
I think the one thing that I've learned about salads is that there really are no rules. Nothing says that you can't make a vinaigrette with bacon grease or add a little fruit and funk to your salads. In a lot of ways, the salad is one of the freer ways to play with flavor. Take a chance and see what you can come up with.
Are you picking fresh strawberries right now? Have you ever added them to your salad? All month long, we are talking about salads? What does "salad" mean to you? Did you grow up with a particular kind of salad? Leave a comment and share your story!

Spinach and Strawberry Salad
Ingredients
4 slices thick-cut bacon
¼ cup peach balsamic vinegar
1 tsp Dijon mustard
salt and pepper to taste
4 cups fresh spinach
½ cup blue cheese
1 cup sliced strawberries
Instructions
In a large skillet over medium heat, cook the bacon until crispy. Drain on paper towels. Allow to cool slightly before chopping. Reserve ½ cup of bacon grease.
In a mixing bowl, combine vinegar and mustard. While whisking, slowly add reserved bacon grease. Season with salt and pepper to taste.
Divide spinach, blue cheese, strawberries, and chopped bacon between 4 plates. Topping with dressing and serve. Enjoy!