This entire month, This Cookin' Dad is devoted to grilling and, last week, I wrote a little about one of my favorite things to grill, bread. I love to make crostini and bruschetta and to just serve some toasted bread alongside a grilled meal. During the summer months, though, with all of the fresh produce available, it's hard to top Grilled Panzanella, a simple bread salad prepared with both grilled and fresh ingredients.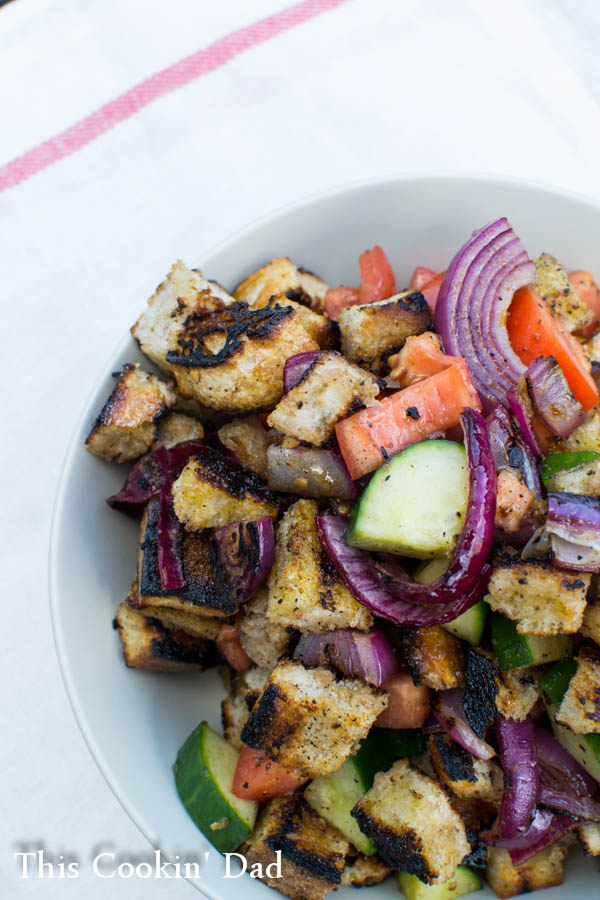 Panzanella is a Tuscan dish that is based on tomatoes, onions, and stale bread dressed with oil and vinegar. Typically, you'll see the bread soaked in water and squeezed dry. Sometimes, it's the juice from the fresh, ripe tomatoes that gives the bread new life. What is clear is that, in the Tuscan tradition of never throwing anything away, this dish was intended to give day old bread a second chance. What a great way to stretch your food dollar a little further!
To me, the traditional panzanella can still be a little soggy. I think that grilling the bread helps you to maintain a nice balance between crunchy and chewy, but still provides a vehicle to soak up all of the dressing and tomato juices.
I start with bread that is a day or even two days old. I cut it into nice, thick slabs, brush with a little olive oil, and place them onto a grill set to medium heat. A few minutes on each side will brown up the bread and lend a great smokiness to your salad.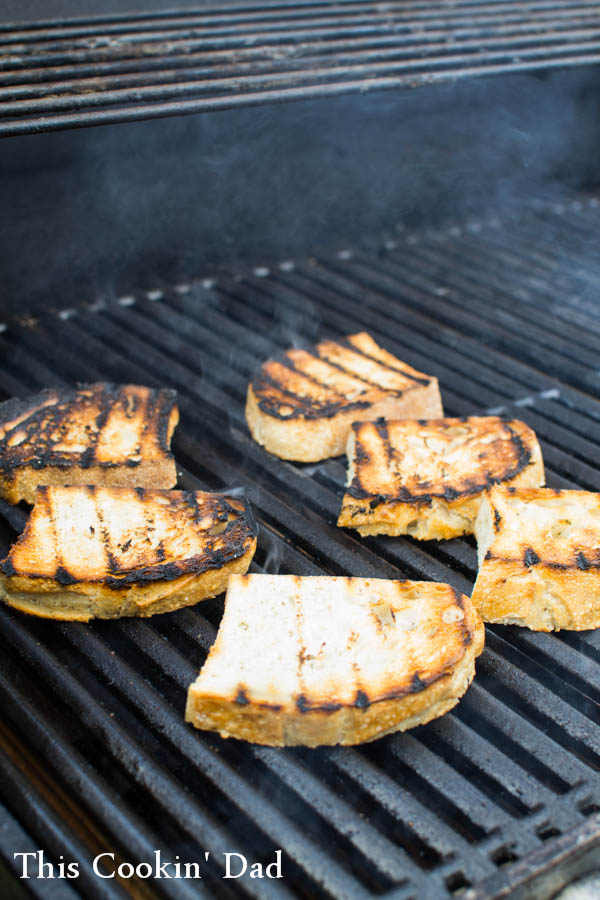 At the same time, I've got my red onions on the grill. Be sure to cut these thicker than you'd think you have to or they will fall apart on the grill. These four slices are an entire red onion.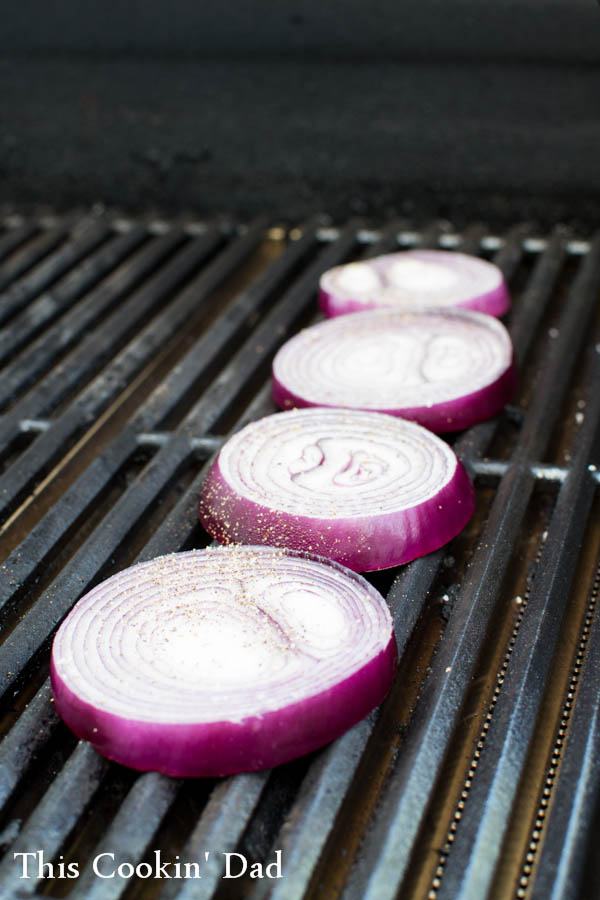 After about 5 minutes per side on the grill, you get some beautiful char. You maintain the integrity and some of the sharpness of the onions, but also develop some of the candy-like sweetness. It's kind of addicting!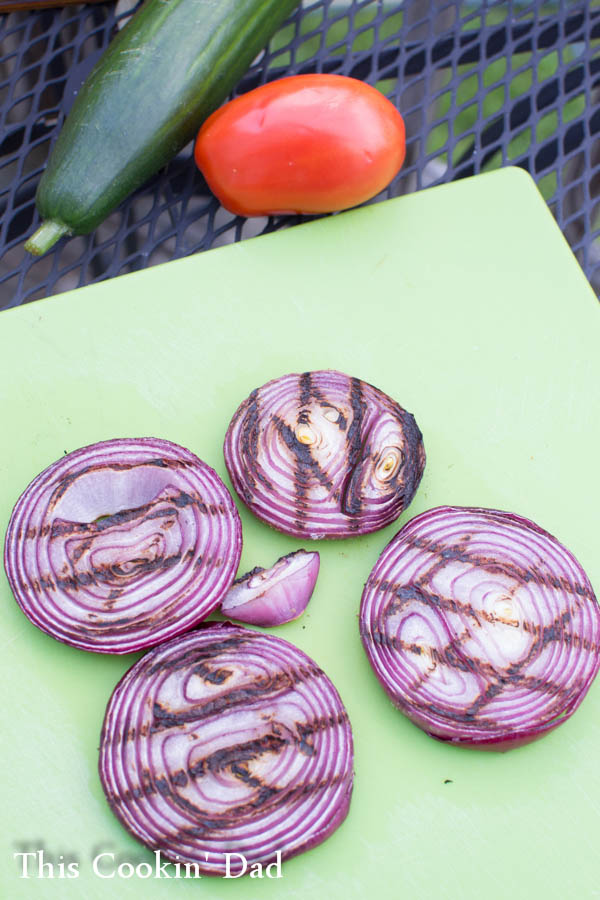 After everything is removed from the grill, I cube up my bread…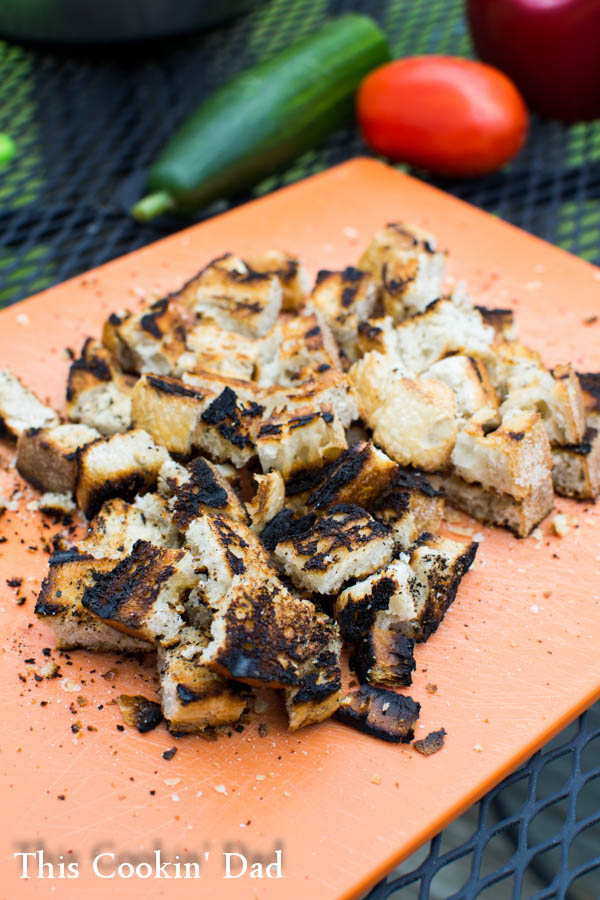 …chop up some tomatoes and cucumbers…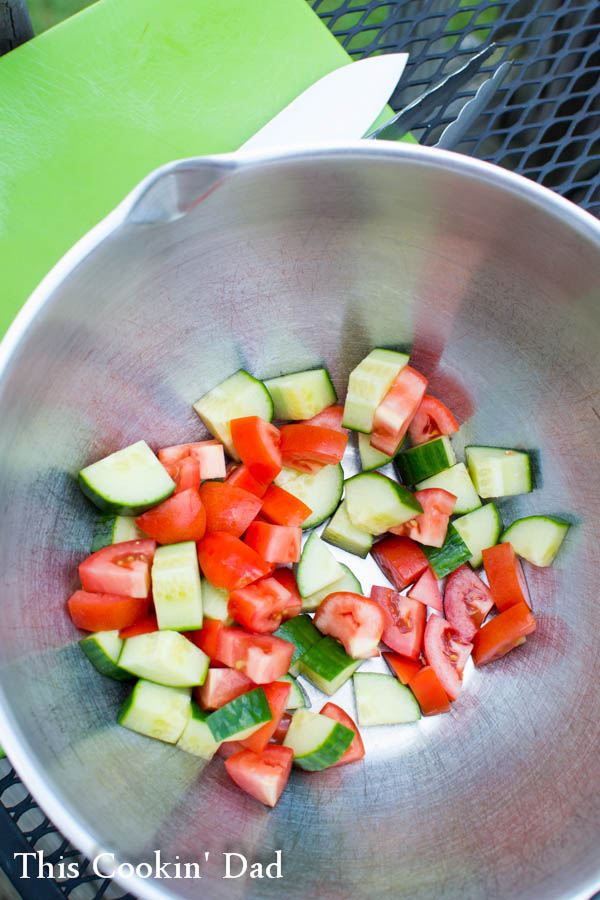 …and start to toss it all together with some olive oil, vinegar, salt, and pepper. Your choice of oil and vinegar are entirely up to you. I used an herbed olive oil for a little more flavor. Red wine vinegar is fine, but I have a peach balsamic vinegar that just screams summer!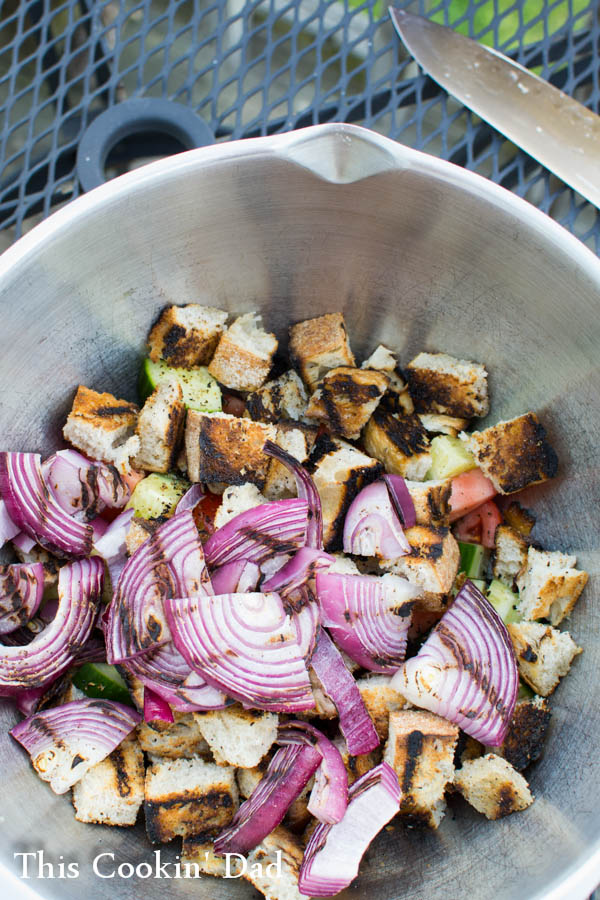 Divvy it all up and serve as a side if you must, but this salad is meant to be the main event!
We are grilling up a storm this month. Do you spend all summer on the grill? What are your favorite grilled dishes? Leave a comment and share your story!

Grilled Panzanella (Bread Salad)
This recipe is really more of a guideline than anything. Use what you have and cook without fear!
Ingredients
½ loaf of day old bread, cut into 1"-1½" thick slices
6 tbsp olive oil, divided
1 red onion, cut into ½" rings, not separated
3 roma tomatoes, diced
1 English cucumber, diced
salt and pepper to taste
2 tbsp peach balsamic vinegar
Instructions
Heat a grill to medium-high heat.
Brush one side of bread with 1 tbsp olive oil. Place oil side down onto the heated grill. Brush other side with 1 tbsp oil. Cook until lightly charred, 2-3 minutes per side. Remove and cool for a minute or two before cubing.
Meanwhile, place onions onto the grill. Cook 3-5 minutes per side. Remove from grill and slice into bite-sized pieces.
Combine bread, onion, tomatoes, and cucumbers in a large mixing bowl. Drizzle with vinegar and remaining oil. Add salt and pepper to taste.
Divide into bowls and serve. Enjoy!