Many thanks to Dreamfields Pasta for making this post possible. All thoughts and opinions are my own. #Pastapalooza

Each month this year, I have had a theme for my posts. For the month of June, I am talking about grilling. As much as I love to talk about grilling, though, today I'm going to take a break from it to talk about something pretty important…hunger and how, with a little help from my readers and Dreamfields Pasta, my simple bowl of Lemon Poblano Mac and Cheese can make a huge difference in fighting hunger in my community.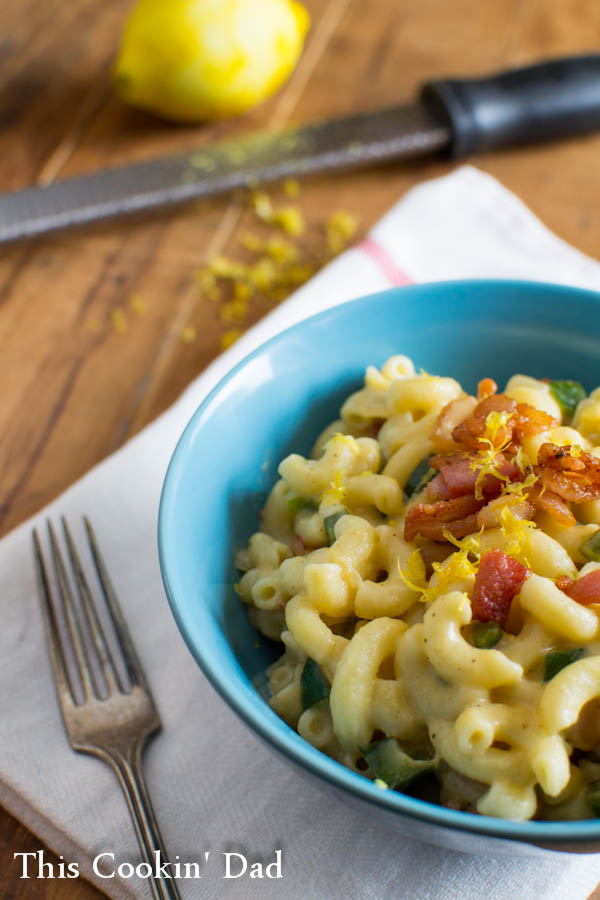 I live in a small county in Virginia and regularly walk into my kids' schools in the mornings to drop them off or to volunteer for the day. It always amazes me just how many students in our schools are eating breakfast from the cafeteria, not because they didn't have time to eat, but because their parents couldn't afford it. Some parts of our state see over 70% of the students approved for free or reduced lunch.
It's tough to see our kids' friends have to deal with this. I can't tell you the number of snacks that Beth and I have sent in because the kids just don't have those snacks to bring. We know how hard it can be for a child to concentrate on schoolwork when they are worried about food.
That makes summertime pretty tough for those kids. Free and reduced lunch doesn't apply when school's not in session and the family's income level doesn't suddenly shoot up during the summer. This is one of the major reasons that local food banks struggle to keep up with the demand during the summer months.
What can we do to help?
As a person whose life is based largely around food, I feel some responsibility to get involved. It's actually easier than you think. You can donate foods and essential toiletries to your local food bank. You can also contact them to find out how to donate your time or money. Check out the links below for more information on that.
We always try to do what we can to help out, but we never feel like it's enough. Thankfully, Dreamfields is giving me (and you) a chance to help out a little more. Throughout the summer, Dreamfields is challenging bloggers to create original pasta dishes using the ingredients in a Market Basket Challenge. Wouldn't you know it? I was selected to be a part of this!!
That means that you get to go vote for your favorite recipe (mine, of course!) and the winner from each category will receive a $1,000 donation to their local food bank/pantry. The rest of the contestants receive a $200 donation. My donation will go to Feeding Greene, the food pantry that serves my county and part of the Feeding America Network. The best part? By voting, you yourself get a chance to win a Dreamfields family pack and a $1,000 donation in your name to the food bank/pantry of your choice! That's 30 donations for over $10,000 to local communities to help those that are not quite as secure with their food situation! My round starts on June 11 at 12:01 am and ends on June 17 at 11:59 pm, so I need your help now!!
###Update: WE WON!! Thanks to those who voted, my little county in Virginia will receive a $1000 donation to help fight hunger in our community. Thanks so much to everyone who helped out in this effort!###
If you aren't sure which food bank or pantry serves your area, you can check out the following sites to locate your local organization.
So what was my Market Basket Challenge?
By now, I'm sure that you are all wondering just what my Market Basket Challenge is and what I made with it. My basket included beer, smoked/grilled meats, hot peppers, lemons, and my vegetable of choice. In addition, I could pick two other ingredients. Dreamfields pasta, water, oil, salt, and pepper were all "freebies". After attempts at a couple of recipes, I finally settled on a Lemon Poblano Mac & Cheese.
I used Dreamfields Elbows, applewood smoked bacon, a lemon shandy, poblano peppers, onions, and, of course, lemons. All-purpose flour and cheese were my two extra ingredients. Now, I'm sure you're asking where the milk is. It can't be mac & cheese without milk, right? No milk in this one, folks! Just trust me.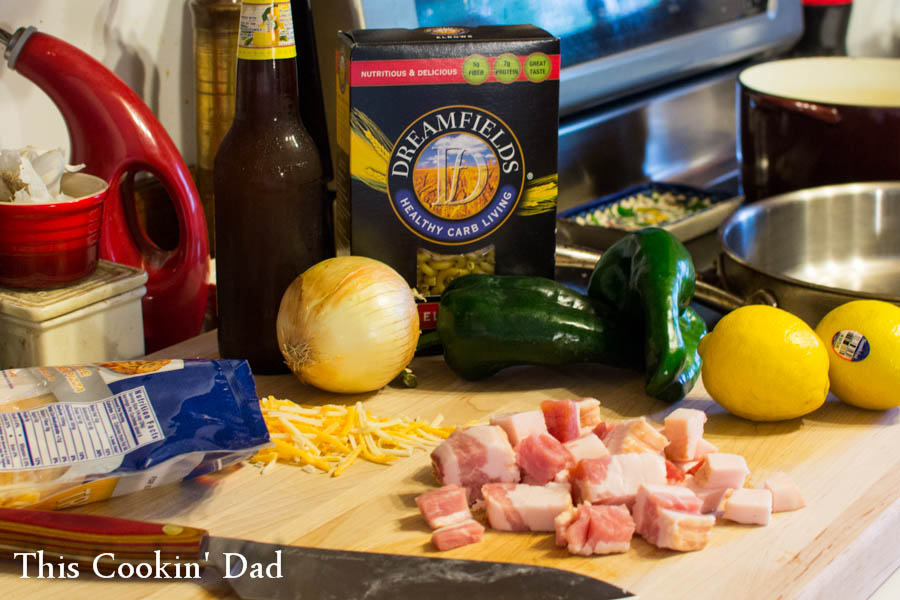 I start by dicing and frying up the bacon. I use the bacon grease to cook the diced onions and peppers.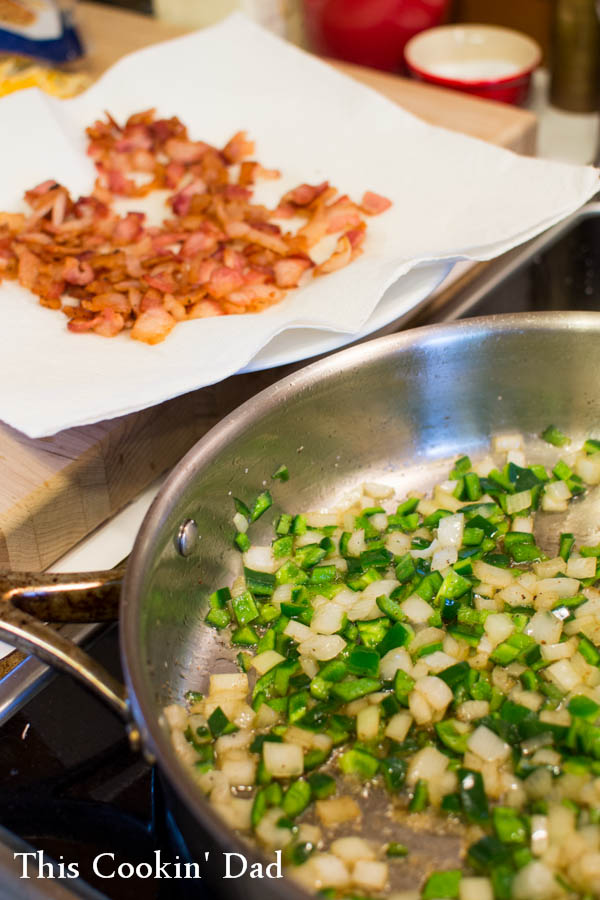 Once they are sauteed nicely, I add in a squeeze of lemon and some flour and let it cook for a couple of minutes…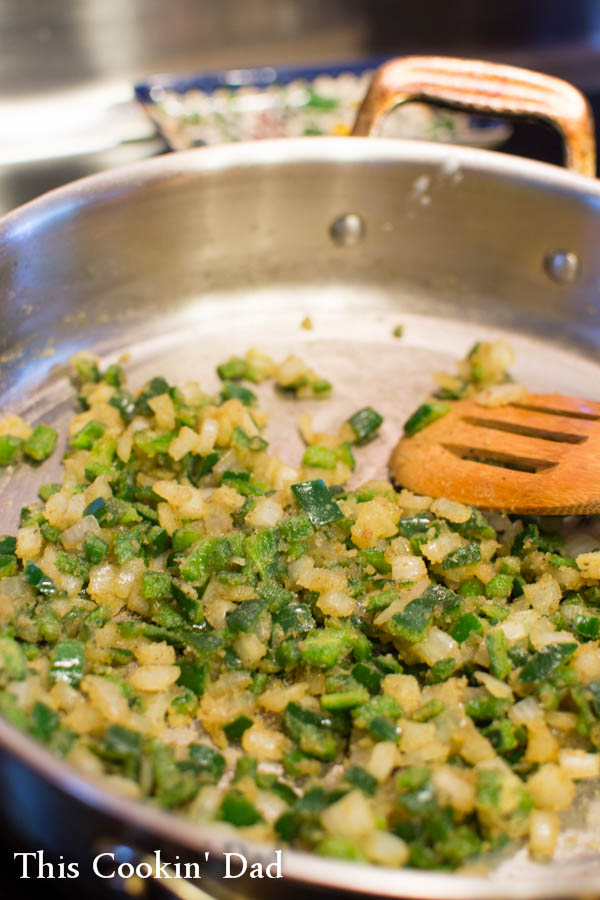 …before adding the lemon shandy, basically a beer mixed with carbonated lemonade. I bring that to a boil then quickly back it down to a simmer to make a sort of bechamel. Let's call it a "beerchamel". Effectively, we are talking about a thick gravy. After this has cooked for a couple of minutes to smooth it out, I add in the shredded cheese to make a cheese sauce.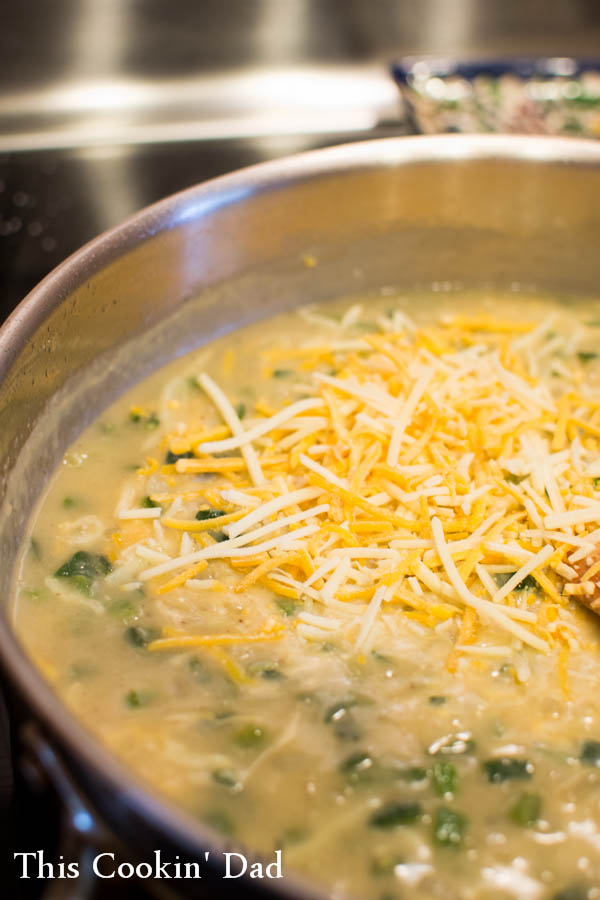 I pour the cheese sauce over the cooked elbows, stir in some bacon, top with more bacon and some lemon zest, and serve with a tall glass of lemon shandy.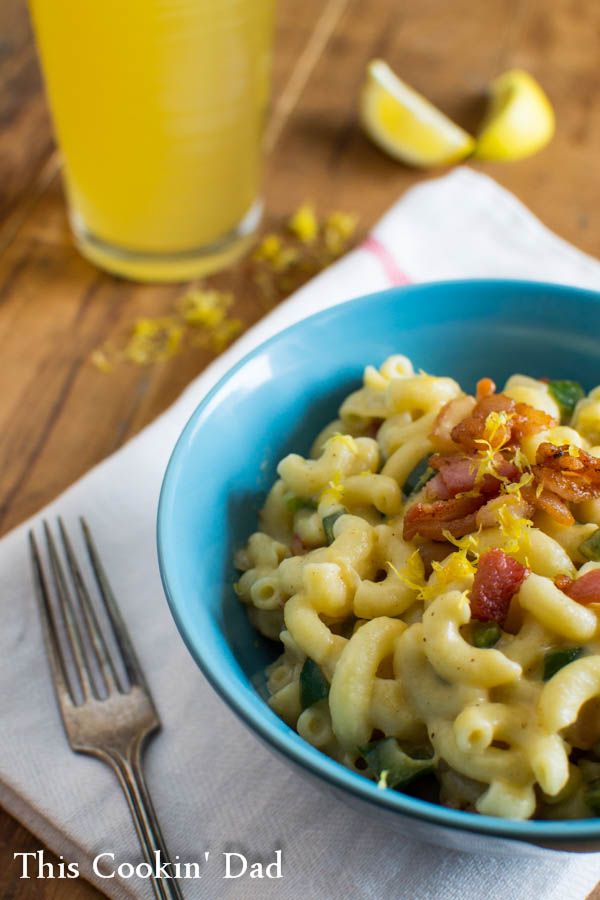 The first bite of this will completely challenge everything that you think you know about mac & cheese. It's lemony, a little spicy, and it's really difficult to turn away a second helping. I hope you enjoy!
Make sure you head over to the voting page to vote for my recipe and give my food bank (and yours) a chance at $1,000! What is your local food bank? How do you help them out? Leave a comment and share your story!

Lemon Poblano Mac and Cheese
Ingredients
1-13.25 oz. box Dreamfields Elbows
6 slices thick-cut applewood smoked bacon, diced
1 medium onion, diced
1-2 poblano peppers, diced
½ tsp salt
½ tsp freshly ground black pepper
3 tbsp all-purpose flour
juice from ½ lemon
12 oz. lemon shandy beer
4 oz. water
2 cups shredded cheddar cheese
zest from 1 lemon
Instructions
Prepare Dreamfields pasta according to package directions. Drain, rinse, and set aside.
Meanwhile, cook bacon in a large skillet over medium-high heat until crispy. Remove from pan to a paper towel-lined plate and set aside.
Add onion, poblano, salt, and pepper to the hot bacon grease. Cook on medium-high for 3-5 minutes or until onions are just beginning to brown.
Add flour and cook for 2-3 minutes. Slowly add beer and water, stirring to fully combine with flour and vegetables. Bring to a boil and reduce heat to a simmer. Cook until smooth, 3-5 minutes.
Add cheese ½ cup at a time, stirring to fully incorporate each addition.
Fold cheese sauce in with the cooked Dreamfields Elbows and add about ¾ of the reserved bacon. Stir to combine.
Serve sprinkled with lemon zest and remaining bacon. Enjoy!