When I cook at home, I'm always looking for ways to add a punch of flavor without adding a ton of time to my cooking schedule. Roasted red peppers have been trending for several years now and with good reason. They are versatile, full of flavor, and as healthy as can be! The best part? They are so easy to make at home that you can skip that tiny, overpriced jar from the supermarket shelves!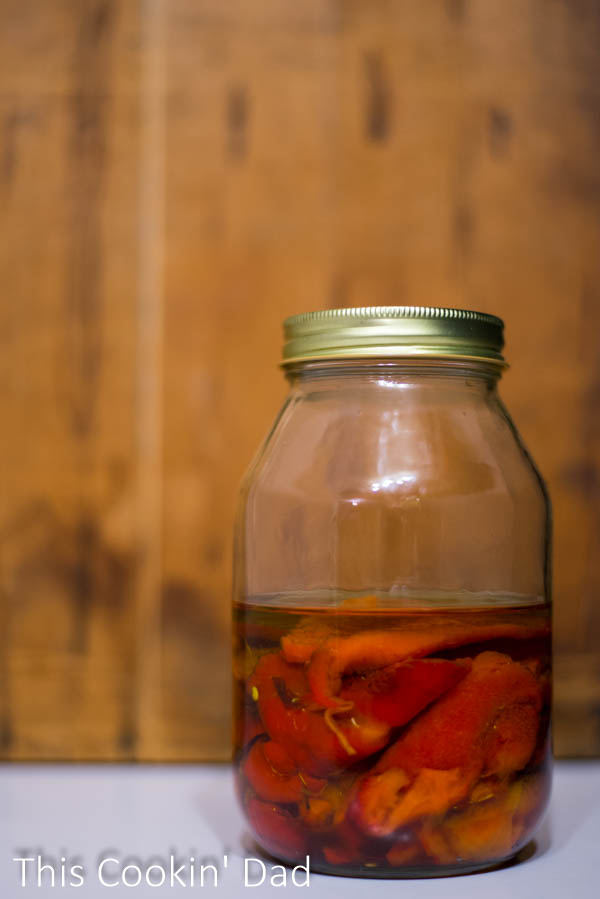 Roasted red peppers have become one of those items that kind of wind up in everything, but, now that people appreciate food that is less and less processed, it seems appropriate to know more about how that flavor gets there. Any time you start adding flavors to foods, the ingredient count jumps up. Check labels. What starts as 5 or 6 ingredients in the "Plain" flavor may have 20 or 30 ingredients when you add roasted red peppers.
The solution, of course, is to make them yourself. There are many ways to do this, including over an open flame, but roasting in the oven means that I don't have to watch as closely and can work on something else in the meantime. Way better for my busy schedule!
I'll pile some into a cast iron pan with a touch of olive oil and roast in a 500 degree oven for 45 minutes to an hour, or until the skins are charred.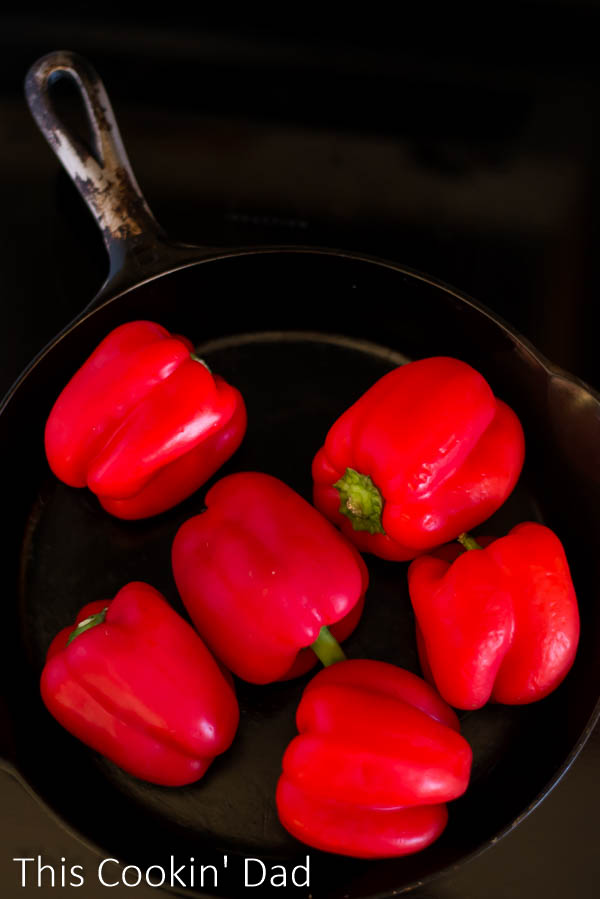 Then I toss them into a bowl and cover with plastic wrap for about 30 minutes or until they cool down.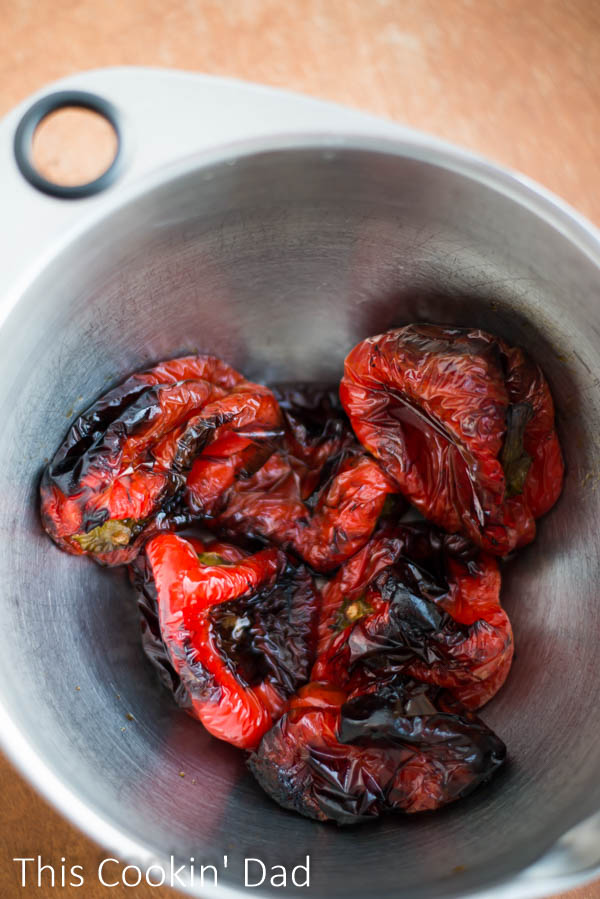 Now the messy part. Removing the skins. This just takes a little time, but, if the peppers are charred well, the skins should peel right off. The meat of the peppers will separate pretty easily right now, so I have to be careful to remove the seeds, but not massacre the pepper. Once that's done, slice into large pieces and stack in a sealable jar. Cover with olive oil and place into the fridge for use all week long!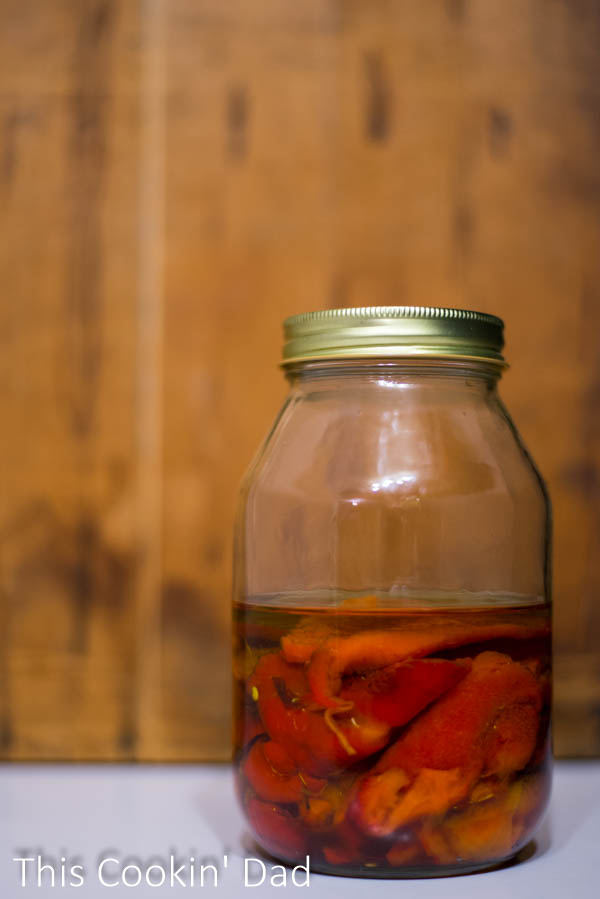 I love doing this because I now have these yummy peppers available for just about anything. If I do a bunch at once, I might get two weeks worth for making dips, sandwiches, etc. This makes eating at home so much easier and I know that I am one step closer to trusting all of the food that goes into my kids' bodies.
Since we are right at Thanksgiving time here, I want to offer up a great use for these. In my family, part of the Thanksgiving tradition involved leftover turkey, mayo, and sliced white bread for an evening snack after the mid-afternoon meal. By simply substituting a baguette and adding some of my roasted red peppers, I can transform this meager snack into a sandwich that might just have you roasting turkeys year round!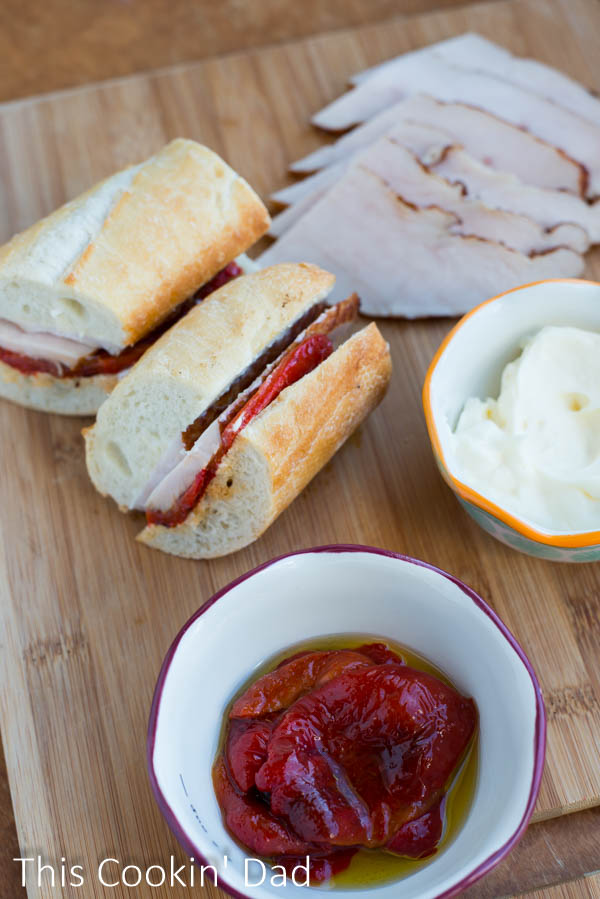 How would you use your roasted red peppers? Leave a comment and share your story!

Roasted Red Peppers
Ingredients
6 medium red bell peppers
2 tsp olive oil, plus more for jarring
Instructions
Preheat oven to 500 degrees.
Coat peppers in olive oil. Place on sheet pan or into a cast iron pan. Roast, turning every 15 minutes, for 45 minutes to an hour or until skins are charred.
Remove to a large bowl and cover with plastic wrap. Rest for 30 minutes or until cool enough to handle.
Peel skins away from the peppers and remove seeds. Cut into large sections and place into a canning jar. Cover with olive oil and refrigerate until ready to use.
Enjoy!