Thanks to READ Salads for making this post possible. All thoughts and opinions are my own.
I love, love, love food from the Southwestern United States. The spices and textures just speak to me. Developing those deep flavors from scratch, though, can take some time and with holiday baking season coming up, I just don't have it! I'm thankful for the Southwestern Bean Salad from READ Salads for giving me a tasty shortcut to those flavors that I adore so much.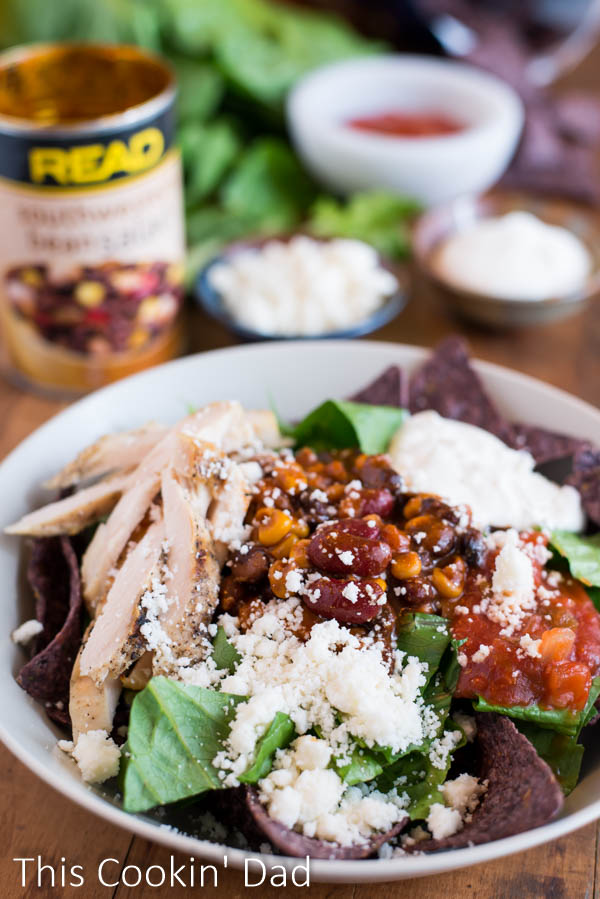 Sometimes simpler is better and my Soutwestern Taco Salad is about as simple as you can get. I start by laying down a bed of 10-15 blue corn tortilla chips. It doesn't seem like much , but blue corn tortilla chips have such an intense corn flavor that you don't really need any more. I top that with a about 1/2 cup chopped romaine lettuce.
Now comes the fun part! I top my lettuce with about 1/4 cup of Southwestern Bean Salad. I love this shortcut. I can add black beans, corn, hominy, and kidney beans to my taco salad and it's all flavored with a tomato, pepper, chili, and lime. To make it myself could take hours. Better still, it can be served at room temperature. Warm it up if you want, but I can put a yummy, southwestern dinner on the table in 5-10 minutes!
I finish it off with sour cream and salsa and top with queso fresco. For a little extra protein boost, I can add some leftover roast chicken or roast turkey. What a great lunch or dinner for the day after Thanksgiving!
READ Salads are available in the canned goods aisle at your local grocery story. Make sure that you check out their website for more great simple serving suggestions!
What are your shortcuts to big flavor? Leave a comment and share your favorite READ Salads serving suggestion!