One of the things I love most about blogging is when I have the chance to use my voice to support a great cause. As a parent, one of the greatest gifts that I can give my children is the chance to learn how they can give back. When I can use my blog to help my kids give back by baking cookies…well, it's just a great day for everyone!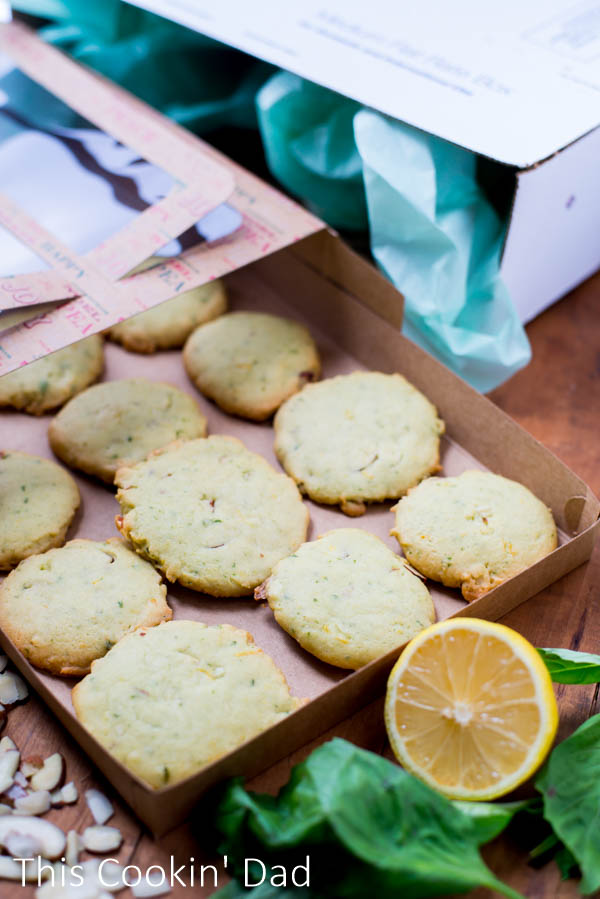 The Great Food Blogger Cookie Swap started in 2011 as a way for the food blogging community to give back and support great causes. This year's cause? Cookies for Kids' Cancer, a non-profit group dedicated to raising funds for research to develop new, improved treatments for pediatric cancer. My cookie? A Lemon, Basil, Almond Sugar Cookie. It's a little sweet, a little savory, and perfect for snacking when you need something a little different.
To start, I make a Basil Sugar. A cup of plain, white sugar and a handful of basil leaves make deliciously different sweetener for cookies and other baked goods, or even for sweetening your morning cup of tea.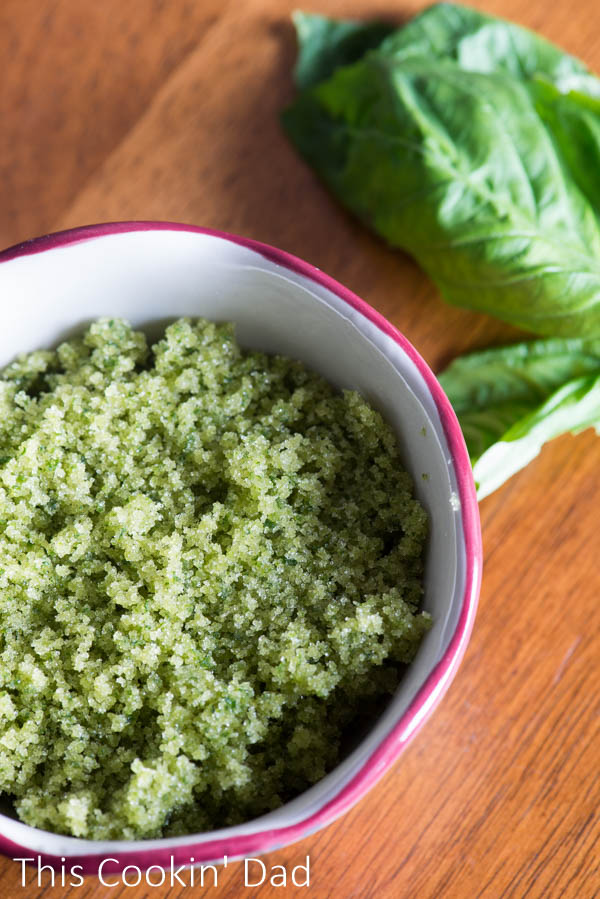 Once I've got all of my ingredients gathered, I can pull in my daughter, Sophie, to help out. She was so excited to help out with this cause and she'll do anything to spend some time baking with her Daddy!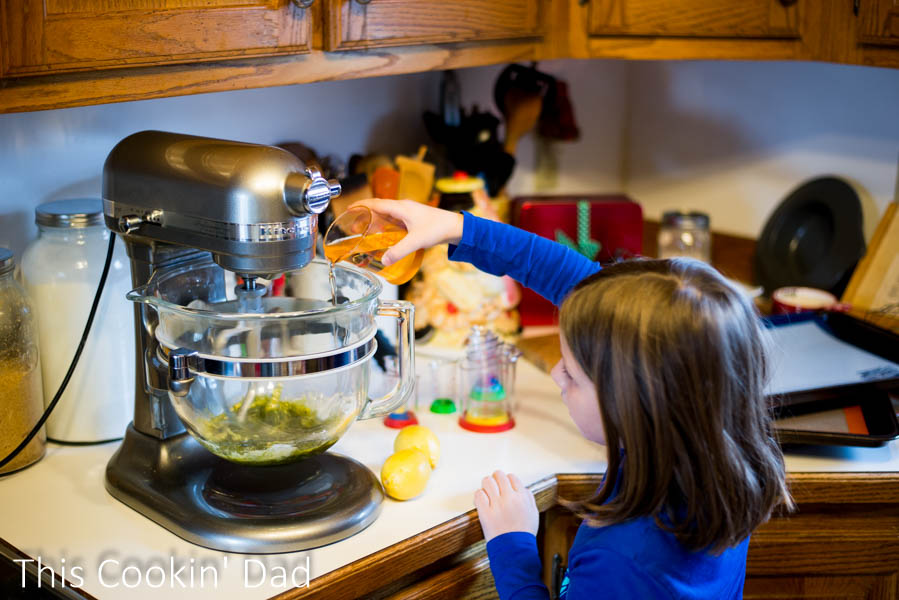 With the dough together, we start portioning out our cookies onto a silicone baking mat. The nonstick mat makes life so easy on us!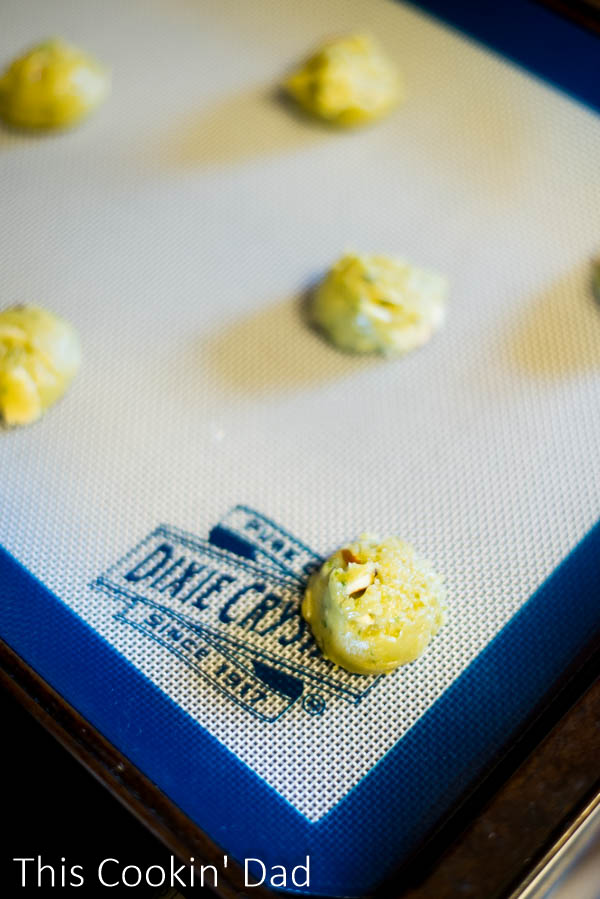 In my opinion, the best part about making cookies is sharing them. For the Great Food Blogger Cookie Swap, I had to package them all up, but you can find boxes at your local craft stores that you can use to share with your neighbors.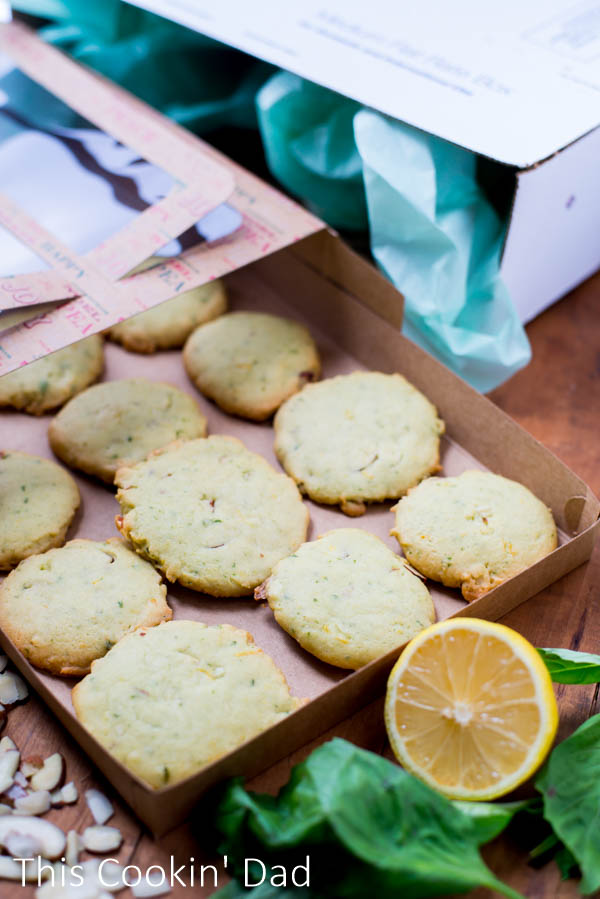 The best part about sharing? It means that you get to make so many more different types of cookies and don't have to be stuck with just a few! Thanks so much to Maurita at Get the Good Stuff, Sue at A Palatable Pastime, and Elizabeth at Sugar Hero for all of the great cookies and for supporting a great cause.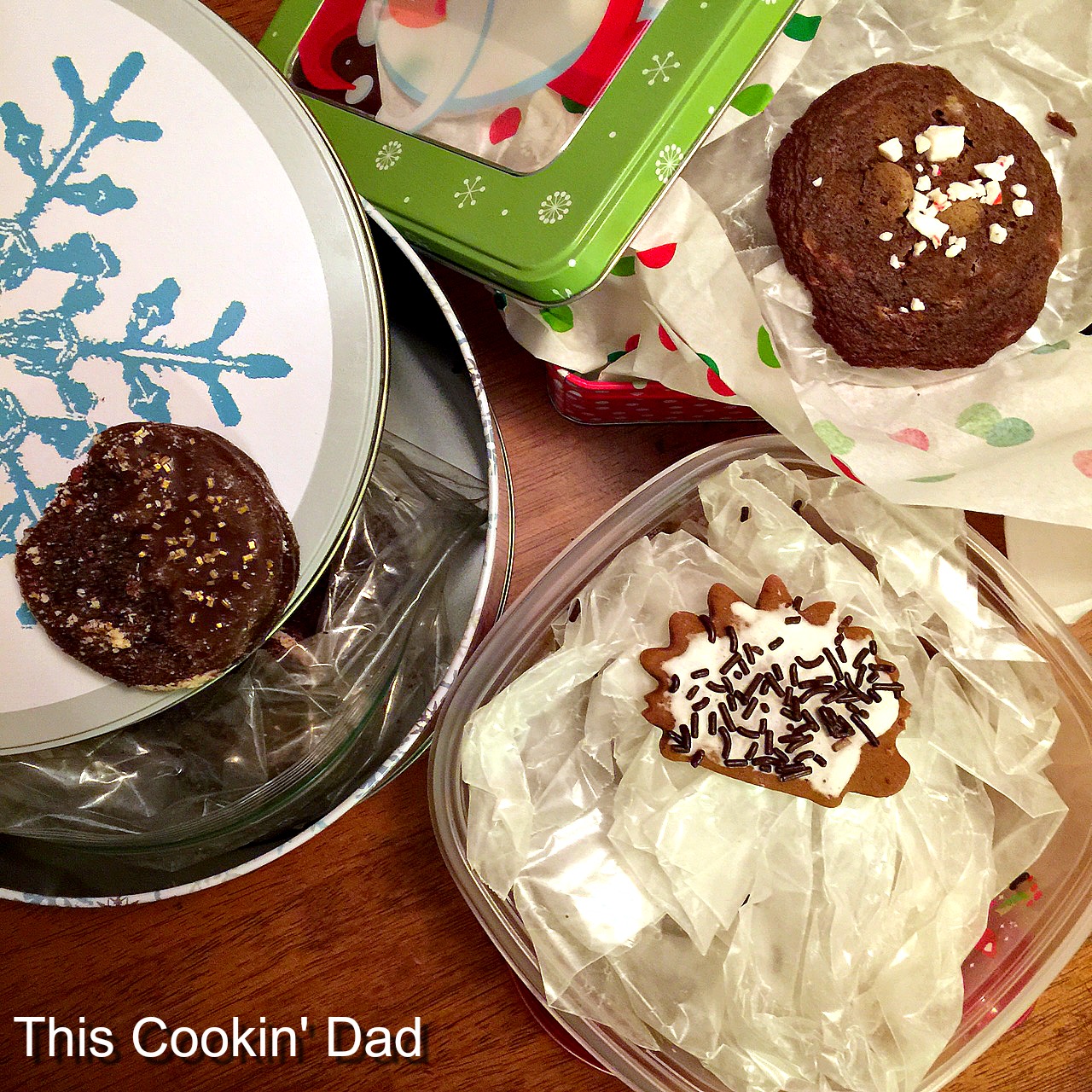 Want to know how you can get involved? Head over to Cookies for Kids' Cancer for ways that you can help!

Lemon, Basil, Almond Sugar Cookies
Ingredients
1 cup sugar
4-5 larges leaves basil, chopped
2 cups all purpose flour
2 tsp baking powder
½ tsp salt
¼ tsp ground black pepper
⅔ cup vegetable oil
2 eggs
2 Tbsp lemon zest
½ cup sliced almonds
Instructions
Preheat oven to 400 degrees.
In a food processor, combine the basil and sugar. Pulse until fully incorporated.
In a mixing bowl, combine flour, baking powder, salt, and pepper.
In a separate mixing bowl, mix together ¾ cup basil sugar, vegetable oil, eggs, and zest until completely combined. Add flour mixture in 2 stages just until the flour is moistened. Fold in the almonds. Allow the dough to rest in the fridge for 30 minutes.
Drop by teaspoonfuls onto an ungreased cookie sheet. Press flat with the bottom of a glass.
Bake for 8 to 10 minutes or until lightly browned. Cool on the cookie sheet for 2-3 minutes and remove to a wire rack to cool completely. Enjoy!