Thanks to Dreamfields for making this post possible. All thoughts and opinions are my own.
Father's Day is this week and Dreamfields Pasta wants to give you the chance to honor your dad with this week's #Pastapalooza2016 theme: Papa-palooza! Upload a picture of him grilling, picnicking, relaxing or just enjoying his day with great food and Dreamfields Healthy Pasta for a chance to win the weekly prize package worth $230 (including grilling tools and a hammock!) and an entry into the Pastapalooza 2016 Grand Prize drawing for a one-year supply of Dreamfields Pasta and a $1,000 VISA gift card!! Head over to the Pastapalooza website to submit your entry and download a coupon for more Dreamfields Healthy Pasta!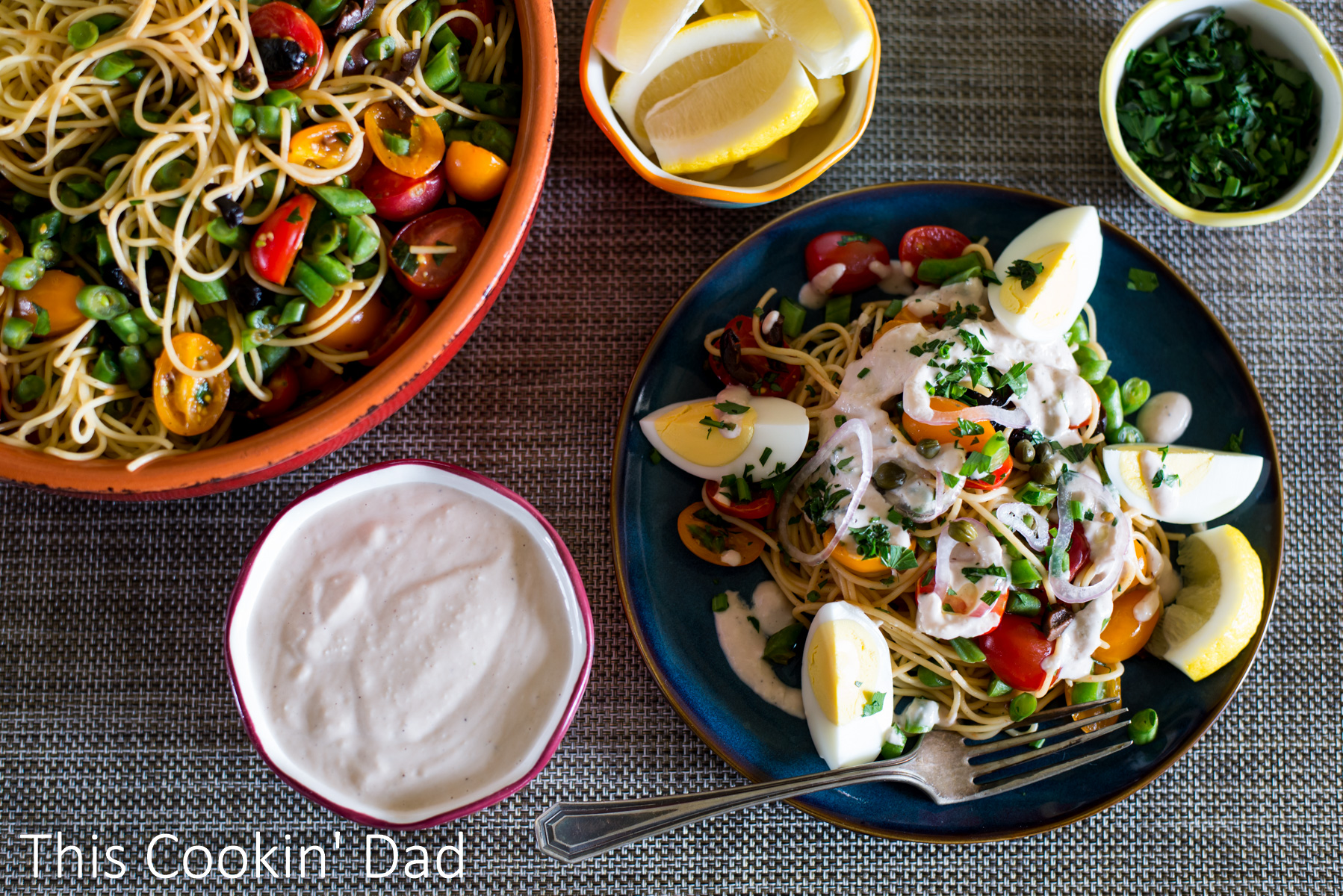 Summertime get-togethers (even Father's Day cookouts) never feel complete unless someone brings pasta salad. Typically, though, I find pasta salads to be boring and uninspired…little more than a box of pasta mixed with a bottle of Italian dressing. I thought that I would change all of that by reimagining one of France's hallmark salads, the Niçoise, into an amazing Niçoise Pasta Salad with Low-Fat Tonnato Dressing.
I've been to France exactly one time in my life. It was one summer back when I was in high school and, while most people are completely taken with Paris, for me, Nice just captured my imagination. Beautiful blue waters, homes and shops built right into the hillside, but no towering buildings to obscure the view. The food there is amazing…fresh and beautiful, but simply prepared, letting the food speak for itself.
A Niçoise salad is a composed salad that typically includes tuna, tomatoes, green beans, hard boiled eggs, Niçoise olives, and potatoes. Again, this is typical, but, by no means, are these hard and fast rules. If you go looking, you can find 100 different variants on what a Niçoise salad is composed of. For my part, I stuck to the pretty traditional version except that I substituted pasta for the potatoes. I think it feels a little more summery and is a little lighter than the potatoes.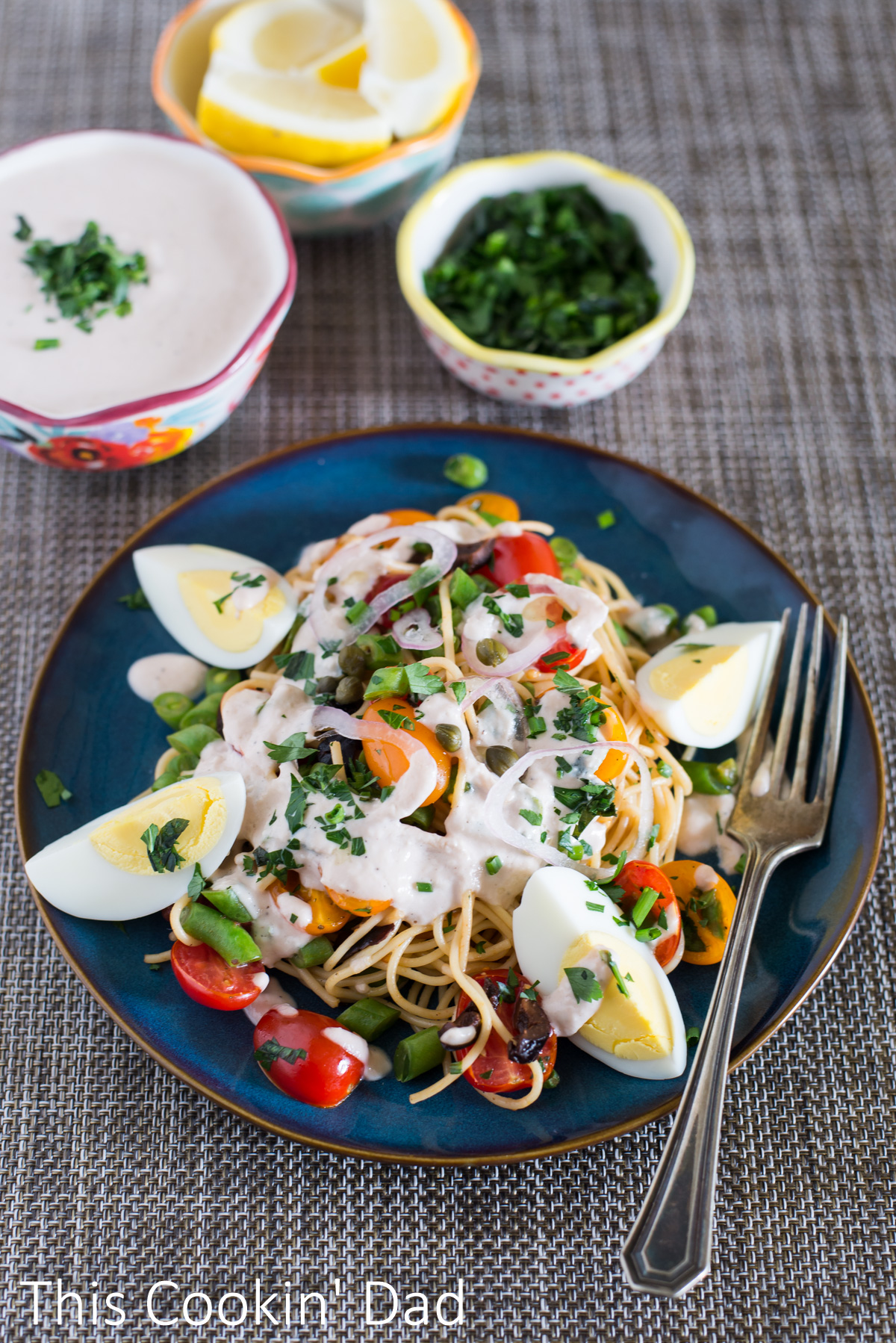 Choosing the right pasta for a pasta salad is the first step. We want a "good for you" pasta, but it has to have the same taste and texture as traditional pasta. Dreamfields pasta has the same taste and feel as traditional, but with 20% of our daily recommended fiber intake and 7 grams of plant protein per serving! Dreamfields recipe also contains inulin, which helps promote easy digestion. It's an easy way to eat a little better and is THE go-to pasta for summer pasta dishes!
My Niçoise Pasta Salad with Low-Fat Tonnato Dressing, though it sounds complicated, is amazingly simple to put together. It's really just 4 easy steps! Click here to find the complete recipe!
1. Cook your Dreamfields Pasta!
2. Make your veggie mix and combine that with the warm pasta. The oils in the mix help to keep the pasta separated and the warmth from the pasta helps to brighten up the tomatoes and green beans. Chill until ready to serve.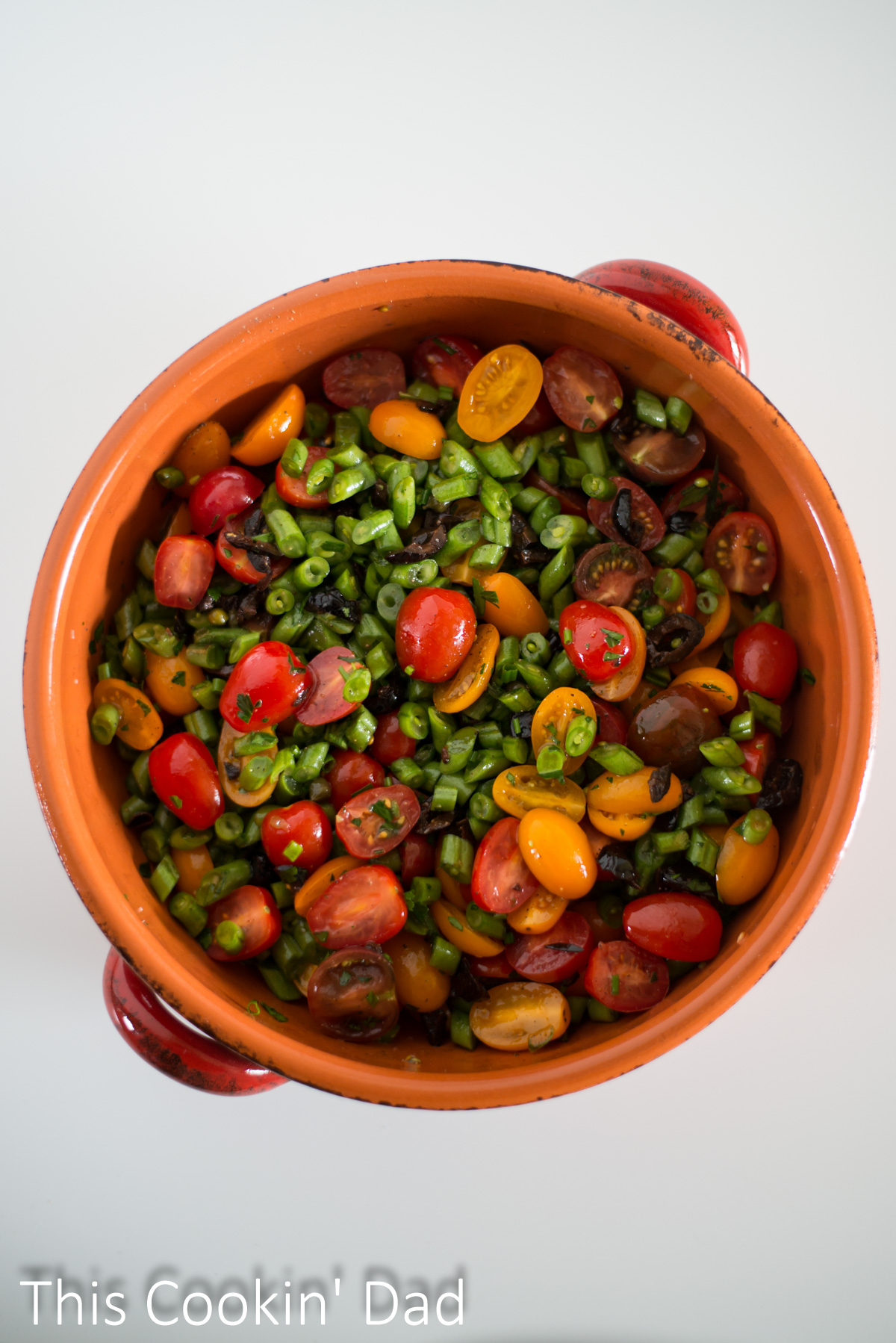 3. Prepare the Low-Fat Tonnato Dressing! You literally toss everything into the food processor and let it go. So easy!! Tonnato sauce is usually very rich and fatty, so I used low- and non-fat products and even tuna packed in water to keep the calories down and keep it light for summertime eating. I also snuck in a little fish sauce to bring that fishy flavor over the top without adding more calories. Don't tell anyone…but I used this sauce with just a serving of the pasta and it was AMAZING!!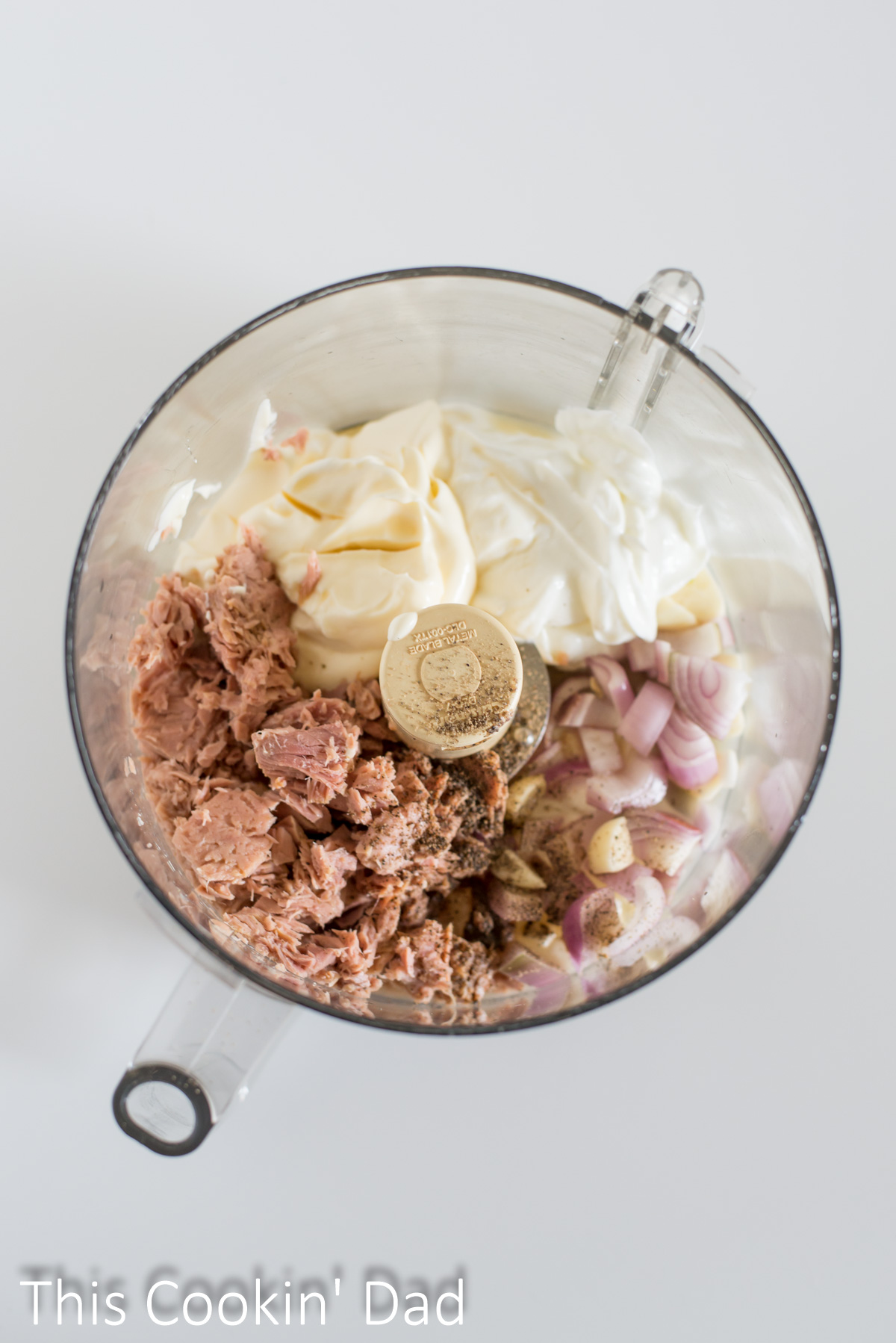 4. Prepare your salad! A serving of pasta and veggies, a hard-boiled egg, a drizzle of sauce, and a little garnish make this salad so easy to throw together that I just know that you'll be having it at your house soon! Enjoy!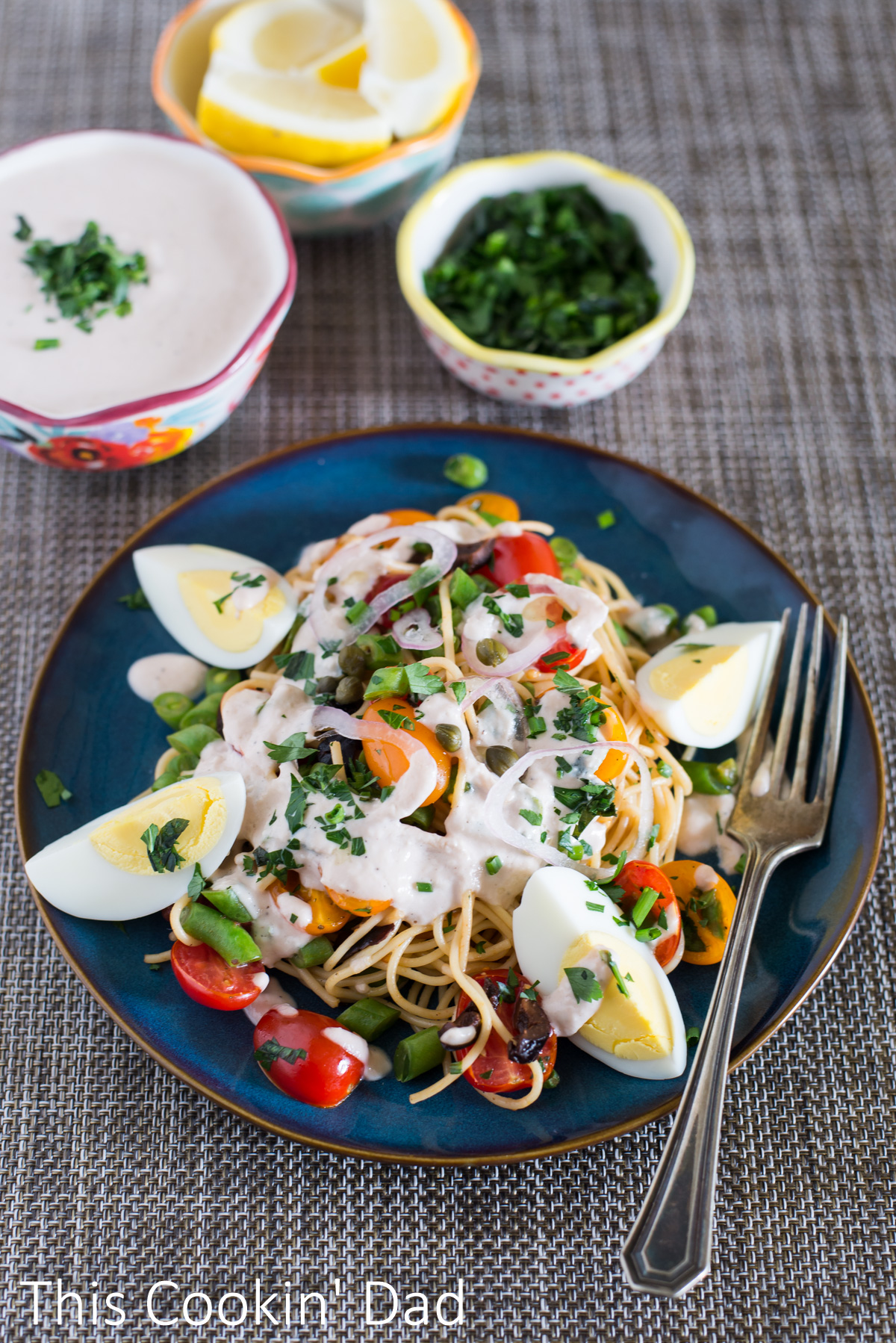 Looking for more great recipes? Head over to the Pastapalooza 2016 website to find them and don't forget to upload a picture of your dad for a chance to win the weekly prize package!
What is your favorite summertime pasta salad? What makes it your favorite? Leave a comment and share your story!
Save
Save