Thanks to Dreamfields for making this post possible. #HealthyPastaMonth
October is National Pasta Month and Dreamfields is celebrating with 31 different pasta recipes, one for each day of the month, along with prizes and other surprises! This week's theme is Go Green and, with that in mind, I wanted not only to create a dish that is chock full of veggie goodness, but one that takes advantage of all of those bits of veggies that we hate to throw away, but can never decide how to use. So I've created a simple Vegetable Soup featuring Dreamfields Elbows and a yummy pesto made from carrot tops and roasted pumpkin seeds.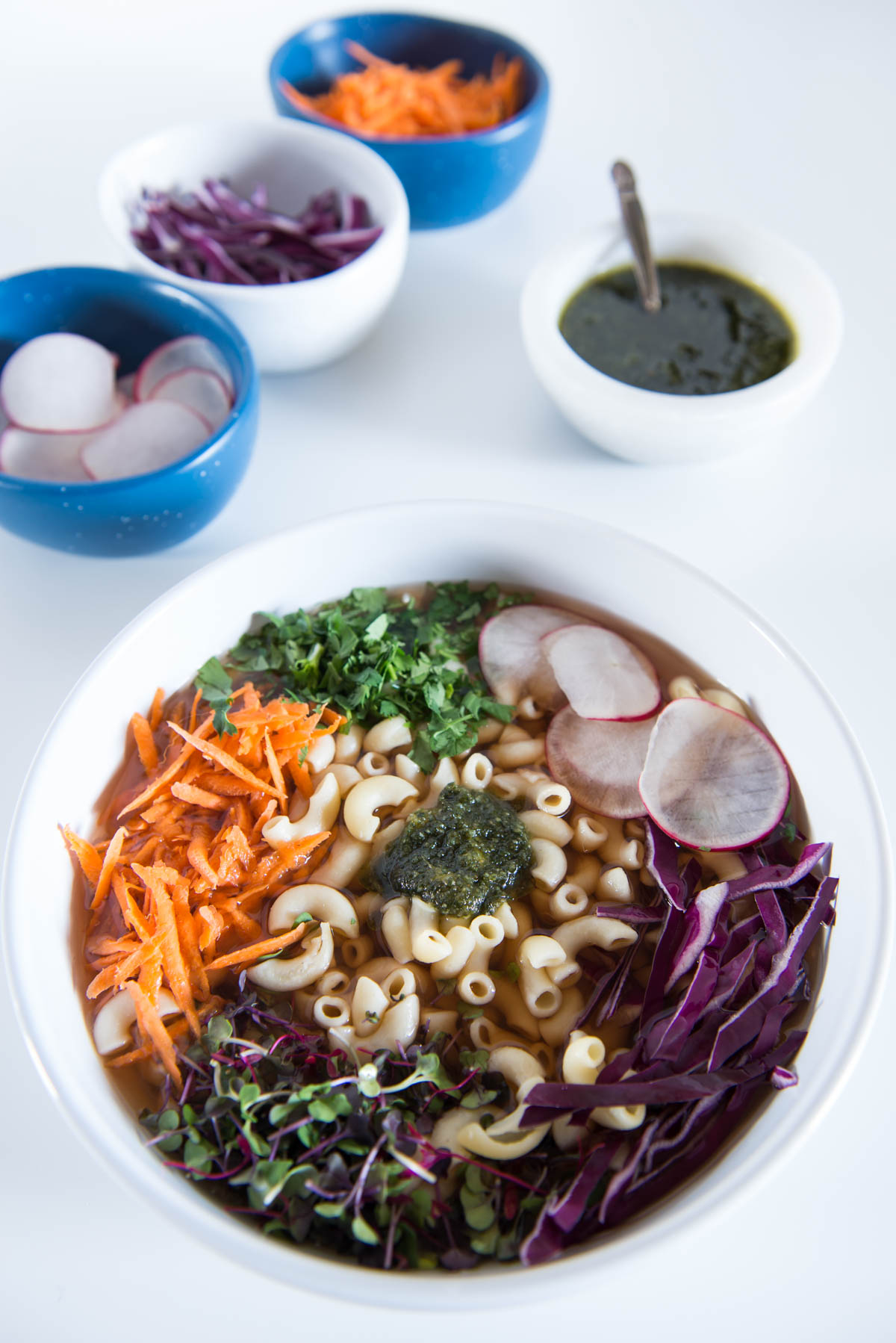 I cook a lot! What that often means is that I have a lot of waste. Onion skins, celery stumps, carrot tops, all trash in most people's eyes, still pack a ton of flavor. I have taken to saving these parts (that I would ordinarily throw out) in a gallon-sized zip top bag and keeping it in the freezer. Let's be honest, my freezer is more ingredients at this point than food. Corn cobs, ham bones, bread crumbs…I'll keep just about anything!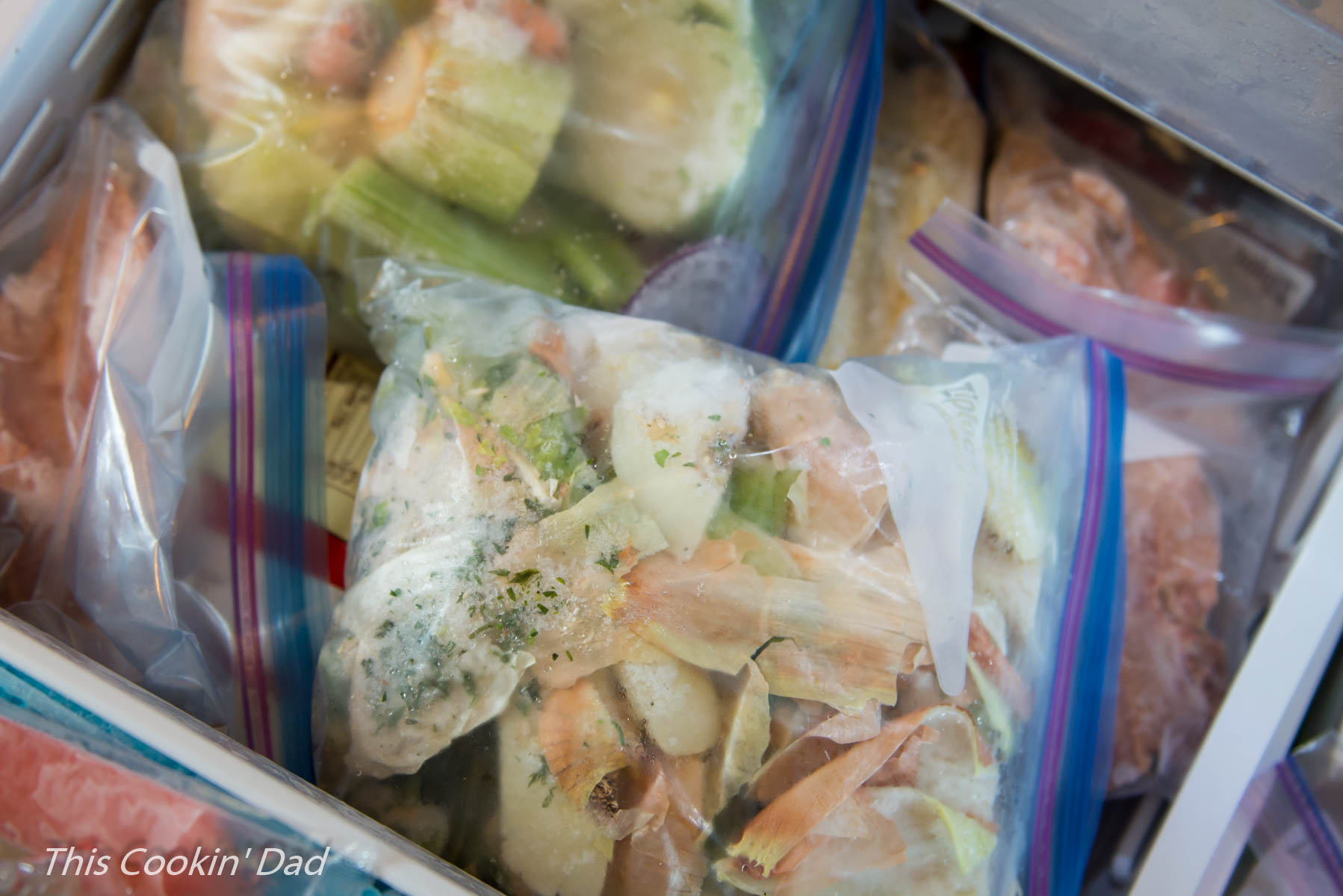 Once I have a full bag of veggie parts, I can make an amazing veggie broth that will blow away anything you can buy in the supermarket. I just empty the bag into a pot, cover with water, and season with salt and pepper. I bring it to a boil and simmer for a solid hour or two.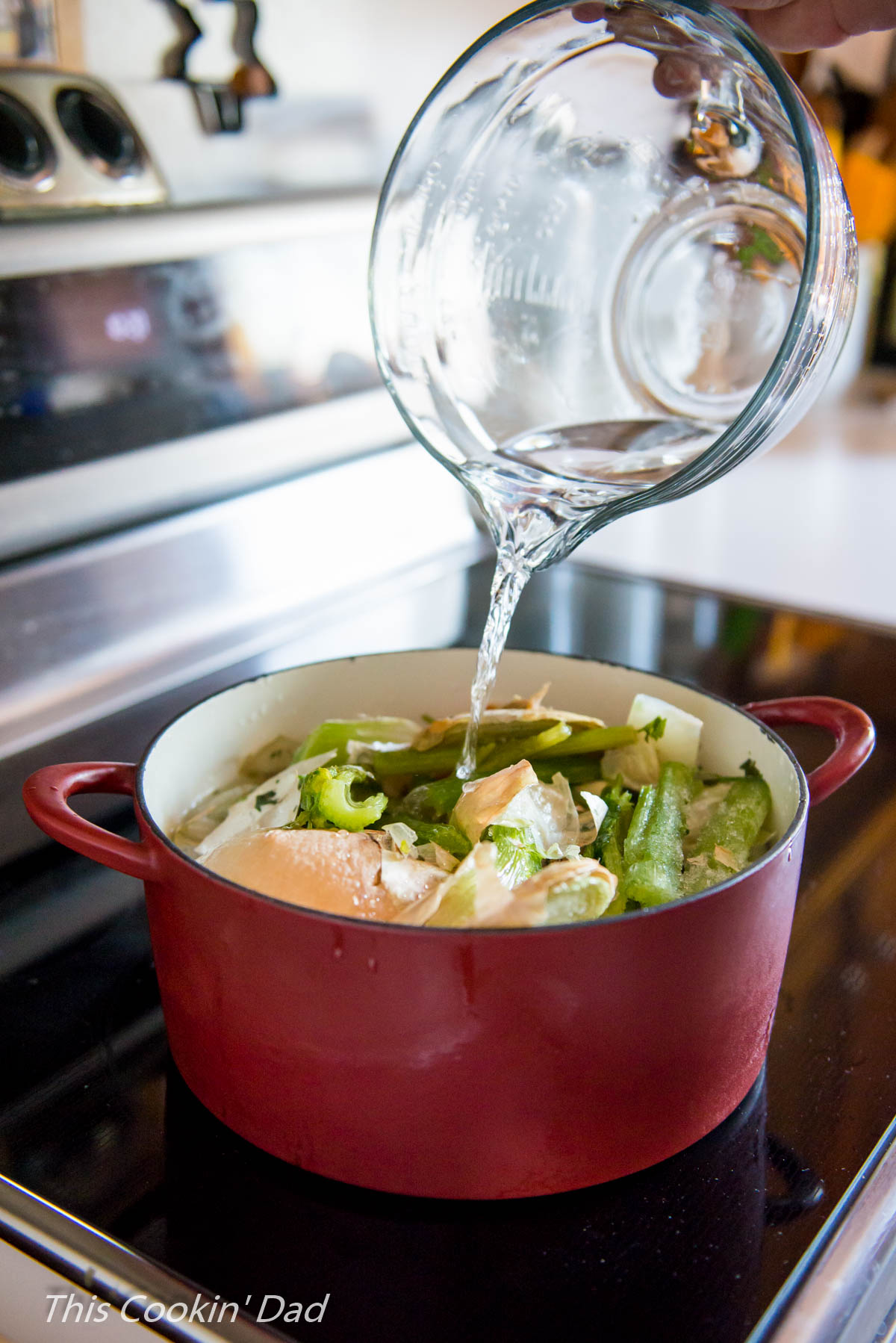 To strain out all of the veggies, I line a colander with paper towels and pour right over. After all of that cooking, you can finally toss those saved veggies.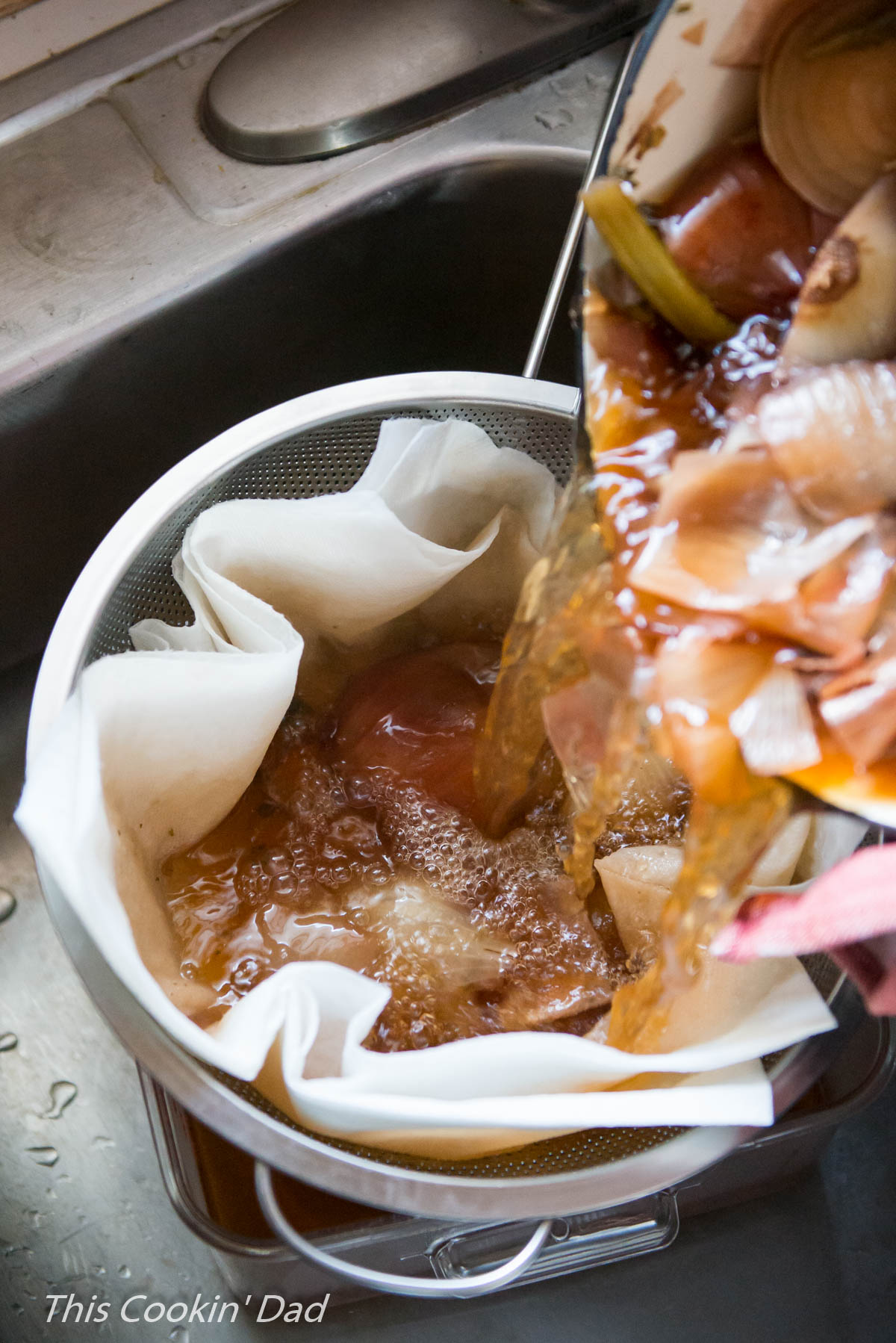 Just take a look at that amazing color!! I let it cool down in the fridge and use it over the next couple of days or freeze it for later.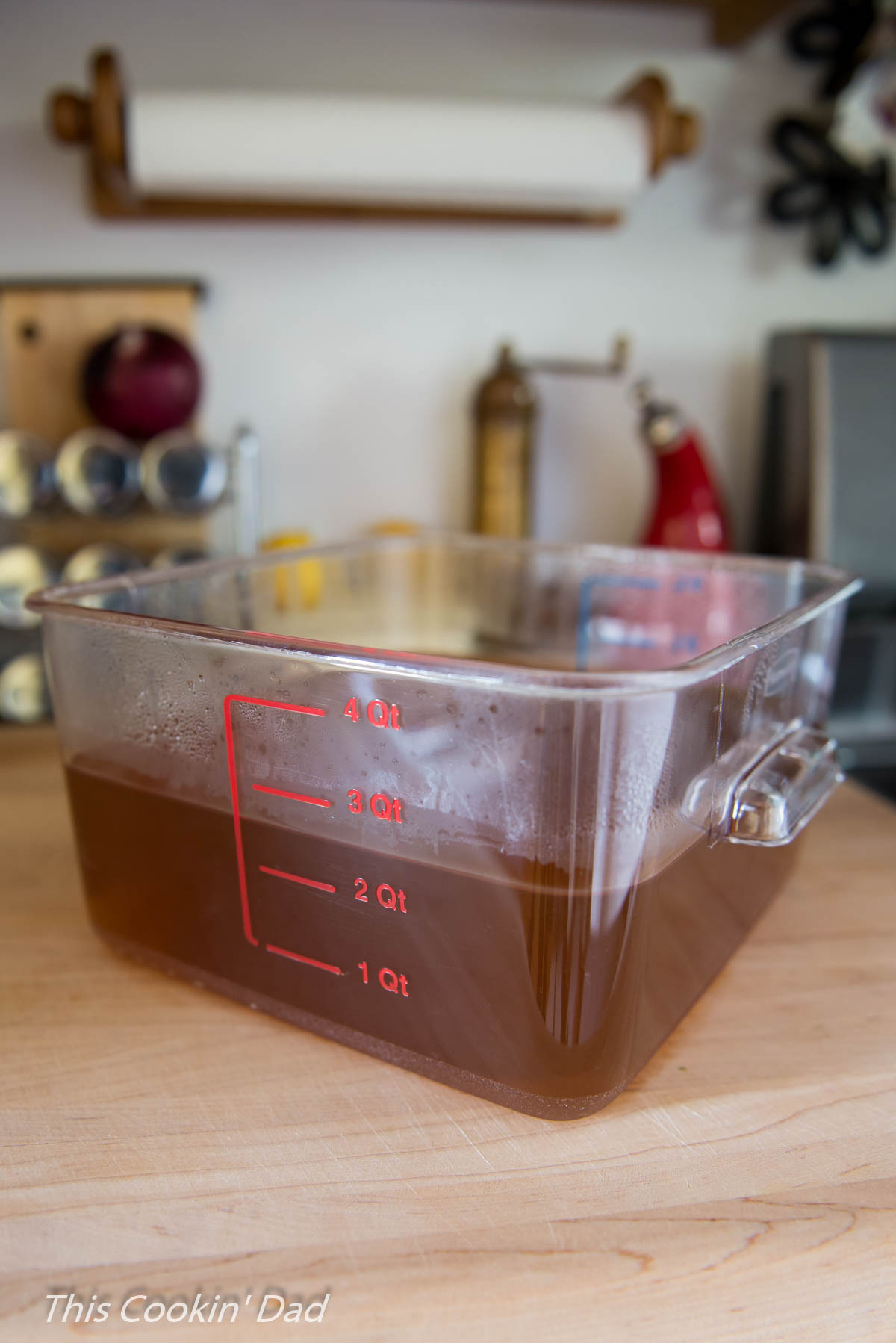 While I'm at it, I love making up a simple pesto with whatever I have on hand. Traditionally, you might use basil and pine nuts, but I've found that carrot tops give an amazing flavor and save you from throwing those out! And since it's October, why not toss in some roasted pumpkin seeds to reinforce that autumn feel. In the end, it's all about using what you have on hand! This will keep for a few days in the fridge.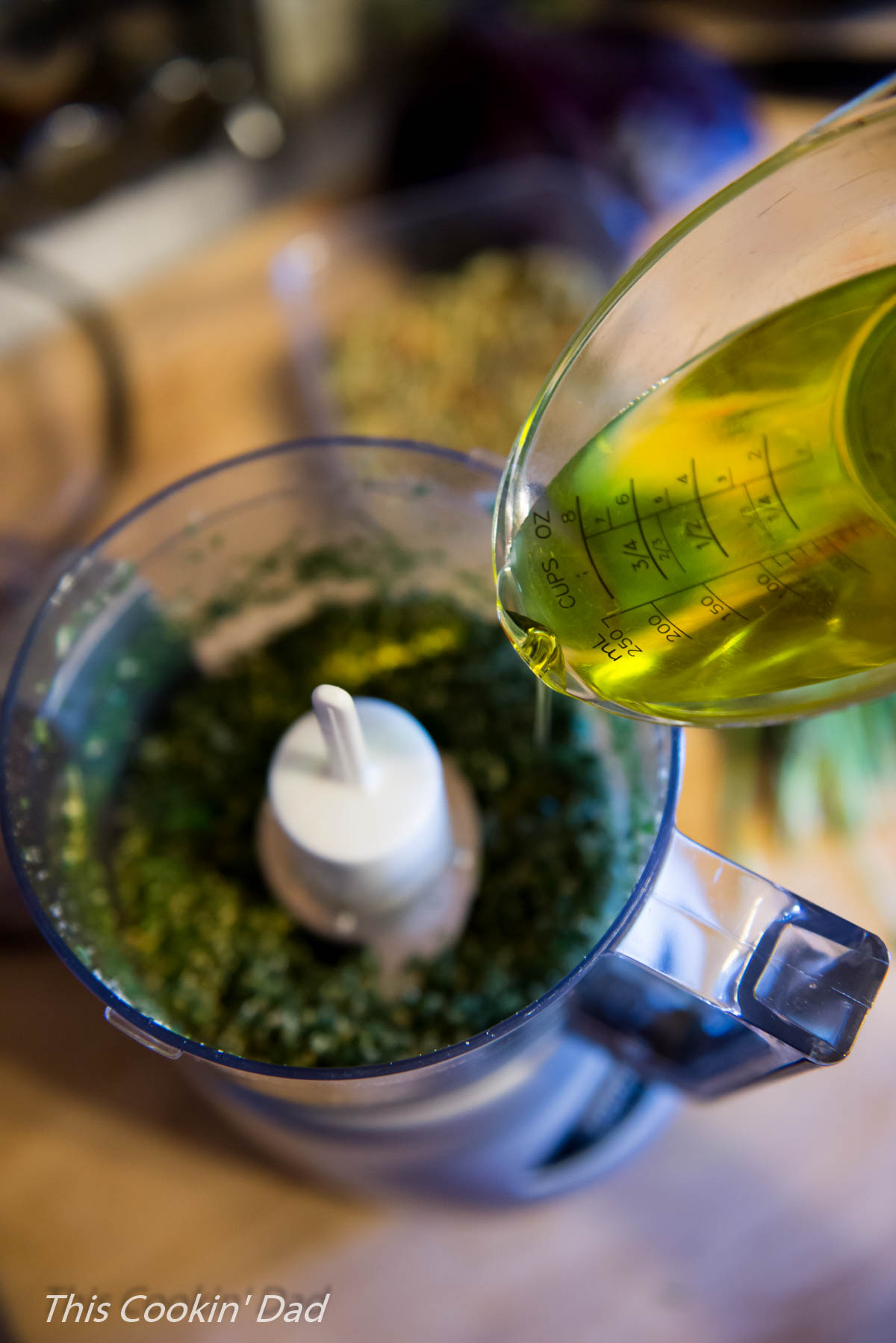 Now that I have my broth made and I've whipped up an easy pesto, I can use them for just about anything, but for an easy weeknight meal, I simply slice up some veggies and cook a box of Dreamfields Elbows. I like Dreamfields because it's an easy way to make my family's meals a little bit healthier. It has all of the taste and texture of traditional pasta with 20% of my daily fiber and 7 grams of plant protein per serving!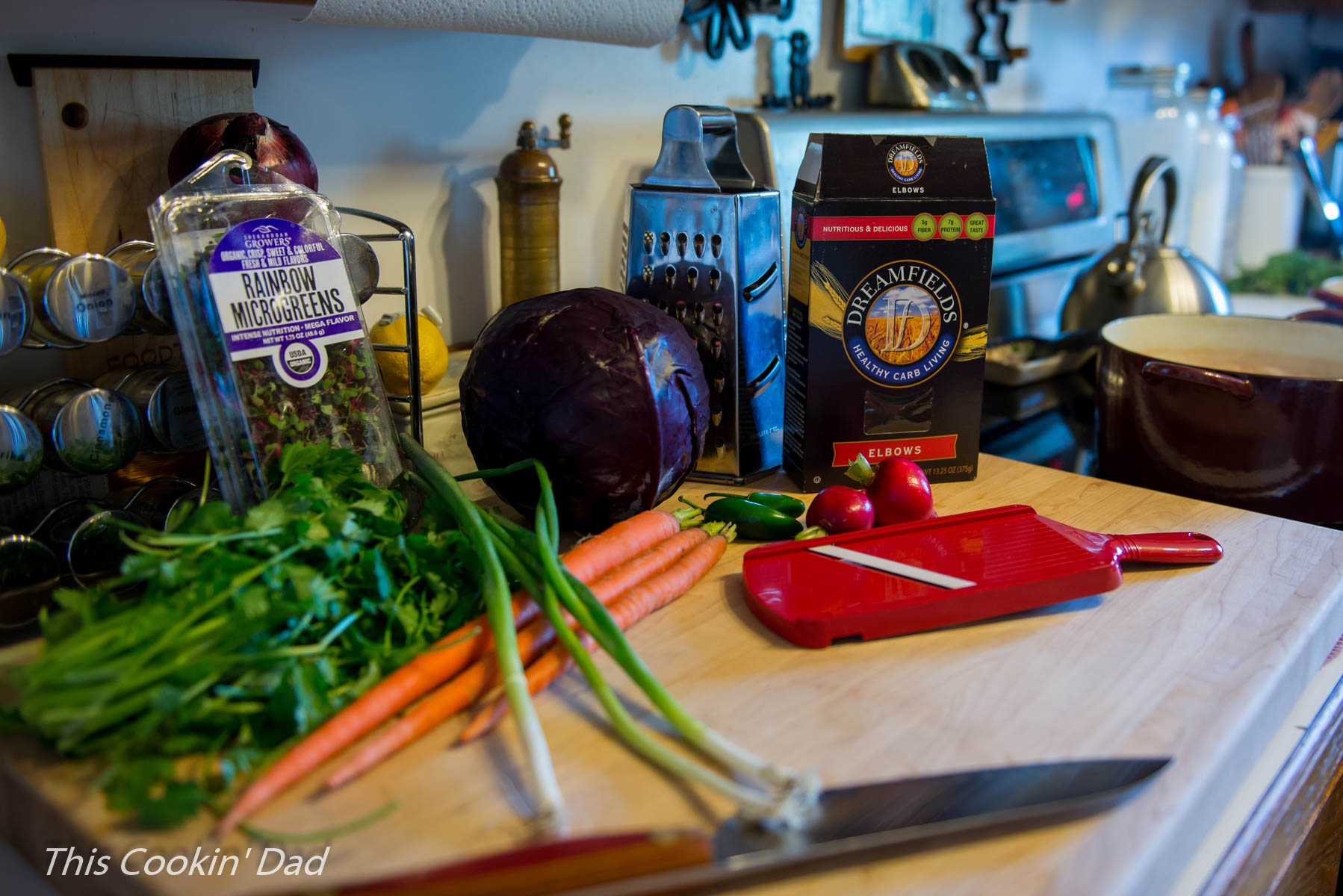 Once my pasta is cooked just right and I get my fresh veggies together, it's almost like setting up a soup bar. I add a serving of Dreamfields Elbows to my bowl, pour in some broth, and add whatever toppings I want. This is a perfect way to make sure that your picky kids get to eat what they want! Personally, I love shredded carrots, radishes, and cilantro. I even add a slice of jalapeno for that nice little touch of heat and then top with that yummy Carrot Top and Pumpkin Seed Pesto.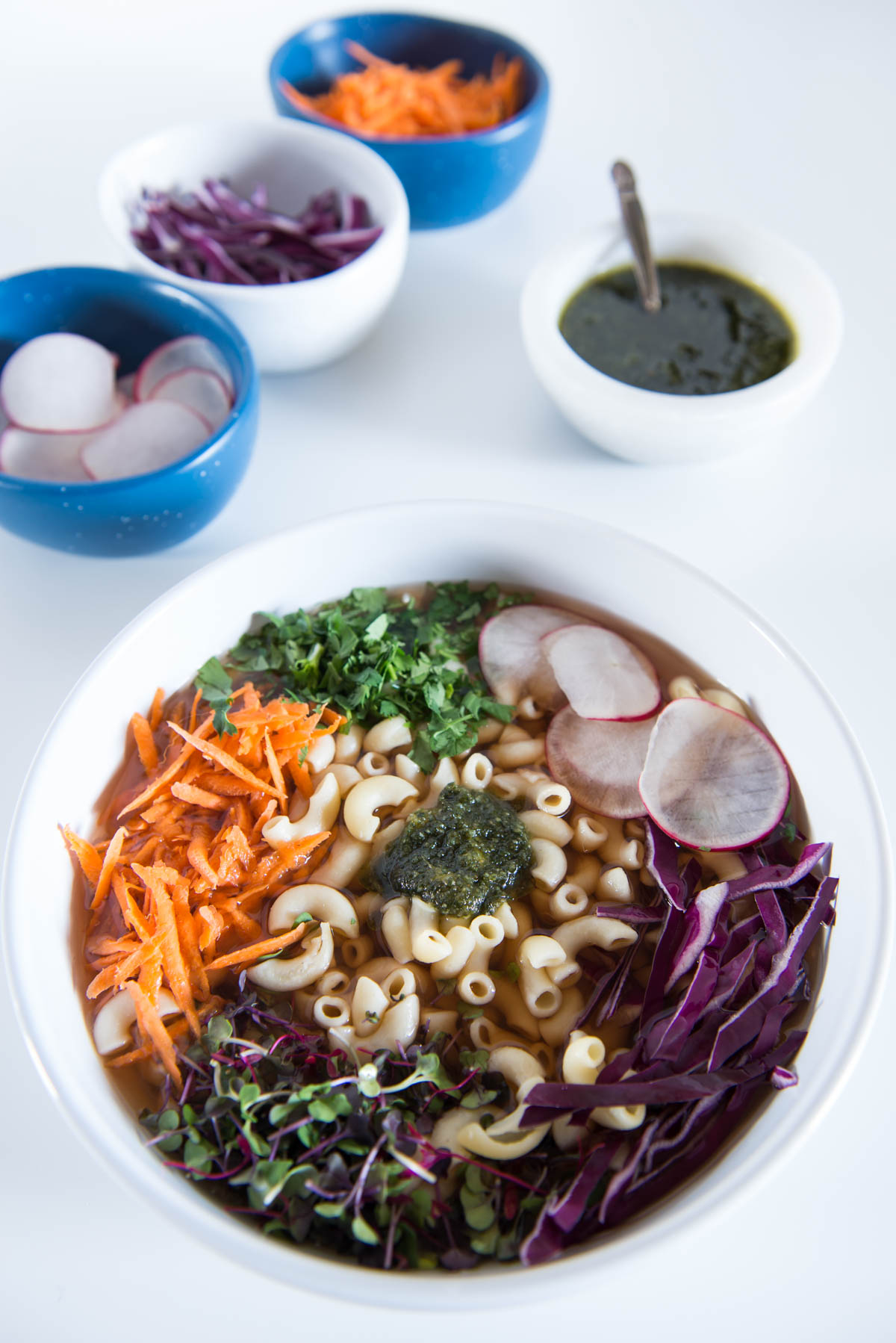 Now that you have the idea, it's up to you how to finish it! How are you going to make this soup your own?
To find the recipes for the Vegetable Elbow Soup with Carrot Top and Pumpkin Seed Pesto, visit Dreamfields and make sure that you sign up for great coupons. Head back every day for new surprises and amazing new recipes!
Finally, for one of my readers, this may be your lucky day. Head over to the Dreamfields site and then leave a comment below that tells me yesterday's featured recipe and you will be entered to win a case of Dreamfields pasta! This is in addition to the prizes available at the #HealthyPastaMonth page! Come back and enter every day for more chances to win. The contest on my site will end on Sunday, October 9, 2016 at 11:59 pm. Good luck!!