For most of 2012, I posted a "Meatless Monday" recipe on Simply Budgeted.  This year, I'm going to start up by posting here.  I don't know that it will always be a recipe, but it will always be a concept that contains no meat.  Before I go any further, though, let me define what I mean by "meatless".  I mean no animal flesh.  So no chicken, no beef, no pork, fish, or other seafood.  We're not talking vegan here, so eggs, butter, milk, etc. would be fine.  That doesn't mean that I can't post a vegan recipe or even a gluten free one, but these posts are specifically meant to encourage lessening one's weekly intake of meat.
All of that having been said,  I love meat.  I really do.  So I love to have options that I can make with meat and without.  This also allows families with mixed interests to share the dinner table without having to make multiple meals.  This recipe has two inspirations.  First, when I was at Mixed, I tried this Roasted Vegetable Macaroni and Cheese by gimme some oven.  It was really just incredible.  Next, during the Christmas holiday party season, we went to a party with this great mac and cheese bar.  It was such fun and gave everyone a chance to make their own version of mac and cheese.  The great part about this approach…if mom is going meatless, but dad won't have any part of it, everyone can get something that they want.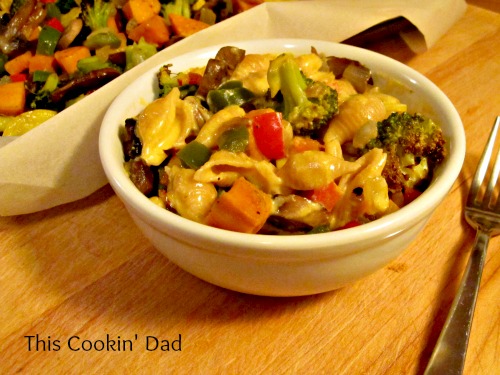 So what did I do here?  I used the mac and cheese for the recipe listed above as my base.  I didn't make it exactly right, because I made more to feed the whole family and I used just plain yellow cheddar instead of the smoked white cheddar that Ali used.  However, I was otherwise pretty true to the basic recipe.  I roasted up some veggies that we had around the house and just mixed in the amount requested by each family member.  Grace wanted lots of veggies, Sophie just wanted a couple of pieces.  I don't think Matthew had any!  Have someone in your house who really needs some meat?  Add in some leftover ham or shredded chicken.  Even some bacon bits would likely satisfy.  Just make sure to withhold any meat until the veggies are incorporated!
Have you ever put together a Mac and Cheese Bar for dinner at your house?  Are you thinking about it now?  What would you add to your mac and cheese?
Meatless Monday, a national nonprofit public health initiative, is all about incorporating more vegetables and less meat into our diet. It's about moderation, just one day a week, cutting down on meats high in saturated fat and increasing protein-rich plant-based foods — good for personal health and good for the planet.