Ever feel like you make way too much at one time?  I do that all the time.  I've gotten to the point that I even know so well that I'm going to do it that I start planning for what I'm going to do with the extras.  The great thing about a ratatouille is that it can be served as a main dish with rice or pasta and the leftovers can serve as a side later in the week.  The biggest problem with a ratatouille is that our family is not a huge fan of eggplant.  I'm slowly working on that, but, in the meantime, I can hide some of the eggplant-y goodness by going big with other flavors in my Roasted Butternut Squash Ratatouille.
I was looking for something easy to put together with butternut squash when a couple of recipes for a butternut squash ratatouille came up in my search results.  The problem was that there were all of these extra steps.  Do this for 2 minutes, that for 3 minutes, let it go for 5 minutes.  That's way too much attention to spend on a dish while my 3, 5, and 6 year-old kids are running around.  I'm looking for easy.  So I got the idea to just roast all of the veggies together and then finish them off with some broth and tomato sauce so that you don't lose that stew-like quality of great ratatouille.  Let's be honest, without the sauce, you just have roasted veggies.  That's all fine and good, but it's not ratatouille.  Take a look at what I did.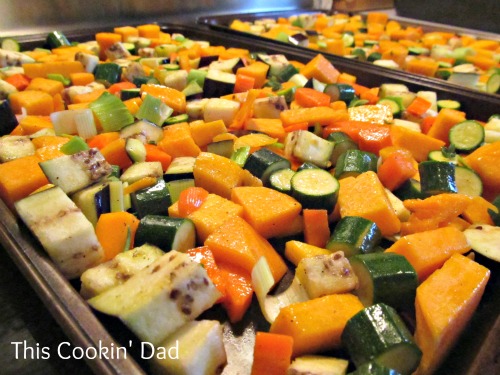 This is how we should be eating.  Bright, colorful, and flavorful!  Notice that everything is cut to about the same size.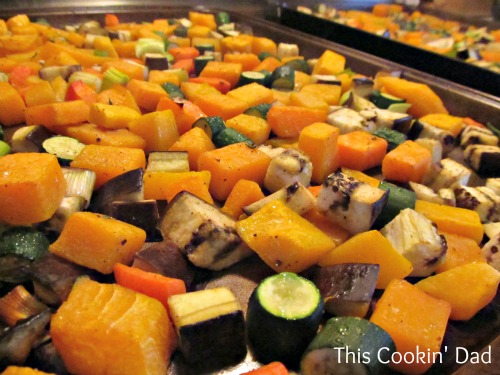 I could probably just eat a whole bowl of these roasted veggies!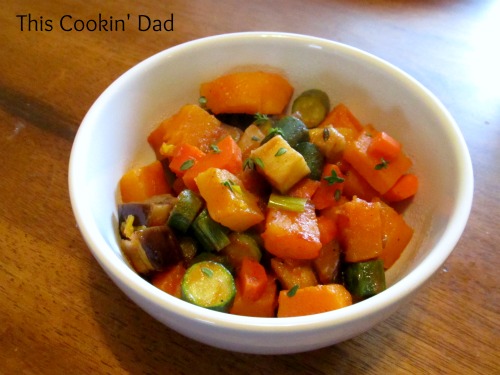 Another 30 minutes stewing in the tomato/broth mixture and you get this lovely stew.  Well worth the wait!
To make life a little easier for myself this week, I just bought some pre-cut butternut squash.  I also salted the eggplant so that we get a better texture and less of that bitterness that turns people away from eggplant.  Some people love the bitterness and, if that's you, just leave that step out.  I hope that you all enjoy!
Roasted Butternut Squash Ratatouille
There is a great sweetness and earthiness about this dish. You get great texture from the variety of veggies and the tomato sauce is really a welcome surprise that pulls the whole thing together and sets it apart from any other butternut squash ratatouille that I've seen.
Ingredients
1 medium eggplant
2 lbs cubed butternut squash
3 medium carrots, peeled and cubed
2 cups zucchini, cubed
1 leek, sliced
3 sprigs thyme
2 Tbls olive oil
1 cup vegetable broth
6 oz tomato sauce
salt and pepper to taste
Instructions
Cut the eggplant into ½-inch cubes and place in a single layer on a paper towel-lined sheet tray. Generously salt the eggplant, cover with another paper towel, and allow to stand for 20-30 minutes. While eggplant is standing, prepare other vegetables to similar size.
Preheat oven to 350 degrees. Combine vegetables, thyme, and oil in a large bowl. Season with salt and pepper. Spread vegetables onto two sheet trays, making sure to keep them in one single layer. Place both sheet trays into the preheated oven and bake for 25-30 minutes or until squash is fork tender.
Combine vegetable broth and tomato sauce in a large roasting pan. When vegetables are finished, pour them into the roasting pan and coat them with the tomato/broth mixture. Cover the roasting pan with foil and continue baking for another 25-30 minutes.
Remove from oven and enjoy!
Are you going "meatless" on Mondays?  Share your favorite Meatless Monday experience with us.  Have you tried another butternut squash ratatouille?  How did that compare?

Meatless Monday, a national nonprofit public health initiative, is all about incorporating more vegetables and less meat into our diet. It's about moderation, just one day a week, cutting down on meats high in saturated fat and increasing protein-rich plant-based foods — good for personal health and good for the planet.