Ever feel like the Meatless Monday thing can just take too much thought or take up too much of your time?  Ever feel like you just need a break?  A couple of times a month, we make it a point to have a "snack dinner."  We always have veggies in the house.  Whether we have cherry tomatoes and cucumbers for salads, baby carrots for snacks, or broccoli for steaming, we always have fresh veggies around.  Since they have never known anything different, our kids love to eat them raw with just a little dip (ok, so maybe more than just a little).  You could do this any day of the week, but it seems like this approach just lends itself to Meatless Monday.  If someone in your family, just has to have that little bit of meat, add some sliced ham or leftover chicken or turkey.  Either way, don't go to any extra trouble.  Just leave it cold!
Because I was experimenting with a few things anyway, I wound up making the crackers and the dip, but we have definitely done this same meal with store bought crackers and dip or even ranch dressing.  On this night, we had baby carrots, broccoli, cucumbers, celery, cherry tomatoes, and the crackers and dip.  We also had this awesome burrata, which is a mozzarella cheese that is filled with a mozzarella and cream mixture.  If you can get a hold of one, I highly recommend it!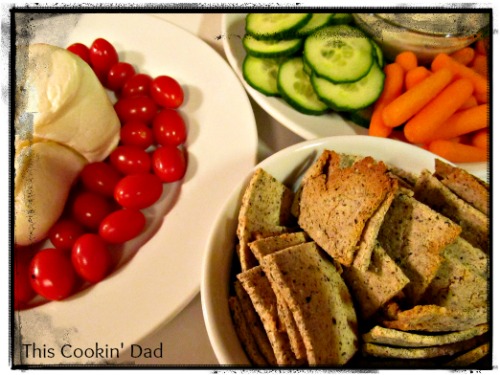 Are you going "meatless" on Mondays?  Share your favorite Meatless Monday experience with us.  Ever have a snack dinner?  How did that go?

Meatless Monday, a national nonprofit public health initiative, is all about incorporating more vegetables and less meat into our diet. It's about moderation, just one day a week, cutting down on meats high in saturated fat and increasing protein-rich plant-based foods — good for personal health and good for the planet.