Among the many incredible experiences during my trip to Chile was the opportunity to cook with Pilar Rodriguez, a rising chef in Chile who has become something of an ambassador for traditional Chilean food.  She runs a food and wine studio where she teaches people how to cook these dishes.  Together with Evette Rios (and with plenty of help from chef Ruben Tapia), I created Chupe de Locos, a sort of thick Chilean stew with abalone.  To my taste, it was very similar to an oyster dressing that I grew up with in Louisiana.  If you take a look at the histories of both Chile and Louisiana, you'll see a strong reason for the similarities in the dishes.
Check out Evette and I presenting the dish to our tour group.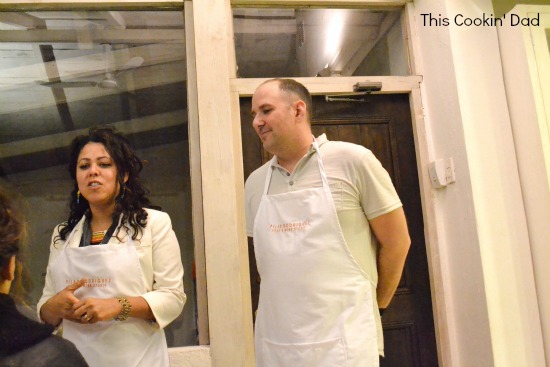 Here's the original dish.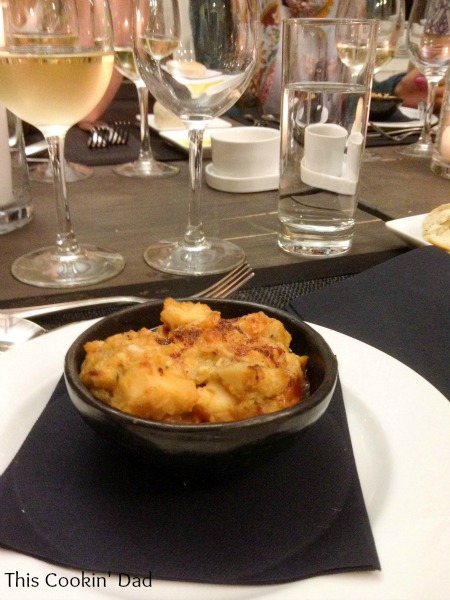 Now, take a look at the version I made at home.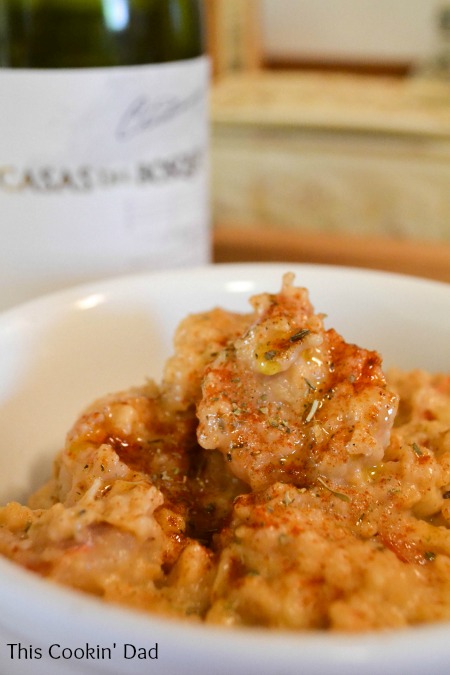 When I went about recreating this chupe, I had a few things to consider.  First, Beth is allergic to most shellfish, so abalone is out.  Second, abalone is very expensive and hard to come by in central Virginia, so abalone is out!  I decided to go with shrimp to still get the seafoodiness of the dish, but not outprice the home-style dish for myself or for you all.  Next, I had to think about the texture of the chupe.  Many recipes I have seen treat this almost as a soup, as opposed to the thick dressing style dish that we prepared with Chef Pilar.  I decided to make my chupe somewhere in the middle.  Beth compared the consistency to something akin to shrimp and grits.  That's a fair comparison and something that this Southern boy will take as a compliment.
The last thing that I had to consider was the recipe to post.  Chilean chupe, like so many traditional dishes, has as many recipes as there are grandmothers in Chile.  Really, at the end of the day, if you have a set of ingredients and a heat setting, you can pretty much figure out how to make any dish to your own tastes.  So here's what I'm going to do.  I'll give you a list of the ingredients that I used, post up some pictures of the process, and comment on the pictures.  Let me know how this works for you.
Shrimp Chupe
Ingredients
1.5 lbs shrimp, shells on
water
salt and pepper
olive oil
1 medium onion, diced
2-3 cloves garlic, minced
2 tsp paprika
1 tsp Italian seasoning
1/4-1/2 cup white wine
1 sleeve saltine crackers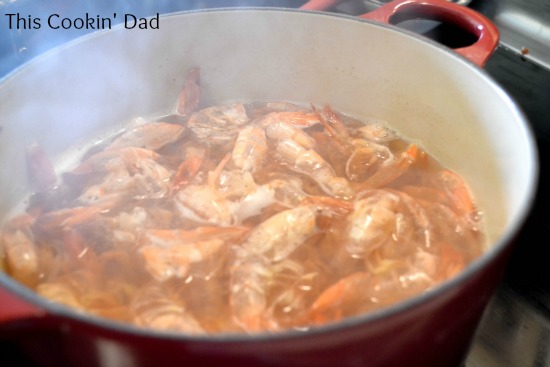 First things first.  Shell all of your shrimp.  We had a two-pound package and used the shells from all two pounds here even though we used some of the shrimp for another dish.  So, shells in a pot, cover them with water, add salt and pepper to taste, and bring to a low boil.  Once they are boiling, turn the heat down and let it simmer for 20-30 minutes.  Voila!  You've got shrimp stock.  Conversely, you can buy seafood or chicken stock in the store for $3.99 and still have the work of shelling the shrimp and throwing the shells away.  Up to you!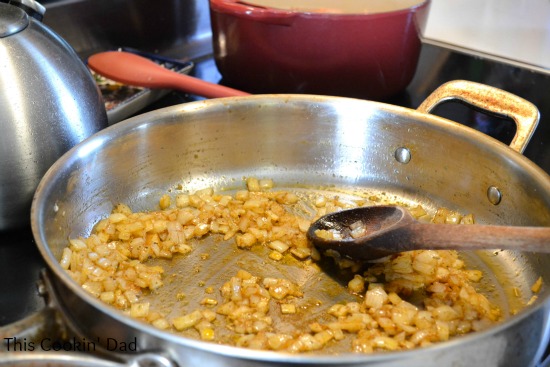 Once you've got your stock on the back burner, it's time to get to work.  Over medium-high heat, toss in enough olive oil (Chilean olive oil, of course)  to coat the bottom of the pan.  Add your onion and let it sweat for 2-3 minutes before adding your garlic, seasonings, and salt and pepper to taste.  Unless the stuff is black, it'll be hard to over cook this!  If it's moving a little fast for you, turn the heat down a little and pour yourself a glass of the wine that you'll be using later!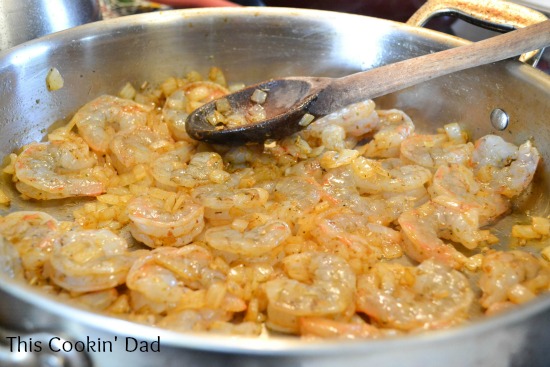 Add in your shrimp and toss them with all of the goodness in there.  After a few minutes.  Flip them over.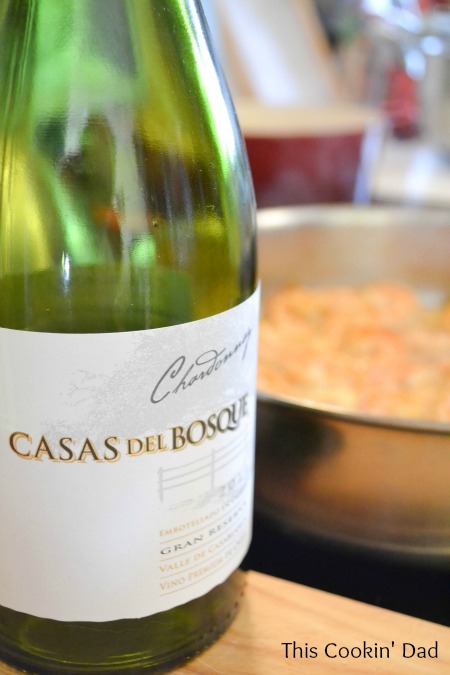 Add a healthy dose of white wine.  This is a lovely Chardonnay that we got from a winery in Chile.  Thanks to Ro Maggiore for this one.  You can read about that story here.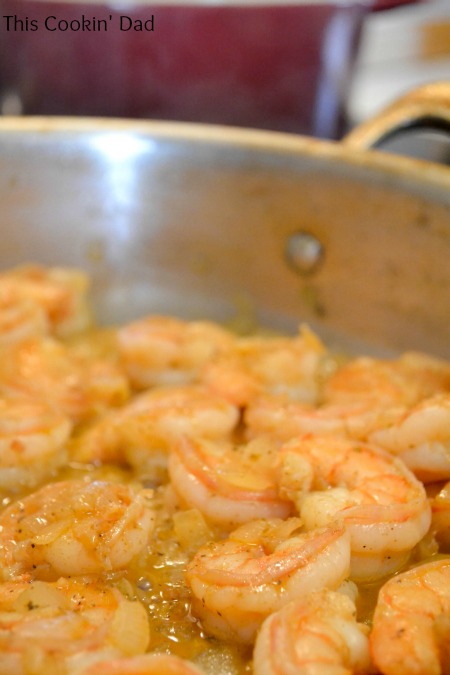 Scrape the bottom of the pan for all of that seasoned goodness and let the wine reduce.  It should wind up looking about like this.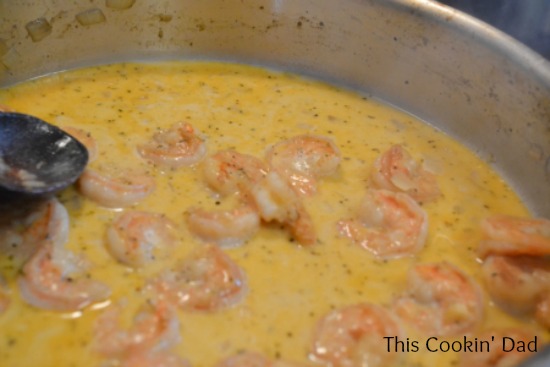 Add in some of your shrimp stock and you get this incredible broth with all of these flavors that you've developed.  I really thought about stopping right here and serving this with some great big hunks of toasted garlic bread.  Yum!!  For chupe, though, we've still got to add the crackers.  Add just enough to soak up this lovely broth and nothing more!  If you go a little over, feel free to add some more wine or shrimp stock or even water to thin it out.  At this point, the consistency is completely up to you!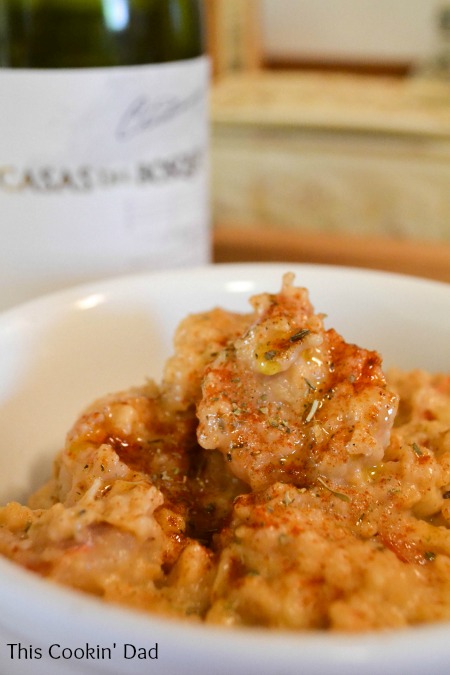 Top with some paprika, fresh herbs, and a little olive oil and serve with a chilled glass of white wine.  You've got a tasty dish that might just transport you to the vineyards of Chile.  Enjoy!
Side note:
I'm finding that one of the hardest things about getting these beautiful pictures together is that my kitchen is just a disaster zone after going through all of the fuss of making these dinners.  Pots and pans are all over, prep bowls are in the way, ingredients are scattered about.  These dishes are plated, picture taken, and eaten within 10 minutes of  being cooked.  I am almost literally taking these pictures on the way to the table!  I am learning, though, that I don't need a huge, empty space to get a great shot.  A little bit of room cleared off can be just enough.  I think the shot above is just beautifully set up.  Want to see what the rest of the kitchen looked like?  Here you go!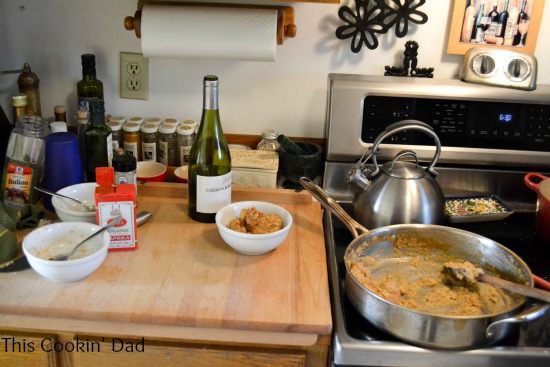 Because that shot needed to be so close in, even the shadows didn't matter that much (not for my purposes, anyhow).  I'm sure that a professional photographer would cringe, but given the time and space that I have, I'm pretty proud here.  That means that you don't have any excuses.  Start taking pictures of your food, too.  Show the world what you have to offer!