Elvis Presley was born on January 8, 1935.  In celebration of his birthday, I decided to make Elvis' Fried Peanut Butter, Banana, and Bacon Sandwich.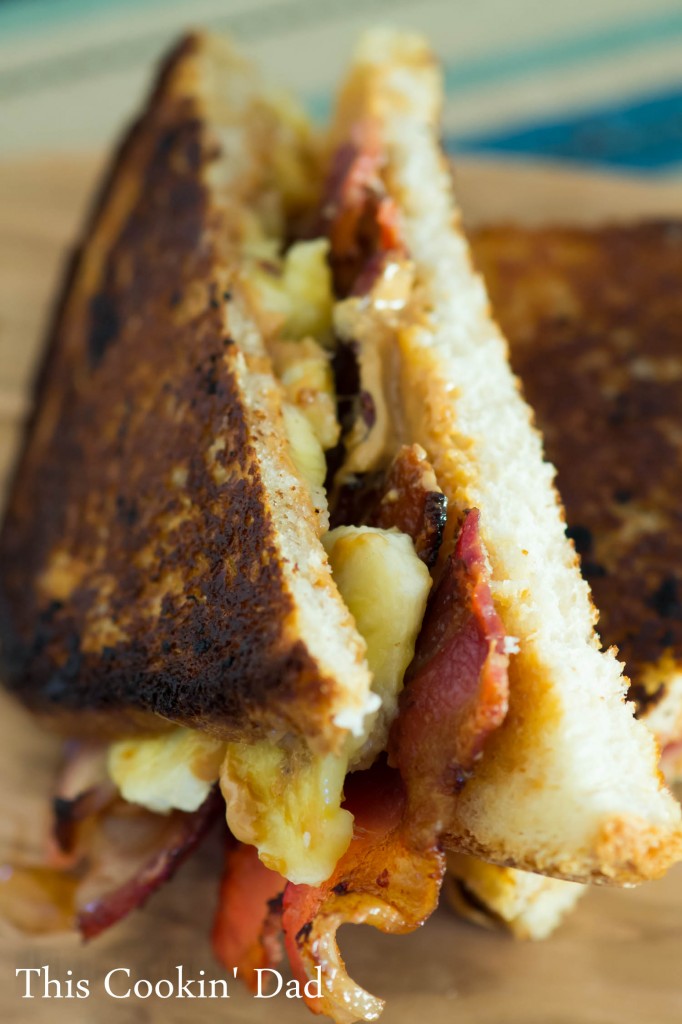 This is one of those sandwiches that seems so strange and ridiculous that you really just have to try it out of sheer curiosity.  Don't get me wrong, this is not "good for you" food!  This is a "you only live once" kind of sandwich.  One bite from this, though, and you will completely understand why it works.  I took two slices of fresh homemade bread, slathered them with peanut butter, topped them with ripe bananas and bacon, drizzled them with honey, smashed them together and fried them in bacon grease.  The combination is both crispy and creamy, sweet and salty, nutty and smokey.  It really is quite delicious and worth a little bit of effort when you feel like eating something bad for you!

Fried Peanut Butter, Banana, and Bacon Sandwich
Creamy peanut butter and ripe bananas, smoky bacon, and just a touch of honey for sweetness on crispy toasted bread.
Ingredients
4 slices bacon
2 slices white bread
4 Tbsp cream peanut butter
1 ripe banana, sliced
2 tsp honey
Instructions
Fry bacon in a pan over medium heat. Drain on a plate with paper towels. Reserve bacon drippings in pan.
While bacon is frying, smear 2 Tbsp peanut butter onto each slice of bread.
Top one slice with banana slices and bacon. Drizzle with honey. Top with remaining slice of bread.
Fry sandwich in bacon drippings 2-3 minutes on each side or until crispy.
Enjoy!