Sometimes, it feels like we go all out with extravagance and spare no expense on New Year's Eve, but the most traditional New Year's Day dishes are some of the poorest food out there.  Where I'm from, Hoppin' John was a must have dish on New Year's.  I'm not sure that my family ate black-eyed peas any other time of the year.  On top of that, I have always hated cooked greens, but we were forced to choke it down on New Year's for good luck.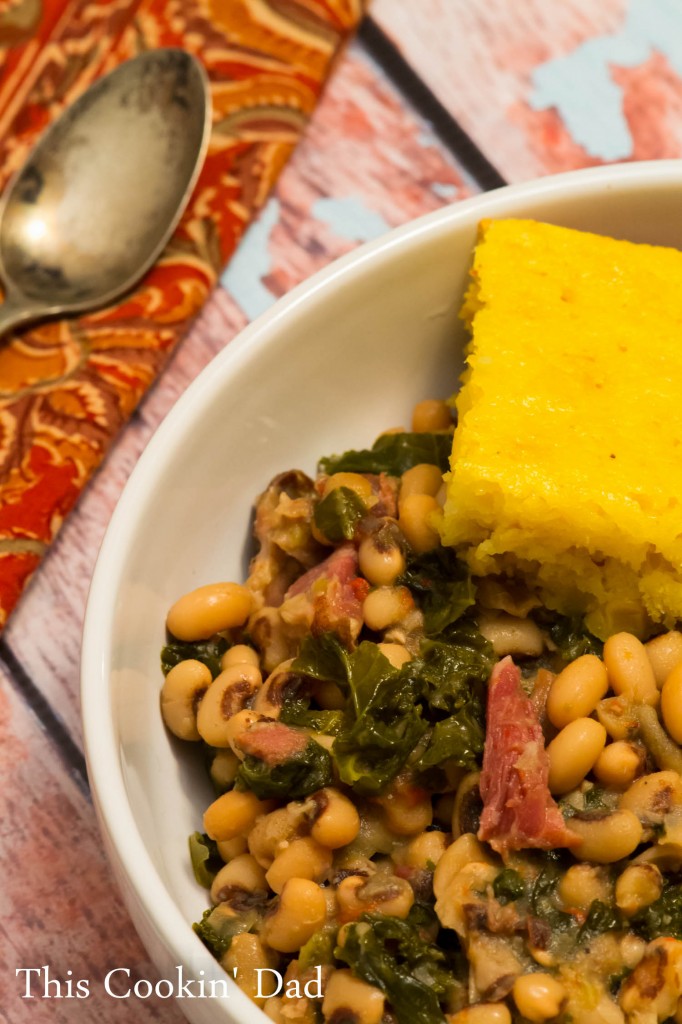 Why were we forced to choke it down?  When I was a kid, I must have figured that, if I could get through that, the rest of the year wouldn't look so bad.  A couple of beans to represent lucky pennies, some greens to represent those dollar bills, and some lovely golden cornbread to represent the gold that we were always looking for, but never seeming to find.  Just imagine how bad things would have been if we didn't clean our bowls!
As I've gotten older, I've realized that, sometimes, those dishes just may not have been cooked very well.  Overcooked greens are just not pleasant to smell or look at and definitely do not taste like wealth.  Similarly, no one feels lucky to be eating mushy beans.  That's why I don't cook my beans all day long, only a few hours.  That's also why I sautee my kale with bacon in a separate pan.  The taste of the greens pretty much stays with the greens instead of soaking into the beans all day.  I then just keep the whole thing warm for the rest of the day.  The flavors meld together somewhat, but the individual flavors still ring true.  The beans are not mushy, but have a soft bite and the greens are not overcooked, but have the bright bitterness that goes perfectly with a sweet chunk of cornbread.  Serve it all over a bed of freshly steamed rice and you've got a rock star of a dish!  YUM!!

Hoppin' John
A New Year's tradition found all across the South, Hoppin' John is thought to bring luck and prosperity over the course of the new year to the person eating it. Whether it's true or not, I don't take any chances!
Ingredients
1 lb dried black-eyed peas
3 Tbsp olive oil, divided
½ yellow onion, diced
½ green bell pepper, diced
½ red bell pepper, diced
½ tsp salt
1 tsp pepper
4 cups chicken stock or broth
1 ham hock or ham bone
3 slices thick-cut bacon, diced
½ lb kale, stems removed and sliced
Instructions
Sift through beans to remove any rocks (there's always one) and pour into a large bowl. Cover with water by 2 to 3 inches. Let soak overnight. Drain
Heat 2 Tbsp oil in a heavy pot over medium-high heat. Add onion, peppers, and salt and pepper and cook for 3-5 minutes.
Add beans, stock, and ham hock. Bring to a boil, then reduce heat and allow to simmer for 3-4 hours or until juices begin to thicken.
Remove the ham hock and cut away the meat. Add the meat back to the pot of beans.
When beans are finished, in a separate pan, cook bacon until nearly crispy. Add remaining oil. Add kale a handful at a time until it is all cooked down and combine it with the beans. Keep warm until ready to serve.
Serve over rice with cornbread. Enjoy!
What is your traditional New Year's fare?  Were you forced to choke it down as a child or did you look forward to it every year?  Share your story with us.