I realize more and more that a meal is less about the food on the table than it is about the people around it.  At our house we make a concerted effort to eat dinner as a family each and every night.  With activities in the evenings, homework, bedtimes, etc., it's not always easy.  I have no expectations that it will get easier as the kids get older, so we do look for shortcuts to help us out sometimes.  Yesterday was just one example of how an inexpensive shortcut helped us to have a very easy pizza night.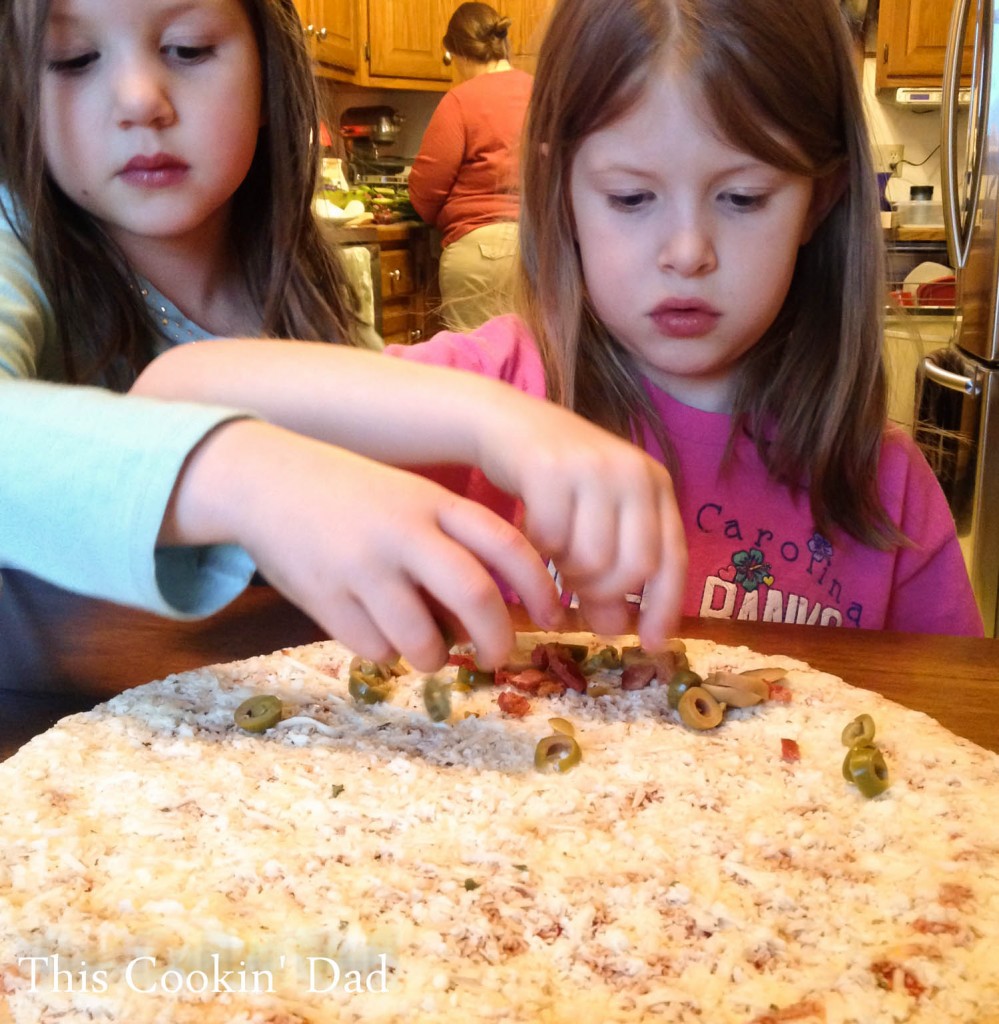 Put 10 people in a room and ask for their perfect pizza toppings and you are likely to get 10 different responses.  Our house is no different.  I just can't bring myself to order that many pizzas to be delivered.  I love leftover pizza as much as the next guy, but that's just too much.  Plus, the cost just gets crazy.  I typically keep several dough balls in the freezer just for pizza night.  Pull it out a day or two before, let it thaw, punch it out, roll it, toss it, top it, bake it….a little work, but well worth it.  I even separate the dough for personal-sized pizzas so that everyone gets what they want.
As much as I love working with the dough, though, it can be a bit of a hassle.  To work a line-up of 4 or 5 pizzas takes time and the kids just aren't old enough to get terribly involved in the tossing process just yet.  I spend all of that time in the kitchen cooking and miss out on the time with them.  Add to that cleaning up all of the flour, toppings, sauce drips, etc…it takes a bit of a commitment.  I was entirely prepared to do that last night when I found that our local supermarket had their pre-made pizzas on special.  For $9, I got a cheese and a pepperoni pizza.
That, however, was not going to satisfy the household.  So I picked up some canned olives and mushrooms (like $1 a can).  We already had some sauce and bacon in the house.  All set!  I was able to unwrap the cheese pizza and let the girls take half to top however they wanted (olives, mushrooms, and bacon? really?).  We slid that into the oven while Matthew picked his toppings for the pepperoni pizza.  Some bacon and mushrooms later and it was ready for the oven as well.
I probably saved a solid 30-40 minutes of rolling pizza dough, working with a hot stone, etc, but got the same time with them.  I probably sacrificed a little quality in the food, but that paled in comparison to the quality time that I got to spend with the kids.  As they get older, they'll have long forgotten about the pizza itself, but they'll remember the time spent topping their own pizza and eating with the family.  Those are the memories that matter most.
How do you make meals easy for your family?  Every food has a story.  Leave a comment and share yours.