I'm originally from Louisiana and, with Mardi Gras just around the corner here, I've been getting a hankering for some of those classic flavors from my home state.  Over on Simply Budgeted, I've posted about my gumbo and king cake.  These are just great comforts this time of year and are so iconic for Louisiana and for the season.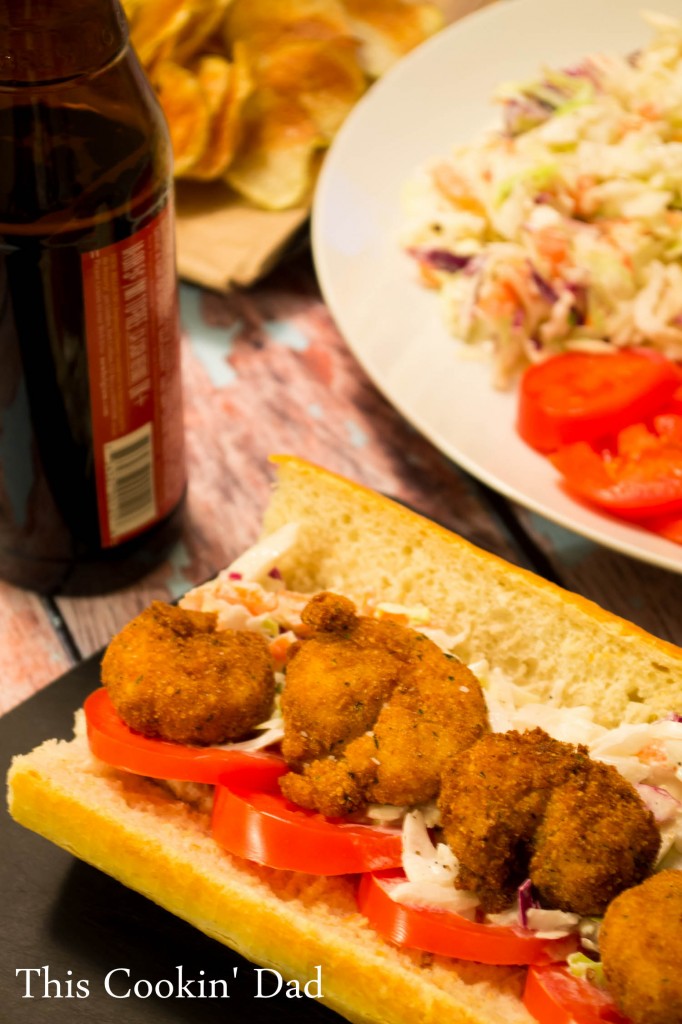 Here, though, I wanted to focus on something no less iconic, but a little more pedestrian.  In Louisiana, and other parts of the Gulf Coast, the sandwich of choice is the po' boy.  In other parts of the country, this may be called a submarine, a hero, or a hoagie.  Nevertheless, you wind up with meat, veggies, and condiments all shoved into a 6- to 12-inch long bun.  Po' boy, short for "poor boy", is such an amazingly appropriate term for this type of sandwich.  If you are a worker who is low on funds, but who needs a good lunch to power through a day of manual labor, what better than a hunk of bread shoved full of whatever you can find?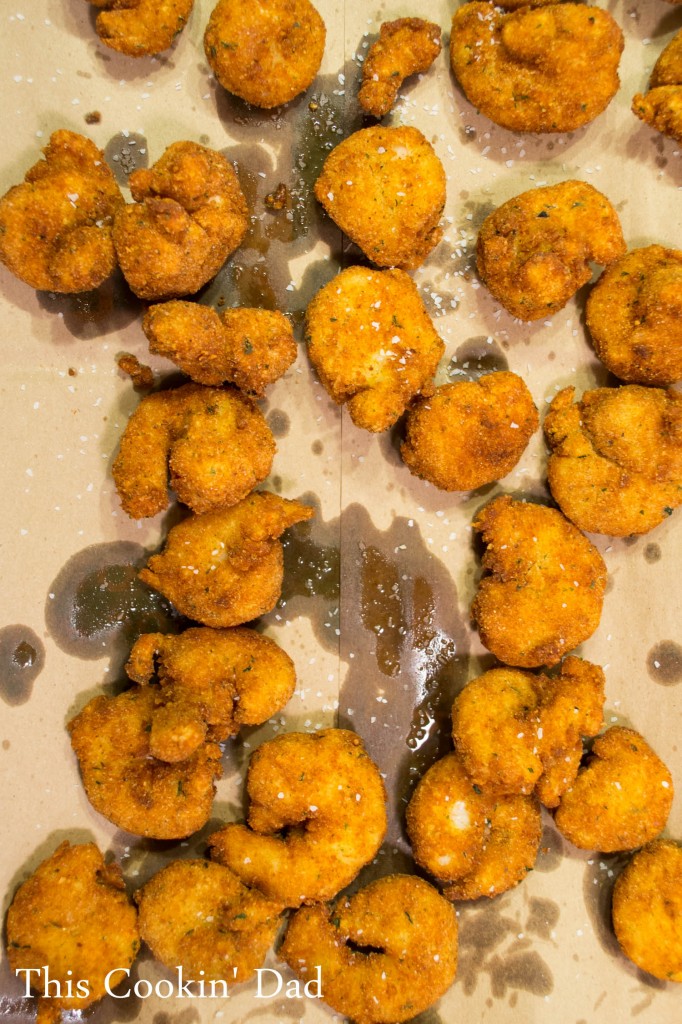 The po' boy starts with a fresh french roll, crusty on the outside, fluffy within.  In continues with meats like roast beef or fried oysters.  It is then topped with lettuce, tomatoes, and Creole mustard or some variant.  My absolute favorite, though, is with fried shrimp, tomatoes, and cole slaw.  YUM!!  The shrimp has to be hot and crispy, the cole slaw creamy but tangy, and the tomatoes as fresh and juicy as possible.  Serve with a side of crispy potato chips and you've got quite a meal!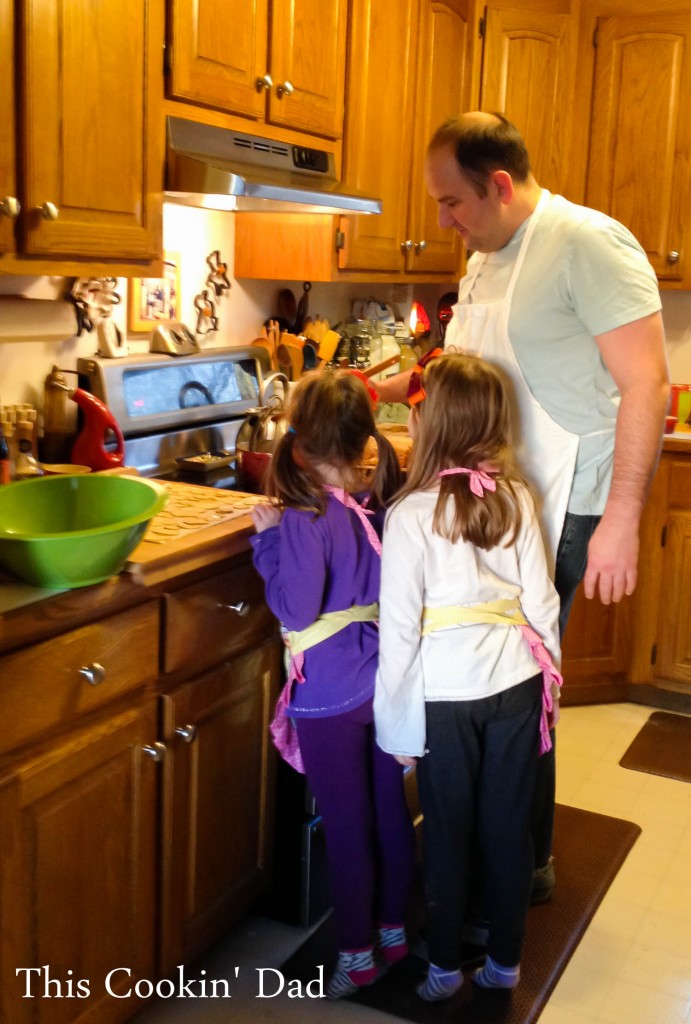 The best part for me, of course, is sharing that time with my kids.  My girls are really starting to enjoy their time in the kitchen.  They understand that they are pretty limited in what they can do, but that, if they watch and hang around, I'll always find something for them.  Plus they get to try a few things before everyone else!  Since I had the oil hot for the shrimp, I decided to make some fresh potato chips.  Here they are watching and patiently waiting for the chance to munch on a few.  Whatever gets 'em hooked, right?
Here's my simple recipe for putting together this incredible sandwich.  Enjoy!

Shrimp Po' Boy
Fresh crispy shrimp, creamy and tangy cole slaw, and juicy tomatoes piled into a crusty French roll. For the rolls, I used "take and bake" baguettes from the local grocery store. Bake according to package directions for best results.
Ingredients
½ cup mayonnaise
2 tbsp apple cider vinegar
1 tbsp white sugar
1 tsp celery seed
6 cups cole slaw mix
Oil for frying
2 cups all purpose flour
2 eggs
2 cups seasoned bread crumbs
2 lbs peeled, deveined shrimp, 31-40 count
salt and pepper to taste
6 crusty French rolls, 6-12 inches each
4 roma tomatoes, sliced
Instructions
In a large mixing bowl, combine first 4 ingredients. Add cole slaw mix and coat with the dressing. Set aside.
In a 3.5 qt heavy pot, heat 3-4 inches of oil over medium-high heat. The oil should be at about 375 degrees.
Place flour, eggs, and bread crumbs into three separate bowls. Season the flour and eggs with salt and pepper. Mix well.
In small batches, coat the shrimp thoroughly in flour, shaking off the excess. Transfer to the eggs, draining off the excess. Transfer to the bread crumbs and coats thoroughly. Once again, shake off the excess.
Carefully drop into the hot oil. Fry for 5-7 minutes or until the shrimp are golden brown and delicious. Remove to paper towels to drain. Immediately season with salt. Continue until all shrimp are fried.
To serve, slice open the rolls. Place a layer of tomatoes, followed by 9-12 shrimp and a generous helping of cole slaw. Enjoy!
What's your favorite sandwich?  How do you encourage your kids to get involved in the kitchen?  Leave a comment and share your story.