We are less than two weeks away from Mardi Gras. Being a Louisiana boy, this time of year is pretty near and dear to my heart. As such, I always make it a point to make a couple of dishes that remind me of that time and share them with family and friends so that they can get a little piece of that tradition. I make jambalaya, my Chicken, Sausage, and Shrimp Gumbo, Shrimp Po Boys, and, of course, king cake! This year, I decided to go a step further and make the iconic New Orleans Muffuletta Sandwich.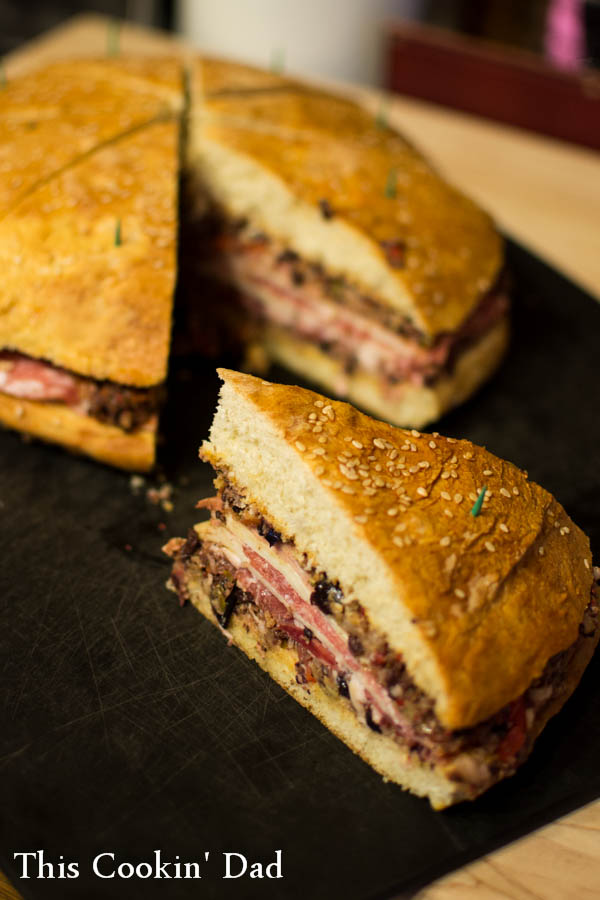 The Muffuletta (pronounce muh-fuh-let-uh or moo-foo-lot-uh, depending upon how you grew up) was first created at Central Grocery in 1906, when Italian immigrants would come to the store to order Italian meats, cheeses, and olives with a loaf of bread. Eventually, it all wound up smashed together into a sandwich that has remained a regional favorite for over a century.
The Muffuletta sandwich is really simplicity in action. You take a dense, round loaf of Muffuletta Bread, spread on some Olive Salad Spread, and layer with provolone cheese and Italian meats. For my sandwich, I used salami, mortadella, and capicolla (an Italian meat similar to ham). I also make it a point to wrap it in plastic wrap and set it in the fridge for an hour or two so that the bread can soak up the juices from the olive salad. This is what really helps it come together into one sandwich, rather than a bunch of stuff shoved into some bread. For cutting, I put in the toothpicks at the 8 corners before cutting. Trust me, that makes the job much easier and gives you a good guide as to where to cut.
It's a mouthful, but you will surely walk away satisfied. Cut into wedges, just one of these sandwiches will feed a small gathering. Two could feed a small army! I hope you enjoy trying a little taste of where I come from.
What is your favorite sandwich? Does your city or region have an iconic sandwich that you crave? Leave a comment and share your story!

Muffuletta Sandwich
Instructions
Slice the Muffuletta Bread across the middle so that you have top and bottom halves.
Spread about half of the Olive Salad Spread to completely cover the bottom half of the bread.
Layer capicolla, then provolone, then salami, then provolone again, then mortadella.
Spread the remaining Olive Salad Spread over the top layer of meat and cover with the top half of the bread.
Wrap securely with plastic wrap and place into the refrigerator for at least one hour.
Remove from refrigerator, remove plastic wrap, and cut into 8 wedges.
Enjoy!!