If you type "olive salad" into a search engine, you'll get millions of results. Sicilian salads, Greek salads, even salads pairing olives with tomatoes or watermelon. The most ubiquitous of the results, however, relates to the Muffuletta Sandwich, the iconic sandwich from New Orleans that melds Italian meats and cheeses and olive salad with a dense, round Muffuletta Loaf. My Olive Salad Spread, while perfect for the muffuletta, also works beautifully as a tapenade or as a topping or mix-in anywhere that you might use olives.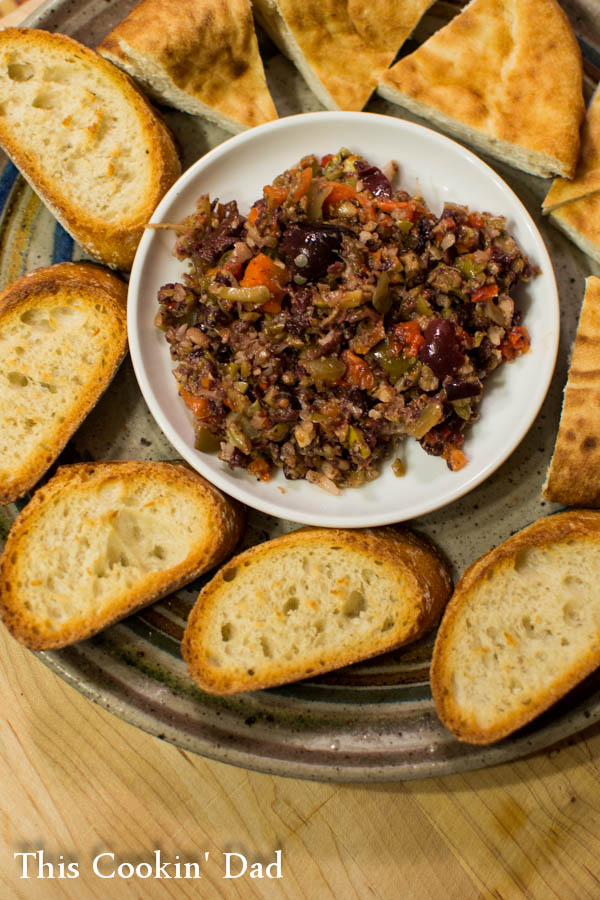 I'm the first to admit that I am not a big fan of olives. I know people who can grab a bowl of olives and just sit down in front of the TV munching away. I'd rather have potato chips!! I put together my olive salad here with the mindset that I don't want to bite into a massive olive. I'd rather spread that brininess out a little more.
I started out by hitting up the olive bar at my local grocery store. This gave me some of the variety that I might not get when shopping for jars of olives. I'm also at a lower price point and can buy a little less, so I'm saving money and not wasting as much. I picked out some green olives with pimento, kalamata olives, olives marinated in garlic, and some giardiniera (pickled cauliflower and carrots).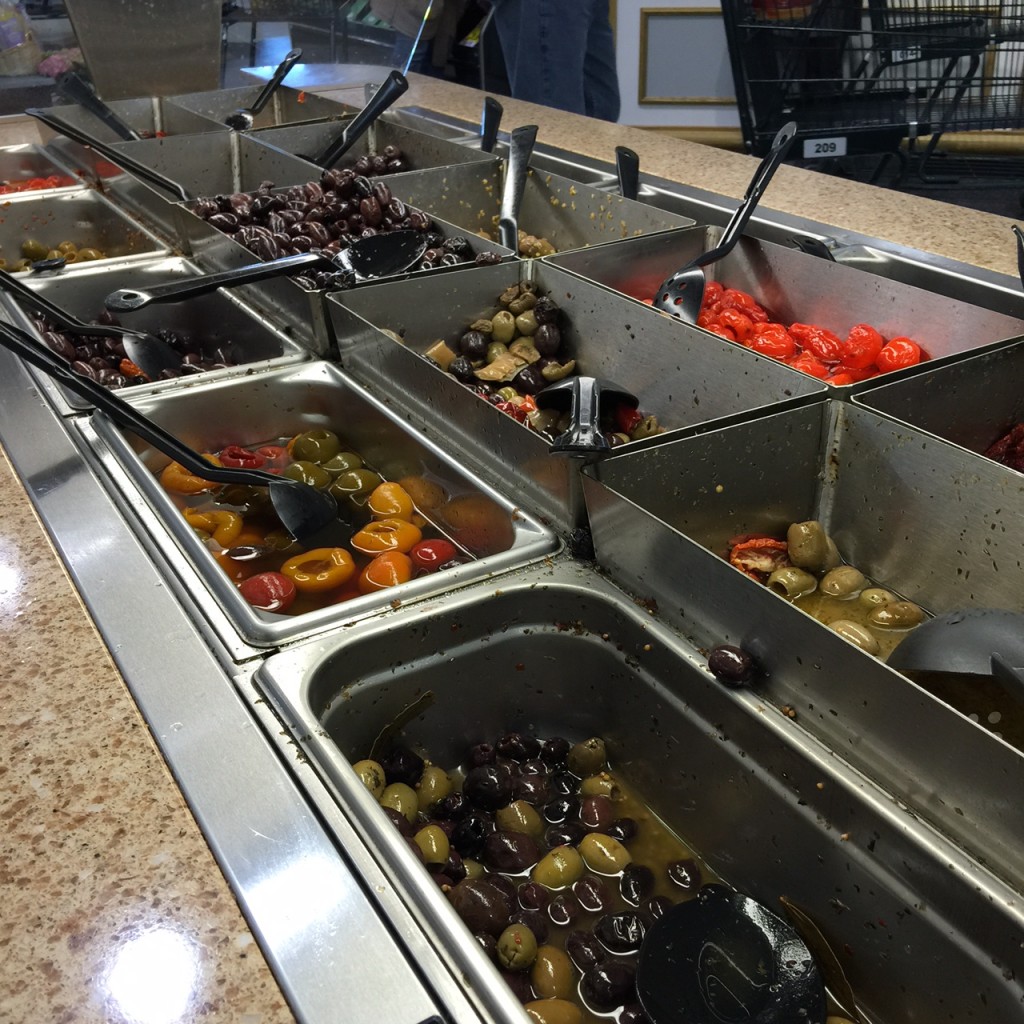 Along with my olives and giardiniera from the olive bar, I grabbed a jar of roasted red peppers and a jar of capers. A little red wine vinegar, some salt, pepper, and oregano is all the more I need to make a delicious olive salad spread.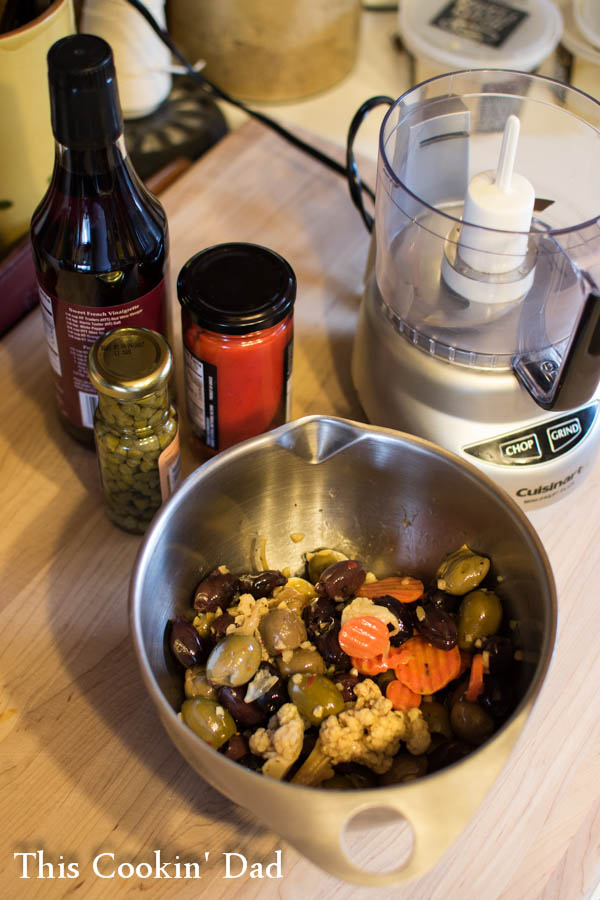 I mixed it all together whole and then transferred it in batches to my prep food processor. A few pulses is all it took. I put the processed olive salad spread into a container, splashed in some olive oil, and let it sit in the fridge for a few hours before spreading on my sandwich. Too easy!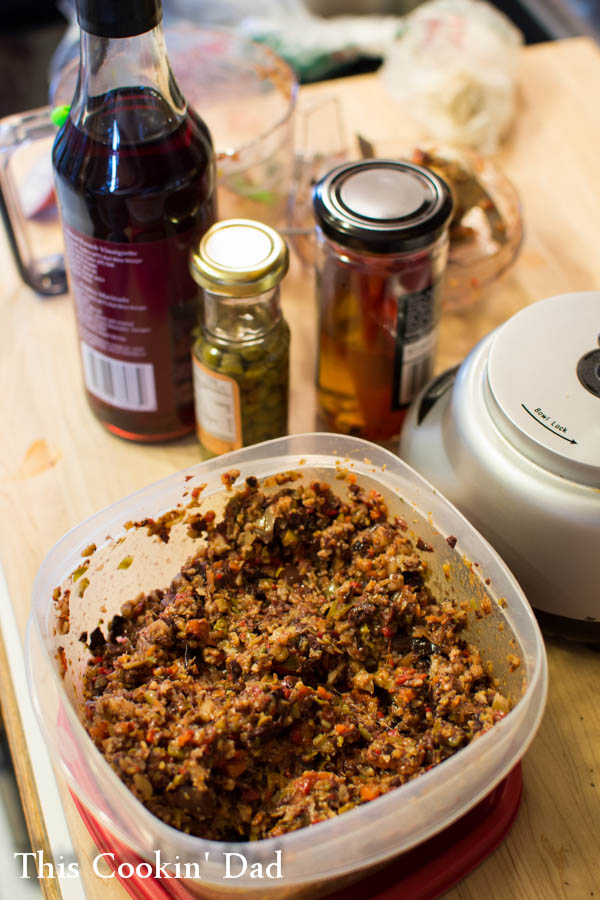 What would you make with this easy olive salad spread? A topping for crostini? Maybe a dip with hummus or goat cheese? Leave a comment and share your ideas. Maybe I can feature your idea in a future post!

Olive Salad Spread
Ingredients
2 cups mixed, pitted olives (kalamata, green with pimento, garlic marinated, etc.)
¼ cup giardiniera
1 jarred roasted red pepper, seeded
2 Tbsp capers
1 shallot minced
1 clove garlic, minced
1 Tbsp red wine vinegar
2 tsp. dried oregano
salt and pepper to taste
3 Tbsp olive oil
Instructions
Combine all ingredients except for olive oil in a food processor.
Pulse 10-15 times until all ingredients are thoroughly chopped and no large chunks remain. (Be careful not to go too far or you'll get a paste--tasty, but not what we are going for here!)
Pour the mix into a storage container, season with more salt and pepper if necessary, and top with olive oil. Cover and store 24 hours.
Enjoy!