Courtney, over at Courtney's Sweets, is an acquaintance of ours.  We know her primarily through blogger networks, but had the opportunity to meet her, her husband, and her sweet baby girl when we went up to New York for an event last September.
What I did not know at the time is that Courtney's daughter  suffers from a condition called Food Protein Induced Enterocolitis Syndrome, or FPIES.  In essence, FPIES is an allergy of sorts.  Most of manifestations are internal, resulting in digestive problems and all of the weight, hydration and other problems that accompany digestive problems in young children.  You can find out more by viewing Courtney's post, What is FPIES|FPIES Explained.
The most significant problem is that any food could trigger the reaction.  You have to carefully test individual foods to see whether or not the child can tolerate them.  Courtney's baby girl has a list of safe foods and ingredients as well as a list of trigger foods that you can find here. Most children with FPIES outgrow it by the time they are 3 years old, but that is little consolation to the parents who are trying to figure out what they can and cannot feed their children.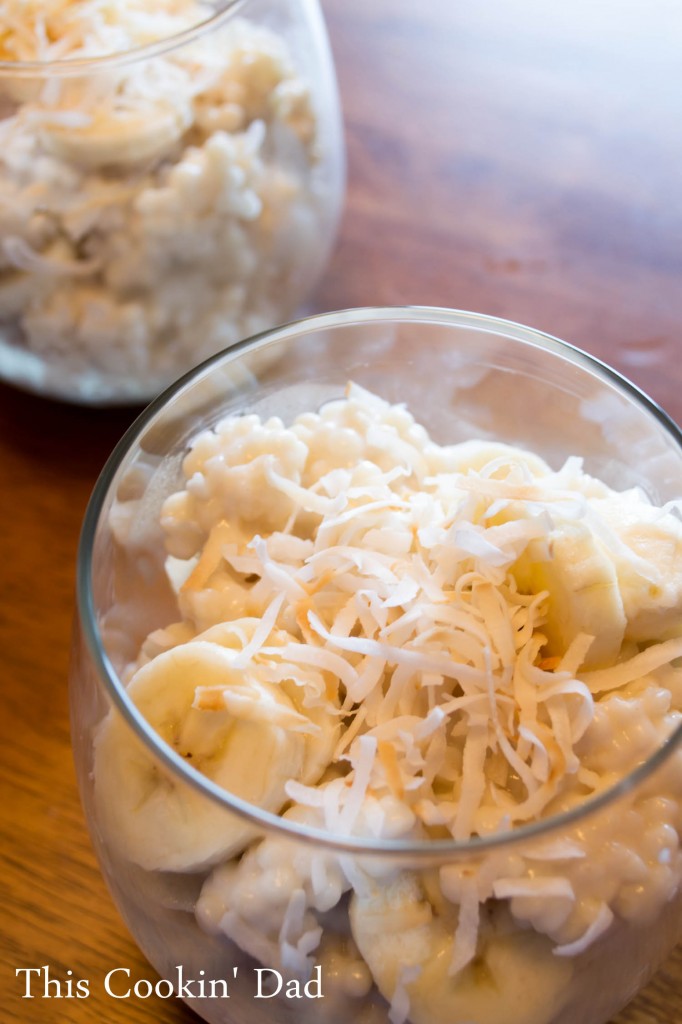 Courtney put out a call a couple of months ago asking some of her blogger friends to help call attention to this affliction by putting together recipes that she could feed her child, but that others could enjoy as well.  Seeing that oats was on the trigger list, I knew that I wanted to do something safe that could approximate the filling and flexible nature of oatmeal.  I settled on a tasty Cous Cous Banana Pudding that can double as a great breakfast item for a toddler.  Here's what I came up with.

Cous Cous Banana Pudding for Sweet Baby
This has great tropical flavors from sweetened coconut and banana. It will definitely thicken up overnight, making for a great consistency for breakfast.
Ingredients
1-15 oz. can coconut milk
1 cup milk
¼ cup white sugar
pinch of salt
1-8.8 oz package Israeli (or pearled) couscous
2 bananas, sliced
½ cup toasted coconut
Instructions
Combine first 4 ingredients into a saucpan over medium-high heat. Bring to a boil slowly, stirring often. Be careful not to scorch the milk.
Stir in couscous, cover, and remove from heat. Allow to sit for 15-20 minutes. Let cool slightly.
Layer prepared couscous with sliced bananas. Serve topped with toasted coconut.
Enjoy!
Do you know anyone affected by FPIES?  What are their triggers and how do you adjust meals to avoid them?  Leave a comment and share your story.