When I shop for food, I like to look for items that I don't usually use.  Over the summer, I had a gift certificate to a farm market that sold frozen meats.  While there, I picked up a couple of frozen rabbits.  The great thing about new ingredients is that you get to learn how to cook new ingredients.  The problem is that you really need some sort of inspiration or guide to get you there.
When I was in Asheville a couple of weeks ago for Food Blog Forum, I got that inspiration.  I joined in with a walking restaurant tour of Asheville and we visited several very different restaurants in downtown Asheville.  We visited Bouchon, a French comfort food restaurant, and I found my inspiration in a beautiful dish of rabbit with vegetables in a creamy mustard sauce.  They called it Lapin a la Moutarde en Cocotte.  We just called it delicious.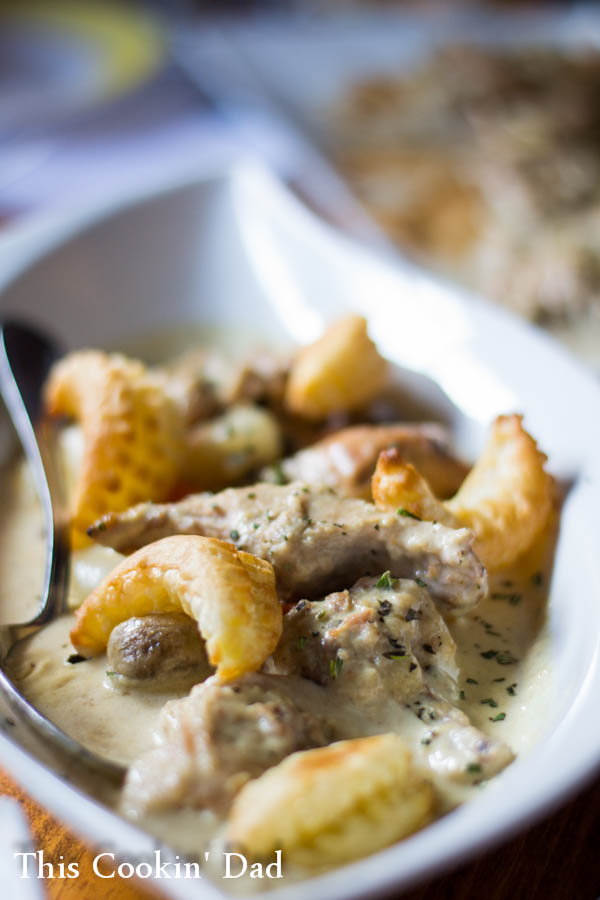 I knew then that I would recreate this dish at home.  I've taken a few liberties, but I feel that the dish is just as delicious and very easy for the home cook to make.  The intention, just like that of the restaurant, is to transport you to the French countryside, filling your nose, your taste buds, and your belly with all of the goodness of a French country home.
I start with fresh ingredients, an incredible bottle of wine, and Gaelic Ale Mustard from Crooked Condiments, an Asheville company using beer from the Highland Brewing Company, another Asheville business.
After about an hour and a half, the finished dish was earthy and rustic.  The potatoes and other vegetables were cooked perfectly and I did not feel the least bit guilty about digging in with my hands to finish off a tender, gamey bit of rabbit dipped into that creamy, mustardy sauce.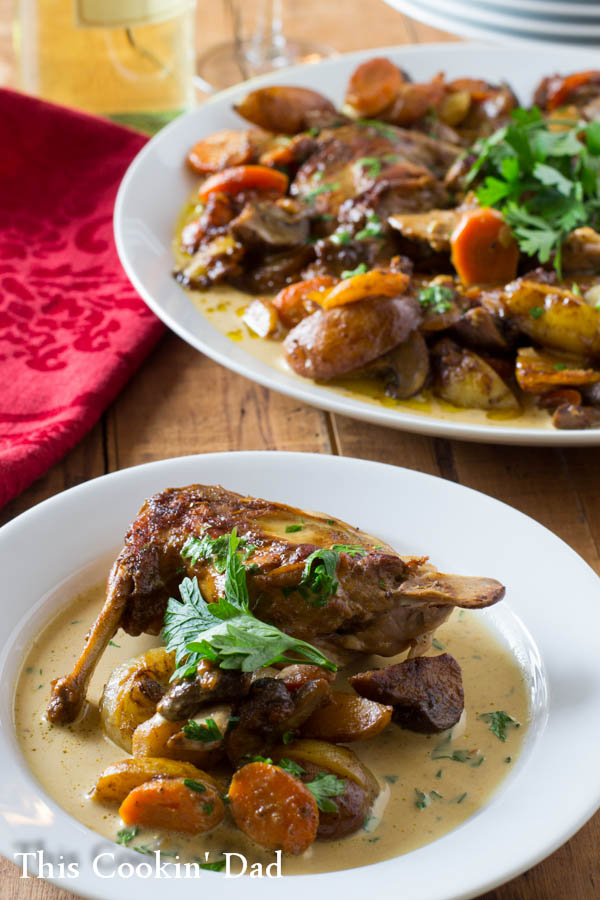 Here's to hoping that you enjoy this offering, that it transports you to another place and time, and that you impress your friends and family.

Asheville Revisited: Rabbit in Mustard Sauce
Tender rabbit, perfectly cooked root vegetables, and earthy mushroom come together with a creamy mustard sauce in this easy home rendition of a classic French-style dish that will wow family and friends alike.
Ingredients
1 rabbit, cut into serving pieces
salt and pepper to taste
4 Tbsp butter
5-10 cipollini onions, peeled and trimmed
1 large carrot, sliced into ½-inch pieces
1 large parsnip, sliced into ½-inch pieces
5-10 baby bella mushrooms, quartered
8 baby (or fingerling) potatoes, quartered lengthwise
2 cloves garlic
1 cup white wine, divided
½ cup good quality mustard, divided
2 sprigs thyme
1 cup water, divided
½ cup heavy cream
2 Tbsp chopped parsley
Instructions
Season rabbit with salt and pepper
Heat butter in a large sautee pan over medium heat, allowing to melt completely. Add rabbit in batches, browning on both sides, 4-5 minutes per side. Once browned, set rabbit aside on a plate.
Add onions, carrot, parsnip, mushrooms, potatoes, and garlic. Season with salt and pepper. Cook for 5-6 minutes or until just beginning to brown.
Add ½ cup wine, scraping brown bits off of the bottom of the pan. Add mustard, thyme sprigs, and ½ cup water. Bring to a boil for 1 minute. Reduce heat to simmer.
Return rabbit to the pan with the vegetables, coating with the liquid. Cover and simmer for 45 minutes to an hour, or until rabbit is just cooked through (the meat on the hind legs will have pulled up to the body).
Remove rabbit and vegetables from the pan to a serving platter. Add remaining wine, scraping bits off of the bottom of the pan. Add remaining mustard and water. Bring to a boil and allow to reduce by about half. Reduce heat to low. Add cream, parsley, and salt and pepper to taste.
Pour sauce over rabbit and vegetables.
Serve and enjoy!
Enjoy this recipe?  Did it transport you?  What food memories do you have from your travels?  Leave a comment and share your story.