If you have been reading along this month, you'll know that I love soups and stews. You may not know that I also love seafood. Clams, mussels, calamari, fish…you name it. If it lives in the water, odds are that I'll eat it! Unfortunately, my wife is allergic to a lot of shellfish, which means that a large portion of the seafood world just isn't welcome in our house. Sometimes that means adjusting a classic dish to meet the dietary restrictions at home like when I make my Manhattan Shrimp Chowder.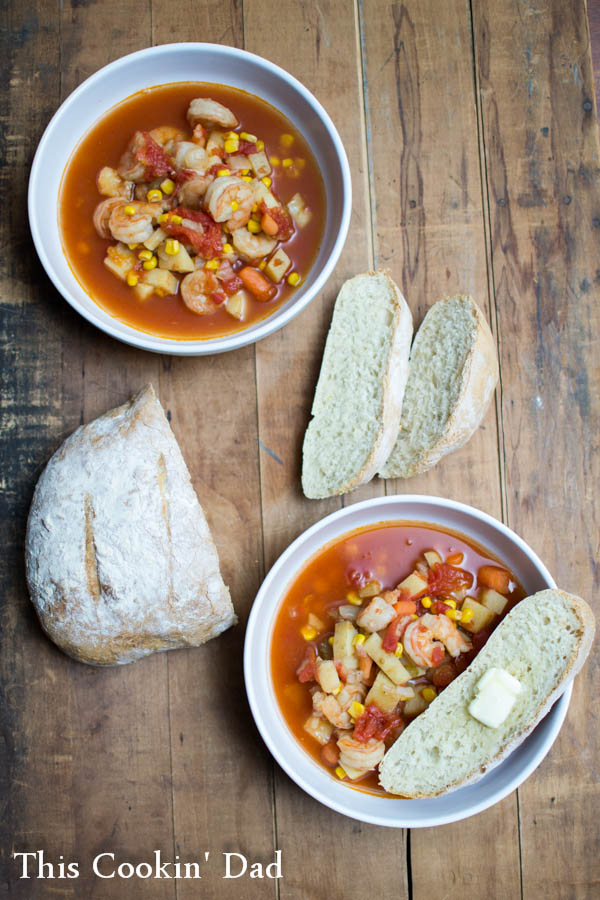 Often, you'll see a Manhattan-style chowder put up against (sometimes angrily) the New England-style chowder. The Manhattan-style is tomato based, with a thinner broth and more vegetables. The New England-style clam chowder, on the other hand, is cream based, focusing primarily on the clams, cream, and potatoes.
Ask me my favorite on any given day and you'll likely get a different answer. I like them both on their own merits. I love the creaminess and comfort of the New England-style chowder (check out my Shrimp and Corn Chowder), but I also love how much lighter the Manhattan-style chowder is (and how well it goes with warm, crusty bread!).
Food has always been about eating what's handy and feeding those that are closest to you. I think that we sometimes get caught up in doing food the "right" way and following the recipe "correctly" and we forget about what food really does for us, our family, and our friends. The recipe below is my take on this dish and I, for one, love how it tastes. Most of all, I love that it's something that my family can and will (and did) eat. If there's something in this recipe that you need to change for any reason, please do and, by all means, let me know how it turns out! Enjoy!
Throughout January, I'm focusing on soups and stews. What is your favorite soup or stew and why? Leave a comment and share your story!

Manhattan Shrimp Chowder
This recipe calls for making your own shrimp stock. With a seafood allergy in the house, I can't count on boxed seafood stock not having clam juice in it. If it's easier for you and you aren't allergic, feel free to substitute with boxed stock.
Recipe type:
Soups and Stews
Ingredients
2 lbs shrimp, peeled and deveined, shells reserved
8 cups water
1 tbsp black peppercorns
2 tbsp olive oil
1 yellow onion, diced
2 stalks celery, diced
2 medium carrots, peeled and diced
2 cloves garlic, minced
salt and pepper
1-6 oz can tomato paste
3 sprigs thyme
2 bay leaves
2 yukon gold potatoes
1-28 oz can whole, peeled tomatoes, crushed by hand
1-15 oz can yellow corn
Instructions
In a large soup pot over medium-high heat, add shrimp shells, water, peppercorns, and a dash of salt. Bring to a boil. Reduce heat, cover, and simmer for 30 minutes to an hour. Strain liquid into another pot and keep warm until ready to use.
In a separate soup pot, heat oil over medium heat. Add onion, celery, carrots, garlic. Season with salt and pepper. Cook until soft, 8-10 minutes. Add tomato paste and cook another minute.
Add the reserved stock (or 8 cups of store bought stock), thyme, bay leaves, potatoes, and tomatoes. Bring to a boil. Reduce heat and simmer, uncovered, for 30 minutes or until potatoes fall apart easily.
Add corn and shrimp. Cook for 5-10 minutes or until all shrimp are cooked through. Serve with warm, crusty bread. Enjoy!