As I started talking about salads this month (see What is a Salad?), I found that salads originated as little more than vegetables seasoned with a salty dressing. As spring begins to move into summer and we await the bounty of fresh vegetables from our little garden and the local farmer's markets, I am reminded of Easy Mediterranean Salad that we make each year.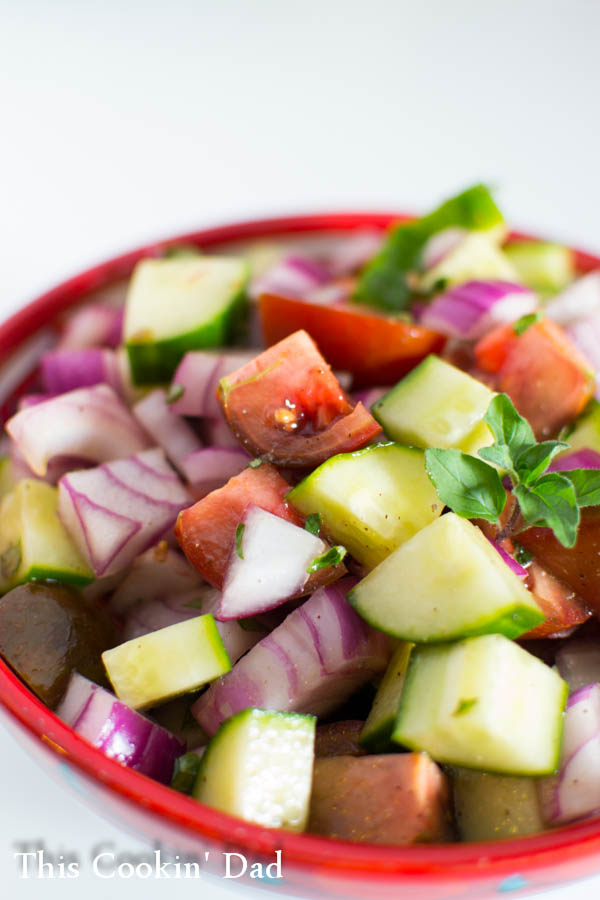 When I was growing up, my father traveled quite a bit, often to the Middle East. He brought home with him a love of the types of dishes in that area. Kebabs, felafel, hummus, and the many side salads that always seem to accompany any meal from that region of the world.
One of my favorites (and one of the simplest to prepare) is a simple salad of tomatoes, cucumber, and red onion. I toss in some chopped oregano, season with a little salt and pepper, drizzle with olive oil, and add just a splash of red wine vinegar. It's fresh, tangy, and a perfect accent to the grilled meats of the summer season. It's also a far cry healthier than all of the mayonnaise-based sides and dips that always seem to pop up at those backyard barbecues.
What I think I love most about this salad is it's versatility. Add a little feta and some black olives, and this transforms instantly into a Greek salad. Chop everything a little smaller and add parsley and lemon juice instead of oregano and vinegar and you have a lovely Fatoush that works perfectly in pita sandwiches!
All month long, we have been talking about salads? What does "salad" mean to you? Does salad play a part in any of your childhood memories? Leave a comment and share your story!