Most dads know that, as great as our time with the kids may be, sometimes the best part of the day comes after the kids are in bed. That little bit of time curled up with the love of your life just chatting or watching TV is often what you need to maintain your sanity for the next day. Every now and then, however, ending the day needs a little something more and my Simple Margarita is the perfect way to do it!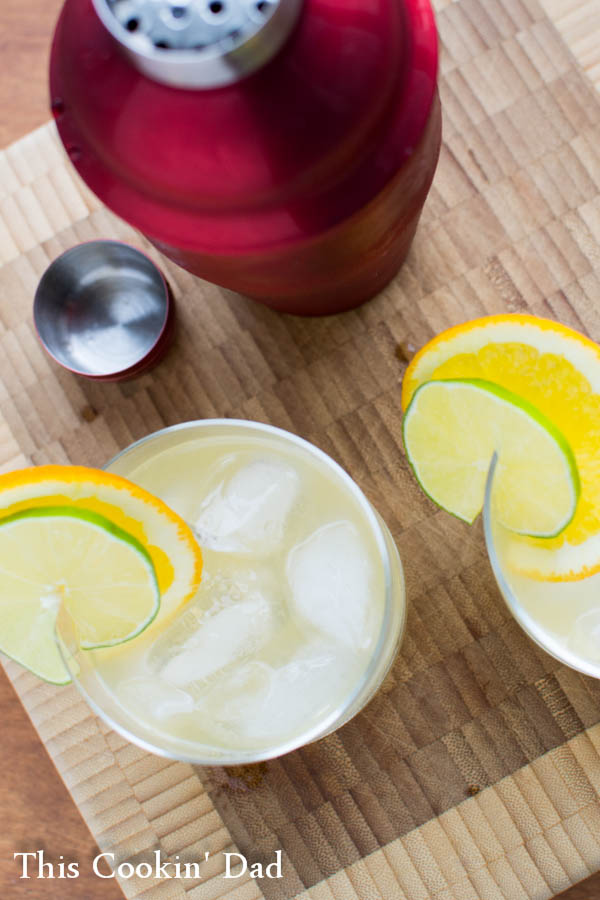 Whether celebrating the day or coping with it, a drink shared with your sweetie can be a great way to get some quality time together. On those nights when a beer would be too heavy and we just don't want to commit to a bottle of wine, I like to turn to a simple cocktail. I think you'd be hard-pressed to find a cocktail that better epitomizes summertime than the margarita.
There are probably a dozen origin stories for the margarita and an untold number of variations. Suffice it to say that the margarita was likely created in the 1930's or 1940's and, at it's heart, consists of tequila, lime, and orange-flavored liqueur. Variations can include all sorts of other fruit flavors, different flavored liqueurs, and, of course, serving the margarita frozen, on the rocks, or straight.
I'm not a bartender by any means and, as such, I tend to like to stick to the basics. The problem is that Beth and I just don't drink that much and, so, we have little reason to keep a fully stocked bar. I really only keep the basics like rum, tequila, whiskey, and scotch. Orange liqueur is just not something that I typically need to keep handy. Thankfully, I also keep something else on hand that can provide that little boost of orange flavor, simple oranges!
So really all it takes for a simple, tasty margarita is some crushed ice, lime juice, orange juice, and tequila. It's almost too easy not to try! I like mine on the rocks, so I use a cobbler shaker
. The lid serves as a measure and it has a built-in strainer. Everything you need for making a great cocktail!
Loving this drink? Follow my Pinterest boards for more food & drink inspiration!
Visit This Cookin' Dad's profile on Pinterest.
The Simplest Margarita Ever!
Ingredients
3 oz. tequila
2 oz. freshly squeezed orange juice
1 oz. freshly squeezed lime juice
orange and lime slices for garnish
Instructions
Fill a shaker and two rocks glasses with ice.
Pour tequila and juices into the shaker. Shake vigorously for 5-10 seconds. Strain into glasses.
Garnish with orange and lime slices. Enjoy!