It has been a hot summer here in Virginia and the best way to beat the heat is by drinking water. I like water well enough, but, if I'm being totally honest, I don't drink nearly enough water because it just doesn't have any flavor! One way that I get around this is by flavoring my water and one of my favorite combinations is Cucumber, Lemon, & Mint Water.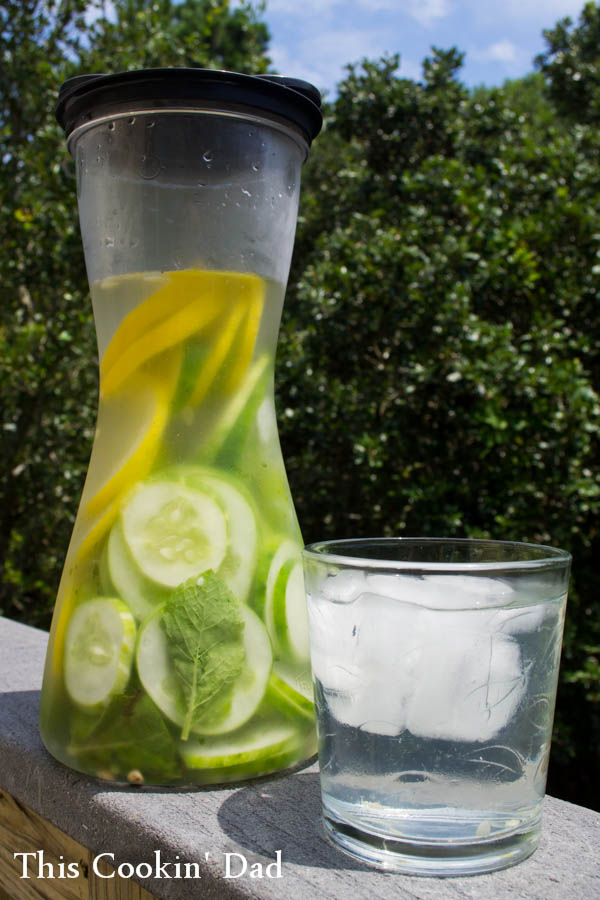 Water hydrates you. It seems so simple and, really, it is. Our bodies are comprised of 60% water and, when we get dehydrated, really it's our cells getting out of balance. If you think of your cells as balloons, a dehydrated cell looks like an under-inflated balloon: sad, unhealthy, and just no fun to play with.
Good hydration leads to healthier looking skin, more energy, and better brain and kidney function. We get about 20% of our water needs from food, leaving us to get the other 80% from our drinks. Too often, we (myself included) fill that 80% void with sugary, caffeinated drinks that further throw off our body's balance.
So the answer, of course, is water! After years of consuming flavored drinks, though, water is just kind of boring! You just have to add something to make it taste like, well, anything!
The simplest approach is just to add a wedge of lemon to your water, but even that can get a little boring sometimes. So here's what I do to add a little something extra to my water.
I take one sliced cucumber, one sliced lemon, and two sprigs of mint, place them into a pitcher, and top with two quarts of water. Refrigerate for about 3 hours before serving over ice! You get clean, refreshing flavors, perfect for cooling your down and keeping you hydrated on a hot summer day!
How do you make water a little more palatable? Check out my Pinterest page for more food and drink ideas.