I have always loved watermelon juice. It's sweet and just tastes like summertime. We eat a fair amount of watermelon in our house and one way that we can give it a little extra life is to add some lime and mint to make a tasty and refreshing Watermelon Agua Fresca to beat that summer heat.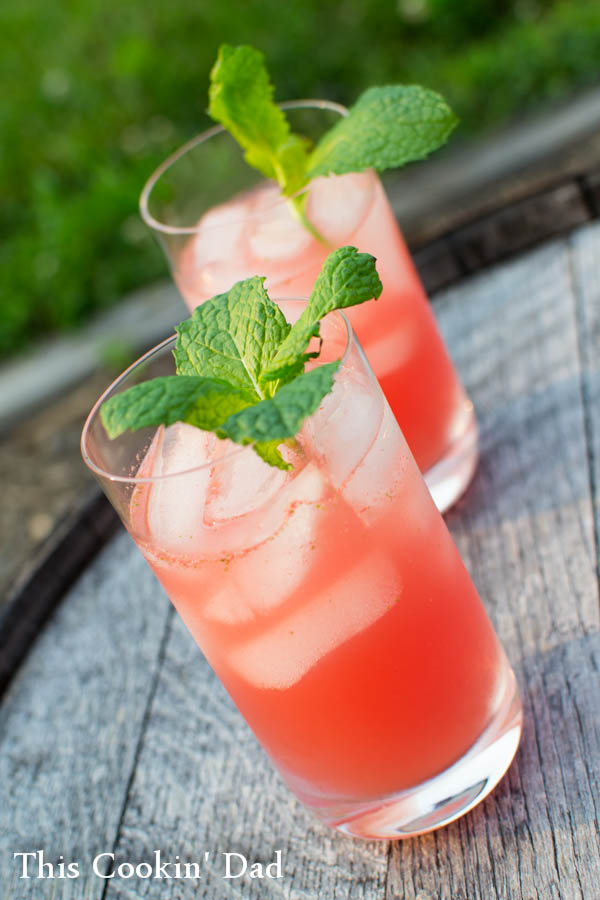 Growing up in the south, I remember having watermelon just about all summer long. Mom would cut thick slices of watermelon and set them on a plate for us with nothing but a spoon and a towel. My brother and I would spend 30 minutes or more carving those watermelon slices into intricate roller coasters for the riders (i.e. seeds). It was snack, imagination building, and pure enjoyment all in one!
If I was especially good (and begged enough), I might even get the coveted "bowl", the end of the watermelon. As I carved out my creation, the juice of the watermelon would stay in the bottom of the bowl, creating a pool for all of my little riders. When I was all finished eating the meat of my watermelon, I had all of that yummy juice waiting for a last little treat.
For some reason, my kids just aren't the watermelon sculptors that my brother and I were. They want to grab a slice and run off to play, coming back for more later. To be honest, I'm not quite the watermelon sculptor that I used to be either. Maybe I've grown up more than I should have! That doesn't mean, though, that I have forgotten about that tasty watermelon juice. Now I just do a little more grown up version of it.
Once I have sliced up the watermelon for the kids, I pull a few chunks aside for myself. I toss them into the food processor with some mint and take them for a little spin, completely breaking it all down. I strain the juice into a pitcher, add a little sugar, some lime juice, and some water. I pour over ice, add a sprig mint for garnish, and sit back to enjoy. If it's late in the evening, I might even add a splash of vodka!  Not a bad way to relive those childhood memories, right?
Looking for more food and drink ideas? Follow me on Pinterest to see some of my favorites!
Visit This Cookin' Dad's profile on Pinterest.
Watermelon Agua Fresca
Ingredients
4 cups diced watermelon, peeled and seeded
6 sprigs mint, divided
1 tbsp sugar
juice from 2 limes
3 cups water
Instructions
Blend watermelon, 2 sprigs mint, and 1 cup water until smooth. Strain through a medium strainer into a pitcher.
Add sugar, lime juice, and remaining water. Stir to combine and refrigerate for at least one hour.
Pour over ice and garnish with remaining sprigs of mint.