Warning
: Use of undefined constant user_level - assumed 'user_level' (this will throw an Error in a future version of PHP) in
/home/simplybu/public_html/thiscookindad.com/wp-content/plugins/ultimate-google-analytics/ultimate_ga.php
on line
524
You know how it goes. You get home late from work and the kids are fussing about dinner. Going out to dinner just isn't going to work. It might be a little less hassle, but you know that it'll wind up being even longer before you eat. Besides, you went out to eat yesterday and someone has to be responsible about the family's bank account!  What are you going to to do?
All it takes is a few simple ingredients and knowing the simple saute technique to create a yummy and tasty chicken dish in no time flat! The best part? Creating this dish is also a perfect way to unwind from a tough day!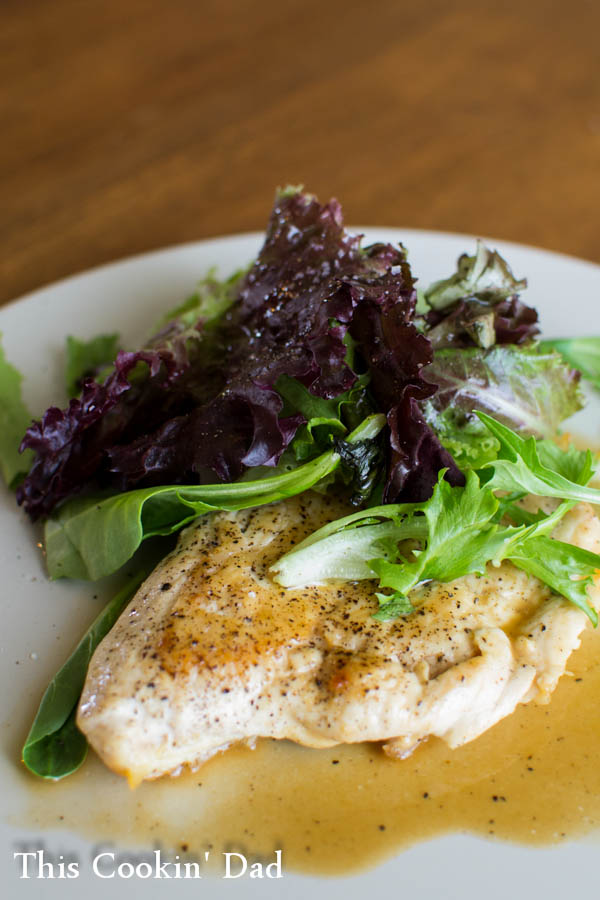 To start with, using a pair of tongs, take your chicken breast and place it into a zip top storage bag.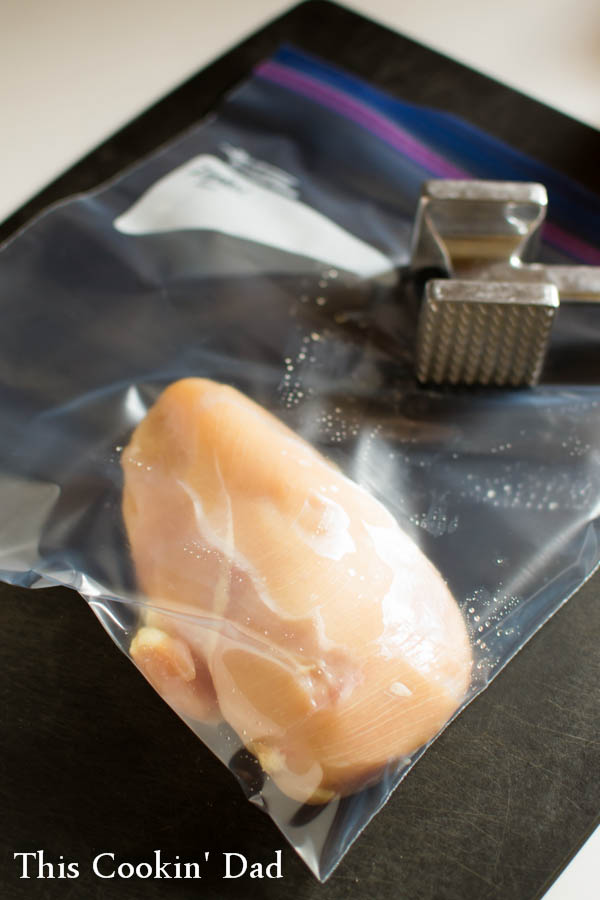 Next, take a meat tenderizer and, using the smooth side, pound that chicken flat. Boss give you a hard time today? Have a particularly rough time with a picky client? This is a great way to get out some of that frustration!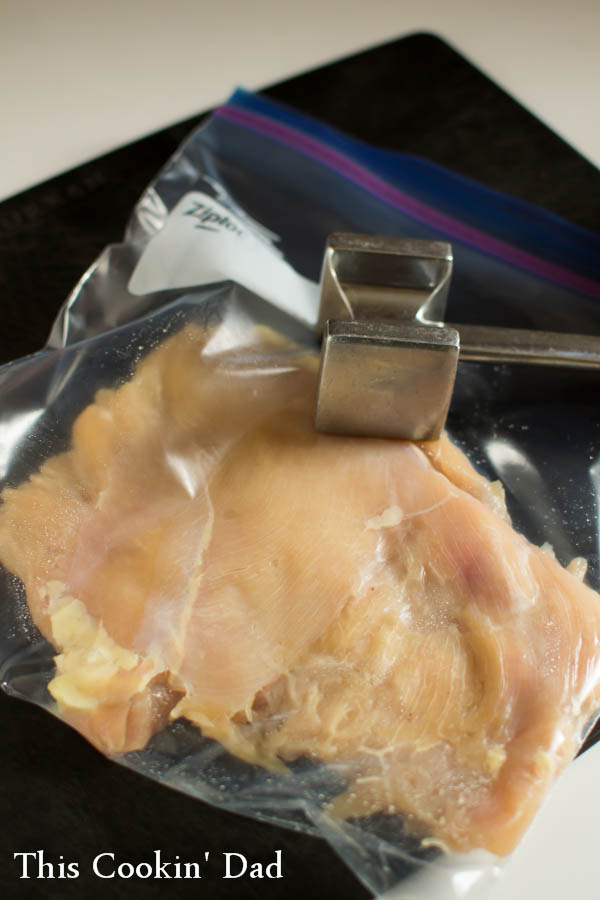 The reason we are pounding this chicken flat is so that it cooks more evenly and cooks faster! We're talking a 10-minute saute as opposed to 20-30 minutes by other methods. Be careful, though, not to pound too hard or you might wind up tearing apart the flesh. A little tear is ok (it'll shrink up as it cooks), but a big tear just starts to look ugly and can lead to dry chicken.
Once your chicken is pounded out flat, season it with salt and pepper and add it to a large, preheated saute pan with a drizzle of olive oil.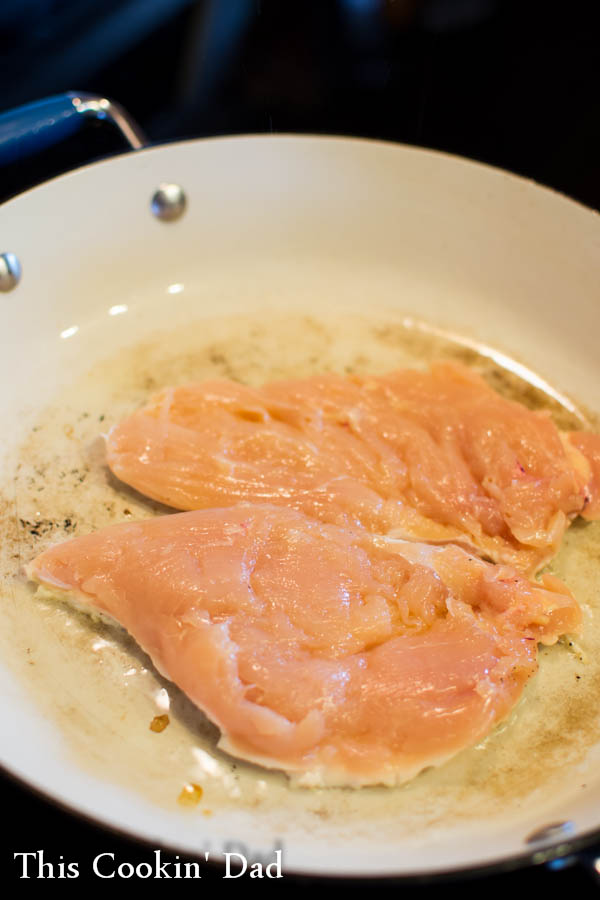 After 4-5 minutes, flip the chicken, saute for another 4-5 minutes and remove from the pan.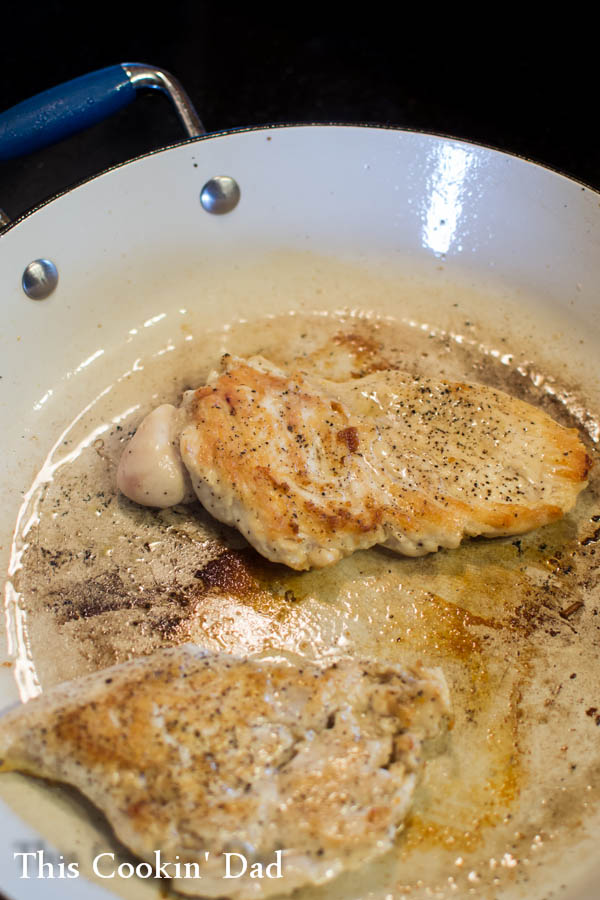 Now comes the fun part! Add a splash of that wine that you're drinking (it was a hard day at the office, wasn't it?) and scrape all of those brown bit off the bottom of the pan. Add a little chicken stock and let that reduce. Turn off the heat and finish with a couple of pats of cold butter for an insanely easy pan sauce to pour right over your rested chicken.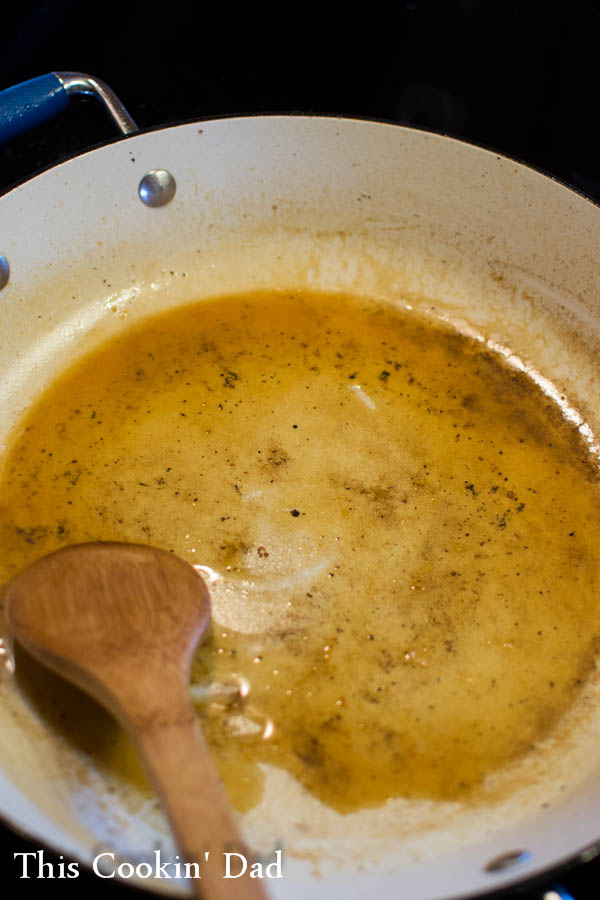 Top with some greens dressed with olive oil and a little lemon and you have an easy, fast, and light weeknight meal that everyone can be happy with. Serve with a side of rice or some sauteed broccoli if you need to add a little more bulk to the meal.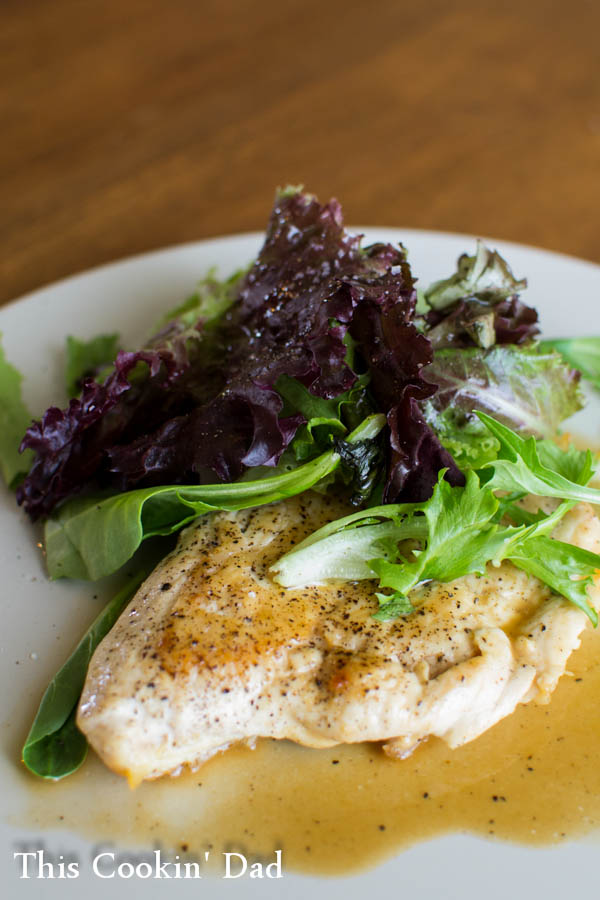 Now, I know what you're thinking. Chicken? Again? All I ever eat is chicken! The great thing about this recipe is that it is so easy to change up. Obviously, your sides can be different every time, but there are so many options for the chicken itself. Try dusting your chicken with five spice for an Asian flair. Instead of wine, you can deglaze with beer, cider, or even a good squeeze of lemon juice. Add fresh herbs to change things up even more!
What is your favorite combination of flavors with chicken? Leave a comment or check out my Pinterest page for more weeknight inspiration.
Visit This Cookin' Dad's profile on Pinterest.
Perfectly Sauteed Chicken with Easy Pan Sauce
Ingredients
4 boneless, skinless chicken breasts
salt and pepper to taste
3 Tbsp olive oil, divided
¼ cup white wine
½ cup chicken stock
2 Tbsp cold butter, diced
2 cups mixed greens
2 Tbsp freshly squeezed lemon juice
Instructions
Place one chicken breast into a gallon-sized zip-top storage bag. Pound with the smooth side of a meat tenderizer until about ½-1 inch thick. Repeat with remaining chicken breasts. Season with salt and pepper.
Add 2 Tbsp olive oil to a skillet heated over medium-high heat. Add the seasoned chicken. Saute for 4-5 minutes per side or until juices run clear. Set aside.
Add wine to pan. Reduce for 1 minute while scraping the brown bits off of the bottom of the pan with a wooden spoon. Add chicken stock and reduce for another 3-4 minutes or until the sauce has thickened slightly.
Remove from heat and add butter, stirring slowly until the butter is fully incorporated.
Place chicken onto a plate and drizzle with the pan sauce.
Toss greens with salt, pepper, lemon juice, and remaining olive oil. Split evenly onto the plated chicken dishes. Enjoy!