When I was growing up, dinner was usually very simple. Lots of chicken and ground beef. If we had shrimp, they were boiled or fried and served with cocktail sauce or prepared as part of any number of Cajun or Creole dishes. When we'd go out to the occasional Italian restaurant, for some reason, I was always enamored with shrimp scampi. Compared to most of the meals that we typically ate, shrimp scampi seemed so expensive and luxurious.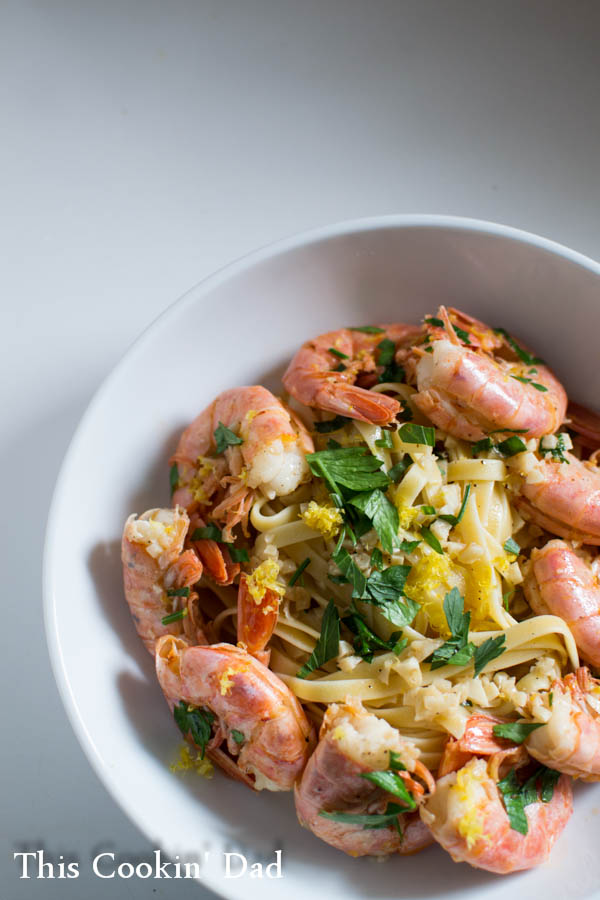 Even now, shrimp scampi always seems to be one of the more expensive items on the menu. In reality, though, the dish is incredibly easy to make and just doesn't cost that much.
We start simply by adding a little olive oil and butter to a saute pan over medium-high heat. The butter adds some great flavor and the olive oil lowers the smoke point a little so that the butter doesn't burn.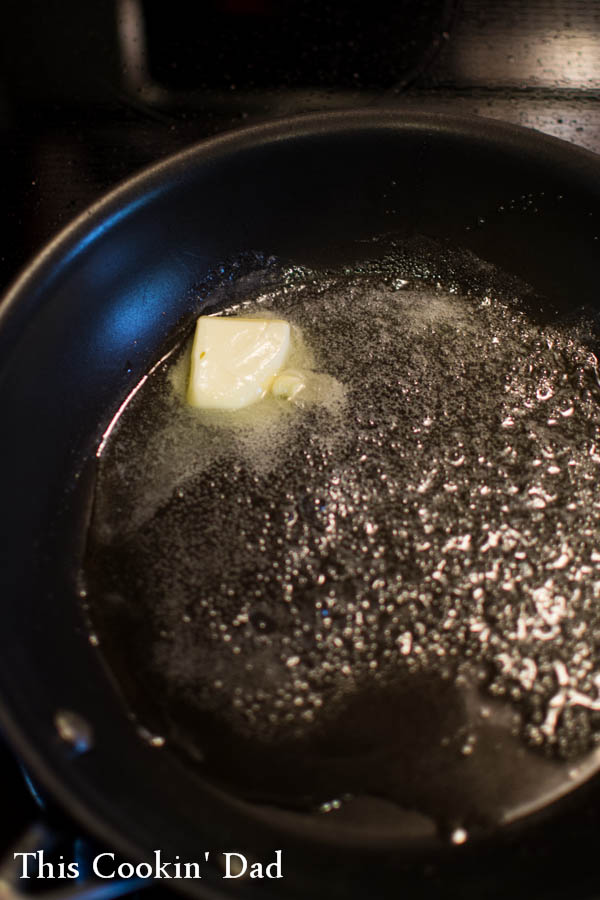 Add a little garlic and saute until the edges just start to brown.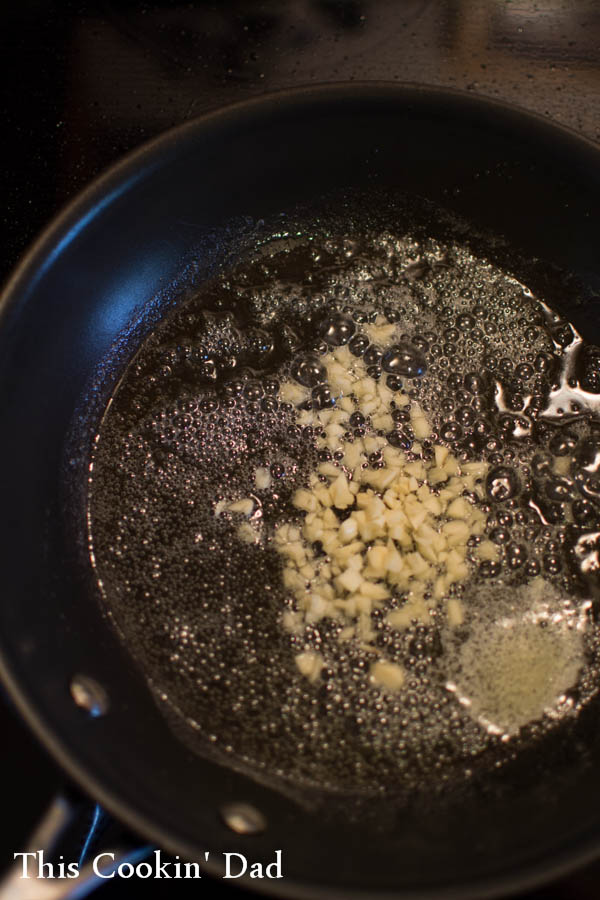 Add about a pound of shrimp and saute for about 30 seconds…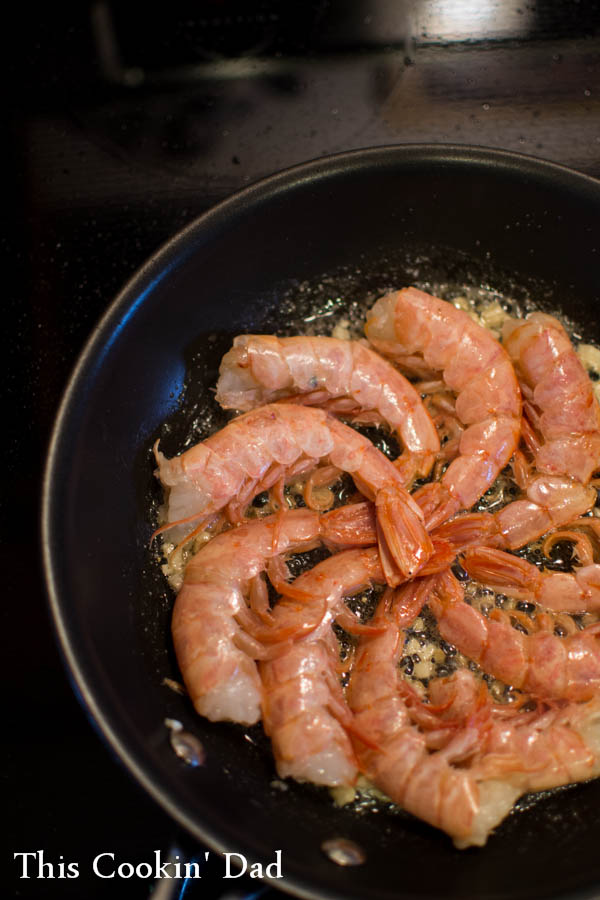 …before adding white wine. Stir to combine, turn the heat to high, and cook for another 2 minutes. Turn the shrimp over, season with salt and pepper, and cook for another minute. Finish with a a squeeze of lemon juice and freshly cut parsley.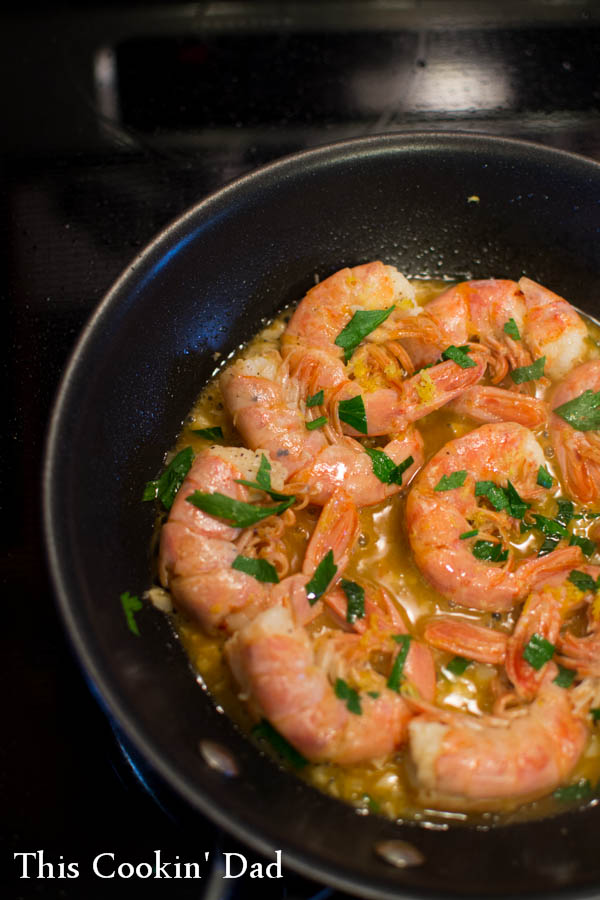 Serve over pasta for an insanely easy meal that will absolutely impress!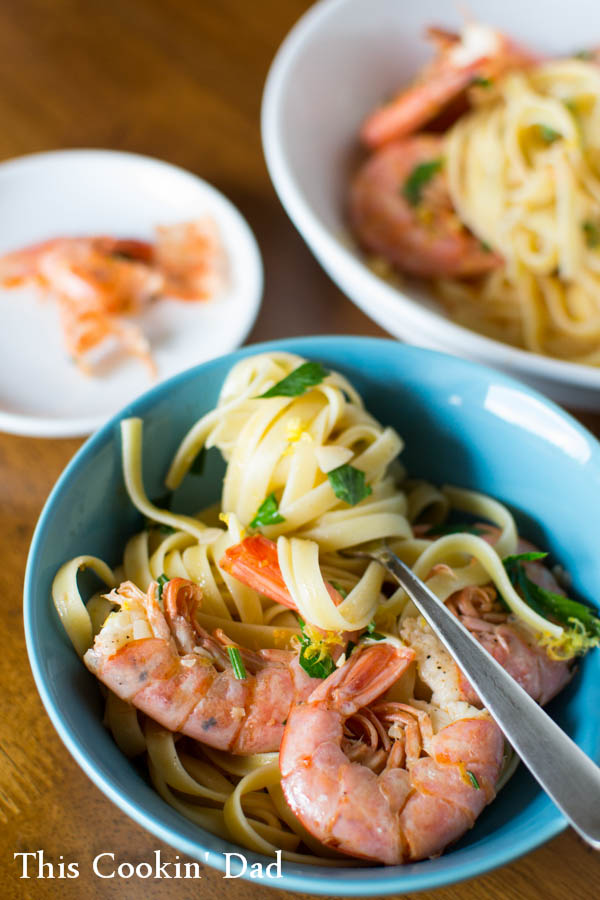 One major question that even I have about doing a shrimp dish like this is whether or not to keep the shell on. For me, I like to eat with my hands and the little bit of mess is worth all of the flavor that those shells add to the sauce. If you are not a hands-on eater, go with peeled and deveined shrimp. It'll definitely be a little easier for the kids and you can freeze those shells to make shrimp stock down the road.
Looking for more dishes that will let you break out that saute pan? Follow me on Pinterest for more great ideas!
Visit This Cookin' Dad's profile on Pinterest.
Simply Sauteed Shrimp Scampi
Ingredients
2 Tbsp olive oil
2 Tbsp unsalted butter
3 cloves garlic, minced
1 lb. shrimp
½ cup white wine
salt and pepper to taste
2 Tbsp freshly squeezed lemon juice
2 Tbsp fresh parsley, chopped, (plus more for garnish)
lemon zest (for garnish)
Instructions
Heat a saute pan over medium-high heat. Add oil and butter, heating until butter has melted. Add garlic and saute for 1 minute or until the edges of the garlic just start to brown.
Add shrimp and cook for about 30 seconds before adding wine. Stir to combine, turn heat to high, and cook for an additional 2 minutes before flipping shrimp to other side.
Season with salt and pepper and cook for one minute or until shrimp are cooked through. Top with lemon juice and parsley.
Serve over pasta and garnish with lemon zest and additional parsley.
Enjoy!!