This month, we broke out our saute pans and cooked up a lot of quick, healthy meals. Today, we are going to use that same technique to create a dish that is a little more homey and so very true to my southern roots.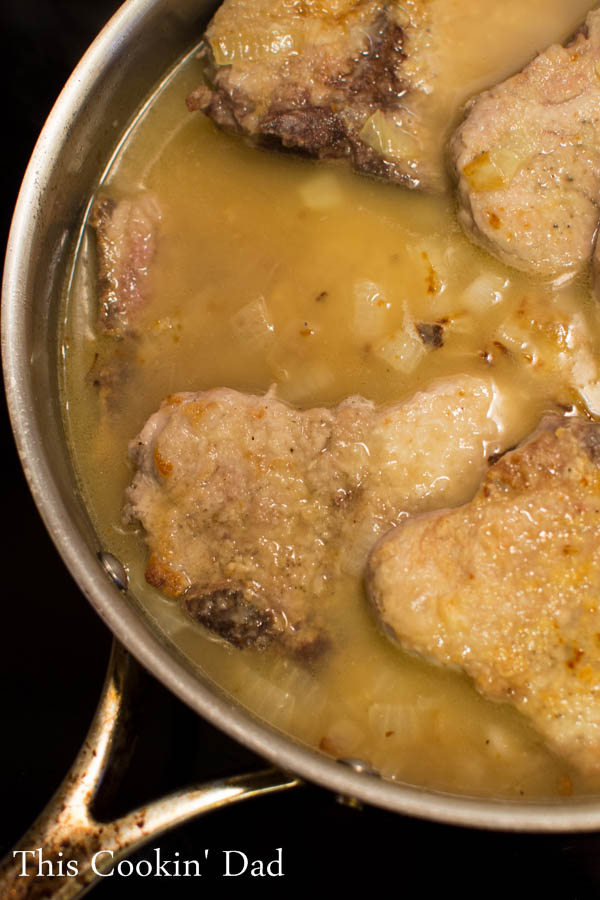 You know, I believe that two primary things really define southern cuisine: sweet tea and gravy! No southern household is complete without both. I covered sweet tea last month so I really want to talk about gravy today.
Gravy can be made a number of ways and no grandma's gravy is really ever the same, but, as a rule, if there's gravy on it, I'm going to eat it! Essentially, gravy is little more than starch and fat cooked together and thinned out with liquid. In the south, I'm pretty sure that it is allowed to top EVERYTHING!! One of my favorite things to eat is gravy and rice and a gravy boat (gravy served over sliced white bread) just takes me take to my childhood.
Typically, my gravies start with flour and oil and I use chicken stock as my liquid, but today's dish is a little different. I start by seasoning and lightly flouring my pork chops.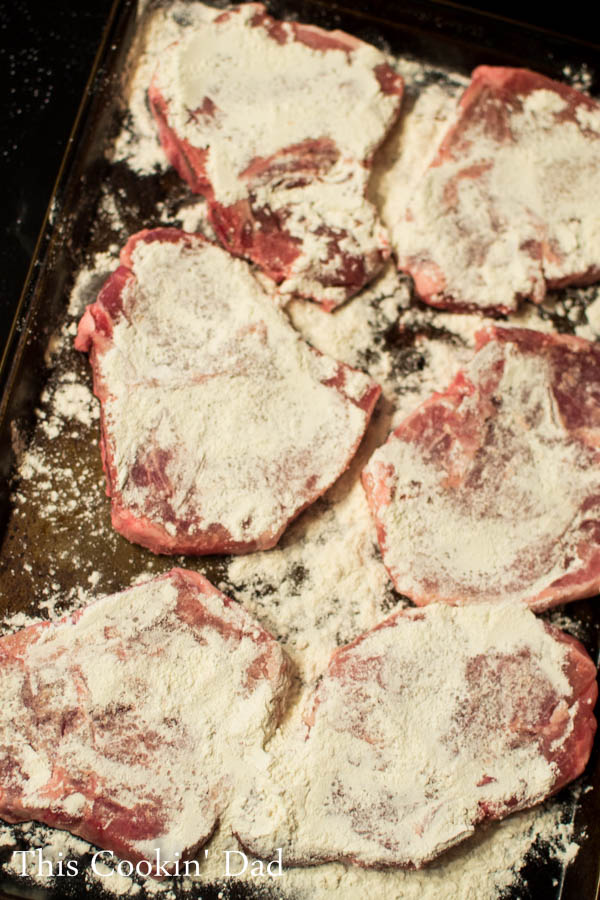 I sear one side in a large skillet coated in oil…
…flip it and sear off the other side until just before the pork chops are done.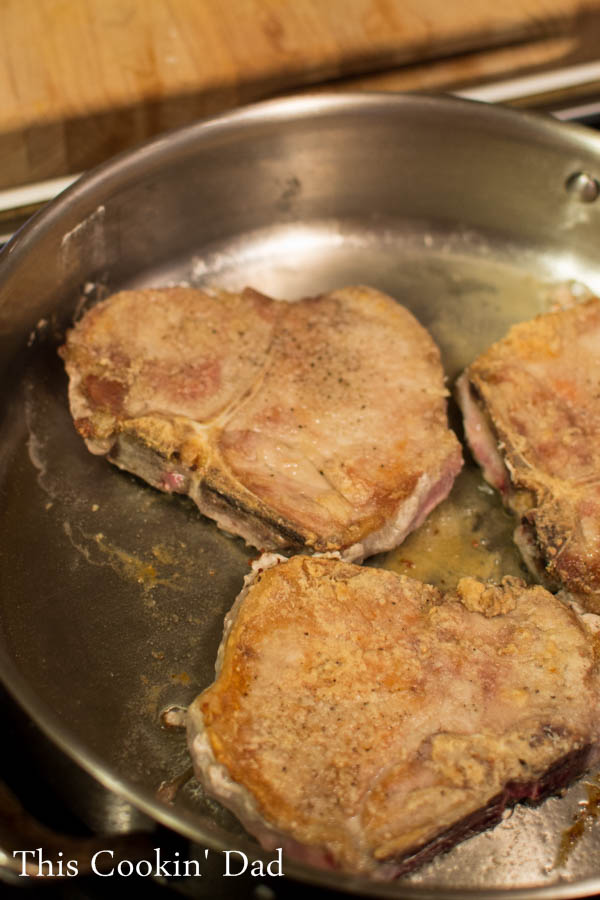 I remove them from the pan to rest and add in one chopped onion and a little more flour…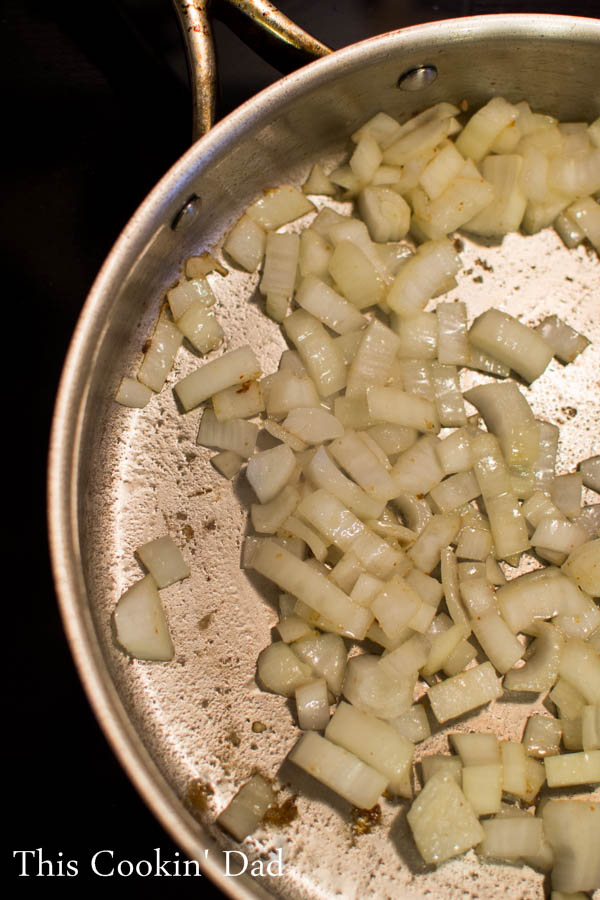 …stirring and scraping the bottom of the pan until the onions are translucent and the rawness of the flour is cooked out.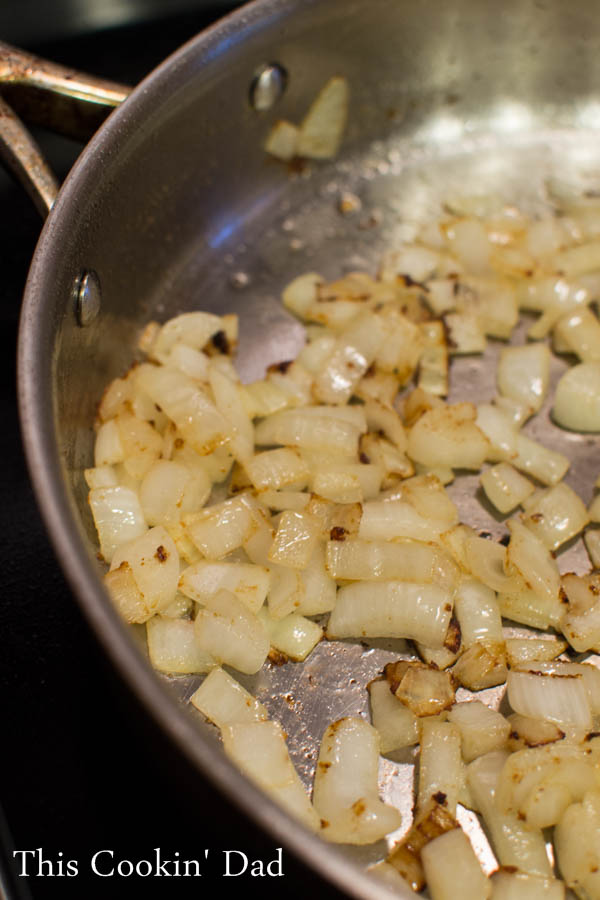 Next I add in a couple of cups of chicken stock and slide the pork chops back in to finish cooking. The gravy is going to seem very thin, but the flour on the onions and pork chops will thicken it as it cooks. Plus, gravy always thickens as it stands and nobody likes thick, lumpy gravy. We may still eat it, but we don't like it!!!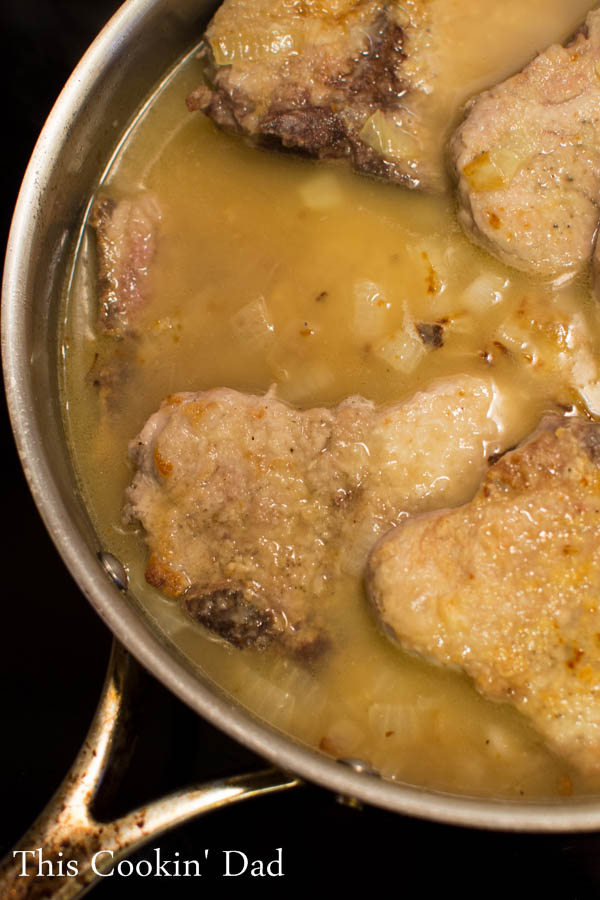 I serve my Smothered Pork Chops over white rice with a side of green beans, buttered bread, and a whole mess of gravy…the way God and grandma intended! I hope you enjoy it as much as I do!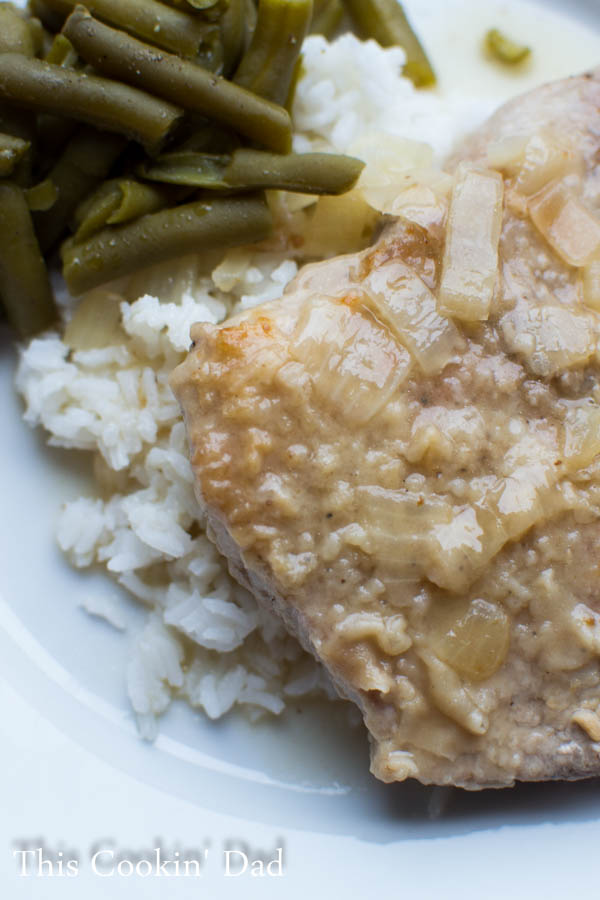 Find more great ideas on my Pinterest page!
Visit This Cookin' Dad's profile on Pinterest.
Smothered Pork Chops with Onion Gravy
Ingredients
6 thick-cut, bone-in pork chops
salt and pepper
6 Tbsp flour, divided
4 Tbsp olive oil
1 yellow onion, diced
2 cups low sodium chicken stock
Instructions
Season pork chops on both sides with salt and pepper. Dust chops with 4 Tbsp flour.
In a large skillet, over medium-high heat, add 2 Tbsp olive oil and 3 pork chops. Cook for 5-6 minutes per side or until juices run clear. Remove to a plate to rest and repeat with remaining chops.
After all pork chops are cooked and pulled aside, add onions and salt and pepper to taste. Saute for 4-5 minutes or until onions are translucent. Add remaining flour and saute for another 2 minutes.
Add chicken stock and stir to combine. Bring to a boil and reduce heat to low. Add reserved chops and juices and allow to simmer for 5-10 minutes.
Serve over rice with your favorite side. Enjoy!