In our house, one of the most popular dinner options is the "snack" dinner, an assortment of meats, cheeses, breads, dips, and other items that the kids can pick and choose from as they like. It's pretty low stress for everyone involved. When we want to take it to the next level (and make sure that the kids are eating more veggies), we'll break out the fryer and whip up a quick fritto misto.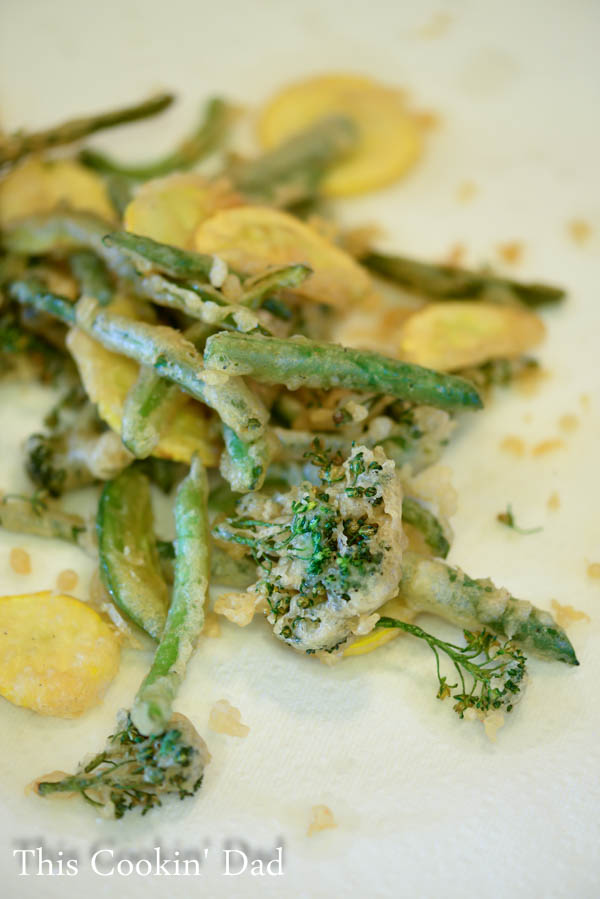 Fritto misto, literally translated as mixed fry, is an Italian dish of vegetables, meat, or seafood dipped in batter and lightly fried in oil. I use a light tempura style batter just like the one that I use for my fried mushrooms. It puts the meats and veggies first, but provides a light crunch that makes eating them fun. A little dash of salt and a squeeze of lemon finish it off perfectly!
Because I tend to shy away from the traditional, I wanted to make my fritto misto lots of fun for the kids. I chose to fry up sliced summer squash, green beans, and broccoli rabe along with a few pieces of thinly sliced pork. The key is to have everything ready. Oil heated, veggies prepped, batter standing by, and drying area ready to go.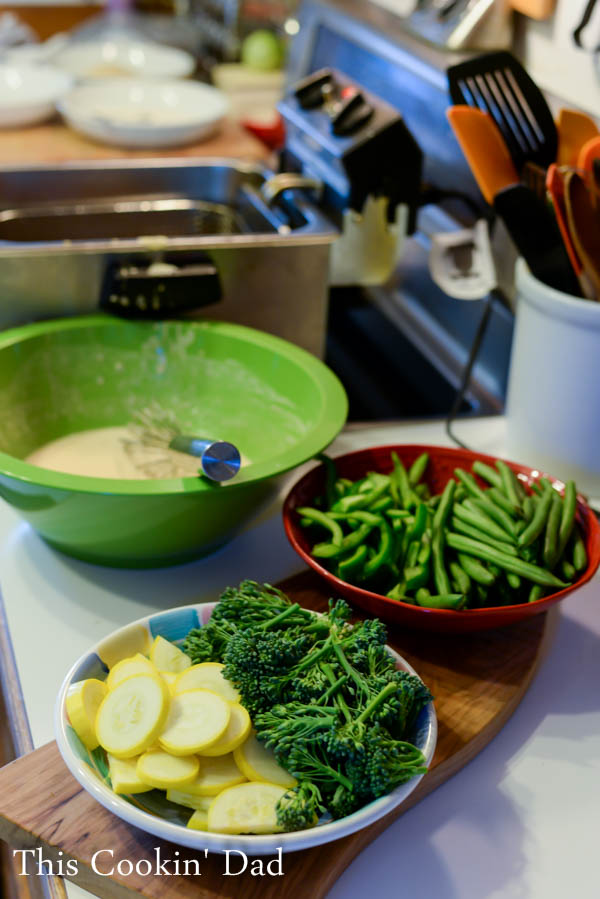 You'll only fry for a couple minutes. You want a light golden brown here.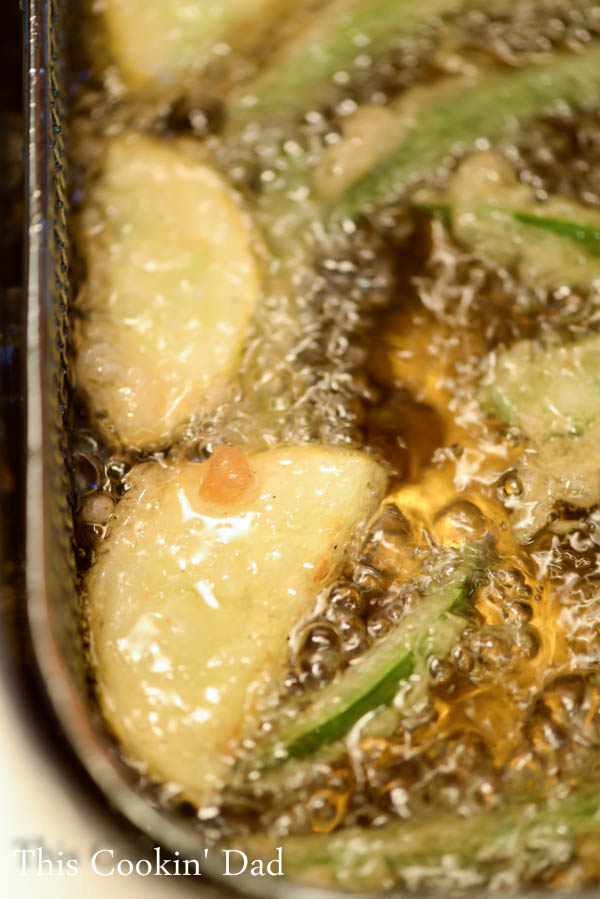 Once you remove your fried stuff to some paper towels to drain, make sure that you season it right away while the salt can still adhere to the oil and batter. A nice batch of veggies…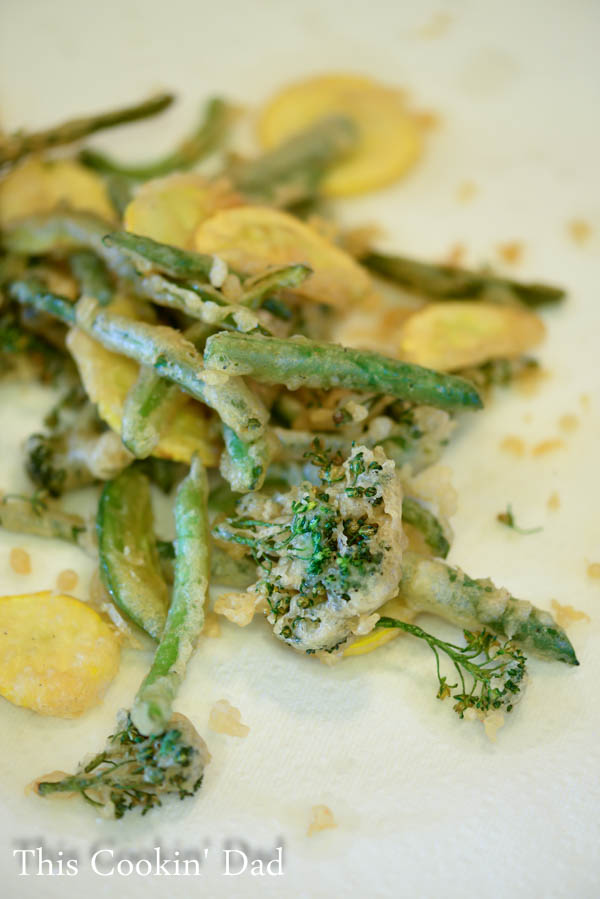 …and a lovely plate of fried pork always make me a happy guy!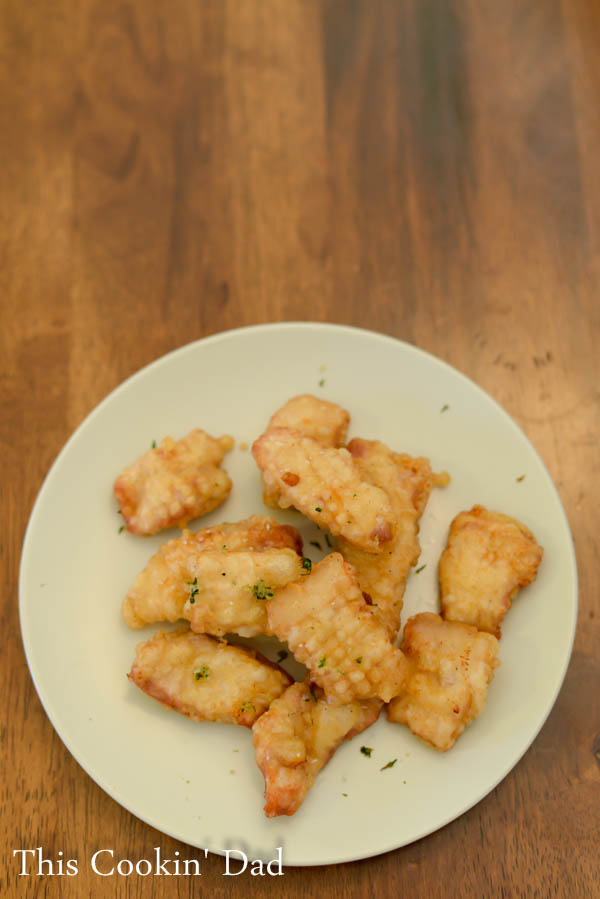 Serve while it's hot and just keep cooking until it's all gone. Trust me. They will finish what you put out faster than you can replace it! Just make sure that you sample as you go along. It may be all that you get!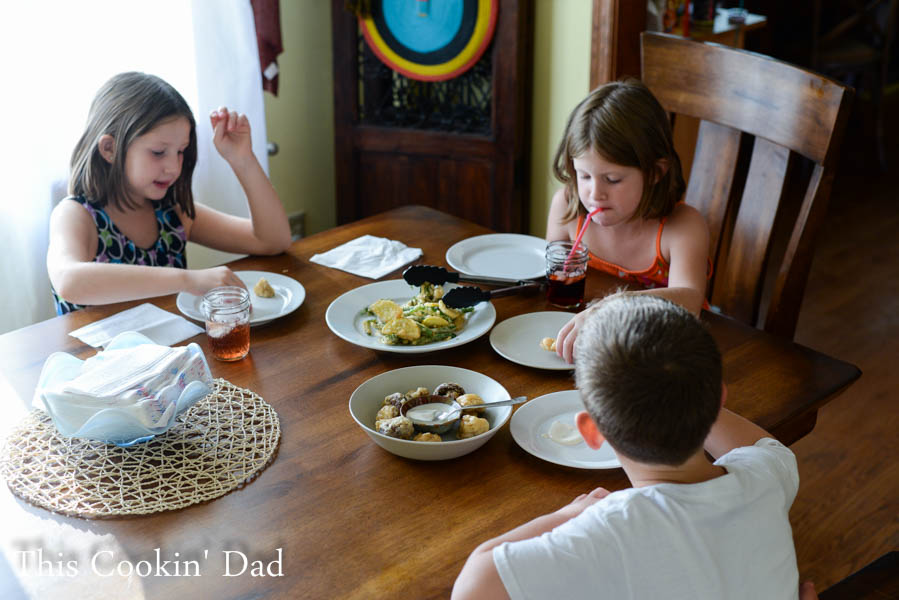 How often do you fry up dinner for the family? Leave a comment and let me know your favorite fried foods!

Foolproof Fritto Misto
Ingredients
1½ cups all-purpose flour
1 Tbsp baking powder
1 tsp kosher salt, plus more for sprinkling
1 tsp paprika
½ tsp onion powder
½ tsp garlic powder
2-21/2 cups club soda
3 lbs mixed vegetables (such as green beans, broccoli rabe, and yellow squash), cut small enough for two bites
1 lb pork tenderloin, thinly sliced.
oil for frying
Instructions
Prepare fryer or pour oil halfway up a large heavy bottomed pot. Heat to 350.
Combine first 6 ingredients in a large mixing bowl. Add 2 cups club soda and whisk to combine. Add more, as needed, to thin out the batter to desired level.
In handful sized batches, dip veggies and pork into the batter, allowing the excess to drain off.
Fry for 3-5 minutes, or until golden brown. Remove to paper towels and season with salt.
Serve while hot and repeat with remaining veggies and pork. Enjoy!