Head to just about any pizza joint or casual restaurant featuring American fare and you are bound to find fried mozzarella sticks. While it's often served as an appetizer, it is not unusual for us to break out the fryer and fry up some fried mushrooms and a batch of fried mozzarella sticks as our main protein and serve them up with some marinara sauce and a batch of fresh veggies.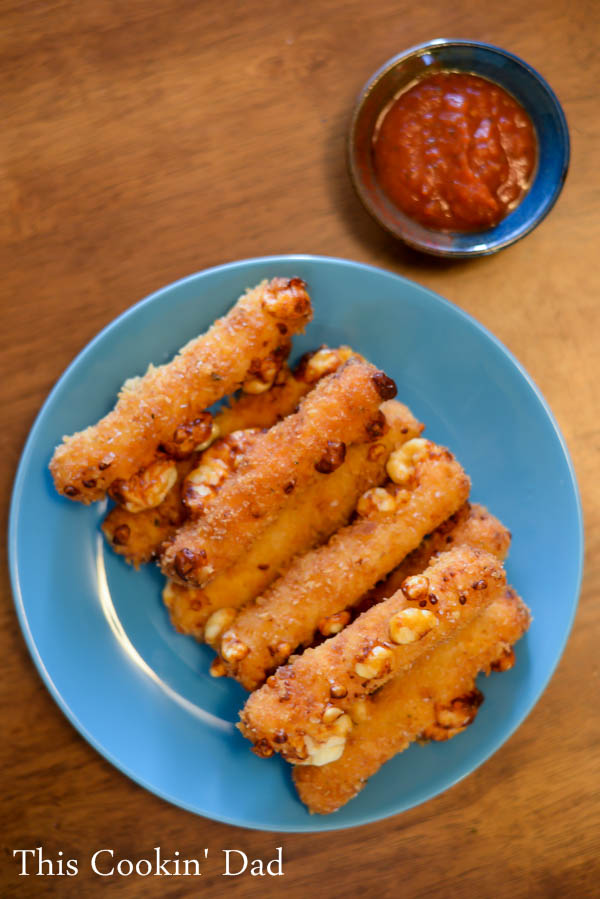 Fried cheese is not unique to the United States. You can find different varieties of fried cheese all over the world. In fact, the concept isn't even that new. The first recorded mention of fried cheese dates back to 14th century France in a guidebook called Le Ménagier de Paris. This book described the proper behavior for women in marriage and in running a household. Don't judge! This is history talking here!
Apparently, part of taking care of your husband in the late 1300's including properly breading and frying cheese. Who am I to argue with that logic?!
The fact is that the basic technique for doing this hasn't really changed in the over 600 years since Le Ménagier de Paris was written. One of the reasons that I write about food is to reintroduce these simple ideas for cooking at home so that we do not have to head to local restaurants or the freezer section at the grocery store in order to enjoy our favorite foods.
To make life easy on myself, I simply take string cheese (perfect because of its shape and low moisture content), toss in flour, coat in an egg wash, and cover with seasoned breadcrumbs. I fry it up for a few minutes and drain it on paper towels.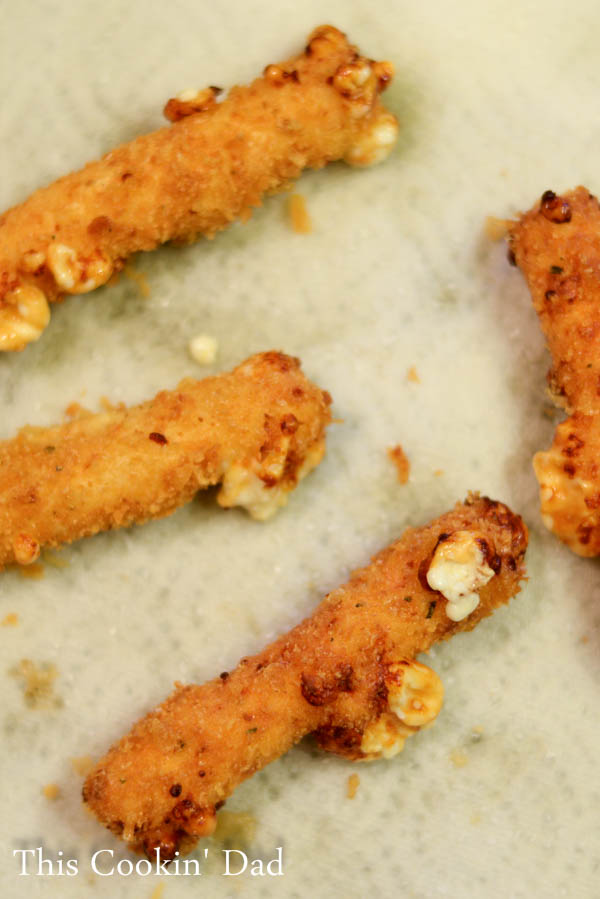 I serve with marinara sauce for an easy appetizer or football snack. For dinner, I put together a whole spread with veggies and other small dishes that the kids can pick and choose from.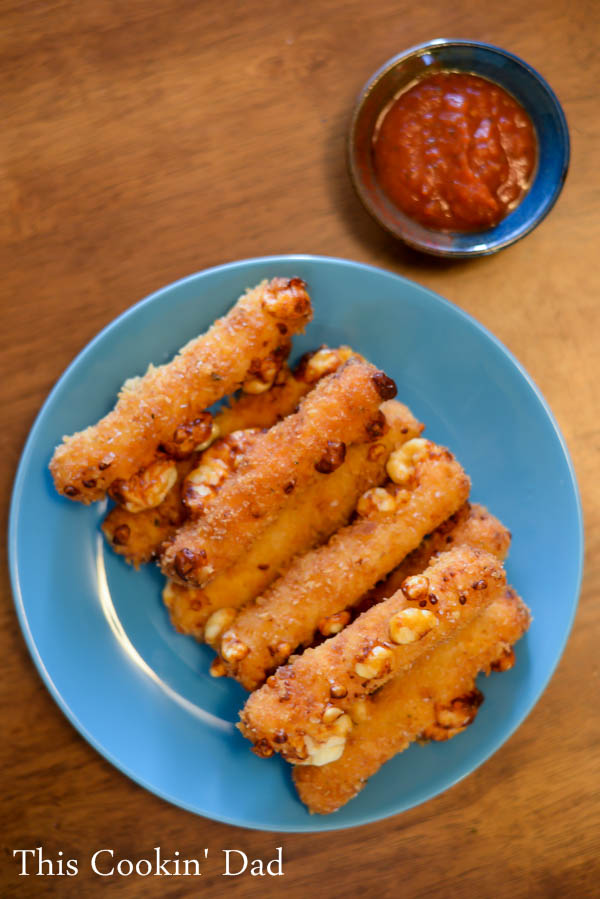 Make sure you check out my other fried options and try these simple techniques at home!

Fried Mozzarella Sticks
Ingredients
8 string cheese mozzarella sticks
¼ cup all purpose flour
2 large eggs
1 cup breadcrumbs
2 tsp salt
2 tsp pepper
2 tsp dried Italian herbs
oil, for frying
Instructions
Prepare a fryer or fill a heavy bottomed pot halfway with oil. Heat to 350.
Prepare a breading station with flour in one dish, eggs in another, and breadcrumbs in a third. Season flour with ½ tsp salt and ½ tsp pepper. Beat eggs and season with ½ tsp salt and ½ tsp pepper. Season breadcrumbs with remaining salt and pepper and Italian herbs.
Dust mozzarella sticks with flour, coat in egg, and cover completely with breadcrumbs.
Fry in oil for 5-7 minutes or until golden brown. Drain on paper towels for 5 minutes and serve warm.